Surat Thani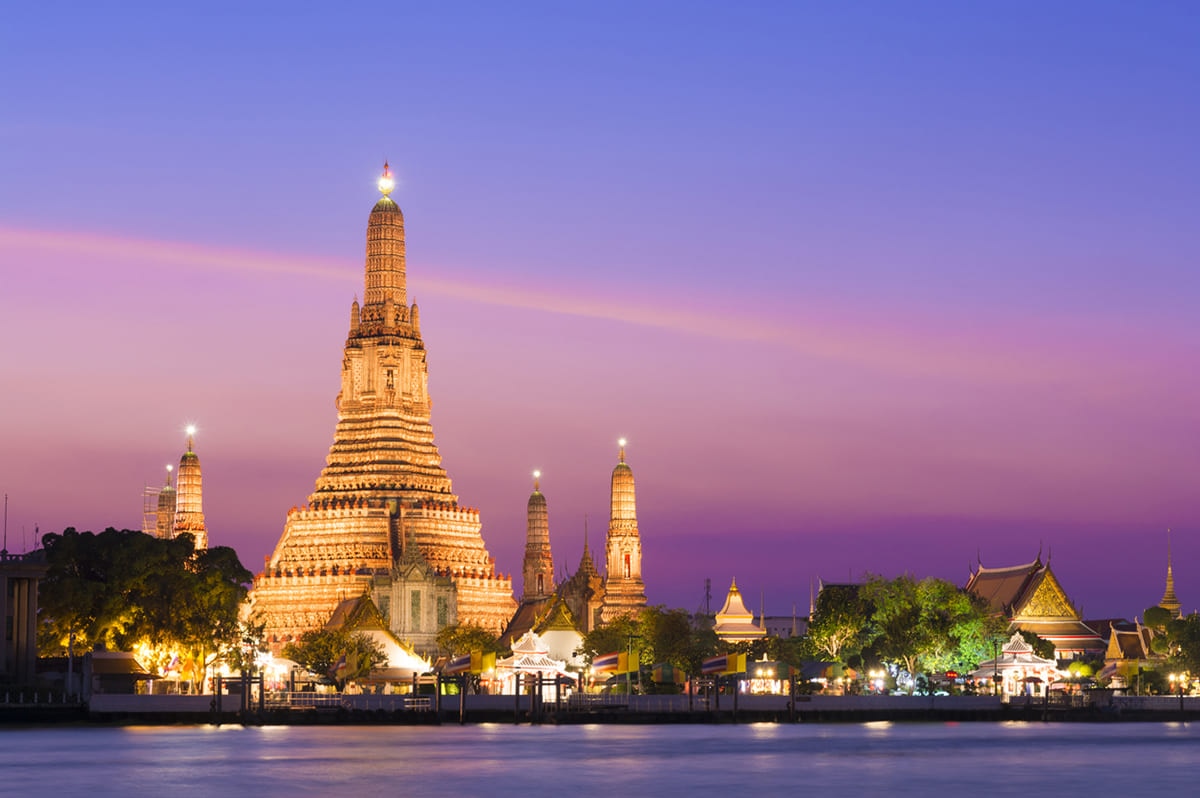 The flight time to Surat Thani is approximately 18~22 hours. Find out more about the history, economy, climate and transportation options before you visit Surat Thani.
Compare airfares for Domestic Flights within Thailand to Surat Thani
Chiang Mai Surat Thani(URT)
Surat Thani =__('観光情報');?>
Surat Thani is located in the Southern part of Thailand. Surat Thani is also known as "City of Good People." Surat Thani was once the capital of the ancient Srivijaya empire. Tourism and farming are the major economic activities of Surat Thani. Surat Thani is a travel hub for Thailand, and it is mainly used as a route to Thailand's most famous Islands which are Ko Samui, Ko-Pha-Ngan, and Ko Tao. While in Surat Thani, you can visit these beautiful islands which have luxurious resorts by the beach. You will also get a chance for some yoga and meditation retreats.
Voice of Travelers to Surat Thani
Family Day trip in Surat Thani
Surat Thani is an exciting place to visit. We traveled to Surat Thani by air, with Nok Air airline. They had fair ticket prices and their services were remarkable. Their staff were friendly and very helpful. Though it was a short flight, drinks and snacks were served. Surat Thani has a rich history and delicious meals. We went to the Ang Thong National Marine Park where we explored the marine park on a boat ride. There were so many islands that time was gone before we could explore them all. We will most probably revisit Surat Thani for more.
Island escapade at Surat Thani
My mother and I traveled to Surat Thani for a getaway from the busy town life. We took a flight to Surat Than using Bangkok Airways. The airline's services went beyond our expectations. The ground and cabin staff were accommodating. There were proper meals onboard and their entertainment was excellent. We arrived at Surat Thani as scheduled. We then proceeded to Koh Samui Island. The place was gorgeous with beautiful coconut and palm tree plantations. We booked a luxurious resort by the beach. They served us delicious Thailand cuisine on our request. The people were also very friendly and welcoming. Surat Thani is truly a city of good people.
Surat Thani Travelers' Frequently Asked Questions
Q. What is the earliest time that I can make ticket reservations and payment?
A. Most airlines will allow you to purchase a ticket as early as 330 days before your departure date. The latest you can make ticket reservations is 4 hours before departure time. When you make ticket reservations early, you may enjoy special services such as ticket discounts and best seat reservation depending on regulations of the specific airline.
Q. I have accidentaly deleted my confirmation email with the e- ticket yet I do not know my ticket reservation number, what should I do?
A. If you have accidentally deleted your e- ticket confirmation message, first check in the trash folder. If you are not able to retrieve the ticket message, contact us. Alternatively, you can go to the airline's ticket office and ask them to resend or print the e- ticket for you.
Q. What are the popular attractions in Surat Thani?
A. Surat Thani is a popular destination due to its tropical climate. The three islands Ko Samui, Ko Phangan or Ko Tao are a great place to enjoy the sunny weather in Surat Thani. The islands offer an excellent opportunity to dive and enjoy sea-life. Ang Thong National Marine Park is another famous place. It is a natural marine park that is perfect for snorkeling, kayaking, and hiking. The Surat Thani Monkey Training Center is another unique spot to visit. The center offers training for monkeys to collect coconuts. The center also offers overnight accommodation for visitors.
Q. What is the weather like in Surat Thani?
A. Surat Thani has a tropical monsoon climate with relatively stable temperatures throughout the year. Temperatures average between 42.8°C and 13.9°C. January to April is the dry season, and the rainy season is from May to December. The best time to visit Surat Thani between January and February when the temperature is bearable. If you are interested in touring the rainforests, the rainy season is the best though November experiences very heavy rainfall.
Surat Thani - Direct Flights to Major Airports
Airports handling direct flights to Surat Thani International Airport • Suvarnabhumi Airport • Don Mueang International Airport • Kuala Lumpur International Airport
Airports handling direct flights to Samui International Airport • Suvarnabhumi Airport • Singapore Changi Airport • Chengdu Shuangliu International Airport
Flight Routes to Surat Thani
There are four major routes to Surat Thani from Bangkok, Singapore, Hong Kong and Chengdu. These air routes are mainly serviced by Bangkok Airways, Thai Airways, Nok Air and Thai AirAsia at Surat Thani International Airport and Samui International Airport.