Photo by huyendesigner/Shutterstock
The Top Souvenirs to Bring Back From a Vacation in Vietnam
A vacation discovering the fascinatingly unique culture of Vietnam can be the trip of a lifetime, so filling your suitcase full of souvenirs and gifts to reminisce about your time there is a given. However there's a plethora of unique products to bring back much more interesting than the unremarkable conical bamboo hat that every visitor to the country seems to buy. Here are a few ideas for some great products you can purchase while traveling around Vietnam.
table of contents
[x] close
The Top Souvenirs to Bring Back From a Vacation in Vietnam
Vietnamese Coffee Beans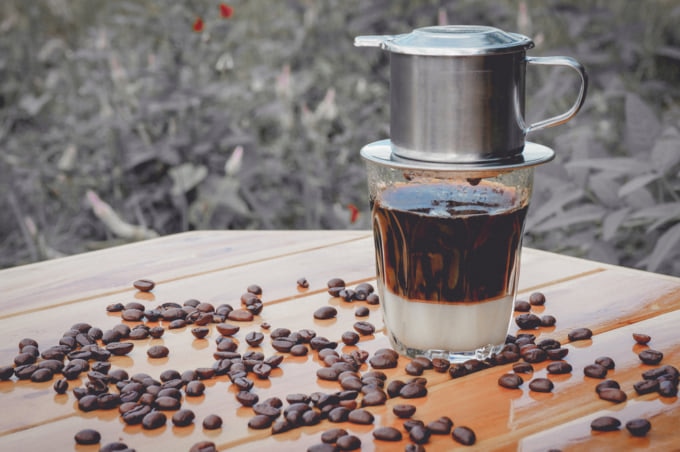 Photo by raksapon/Shutterstock
After trying the local variant of coffee found all over the country, you'll quickly realize why this is high up the list of souvenirs. Vietnamese coffee is some of the best in the world, strong and flavorful, the coffee is usually brewed to drip slowly over a generous helping of condensed milk, creating a wonderful balance of intense coffee flavor and divine sweetness. Try and recreate it without domestically-made beans however and it just won't taste the same. Trung Nguyen is one of the nation's favorite coffee producers and grabbing a few bags of beans to take home from one of their numerous stores comes highly recommended.

Make sure to buy the Vietnamese coffee filter known as a phin while you're at it, you'll need it to make this iconic style of coffee.
Dong Ho Paintings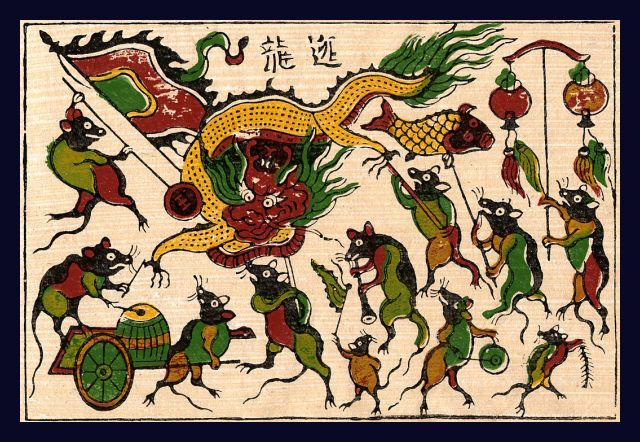 Photo by commons.wikimedia.org
Bright and colorful, these traditional Vietnamese paintings are bought by locals for the Lunar Year celebrations of Tet. Made from dó paper, a traditional kind of paper produced in villages around the country, the paintings depict scenes of celebration and traditional values such as good luck signs and popular folk tales. It's perfect for those wanting to bring back some artwork that isn't just created for tourists and money making reasons.
Thit Bo Kho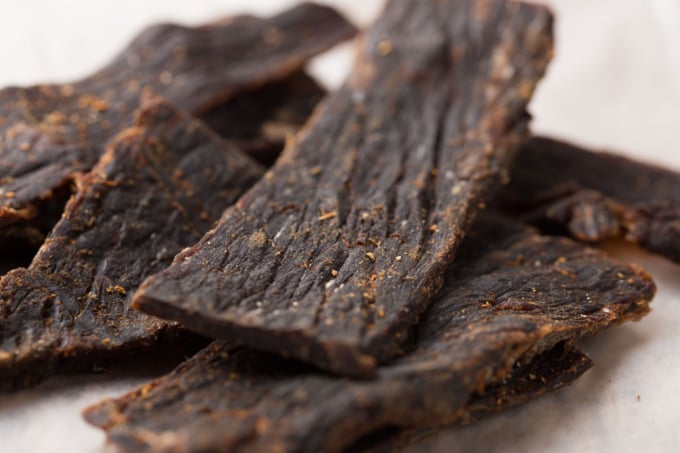 A popular snack found all over Vietnam from traditional mom-and-pop outlets to convenience stores, Vietnamese jerky or thit bo kho is highly recommend for anyone that wants to sink their teeth into some traditional nibbles. The jerky is usually made with a range of aromatic spices and flavorings and can often be a little spicy. Be sure to check whether you're allowed to bring dried meat products back to your home country before purchasing.
Banh Dau Xanh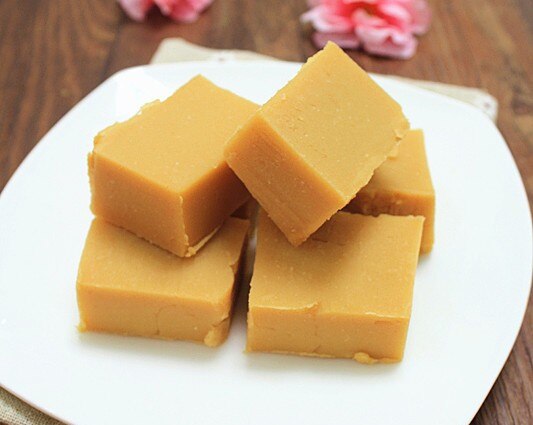 Made from mung beans, sugar and oil, the star of this sweet snack is the incredible crumbly texture that just melts in your mouth as soon as you pop one in. Sweet and comforting, these pair perfectly with a cup of hot green tea or even some Vietnamese coffee, if you don't mind the resulting sugar coma that'll follow this delicious combo.
O Mai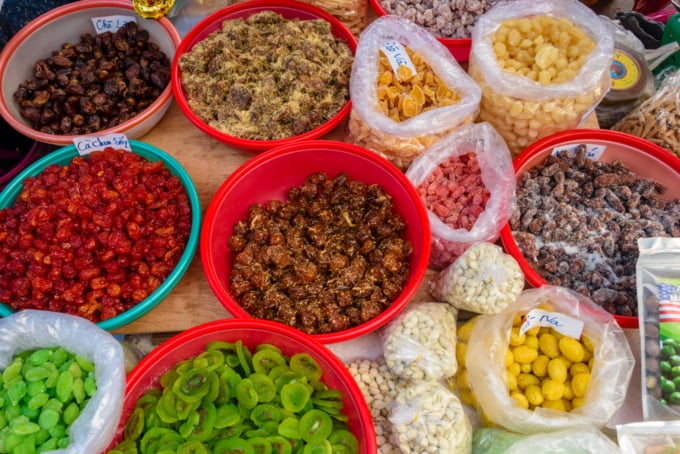 Photo by Stephen Barnes/Shutterstock
A traditional specialty usually found around the streets of Hanoi, o mai are a variety of different dried and candied fruits and the perfect snack to bring back from a trip to the capital. Most stores will have a range of different flavors on offer with common fruits being mango, plum, star fruit, kumquat and dracontomelum which you'll find coated with a mix of either sour, spicy, salty or sweet flavors. It's easy to spot the stores selling them and most shop keepers will let you try some before you commit to buying.
Conclusion
As you wind your way through markets and the quaint boutiques in Hanoi's Old Quarter, you'll find a huge range of locally made products perfect for bringing back home for yourself or gifts for the fam. From hand-woven tote bags to stacks of homemade sweets and snacks, one of the best pastimes while visiting South-east Asia is hitting up the markets and filling up your suitcase.