Exeter : Go Back to the Roman Era
With many historical centers and world heritage sites like the Jurassic Coast, it is not surprising that Exeter is such a popular destination among tourists. The history of the place takes you back to Roman Era where life was very different from what it is seen today. Let's take a look at ten must-visit places while in Exeter:
[x] close
Exeter : Go Back to the Roman Era:table of contents
1. Crealy Great Adventure Parks
This is a sheer delight for the kids to enjoy and perfect break for adults from the monotone of life. The park offers 60 wonderful rides and other unforgettable attractions. Also it is set against the fabulous countryside that make it even more appealing. When at Exeter, Crealy very much accessible using public transport. After an exciting day the park also offers amenities of stay and depending on your mood and your budget you can choose to stay either on camping sites or the luxury glamping and camps that have hot tubs to soak out the tiredness from your bone.
Name : Crealy Great Adventure Parks
Address : Sidmouth Rd, Clyst St Mary, Exeter EX5 1DR, UK
Related Site : http://www.crealy.co.uk/
2. Royal Albert Memorial Museum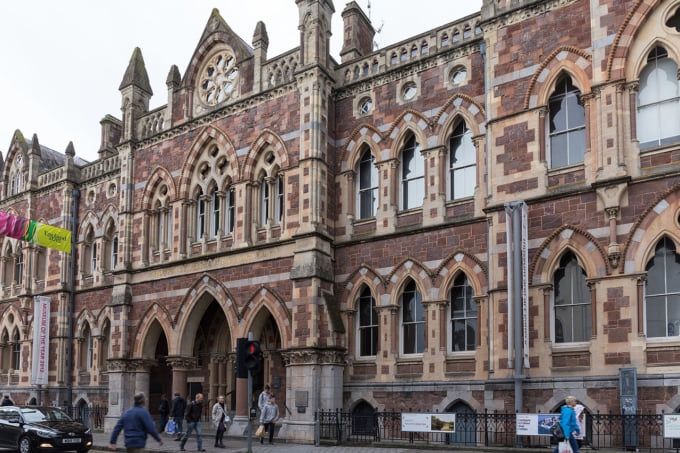 Photo by commons.wikimedia.org
This would be one of the most fascinating places you would be visiting in Exeter. With rich collection of artifacts and displays adorning the walls of the museum this place is sure to provide you with life's most unforgettable moments. Exeter and its neighboring town of Devon have been very rich in term of history and culture. In fact the places have also had very strong global connections that can be seen in the artifacts that have preserved here. Even children will love the wonderful species of birds, animals and insects displayed here.
Name : Royal Albert Memorial Museum
Address : Queen St, Exeter EX4 3RX, UK
Related Site : http://www.rammuseum.org.uk/
3. Exeter Cathedral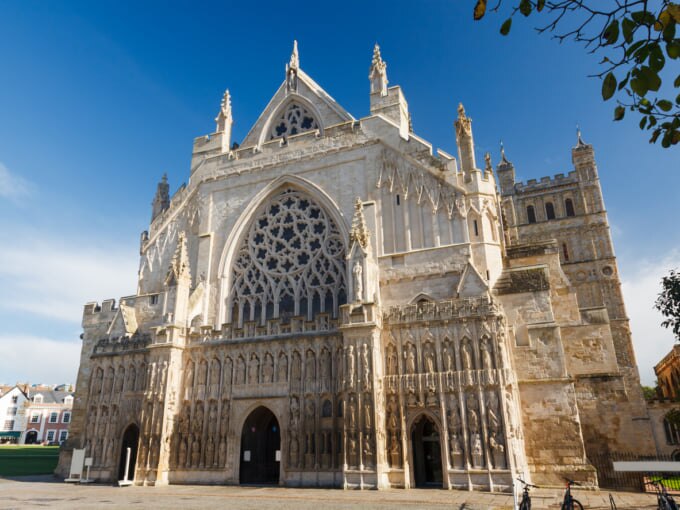 The feeling of stepping into a building that was founded as early as 1050 and which still stands in all its glory is something that is hard to be put into words. The imposing structure and the awe-inspiring architecture is simply unbelievable. Exeter Cathedral is one of the most important spots here and not just now but it has been like that over centuries. There are many activities held in the cathedral that inspire the love of God and its majestic ways. There are paintings, work of art adorning the castle at every nook and corner which is all class apart.
Name : Exeter Cathedral
Address : 1 The Cloisters, Exeter EX1 1HS, UK
Related Site : https://www.exeter-cathedral.org.uk/
4. Exeter Underground Passage
Exeter has been known for its underground passages that were used for various purposes depending upon the need of the hour. There are mighty stories of war and sieges, of plague and epidemic circling around these passages. Some parts of these passages have been made open for the public which takes one back to the era when these served as the lifeline. These passages were also used for providing clean drinking water to the people from the natural water bodies that lay outside the ancient walls of the city. Today it's an eerie feeling walking through those narrow ways that was nothing but a survival strategy at one time.
Name : Exeter Underground Passage
Address : 2 Paris St, Princesshay, Exerter, UK
Related Site : https://exeter.gov.uk/leisure-and-culture/our-attractions/underground-passages/
5. Northernhay Gardens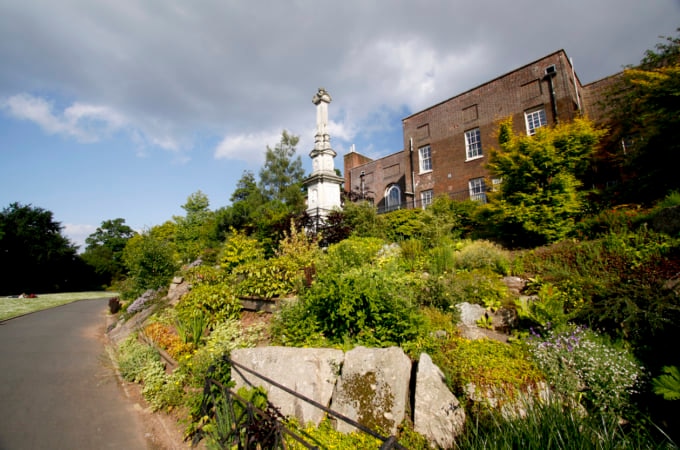 This park has been an inseparable part of Exeter right even since the Roman times. It was created for the purpose of public recreation as early as 1612. In 1642 when the civil war broke out, the park was largely destroyed because of the trenches that were dug for the sake of the defense of the city. But immediately after fast track works were also taken up for getting the park back in shape. Since then it has always been blooming with regular renovations done to keep up all that it stands for.
Name : Northernhay Gardens
Address : Northernhay Gate, Exeter EX4 3QE, UK
Related Site : https://www.visitexeter.com/things-to-do/northernhay-gardens-p153793
6. Bill Douglas Cinema Museum
This Museum houses some of the largest collection of materials related to cinema and motion pictures in Britain. This is not just a public museum but also a research facility that has a staggering collection of 75,000 items to its credit. Out of this collection there are 1000 items that are up for display for the public for all seven days of the week. The gallery has been divided into two parts. The lower gallery deals with cinemas as it was before 1910 that has been referred to the pre-cinematic times and the upper part deals with times thereafter to the present day.
Name : Bill Douglas Cinema Museum
Address : Prince of Wales Rd, Exeter EX4 4SB, UK
Related Site : http://www.bdcmuseum.org.uk/
7. Topsham Museum
The Museum has been designed in one of the 17th century buildings on the shore of Exe estuary. This was one of the merchant houses in those times and today mostly it talks about the maritime history of the place and role it has in trade port and ship building center. The exhibits that are there on display include some of the iconic river boats and crafts that were used in those time and artifacts that point at the local trade and also the wildlife around River Exe. The rooms of the house have been maintained in time to get the real feel of life in those times.
Name : Topsham Museum
Address : 25 Strand, Topsham, Exeter EX3 0AX, UK
Related Site : http://topshammuseum.org.uk/
8. Devon Wildlife Trust
This is where you can touch the untouched natural beauty as with such rich geographical features this place could be nothing else but wildlife sanctuary. There are two coastline bordering the place, two moorlands, very old trails along the forest, rivers, and enormous walking space. The place changes colors every season (literally) and there is something new to see all the year round. All you need to watch out for is some quaint species of birds or animals peering at you from the wilderness and the rustle of the trees for that melody in the air!
Name : Devon Wildlife Trust
Address : Cricklepit Mill, Commercial Road, Exeter EX2 4AB, UK
Related Site : http://www.devonwildlifetrust.org/
9. Rougemont Gardens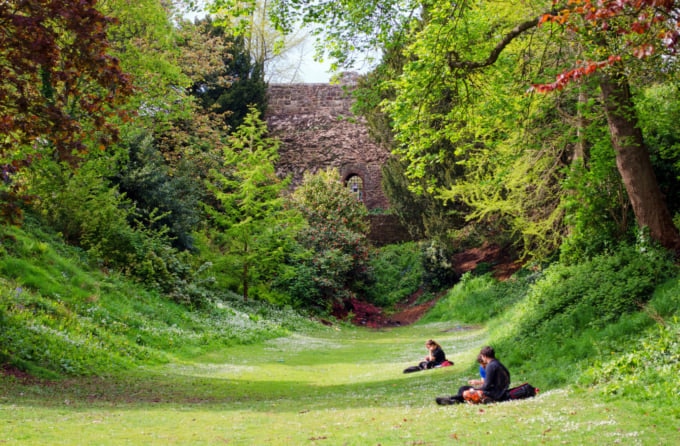 This is one of the Historic Parks in the city and is included in the National Register of Historic Parks and Gardens. This park earlier served as the protection space of the palace and over the course of time was transformed into a garden towards the end of eighteenth century. It was bought under the city board in 1912. The park is adjacent to the iconic Northernhay Park and shares its boundaries with other iconic buildings and towers in almost all sides. So once you are here there is a lot of Exeter that you can cover.
Name : Rougemont Gardens
Address : 12 Castle St, Exeter, UK
Related Site : https://www.hellotravel.com/united-kingdom/rougemont-gardens
10. Mission Escape
This is a fun and exciting game that puts your problem solving skills to test. There are three rooms that you need to escape and the victory is celebrated like a life achievement. The game follows strict rules and one is not allowed to use cameras and mobile phones at any point in the game. But the authorities keep a watch over you can contact you whenever the need arises. One has to be fully aware of the rules of the game and for which one must arrive at least ten minutes before the game begins.
Name : Mission Escape
Address : 1 West St, Exeter EX1 1BB, UK
Related Site : https://www.missionescape.co.uk/rooms/
◎ Closing
Exeter has a lot to offer to its tourists and it is fun place to make wonderful memories with friends and family. The place is rich in all sorts of activities both natural and man-made. So pack your back and get set to soak in the fun and leisure that Exeter has to offer!