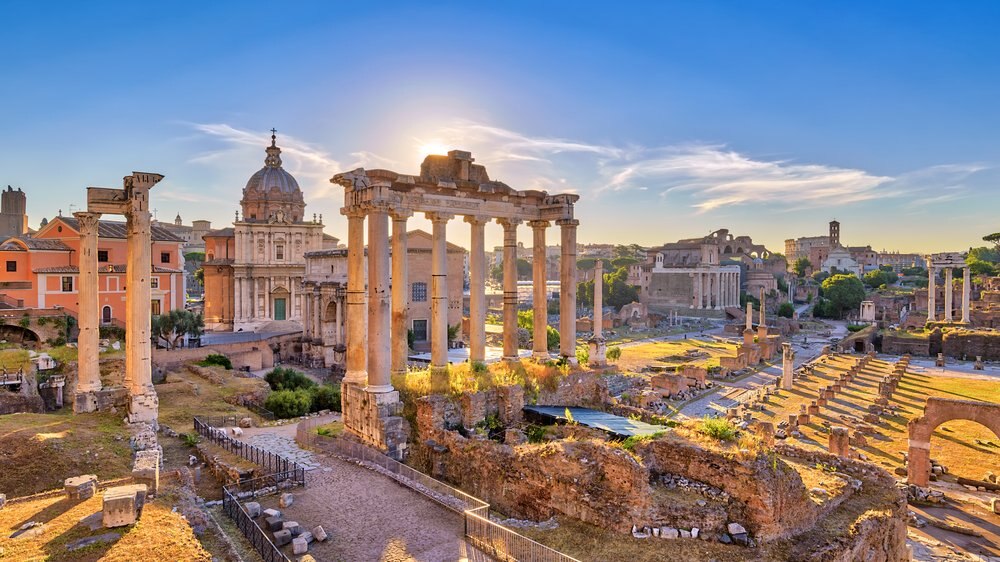 Photo by Noppasin/shutterstock.com
Italy:Top Sights to Visit In This Mediterranean Gem
table of contents
[x] close
Italy:Top Sights to Visit In This Mediterranean Gem
Italy is right in the heart of Europe, with the Italian peninsula straddled by the Mediterranean Sea. Ripe with fascinating ruins from the once mighty Roman Empire, Italy is a historians and photographers dreamland. Apart from its enthralling history, the country is famous for one of the most luscious cuisines on the planet and anyone visiting this spectacular country will see there's so much more to it than the ever-mentioned pizza and pasta.


1. Duomo di Milano (Milano)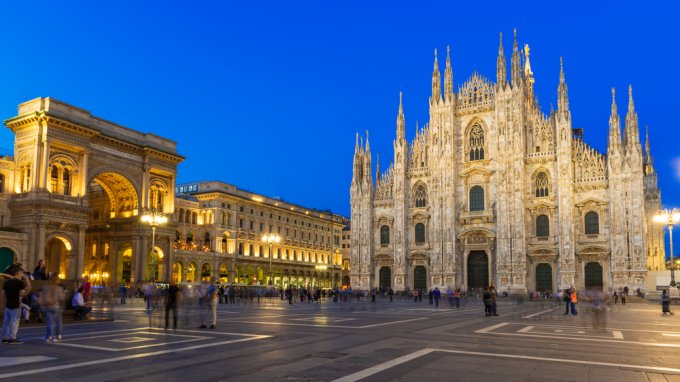 Photo by Catarina Belova/shutterstock.com
The Duomo di Milano, or the Milan Cathedral, is the largest cathedral in Italy and the third largest cathedral in the world. This popular sightseeing destination is one of the biggest attractions in Italy known for its exceptional exterior and interior beauty, rich history and central location in the city of Milan, one of Italy's largest cities. The cathedral was built over a period of almost six centuries, giving the architecture a number of different distinctive styles from each period. While most sightseeing tourists are drawn in by the unique marble architecture, it is the priceless art and the sculpture inside that many people suggest was the pinnacle of their trip to Italy.
Name:Duomo di Milano
Address:Piazza del Duomo, 20122 Milano MI, Italy
Related Site:http://www.duomomilano.it/en/
2. Colosseo (Roma)
The Colosseo, or Colosseum, is truly a marvel of the ancient world. It was here where tens of thousands of spectators would watch gladiator battles, naval reenactments and other grand spectacles unrivaled in extravaganza, even today. The Colosseo remains the largest amphitheater in Italy and now attracts tourists from all corners of the earth to witness its incredible magnitude, ancient art and decorations. The Colosseo still hosts regular events so be sure to check what's happening before your visit to this magnificent structure.

Name:Colosseo
Address:Piazza del Colosseo, 1, 00184 Roma RM, Italy
Related Site:http://archeoroma.beniculturali.it/en/archaeological-site/colosseum
3. Pantheon (Roma)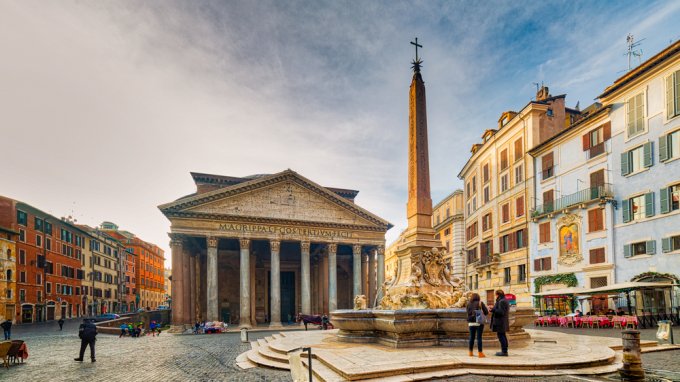 Photo by GoneWithTheWind/shutterstock.com
The Pantheon, one of the most famous sights in Italy, is an ancient Roman temple that was converted into a Catholic church. Enjoy the incredible classical Roman columns and the famous marble dome which is still the largest unsupported dome in the world. Even in a country full of sightseeing marvels like Italy, the Pantheon stands out for its sheer classical grandeur. Travelers in Italy also enjoy sightseeing in and around the Pantheon because it is one of the oldest buildings in Rome that has been in continued use since Ancient Roman times.
Name:Pantheon
Address:Piazza della Rotonda, 00186 Roma RM, Italy
Related Site:https://web.archive.org/web/20150518103619/http://www.vicariatusurbis.org/SantaMariaadMartyres/
4. Trevi Fountain (Roma)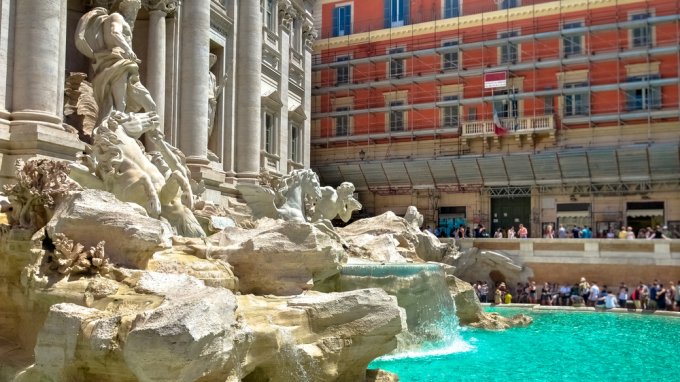 Photo by BlackMac/shutterstock.com
The Trevi Fountain (Fontana di Trevi) is a Baroque Fountain in Rome in Italy dating back to Italy's Renaissance period. Arguably the most famous and beautiful fountain in the world, the Trevi Fountain brings in millions of sightseeing tourists to Italy each year. The most popular feature of the Trevi Fountain is the beautiful sculptures that fill the eyes and impart a deep sense of wonder. Many say that it is impossible to take the entire fountain in with one glance, and it can only be observed in parts. Most tourists will throw coins into the fountain as tradition holds that this means they will return to Rome at some point in the future.
Name:Trevi Fountain
Address:Piazza di Trevi, 00187 Roma RM, Italy
5. Lake Como (Lombardy)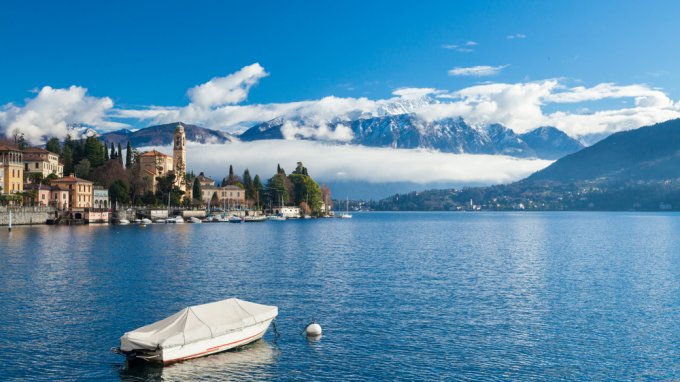 Photo by pixelshop/shutterstock.com
Lake Como, the 3rd largest lake in Italy is located in the north of Italy and offers some spectacular views of the surrounding scenery. it's also perfect for water activities such as windsurfing or sailing. Alongside its natural beauty set deep in the mountains, Lake Como is also a popular sightseeing attraction in Italy for the many cultural and architectural attractions around the lake. Many famous people own villas along the lake which brings tourists to Lake Como in hopes of catching a glimpse of one of the many celebrities who visit there regularly.
Name:Lake Como
Address:Lombardy region of northern Italy
Related Site:http://www.visitcomo.eu/en
6. Scavi di Pompeii (Pompei)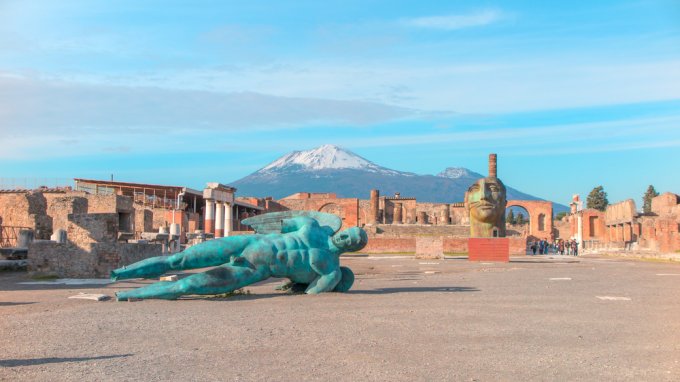 Photo by muratart/shutterstock.com
The Scavi di Pompeii is the official archaeological site for the ancient Roman city of Pompeii in Italy, which was destroyed by a devastating volcano in the 1st Century. It is one of the most famous attractions in Italy, giving you a chance to walk around and observe Roman history. Tourists flock to Italy to see this ancient Roman city frozen in time. Life came to a stand still when Mount Vesuvius erupted and buried an entire city almost immediately in AD 79. This historical place, filled with so many secrets and stories offers a fantastic insight into ancient history. You can walk for hours here down the cobble stone streets and never finish seeing everything this place has to offer.
Name:Scavi di Pompei
Address:Via Villa dei Misteri, 80045 Pompei NA, Italy
Related Site:http://www.pompeiisites.org/Sezione.jsp?idSezione=6786
7. Galleria Vittorio Emanuele II (Milano)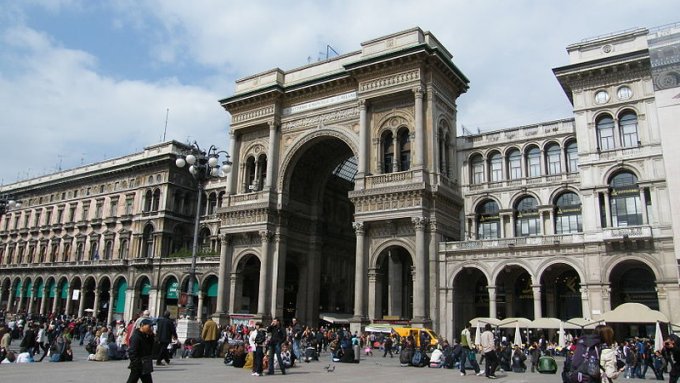 Photo by commons.wikimedia.org
The Galleria Vittorio Emanuele II is the oldest shopping mall in the world and contains the world's only certified 7 star hotel, the Town House Galleria. Located in Milan, visitors come to the Galleria to see the encasing steel and glass dome that was popular when the Galleria was first built in the middle 19th Century to celebrate the founding of the Kingdom of Italy. In all, the Galleria is a unique shopping and sightseeing experience not to be missed when in Italy. This is one of the world's most popular destinations for architecture, history and fashion.
Name:Galleria Vittorio Emanuele II
Address:Piazza del Duomo, 20123 Milano MI, Italy
Related Site:http://www.ingalleria.com/en
8. Palazzo Ducale (Venezia)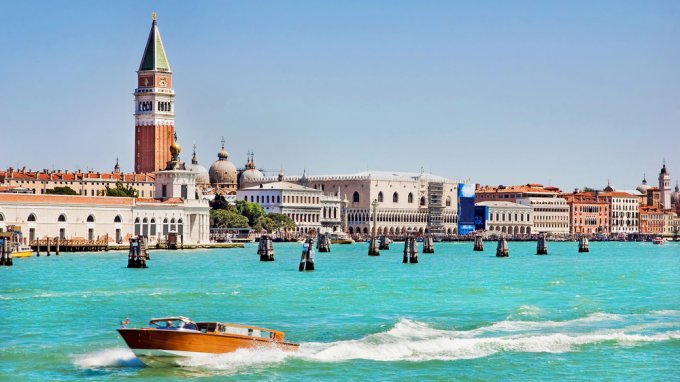 Photo by Mirelle/shutterstock.com
The Palazzo Ducale, also known as the Doge's Palace, is one of the most popular sightseeing landmarks in the city of Venice in northern Italy. The Palazzo Ducale is a Gothic style palace built for the Doge of Venice, the supreme authority of the former Republic of Venice. The palace is a true sightseeing marvel of Italy, with countless rooms full of spectacular architecture and art that spans many different centuries and comprises of many different cultures. Sightseers can spend days just wandering between the different rooms, from the Doge's private chambers to his hall of government to the palace jails without running out of beautiful and fascinating things to see.
Name:Palazzo Ducale
Address:Piazza San Marco, 1, 30124 Venezia VE, Italy
Related Site:http://palazzoducale.visitmuve.it/en/home/
9. Bocca della Verità (Roma)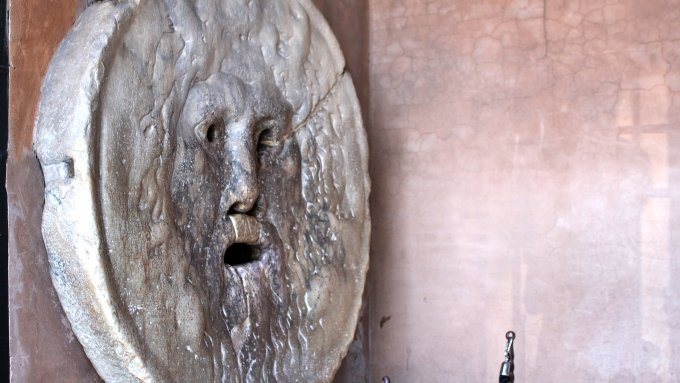 The Bocca della Verita (the Mouth of Truth) is a marble mask located in Rome, Italy. While the ancient and enigmatic Bocca della Verita is a major attraction in Italy in its own right, many tourists come to the site to put their hand inside the mouth of the artwork for good luck. It is believed that the Mouth was once an ancient part of a drainage system or meant to act as part of ancient cattle sacrifices which now is mounted as a popular sightseeing part of Rome purely to please visitors to Italy.
Name:Bocca della Verità
Address:Piazza della Bocca della Verità, 18, 00186 Roma RM, Italy
Related Site:http://www.turismoroma.it/cosa-fare/bocca-della-verita?lang=en
10. Basilica di San Marco (Venezia)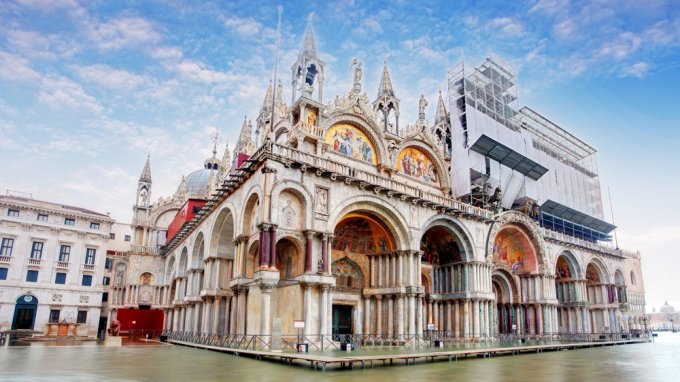 Photo by TTstudio/shutterstock.com
The Basilica di San Marco commonly known as Saint Mark's Basilica, is the cathedral church of the Roman Catholic Archdiocese of Venice in Italy. Also known as the Church of Gold for its golden adornment and demonstration of Venetian wealth, the Basilica was the private chapel of the Doge of Venice from the 11th to 19th Century, when it became the main Venetian Cathedral. The Basilica is particularly popular for visitors who love Byzantine Architecture, an inspiration of the church's design. The nostalgic beauty of the Basilica and its rich history make it a popular sightseeing destination for many tours to Italy.
Name:Basilica di San Marco
Address:Piazza San Marco, 328, 30100 Venezia VE, Italy
Related Site:http://www.basilicasanmarco.it/informazioni-per-i-turisti/prenotazioni/?lang=en
◎ Closing
Although these places are often seen as some of the most popular attractions in Italy, the country is riddled with fascinating pieces of history and architectural marvels. This captivating nation is commonly viewed as the perfect tourist destination in Europe, offering a bit of everything whether it's history, art, food, shopping or entertainment, Italy has it all.