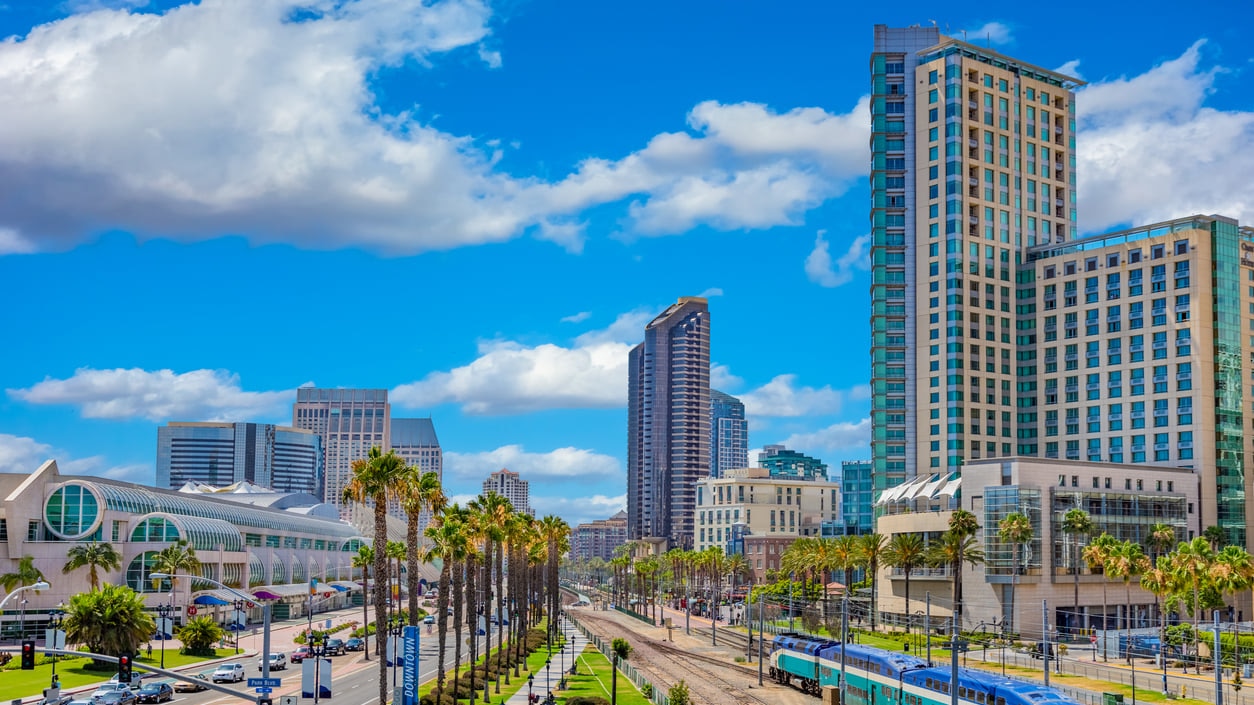 San Diego : Laid Back City with Breezy Confidence and Sunny Countenance in California's Pacific Coast
San Diego boasts as America's largest city with a laid-back atmosphere. Being on the Pacific ocean, San Diego has a breezy confidence you cannot ignore that is also evident in its people. As a travel destination, it offers tourists amazing sightseeing activities. There are plenty of museums, art galleries, eateries among other amazing spots that keep you occupied. The surfer dude attitude has everyone in a chill mood making it pleasant. Below are the places that are bound to wow you while in San Diego.
table of contents
[x] close
San Diego : Laid Back City with Breezy Confidence and Sunny Countenance in California's Pacific Coast
1. USS Midway Museum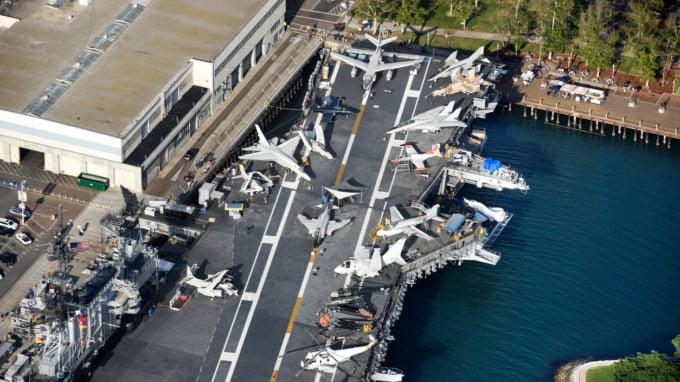 USS Midway Museum is a gem found in downtown San Diego. This museum is set up floating on the sea giving it an amazing ambience. This museum is of much historical importance to the people of San Diego as America's longest-serving aircraft during the 20th century is housed at this museum. Over 200,000 young men served the Midway which is an honour for anyone to tour this Midway and appreciate their sacrifice. There are self-guided audio tours that are available in English, French, German, Spanish, among other languages. Entrance is 23 dollars per adult but kids and veterans get discounts. Aside from exploring the museum, the gift shop is also a great stop.
Name : USS Midway Museum
Address : 910 N Harbor Dr, San Diego, CA
Related Site : https://www.midway.org/
2. San Diego Zoo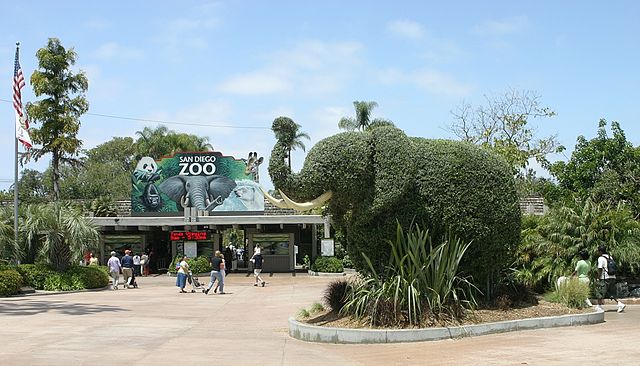 San Diego Zoo is a popular sightseeing attraction setting foot in this city. After being founded in 1916, it has maintained its iconic status in San Diego. This tropical oasis is home to great species of animals including tigers, gorillas, Asian leopards among other species of rare reptiles which enjoy the beautiful habitats. Being the heart of San Diego, tourists will note that the animals are well taken care of having a great place to call home. If you choose to tour the zoo with a guide, there are a variety of options including a double-decker bus or an aerial view.
Name : San Diego Zoo
Address : 2929 Zoo Drive, San Diego, CA
Related Site : https://zoo.sandiegozoo.org/
3. Balboa Park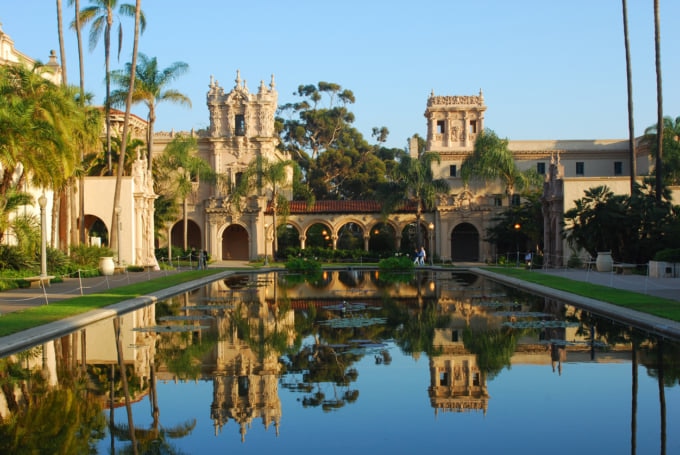 Balboa Park is not only a famous park in San Diego but the whole of America. This park is home to some amazing treats of San Diego including the San Diego Zoo. There are amazing attractions such as the carousel and a brass ring that provides free rides. This park has over 1000 acres of space that has been subdivided into green areas full of natural vegetation, walking paths, gardens etc. Most concerts take place at this space since it is easily accessible. The best way to manoeuvre through this park is on foot as the likelihood of one getting lost while driving is high as the roads are laid in a baroque oneway style.
Name : Balboa Park
Address : 1549 El Prado, San Diego, CA
Related Site : https://www.balboapark.org/g/
4. La Jolla Cove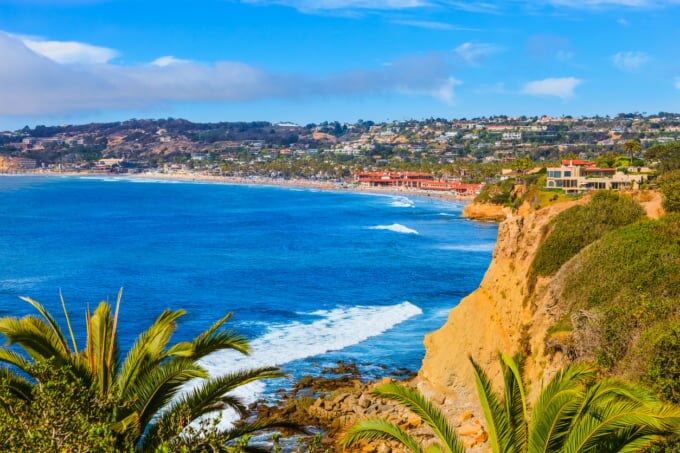 La Jolla Cove is the perfect spot in San Diego to enjoy some water sports. Be it diving or snorkelling, it will give you a great atmosphere. The world's famous dive site is located in the ecological preserve within the same area. Another amazing activity that sightseeing tourists enjoy is watching sea lions as they sunbathe. There are also gulls and seals which is interesting. During sunset, the backdrop becomes very picturesque making it a perfect opportunity to capture the surrounding. The currents may get rough too so not advisable to leave children roaming around.
Name : La Jolla Cove
Address : 1100 Coast Blvd, La Jolla, San Diego, CA
Related Site : https://www.lajolla.com/guides/la-jolla-cove-guide/
5. Coronado Bridge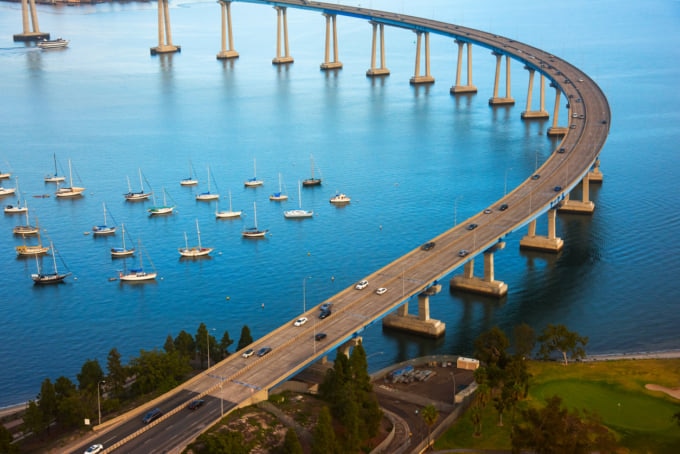 Coronado bridge is what bonds the city of San Diego to Coronado. This beautiful bridge is perfect for getting views of the strand, ocean or the vessels on the ocean. The bridge can be a photographers paradise as one gets amazing views of the Pacific ocean as well as the two cities. A good advantage I that there are no costs charged to cross over the bridge which is great. If going to the old town, the trolley bust crosses the bridge as part of the adventure.


Name : Coronado Bridge
Address : San Diego, CA

6. Botanical Building and Lily Pond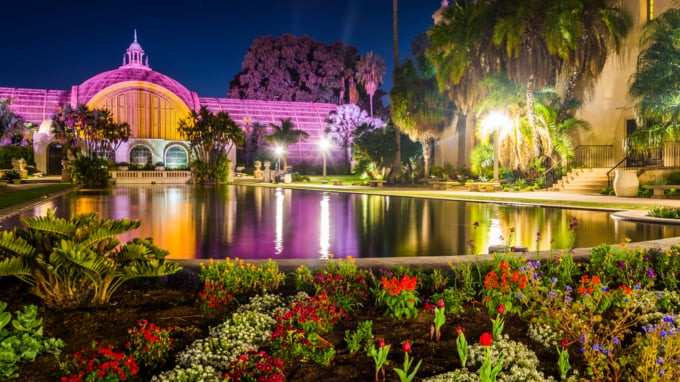 Photo by Jon Bilous/shutterstock.com
Botanical Building and Lily Pond have a collection of over 1,200 varieties of plants comprising of both tropical variants and flowers. It has been existing since 1917 and is among the largest found around the world. The flora and fauna are very rich giving a cool and relaxing atmosphere. When you visit in full bloom, you will get to enjoy the beautiful colours and the flowers at their best state. Since there is no entrance charge, there is no reason to miss out on exploring this beautiful space.

Name : Botanical Building and Lily Pond
Address : 1549 El Prado, San Diego, CA
Related Site : https://www.balboapark.org/
7. Mission Beach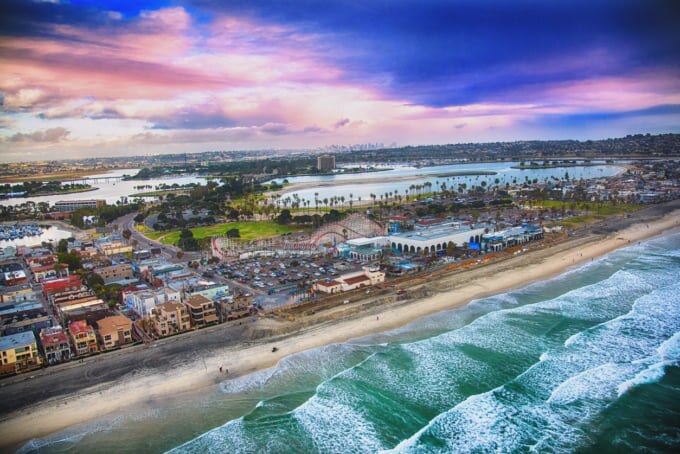 Mission Beach may seem like a typical white sand beach in San Diego but it is the heart of the Pacific coastline. Aside from the beautiful sunset, there are great things to love on mission each. There is a long stretch boardwalk that is great to walk along, bike or join the rollerbladers. There are plenty of volleyball courts by the beach which is interesting. There are plenty of eateries within reach too making it convenient. There are also plenty of shopping outlets right at the beach. If you would love more adventures, you can light up a bonfire at night.
Name : Mission Beach
Address : San Diego, CA
8. San Diego Mormon Temple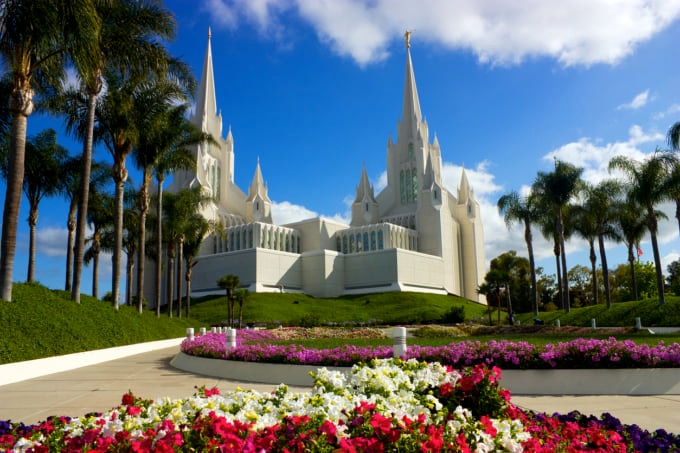 San Diego Mormon Temple is a beautiful white ornate temple that strikes on the first site. The white exterior leaves room for the surrounding to blend. The clean and sharp architecture of intersecting squares cannot also be missed. There is a sweet spirit that surrounds the temple with the people around ready to give you briefs of the structure and the works of the church to the community of San Diego. Please note that the inside tour is restricted only to those from the members of the Church of Jesus Christ of Latter-day Saints with a special recommendation. The public is only allowed to go around the church grounds.

Name : San Diego Mormon Temple
Address : 7474 Charmant Dr, La Jolla, San Diego, CA
Related Site : https://www.lds.org/temples/
9. Old Town San Diego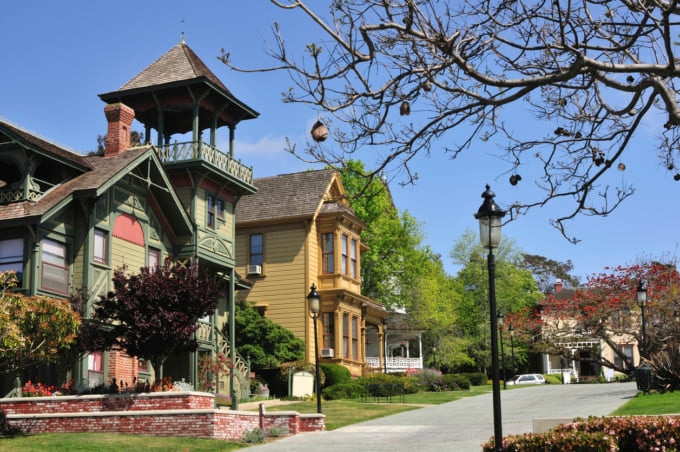 Old town San Diego is rich of nostalgic elements of San Diego. There is even a historic park which is very interesting. The best way to tour this old town is via the trolley tour. Since this is where the first settlement happened there are plenty of establishments as well as old houses to admire. Think of old places built as early as the 1820's. Plenty of historic buildings, speciality shops, hotels among others. Among the historical buildings are the original adobes which are accommodations made from sun-dried earth and straws. There are plenty of art galleries too.
Name : Old Town San Diego
Address : San Diego, CA
Related Site : http://www.oldtownsandiegoguide.com/index.html
10. SeaWorld San Diego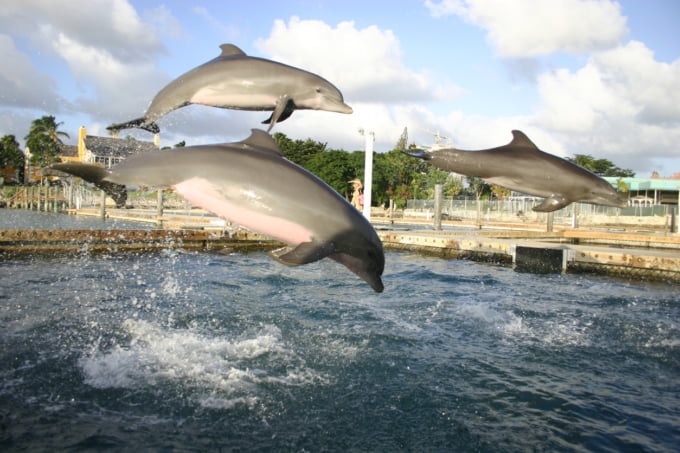 SeaWorld is located near Mission Bay, it is the perfect place to get into contact with some amazing sea life. There are a variety of sea animals including sharks, dolphins, killer whales as well as penguins. There are plenty of interactive shows too where you see them in action. There are diving opportunities too for those who dare for the thrill. The dive includes going deep to touch sharks as well as see other types of fish. The most amazing and famous show of all is the Orca's show which is not to be missed during sightseeing.
Name : SeaWorld San Diego
Address : 500 Sea World Drive, San Diego, CA
Related Site : https://seaworld.com/san-diego/
◎Closing
San Diego City is a must-travel place and a must-visit place. All that you are looking for is in San Diego, California. It is completely packed in this wonderful city. Beautiful places, wonderful beaches, amazing mountains, and bays are all in San Diego. San Diego has it all for you. You need to visit all the different places and museums as well as all tourist attractions in San Diego.