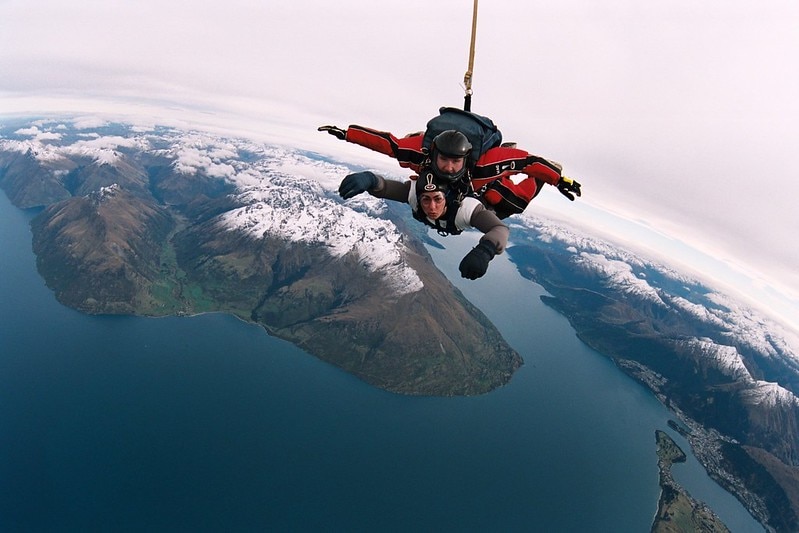 Photo by Michael Napoleon/Flickr
The Top 7 Sky Diving Spots in New Zealand
New Zealand has become famous for its spectacularly varied landscapes; from age-old glaciers to black sand beaches, huge dormant volcanoes and rolling green hills, this country has it all. Road tripping and hiking around the islands is a great way to explore, but nothing matches the thrill of seeing them from around 16,000 ft up in the air as you plummet towards down. Skydiving is not the cheapest of activities, so we've put together a list of some of the best sky diving spots in New Zealand, to give you the best places to part with your cash.
table of contents
[x] close
The Top 7 Sky Diving Spots in New Zealand
Bay Of Islands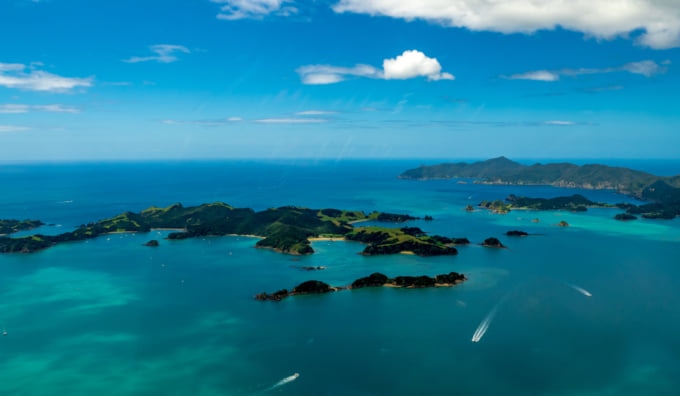 Photo by photo.eccles/Shutterstock
As its name suggests, the Bay Of Islands is a cluster of islands that extend off the east coast of the Auckland Peninsula. Located in one of the more remote regions of New Zealand, the Bay Of Islands is around a three-hour drive north of Auckland. It may not be the easiest skydiving spot to get to, but with its remoteness comes true untouched beauty. From 16,500 ft above sea level, those who are brave enough will be rewarded with unrivaled views of the 144 islands dotted across the Pacific Ocean. You can also choose to jump from 9,000 ft or 12,000 ft and will still be able to enjoy the same picturesque views, just for a slightly shorter time.
Lake Taupo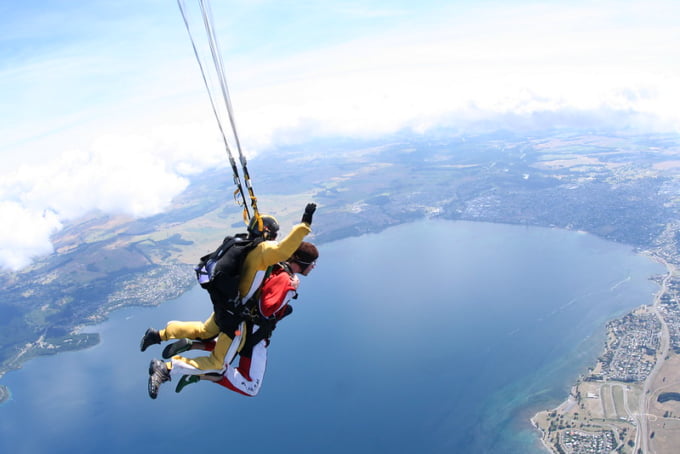 Lake Taupo stretches across 238 square miles, making it roughly the same size as Singapore and the largest lake in New Zealand. Boasting a backdrop of spectacular mountains, skydivers won't just be enjoying views over Lake Taupo, but also of the striking Mount Ruapehu, Mount Tongariro and Mount Ngauruhoe. Taupo is one of the most popular skydives in New Zealand, and not just because of the spectacular scenery. It's one of the cheapest places in the country to try out the extreme sport, from as little as 199 NZD per person, making it perfect for any budget travelers traveling around New Zealand.
Auckland
Skydiving over Auckland is the perfect choice for anyone who is looking for a challenge. At 20,000 ft, the one in Auckland is the highest skydive on the north island and the second-highest in the whole of New Zealand. Whilst many of New Zealand's skydives offer jumpers scenic vistas over natural landscapes, those who choose to jump over Auckland can enjoy incredible cityscape views of the country's largest city as well. Depending on which way the wind blows, skydivers may also be able to catch a glimpse of the volcanic islands that sit off the east coast of this sprawling metropolis.
Abel Tasman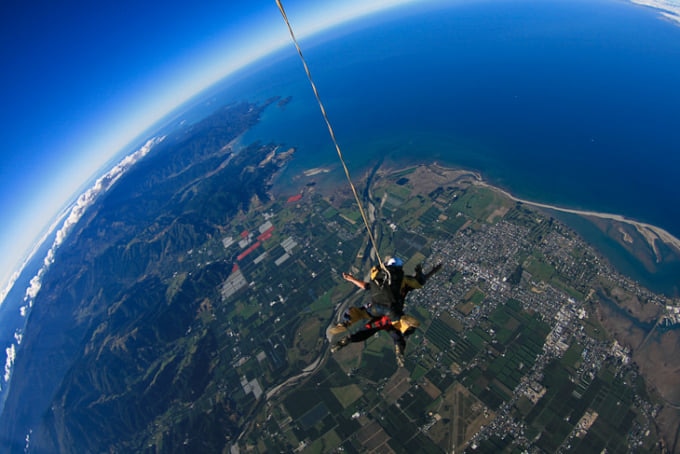 Photo by Flying Kiwi Tours/Flickr
Nestled in the northern regions of New Zealand's South Island, Abel Tasman National Park is known for its golden sandy beaches, pristine turquoise waters and dense rainforest. On a clear day, skydivers will not only be treated to views of the stunning national park but will also be able to see for miles across the Cook Strait to the north island. Sitting in a prime location, next to New Zealand's sunshine capital, Nelson, Abel Tasman enjoys more sunshine hours than anywhere else in the capital, meaning you're almost guaranteed a blue sky to jump from.
Fox Glacier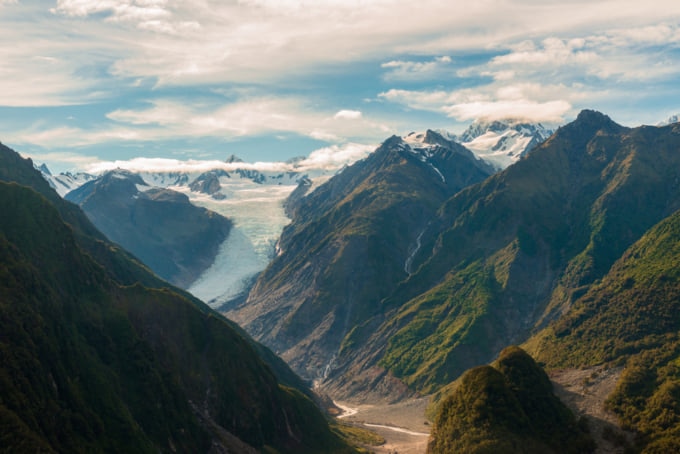 Photo by superjoseph/Shutterstock
Recently voted the second-best place to skydive in the world, after Mount Everest, Fox Glacier is not one to be missed. Unfortunately, located on the west coast of the south island, the weather at Fox Glacier is notoriously unreliable, and many skydives here have to be cancelled or rescheduled. However, if you are lucky enough to be there on a clear day, you'll be treated to incredible views of age-old glaciers and snow-topped peaks. We'd recommend jumping from 19,500 ft to make sure you can enjoy the views for as long as possible during your free fall.
Queenstown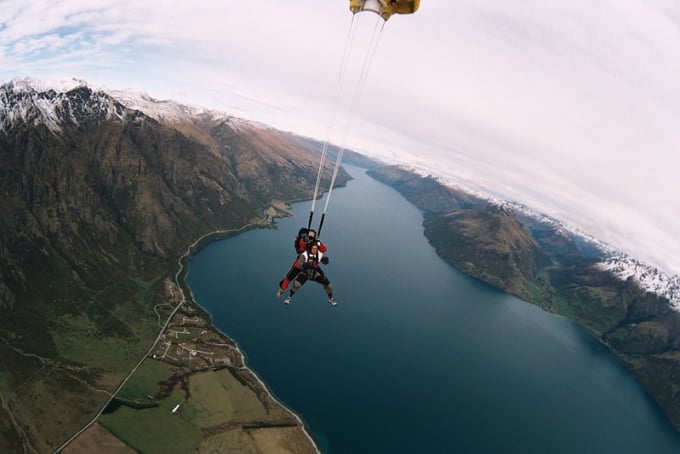 Photo by Michael Napoleon/Flickr
Known as the adventure capital of the world, it's no surprise that so many people choose to skydive in Queenstown. Flanked on one side by the Remarkables Mountain Range and by Ben Lomond Mountain on the other, skydivers here can enjoy some truly incredible landscapes. It's also a great option for any Middle Earth fans as you can spot plenty of Lord Of The Rings set locations from the air. Due to its popularity, skydiving here is one of the most expensive options in New Zealand, so perhaps head further north if you were hoping for a budget-friendly option.
Wanaka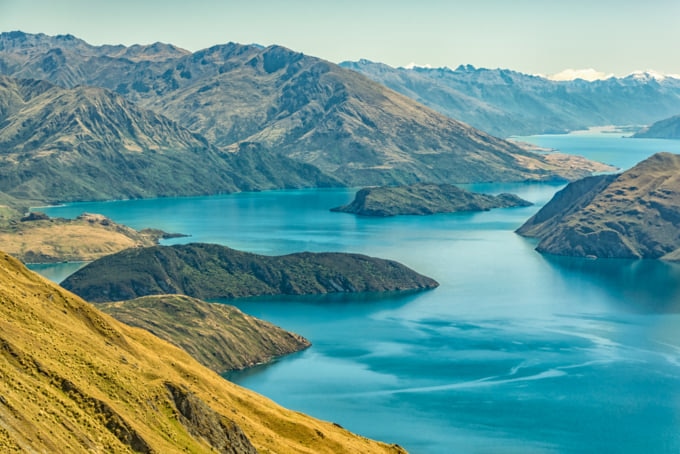 Photo by Martin Capek/Shutterstock
Situated on the banks of the beautiful Lake Wanaka, this small town is known for two things; the partly submerged Wanaka Tree and skydiving. Being only one of two lakeside skydiving locations in New Zealand, it's well worth considering a dive here. Its prime location in the middle of the south island means skydivers can enjoy views over Mount Aspiring National Park and Queenstown. On a clear day, you may even be able to see over to Milford Sound and Mount Cook.
Conclusion
With spectacular views and exhilarating rides, skydiving in New Zealand should be at the top of everyone's bucket list. Whether you're looking to fly over snowy peaks, golden beaches or rolling green hills, there's sure to be a skydiving spot to suit you in New Zealand.