Durango:A Beautiful City with Adventures that Go Beyond Its Steamy Trains , Mountain Landscapes and Canyons!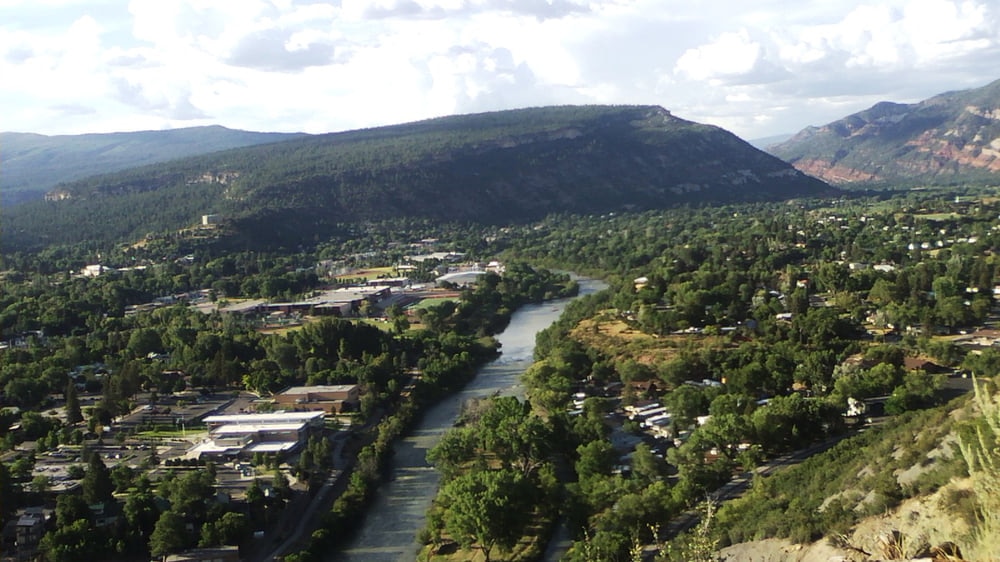 Photo by J.Powers/shutterstock.com
Durango is the county seat of La Plata County, Colorado, USA. The beautiful city has a wide variety of interactive sightseeing activities with great climatic conditions. Besides being the most populous municipality, it is also coming up as a key tourist attraction destination. Some of the hands-on activities featured in Durango have been outlined below:
[x] close
Durango:A Beautiful City with Adventures that Go Beyond Its Steamy Trains , Mountain Landscapes and Canyons!:table of contents
1. Purgatory resort
Purgatory resort is a small sovereign resort in Durango. Spread out on a sizeable landscape, there are a lot of fun activities to participate in. For instance, alpine skiing, snowboarding, horse-drawn sleigh rides, snowmobiling and more. There is reasonable pricing upon entry and service is rendered by very friendly and helpful staff. The family-friendly resort host a number of interesting events that are ideal for all ages. There are a number of reasonably priced lodging and shopping areas availed. For the best experience, visit during the winter season to enjoy and make memories in Durango.

Name:Purgatory resort
Address:1 Skier Pl, Durango, CO
Related Site:https://www.purgatoryresort.com/

2. San Juan National Forest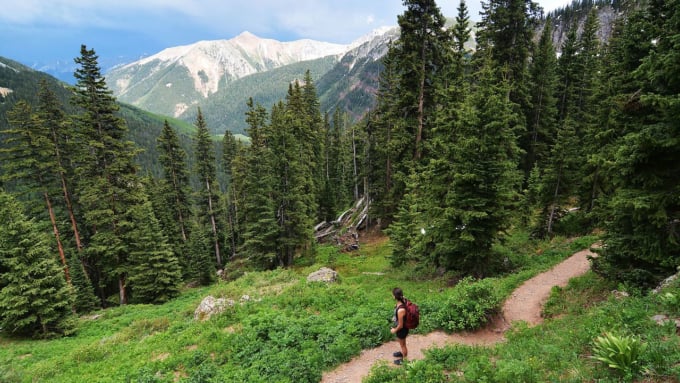 Photo by commons.wikimedia.org
San Juan National forest of Durango is a remarkable rainforest. The sightseeing site is comprised of a wilderness area with forested mountains, scenic roads, foot-peaks, old gold mining towns and a narrow-gauge railroad. An exposure to the ravishing wilderness is accomplished by the road tour through the forest from which captivating views such as the rocky mountains can be observed. The chilled weather is perfect for a horse ride and excellent photos can be captured in the gorgeous Weminuche Wilderness. It is truly a gem and worth visiting while sightseeing in Durango:

Name:San Juan National Forest.
Address:15 Burnett Ct, Durango, CO
Related Site:https://www.fs.usda.gov/sanjuan/
3. Durango & Silverton Narrow Gauge Railroad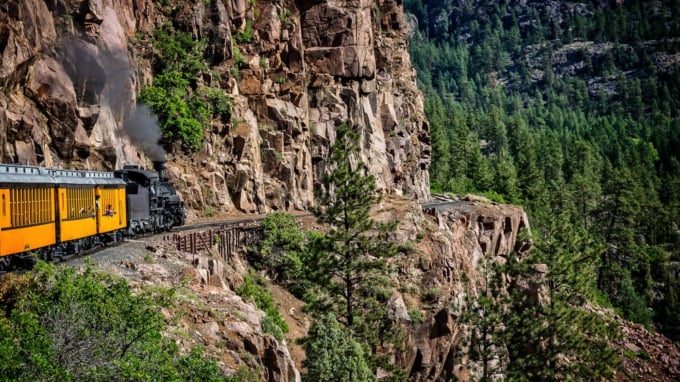 Photo by Sherry Talbot/shutterstock.com
Durango train Museum along Main Avenue is a commendable pre-historic site. The experience on the steam-powered locomotive train is fascinating as one is able to take breathtaking photos while on board. The sightseeing site is filled with history as it was used by miners, cowboys, and early settlers of the Old west decades ago. The cost levied covers both admissions to the DSNGRR and the Silverton Freight yard museum but extra charges are incurred to enjoy the first class section of the train. Parting gifts are given when departing from this beautiful place. It's a nice place to gather history about Durango and is highly recommended by many.


Name:Durango & Silverton Narrow Gauge Railroad
Address:479 Main Ave, Durango, CO
Related Site:http://www.durangotrain.com/
4. Soaring Treetop Adventure
Soaring Treetop Adventure is situated on a beautiful park in Durango. The place is neatly set up in a manner not to distort the natural setting this enables one to interact first hand with nature and indulge in a number of fun outdoor activities. The spectacular beauty of the fall is ideal for photo sessions and the zipline which is an adventurous yet safe activity to participate in. What makes the sightseeing site even more interesting is the individualized attention given by the staff and the great customer service. When touring Durango, this a must visit sightseeing site to enjoy some worthwhile adventures.

Name:Soaring treetop adventure
Address:964 County Road 200, San Juan Mountains, Durango, CO
Related Site:https://www.soaringtreetopadventures.com/
5. James Ranch Market
James Ranch located 11 miles North of Durango is owned by the James family. The scenery is breathtaking and the people are welcoming. They are always offering sweet organic delicacies. Upon arrival, one is given a brief history of the family based multifaceted agricultural endeavor. A small token is given to access the ranch and take part in the 2-hour tour around. The interactive sightseeing site is full of educative details where one can grasp a thing or two on agriculture and mouth Watering meals that are offered to the guests at the ranch as a bonus.

Name:James Ranch Market
Address:33846 Highway 550, Durango, CO
Related Site: http://jamesranch.net/
6. Durango community recreation center
Durango community recreation center is the gem of the city as it brings people from all walks of life under one roof. The sightseeing sites offer a lap and leisure pool, hot tub, water slide, outdoor splash pad, aerobic studio among other rejuvenating activities. Both outdoor and indoor sports have been featured at the place. There are decent dressing rooms to get into gear though a nominal fee is required to provide a lock. The recreation center is fabulous and ideal to interact with different people through the recreational activities availed.

Name:Durango community recreation center
Address:2700 Main Ave, Durango, CO
Related Site:http://durangogov.org/
7. Four leaves winery
Four leaves winery is located across the street from historic Durango. The winery is a historic building holding wine made many years back. The overwhelming aroma of wine can be heard from the entrance luring you inside. The sightseeing site offers different appetizers and wine to wash down. An opportunity to customize one's own special wine is given at one's comfort. The space provided is appealing and the variety of wines made is perfect. When visiting Durango be sure to stop by this marvel of a place and enjoy the sweet wine offered.


Name:four leaves winery.
Address:528 Main Ave, Durango, CO
Related Site:http://www.fourleaveswinery.com/
8. Pinkerton hot springs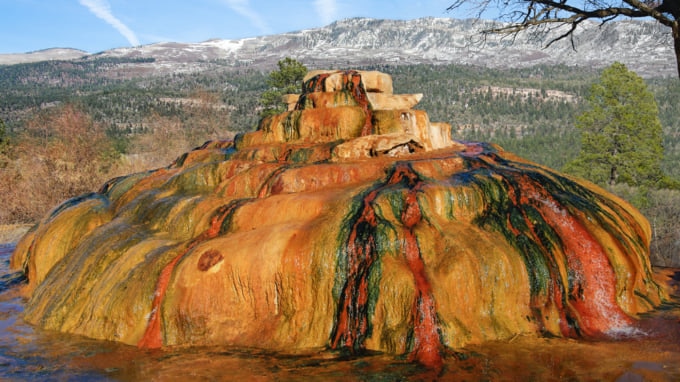 Photo by Earl D. Walker/shutterstock.com
Pinkerton hot spring is strategically positioned right off the highway 550. The natural beauty held by the sightseeing site makes it a pit stop for many. It takes about ten to fifteen minutes to traverse through the hot springs enjoying the warm water emanating from the springs. It's a fun place to stop by and take photos and do a geocache. On a good day, one is able to see the colorful minerals in the hot spring enjoying the cool breeze around. Ideal for nature lovers and gives a first-hand brush with nature at its best.

Name:Pinkerton hot springs
Address:35554 Highway 550, Latitude 37.4472225, Longitude -107.8053434, Durango, CO
9. Henry strater theatre
The world-class Henry Strater theatre is among the oldest most prestigious continually running theatres in Durango. The sightseeing site features shows like 'the legend of Danny Boy' and the rocky horror, which are pretty interesting. Drinks and snacks can be ordered during the shows whenever one pleases. There is an elegant hotel within close proximity that offers a wide variety of tasty meals at convenient prices. Those looking forward to enjoying old-school blockbuster movies and other shows, the Henry Strater theatre will be ideal for them. It's a cool place to spend time with friends while in Durango.

Name:Henry strater theatre
Address:699 Main Ave, Durango, CO
Related Site:http://www.henrystratertheatre.com/
10. Snowmobile Adventures
Snowmobile Adventures in Durango mountain resort spreads out on over 35000 acres of land. This one of a kind sightseeing site is equipped with trail grooming equipment and a number of snowmobiles. There is a vast variety of sightseeing activities to participate in from the stagecoach trails to meadow playgrounds. Most people prefer going on the excursion in the old log cabins and the old mine sites. That is the perfect outdoor experience offered at the place and is recommended for family outings. When visiting Durango, consider touring the snowmobile Adventures as it will marvel you beyond expectation.

Name:Snowmobile Adventures
Address:1 Skier Pl, Durango, CO
Related Site:http://www.snowmobiledurango.com/
◎ Closing
Besides being a sizeable megapolis, it has the welcoming feel of home. The tourists visiting Durango not only enjoy the wide variety of outstanding sightseeing activities but also have an opportunity to interact with nature first hand. There is a multitude of activities that meet the desire of many people of all ages. If Durango was not part of your escape plan, try reconsider it too !