Dothan:This Agricultural City Boasts As the Peanut Capital of the World
Photo by Cenz07/shutterstock.com
Dothan is situated on the southeastern side of Alabama and covers the western part of the Wiregrass region. Dothan has been famous for its agricultural heritage and even gained the title to be called the peanut capital of the world. In terms of travel, Dothan is considered to be a budget and family-friendly destination due to the nature of its sightseeing sites. These are some of the places you should visit when making your way to Dothan:
[x] close
Dothan:This Agricultural City Boasts As the Peanut Capital of the World:table of contents
1. Landmark Park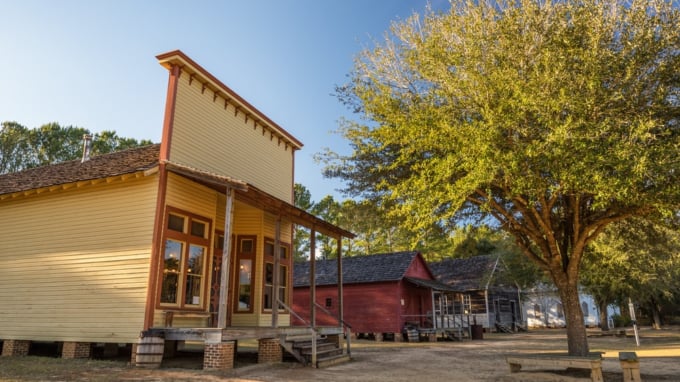 Photo by Nick Fox/shutterstock.com
Landmark Park is a large 135-acre park that was built to preserve the cultural and natural heritage of the Wiregrass region. Landmark park acts as the official agricultural museum in Dothan. The museum shows visitors how the settlers lived in the 1800's. The park is very fun and entertaining. One gets to go through sightseeing activities that will include farm fun activities. There are various farm buildings and farm animals that will occupy most of your time while at the place. There is also a nice boardwalk that was added for those that may fancy a walk. An ice cream shop is also available within that might come in handy especially during a hot day.
Name:Landmark Park
Address:430 Landmark Dr, Dothan, AL
Related Site:http://www.landmarkparkdothan.com/

2. Dothan Area Botanical Gardens
Photo by commons.wikimedia.org
Dothan Area Botanical Gardens is a great quiet retreat in Dothan. The botanic garden is a beautiful Japanese style garden that is filled with goldfish and koi fish. The garden is great for one to get some tranquility and enjoy nature's best. The garden usually has various themes and it provides a great opportunity to see the creative things people do. Since the place is open as early as 7 am, you can schedule a morning visit. If you go at the right time especially during spring, you can get to marvel at the beautiful Azaleas and Camellias.
Name:Dothan Area Botanical Gardens
Address:5130 Headland Ave, Dothan, AL
Related Site:http://www.dabg.com/


3. Adventureland Theme Park
From its name, 'Adventureland' Theme Park is an adventure filled escape destination. It has been a favorite family fun park in Dothan for over 20 years. Adventureland has some engaging treats that will fascinate travelers of all ages. From the miniature golf, to go-carts, to arcade games. There are even bumper boats. Charges vary depending on the activities one wishes to engage in but most are usually within $20 for a bunch of activities. There are interactive games where people get to win free tickets from playing deal or no deal.
Name:Adventureland Theme Park
Address:3738 W Main St, (Hwy. 84 West), Dothan, AL
Related Site:http://www.adventurelandthemepark.com/
4. Water World
If you are thinking about a wet experience while in Dothan, think about water world. The place is not only fun, it is also very affordable. There are two adventure rides that will ignite some chills. There is also a kiddy pool area where the young ones can enjoy. For those looking to just relax in the waters, the wave pool. Water world remains open Tuesday all through to Thursday and you get a 50 % discount when you visit between 5-9pm. There is also a waiver for seniors over the age of 60.
Name:Water World
Address:401 Recreation Road, Dothan, AL
Related Site:http://waterworlddothan.com/waterworld/
5. Peanuts Around Town
Peanuts Around Town is an interesting sightseeing sight in Dothan. There is an interesting paperboy that is made out of a peanut statue that is hard to miss. There are more peanut statues around the place. A set of four servicemen peanuts for each branch and a Sheriff Peanut. Peanuts around town is a fun activity as you try to discover nuts around the site. The more you collect the more successful the hunt! Tourists enjoy this sightseeing activity because it engages team building. This is like a sophisticated version of hide and seek for the grown-ups.
Name:Peanuts Around Town
Address:Dothan, AL
Related Site:http://www.dothan.org/index.aspx
6. Wiregrass Museum of Art
Wiregrass Museum of Art is a small museum in downtown Dothan. The citizens of Dothan cherish this museum. This building was renovated to facilitate art exhibits and host some great events within Dothan. These exhibits are mostly diverse works from artists around Dothan and beyond. The museum features both permanent and rotating exhibits. The permanent exhibits can be found on the ground floor. There is an extra room with vessels and glass shapes that you can blow into for fun. Admission is free but donations are accepted. The museum also offers free parking.
Name:Wiregrass Museum of Art
Address:126 Museum Ave, Dothan, AL
Related Site:https://www.wiregrassmuseum.org/

7. Antique Attic
The Antique Attic is a great place for antique lovers. This could be the only well-equipped antique shop in Dothan. An interesting thing to note about the place is that the items are not priced.This makes everything mysterious for the buyer. You can request for the individual prices if interested and you shall be assisted. However, the items do not come cheap because they are real gems, so having a good spending budget is ideal when sightseeing this beautiful antique shop. There is so much to feast your eyes on so there is no limit to explore.

Name:Antique Attic
Address:5037 Fortner St, Dothan, AL
Related Site:http://www.antiqueatticdothan.com/
8. Folklore Brewing & Meadery
Folklore Brewing & Meadery is the only local brewery in Dothan. They serve beer in both bottles and draft. Due to its uniqueness, tourists enjoy sightseeing the brewery in order to see the various equipment and sample the varieties of brews. The advantage of this is that the visitor gets to sample some brews which have not yet been distributed and they get to experience firsthand taste. The distillery is not open to everyone, it is only accessible to persons over 21 years. Aside from the beer, the grill serves some amazing food that goes hand in hand with the beer.
Name:Folklore Brewing & Meadery
Address:153 Mary Lou Ln, Dothan, AL
Related Site:http://www.folklorebrewingandmeadery.com/

9. Escape Dothan
Escape Dothan is a great escape room activity within Dothan. The venue is situated on the 13th floor and has 3 rooms to explore and discover. It is great when people play in groups preferably consisting of around six people. The Puzzles offered are fun and very engaging. The story lines are also very entertaining. This hidden gem will entice the traveler looking for a bonding night with some friends or looking to bond and meet with strangers around Dothan.
Name:Escape Dothan
Address:3759 Ross Clark Cir, Dothan, AL
Related Site:https://www.escapedothan.com/

10. Forever Wild Trails
If you find yourself around Dothan and wish to engage in some physical activities such cycling and walking, Forever wild trails is a beautiful trail ideal for this. The trail is a mixture of both easy and difficult trail levels. The location is well marked making it easy for one to trace their way back. The trails are also convenient as there are some bike repair stations in place. Picnic tables are also available for those going for a calm picnic rather than hiking activities. A plus for the place is that dogs are also allowed as long as they are leashed so your furry friends are most welcome!


Name:Forever Wild Trails
Address:384 Narcisse Drive, Dothan, AL
Related Site:http://www.dothan.org/index.aspx?NID=544
◎ Closing
Dothan should not be crossed out as a possible travel destination due to its small size. The people around have great hospitality that will only attract some good vibes. The hotels are also not crowded and are very affordable. If you are ever around Alabama, do make your way to Dothan.