Huntsville : A city famous for thick shady forests of tall pine trees and serves as the county seat of Madison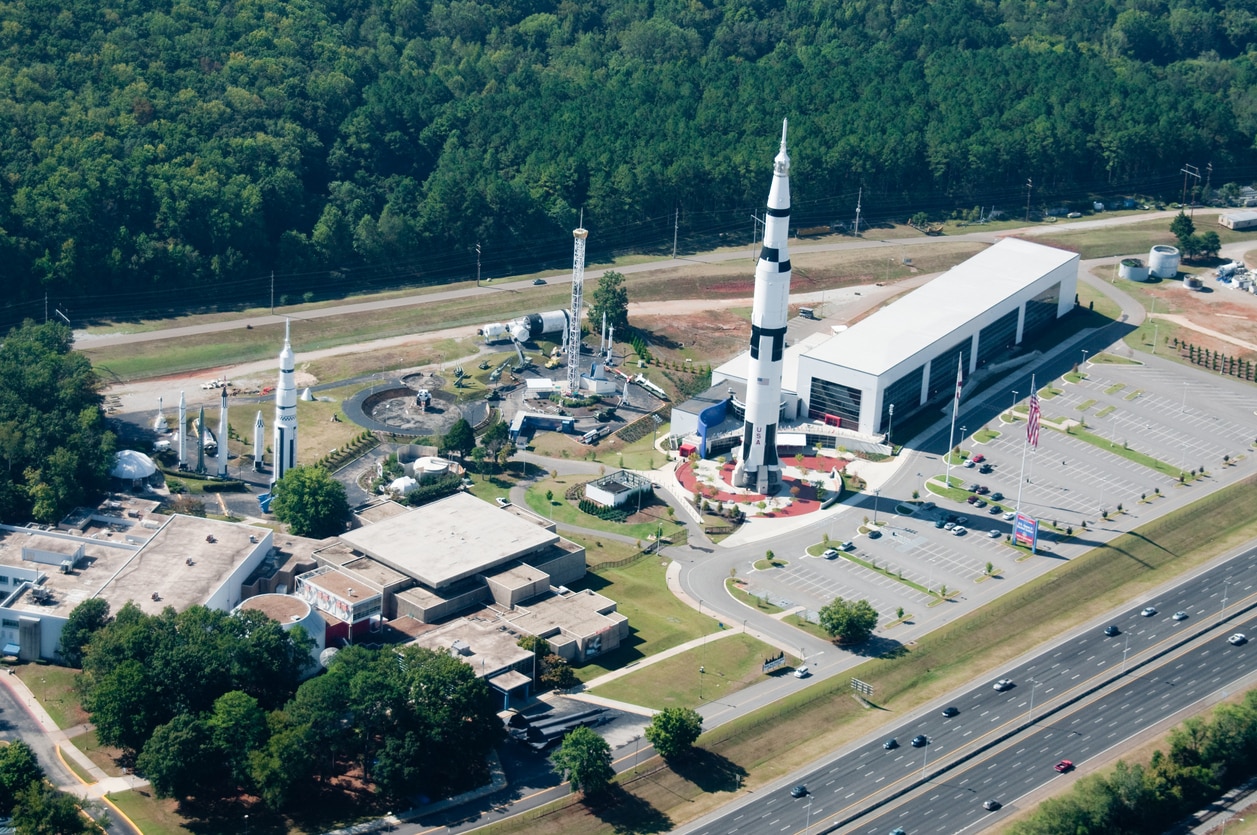 Huntsville is a city that is in the same echelons as The Silicon Valley. Despite being a modernization front, it is a worthy placed to visit for sightseeing purposes as well as educating oneself on America's history, spanning from pre-colonial era to the modern day superpower era. Below are some of the places to visit for sightseeing and touring purposes in Huntsville city and its immediate surrounding:

[x] close
Huntsville : A city famous for thick shady forests of tall pine trees and serves as the county seat of Madison:table of contents
1. Huntsville Visitor Information Centre
On your tour to the city, this should be the first place on your itinerary. At the information center, are really courteous and friendly guides who have the city's information at their fingertips. From these guides, one can have a crash course in the city. The guides can also inform individuals on the best places for sightseeing that is worth the money and time. Every visitor is always lucky here as they easily land on discount coupons. Scavenger hunting is also a sport on offer, keeping children entertained, active and vibrant while the adults are acquainted with the city.

Name:Huntsville Visitor Information Centre
Address:500 Church St NW, Huntsville, AL
Related Site: http://www.huntsville.org/
2. US Space and Rocket Centre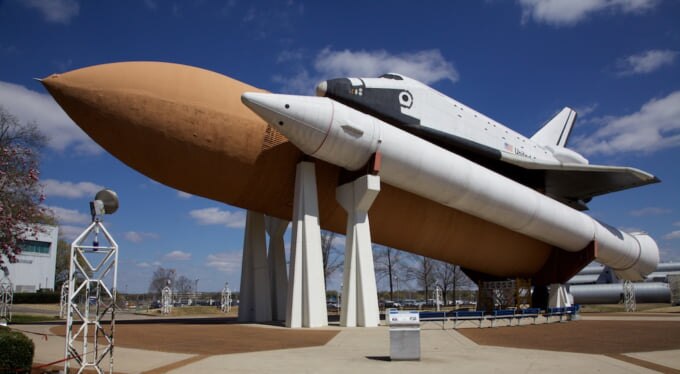 The USA is one of the ushers of the space era, and it still is a force to be reckoned with on matters space exploration. Huntsville city is at the center of this era, acting as the cradle of the USA Space Program, as well as the US marines. This center is home to a variety of space exploration hardware including rockets and capsules. Space environment simulators are also available for sampling through the G-force and Space Shot modules. At this place, one gets up-close to space shuttles and rockets. For sightseeing pleasure, the 3D compatible, large dimensional IMAX space movies are offered in the cinema.
Name:US Space and Rocket Centre
Address:1 Tranquility Base, Huntsville, AL
Related Site:https://www.rocketcenter.com/
3. US Veterans Memorial Museum
Huntsville city and the Madison County at large has played key roles in decisions that shaped the USA to the great country it is at the present. The Memorial Museum houses artifacts, memorabilia, and war gear from the revolutionary war era to the current times. The last standing, oldest jeep (the Ford Pygmy) is hosted in this museum. History lessons are entertaining and memorable from this center as one can easily learn the historical roles played by Alabama in making America a great nation. One can also get a visual lesson on the advancement of firearms and vehicles from ancient simple models to modern day, efficient state of the art types.

Name:US Veterans Memorial Museum
Address:2060 Airport Rd SW, Huntsville, AL
Related Site : http://www.memorialmuseum.org/
4. Madison County Nature Trail Green Mountain
Photo by commons.wikimedia.org
This is a great sightseeing spot situated on top of the Green Mountain. A great place for unwinding, away from the usually hectic city life. For budget spenders and tourists intent on saving, it is relieving news that the site is open and completely free on a daily basis. With the exclusion of the New Year, Christmas and day with unfriendly weather, the place is open on a daily basis. The sightseeing spot is the Sky Lake, with a trail running all around it. Fishing on this lake is allowed on Mondays and Fridays. Also available is a highly decorated pavilion and a chapel. Access to these two is on a reservation basis.

Name : Madison County Nature Trail Green Mountain
Address : 5000 Nature Trail Rd SE, Huntsville, AL
Related Site : https://www.madisoncountyal.gov/
5. Huntsville Botanical Garden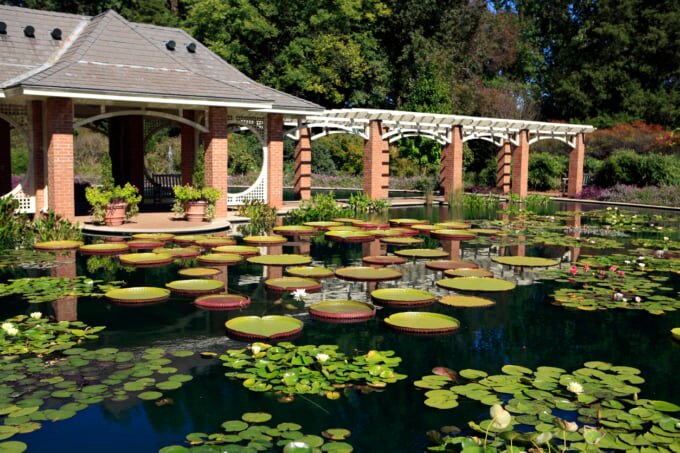 This is one of the city's top-notch sightseeing places. It houses an aquatic park where one can get to see fish and other aquatic animals in their natural splendor. Beauty in this spot is a notch higher thanks to a wildflower trail. Specialty gardens with exotic and rare plant collections are also there. There is a children's nature center where they can learn more about flora and fauna, climaxed by a large house full of seasonal butterflies. If you are curious about prehistoric times, there exists a dinosaur garden with fossil collections of dinosaurs that are complete skeletal structures.

Name : Huntsville Botanical Garden
Address : 4747 Bob Wallace Ave SW, Huntsville, AL
Related Site : http://hsvbg.org/
6. Harmony Park Safari
A home to various exotic and almost extinct animals, this place offers one an opportunity to have a classic, rare exploration of wildlife. Some of the animals housed here are buffaloes, zebras, kangaroos, ostriches, giraffes, tortoise, zebus and antelopes. A reptile house is also present where one can get to see some breeds of snakes and crocodiles. The Harmony Park Safari is open all through from March to November. To avoid inconvenience at the entry, it is important to note that pets are not admissible in the park.

Name : Harmony Park Safari
Address : 431 Clouds Cove Rd SE, Huntsville, AL
Related Site : http://www.harmonyparksafari.com/
7. Land Trust of North Alabama
This is one of the city's best places for adventurers and sightseeing folk. Available is an expansive trail, spanning to about forty miles, with vast spaces perfectly suited for horse riding, hiking and picnicking. There are three caves in which concerts are held most of the time such as the famous Moon Dance Festival. A waterfall, whose journey to its foot is a steep walking experience forms a nice place for hiking. Beyond the waterfall are landforms due to karst dissolution. Trails are present along creeks with owls and deer being frequent encounters with them.

Name : Land Trust of North Alabama
Address : 901 Kennamer Dr SE, Huntsville, AL
Related Site : http://www.landtrustnal.org/
8. Big Spring Park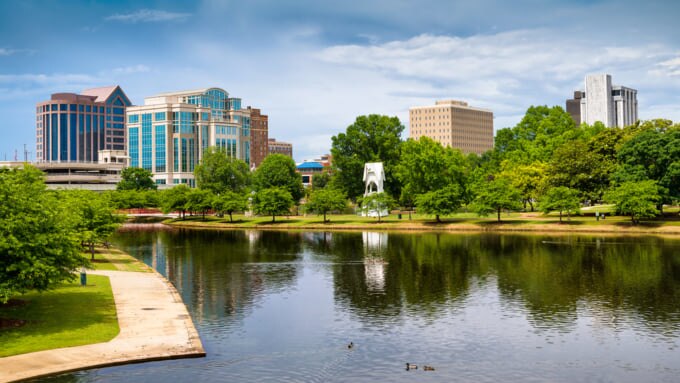 Photo by Rob Hainer/shutterstock.com
Built around the city's main water point, the Big Spring is a famous site worth touring. There is a lake, whose water comes from the spring. Animals at the spring are ducks, koi and geese, which can be fed with food easily bought from the park. The Big Spring also plays host to events and concerts, the most famous one being the Panoply Arts Festival. Foreign gifts and structures are also here such as the Norwegian lighthouse and the Japanese cherry bridge. The décor during winter is Christmas inspired, getting one into the festive mood. Adjacent to this park is the Huntsville art museum.
Name : Big Spring Park
Address : Church St SW, Huntsville, AL
Related Site : https://www.huntsvilleal.gov/venue/big-spring-park-east/
9. Huntsville Museum of Art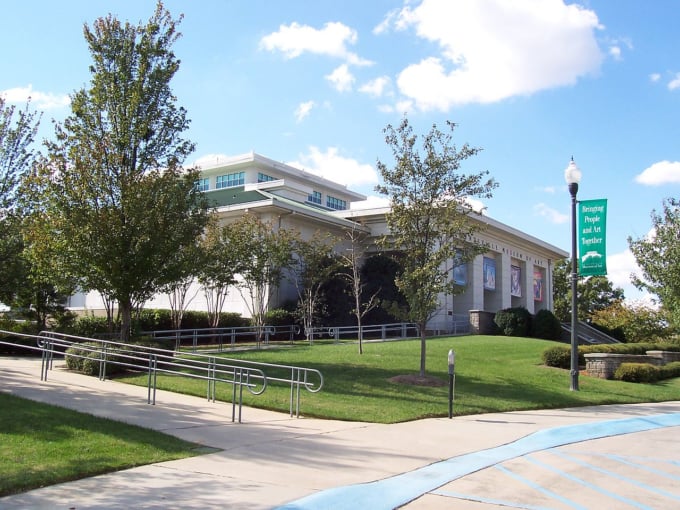 Photo by commons.wikimedia.org
This is found adjacent to the aforementioned Big Spring Park, easily becoming the next stop. In this hall, are a variety of artistic projects on display that are professionally done eye-catching. The Huntsville Museum of Art houses a variety of galleries from various artists. Exhibitions go on all year round, making anytime the best moment to pay a visit. Famous artists have also anchored themselves and their works in this place such as Norman Rockwell and Audubon.
Name : Huntsville Museum of Art
Address : 300 Church St SW, Huntsville, AL
Related Site : http://hsvmuseum.org/
10. The Alabama Constitution Village
This is the key place to visit for those who are curious about why Alabama is one of America's history makers. This place serves to celebrate and remember the 1819 convention when Alabama was admitted to the Union as the 22nd state. House structures present during the 19th century have been constructed here. In these houses, there are libraries and print vending shops complete with tour guides who help in expounding Alabama's lifestyle in the 19th century.
Name : The Alabama Constitution Village
Address : 109 Gates Ave SE, Huntsville, AL
Related Site : http://www.earlyworks.com/alabama-constitution-village/
◎ Closing
Huntsville city has a lot to offer for travel enthusiasts. A variety of tour options are available, from sightseeing spots to going back in time through museums and other informational places. A visit to the city is even more entertaining during the festive Christmas season when the city is majorly decorated in ways that effortlessly lure you into the Christmas spirit. The tourist sites beyond the city form great sightseeing spots while those within form great ways to embrace the urban spirit.