Photo by commons.wikimedia.org
Fargo:A Box Surprise of Art, Culture and Well Preserved Heritage
Fargo offers you quintessential list of historical landmarks and cultural heritage through museums, arts and culture and beautiful murals across the city. The city located in North Dakota is a treat to eyes during winters as the snow paints the canvas in white and the twinkling lights of the city is a visual delight. It is the largest city in North Dakota with the Plain Art Museum being one of the iconic sight-seeing places with contemporary history of the place. Be it lively arts and shows or natural landscapes, Fargo is definitely an escape you would want. Here are top ten places to visit in Fargo:
table of contents
[x] close
Fargo:A Box Surprise of Art, Culture and Well Preserved Heritage
1. Plains Art Museum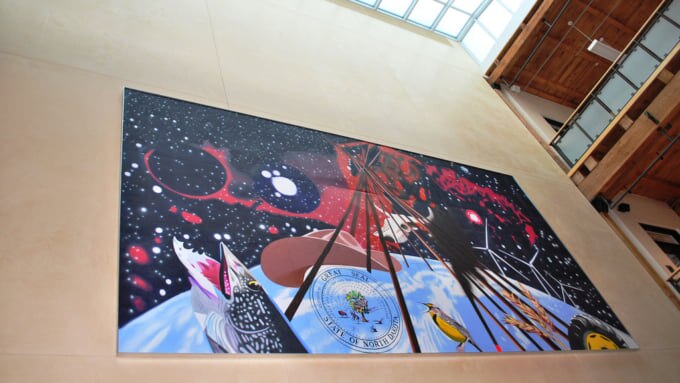 It is one of the finest art museums which started in 1994 after it was purchased and restored from being the International Harvestor warehouse. Currently the museum has a location of around 3000 local and national work of art and opens you to Native American and contemporary art work. The museum holds work from some of the best artists like Andy Warhol, James Rosenquist, Ellsworth Kelly, Sol Le Witt, etc. It began its Rolling Plains Art Gallery in 1993 which traveled to communities as climate controlled semi-trailer.
Name:Plains Art Museum
Address:704 1st Avenue N, Fargo, ND
Related Site:http://plainsart.org/
2. Children's Museum at Yunker Farm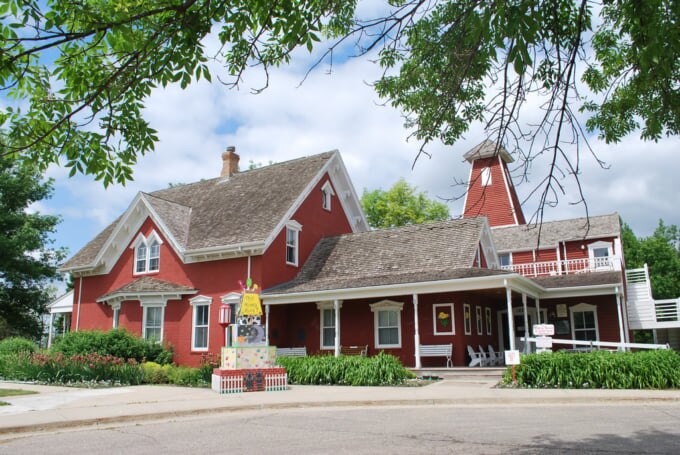 The museum was built in 1876 and is known for being the first brick house in North Dakota. The Yunker Family purchased the house in 1905 and the museum is located inside the house in 1985 after the complete renovation of the old, red brick house. The museum was especially for children and families with number of things exhibited for learning, imparting creativity and engaging children. There are number of education programs, special events and programs also conducted for kids to help them learn in creative manner.
Name:Children's Museum at Yunker Farm
Address:1201 28th Avenue N, Fargo, ND
Related Site:http://www.childrensmuseum-yunker.org/
3. Fargo Air Museum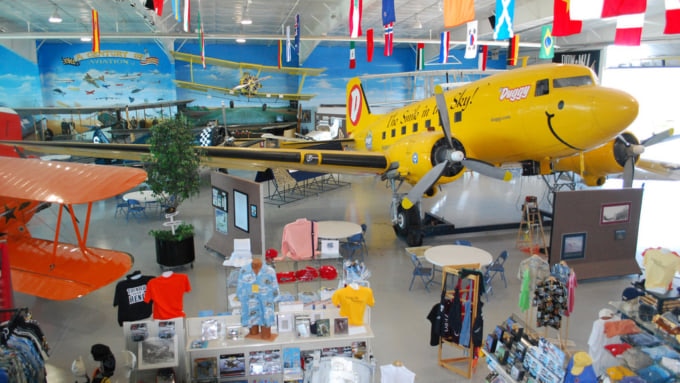 It is a unique museum which displays large number of historic aircraft and almost 90% of the aircraft in display are still in flying condition. It has so far hosted many events that are related to aviation mostly for children. Some of the prominent aircraft that are on display here are Northern American P-51D Mustang, Velocity Fixed Wing Aircraft, and Piper J3-C65 Cub. This is a great place to visit if you love aviation and fancied by the aircraft.
Name:Fargo Air Museum
Address:1609 19th Avenue North, Fargo, North Dakota
Related Site:http://www.fargoairmuseum.org/
4. Fargo Theatre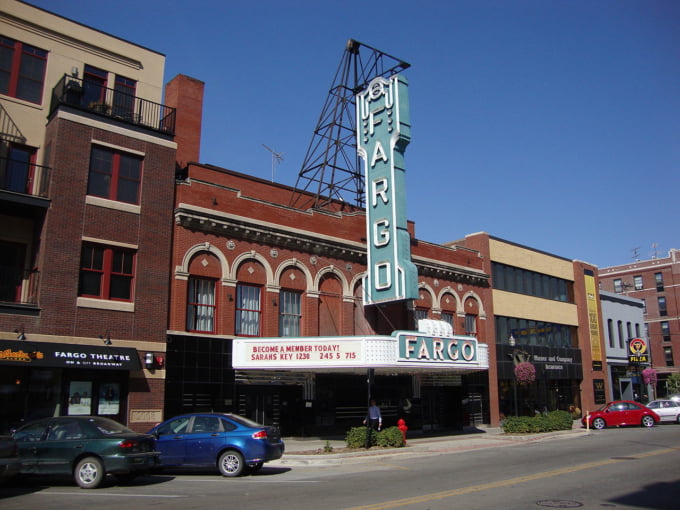 Photo by commons.wikimedia.org
Do you love plays and theaters and the experience of sitting and watching it from one of the most iconic theater buildings? The sign on the theater is representation of the city and how gracefully it has stool all this while entertaining people from the town and outside. The theaters are definitely a part of the history with new shows every week. It's a great place to visit with friends and families to spend an evening or weekend enjoying a show while gorging on the tasty popcorn.
Name:Fargo Theatre
Address:314 Broadway N, Fargo, ND
Related Site:http://fargotheatre.org/
5. Red River Zoo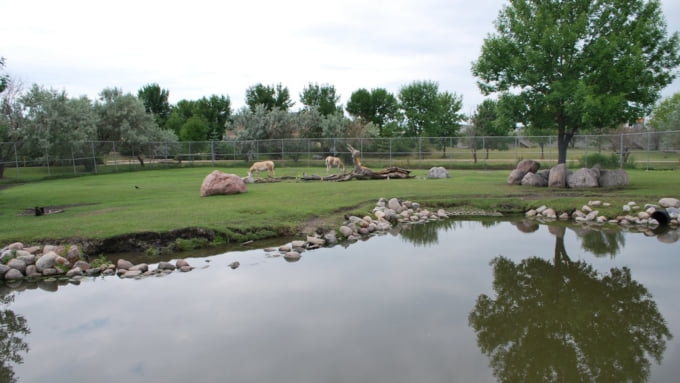 If you are looking for a perfect family destination in Fargo, this is the place that you need to be as you witness so many animals from some of the most exotic locations. The zoo is large and spread across a sprawling campus of 22-acres and currently home to around 89 species. The animals are not caged and live in their natural habitats that make it an exceptional delightful place to visit. There are even some rare animals present in the zoo and is a great place to spend a day.
Name:Red River Zoo
Address:4255 23rd Ave S, Fargo, ND
Related Site:https://redriverzoo.org/
6. Rourke Art Gallery and Museum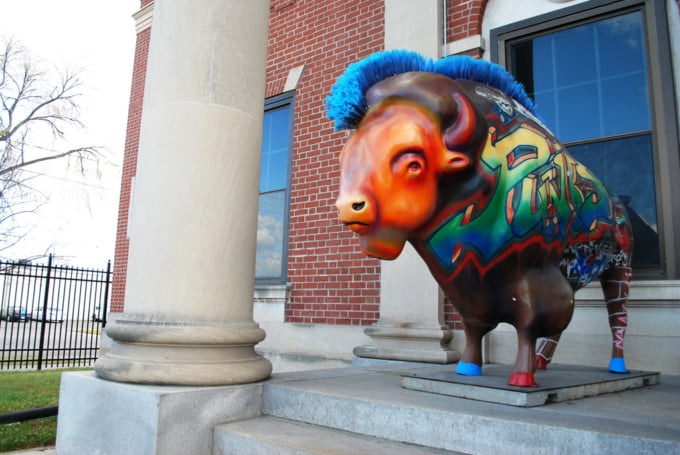 The museum is an iconic heritage Landmarks that has permanent collection that features number of art work by American, Pre-Colombian, Asian, African and Native American art. The work of many cultural and traditional regions is part of its permanent collection. Along with these, the museum also houses a number of temporary art works by local artisans through exhibitions and events. It is a great place to visit to get a deeper insight about the culture and heritage through the preserved and displayed things.
Name:Rourke Art Gallery and Museum
Address:521 Main Ave Moorhead, ND
Related Site:http://www.therourke.org/
7. Bonanzaville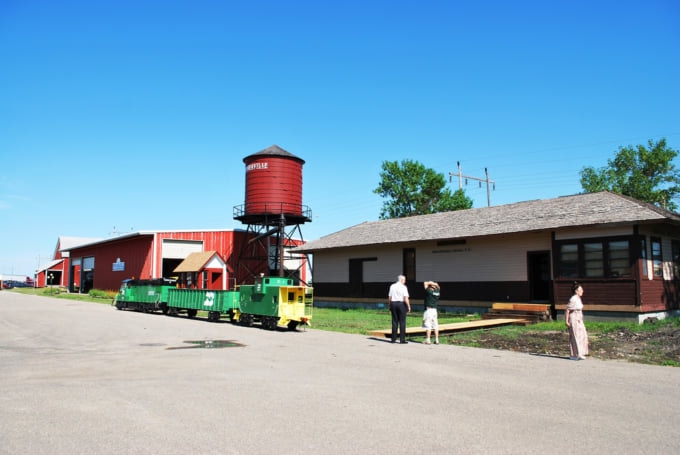 It is one of the iconic history museum and spread along a sprawling campus of 12 acres and is made of 47 buildings. It is a pioneer village and museum complex and definitely one of the best sight-seeing places in Fargo. There are 43 historical buildings in the complex which houses total of 400000 artifacts that enriches your historical knowledge about the place. If you are in Fargo this is a place that you must definitely visit to increase your knowledge about the Historical places.
Name:Bonanzaville
Address:1351 Main Ave W, West Fargo, ND
Related Site:http://www.bonanzaville.org/
8. F-M Visitors Center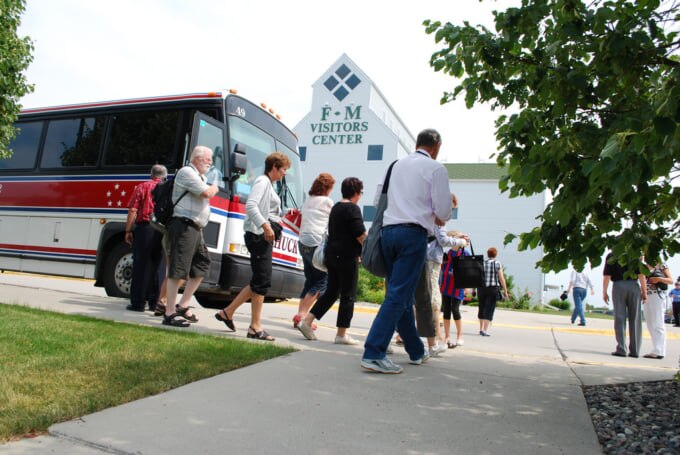 The convention center has lot of things for the visitors to witness and enjoy. It is a grain elevator where there is lot of information available regarding the city of Fargo with information on maps, brochures and many souvenir of gift shop. It is a great place to check for the celebrity walk of fame and hand-prints from some of the famous celebrities like Metallica, Jesse Ventura, Dr. Ruth Westheimer, Metallica and many others. There are number of proper kept from some of the popular movies shot in Fargo along with the famous grisly wood-chipper from the movie Fargo.
Name:F-M Visitors Center
Address:2001 44th St S, Fargo, ND
Related Site:https://www.fargomoorhead.org/
9. The Woodchipper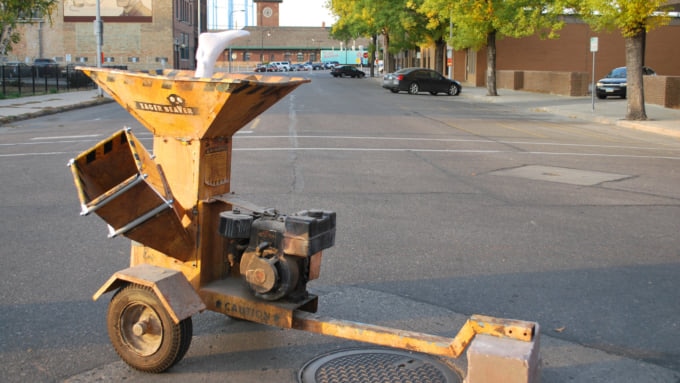 Did you watch the movie Fargo and loved the work there? If you are a fan of that movie, you definitely cannot miss witnessing the original Wood chipper that was used in the movie. It is present at the Moorhead Visitors Centre where the original wood chipper is there as well as a replica is placed so that the visitors can have some fun watching it. It is a homage to that amazing scene in the movie where the wood chipper was used.
Name:The Woodchipper
Address:2001 44th St S Fargo, ND
Related Site:www.facebook.com/thewoodchipper
10. Historical and Cultural Society of Clay County
The society is dedicated towards preservation of some of the most beautiful historical aspects and work from the history of Clay County. They present number of exhibitions, art work, events and programs and are definitely a place for art lovers. The mission is to collect and preserve the rich history of the place. There is a museum with display of lot of unique artifacts and art pieces.
Name:Historical and Cultural Society of Clay County
Address:202 1st Ave N, Moorhead, MN
Related Site:https://www.hcscconline.org/
◎ Closing
Fargo is a beautiful place located in the state of North Dakota and is known for its rich cultural heritage and history. With number of museums, the history of the place has been well preserved. It is also known for the famous movie Fargo with its grisly wood-chipping scene.