Raleigh:A Trip to Tranquility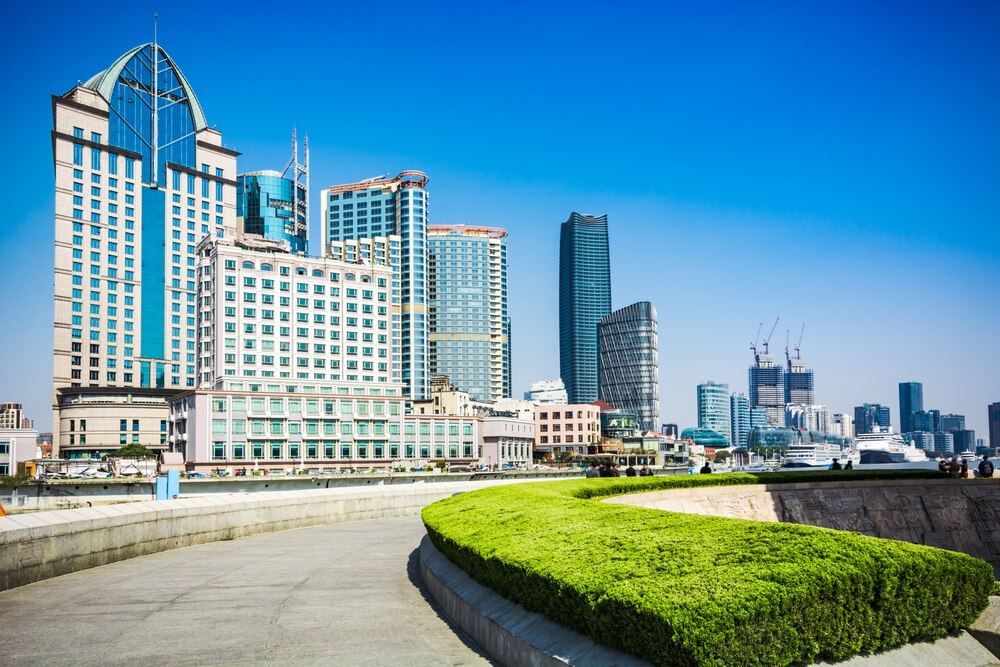 Photo by John_T/shutterstock.com
Raleigh is known for many universities, colleges, academic institutions, and it is the capital of North Carolina, named after Sir Walter Raleigh a writer, soldier, politician, and explorer; one of the famous personality of the Elizabethan era. The city is renowned for its Oak trees, and it will be an attractive feast to watch the oak lineups on the sides of the promenades. It is the best place for foodies, music lovers and is known for the most beautiful weather throughout the years; hence tourists can enjoy the best of their activities with family friends. Raleigh is one of the biggest cities in North Carolina offering vibrant nightlife and home to many professional sports teams. It is the home to various galleries and museums. In addition to multiple sports and club activities, it is an ideal place for family entertainment, where couples can engage in deep sea fishing, snorkeling, powerboat driving, scuba dive and much more. The beaches are perfect for families and little ones, as there will always be low intense waves and hence, the families can have absolute fun time at the beach.
[x] close
Raleigh:A Trip to Tranquility:table of contents
1. The North Carolina Museum of Natural Sciences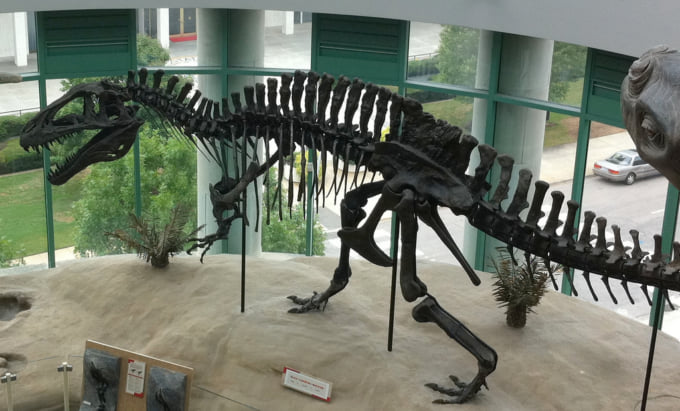 The North Carolina Museum of Natural Sciences is one of the major attractions in Raleigh. Entry to the museum is free and will be open Monday through Saturday 9 am to 5 pm and Sunday noon to 5 pm. It is the largest history museum in the southeast with Nature Research Center and Nature Exploration Center spread in four faculties on three campuses. You will be amazed to see the live animal exhibitions, unusual gift shops, and cafes.

The museum holds an extensive exhibition that attracts travelers of all ages. Exhibits like the Coastal North Caroline,' along with many other things teach visitors about North Caroline. Another major attraction is the Living Conservatory section of the museum with full live beautiful butterflies. It also has a wing dedicated to nature research and this is the wing that tourist loves the most as they get an opportunity to watch the live activities of scientific experiments and interact with the scientists.

Conducted tours, live exhibitions, 3D movies, take you to a world of fantasies and it is worth spending your time with family at Museum of Natural Sciences. Without mentioning about the Acrocanthosaurus dinosaur, 10,000-gallon aquarium and 70-foot-diameter globe that housing a three-story theater exhibiting live program and scientific movies, a trip to the museum will be incomplete.
Name:The North Carolina Museum Of Natural Sciences
Address:11 W Jones St, Raleigh, NC
Related Site:http://naturalsciences.org/
2. Pullen Park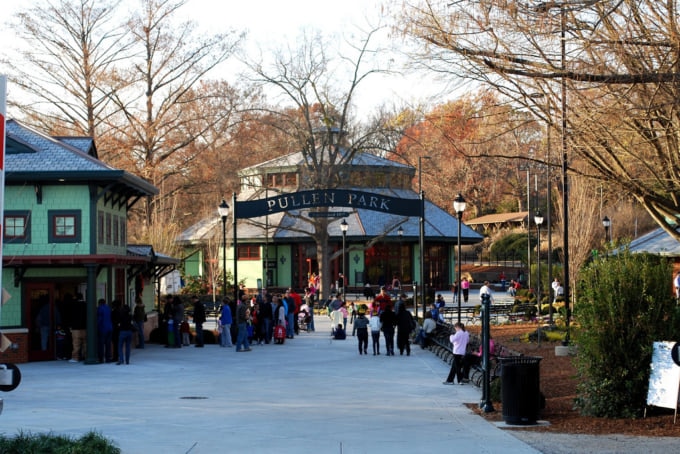 Established in 1887 Pullen Park is the first public park in North Carolina and fifth oldest amusement park in the US. It is located west of Downtown Raleigh and extends to about 66 acres of land. It is the perfect place to find a balance between peace and family fun. Pullen Park's Holiday Express is the most famous event that takes places in the park, and you may find it very difficult to get the show tickets due to the excessive demand. When you are in Pullen Park, it is must visit activity and have memorable lifelong experience. With a theater center, art workshops, Olympic-sized pool, and ceramics it is more just a park. It is a hub of fun to do things for both kids as well as adults.
Name:Pullen Park
Address:520 Ashe Ave, Raleigh, NC
Related Site:https://www.raleighnc.gov/parks/content/ParksRec/Articles/Parks/Pullen.html
3. Marbles Kids Museum
The marbles surrounding the museum is the reason to nickname it as Marbles Kids Museum. You will be surprised to know that the museum wall has studded with more than 1 million marbles making it a delightful experience to watch and even mesmerize you when illuminated in the night. It is a heaven for kids. The museum has an Art Loft where kids can do fun stuff like sculpt, crafts and painting. A Power 2 Play section allows the kids to have fun with children sized athletic equipment. The IMAX Theater and a cafe further add to the charm of this place. The museum's diverse exhibits will definitely make your visit worthwhile. The entrance fees at the museum are of five dollars.
Name:Marbles Kids Museum
Address:201 E Hargett St, Raleigh, NC
Related Site:https://www.marbleskidsmuseum.org/
4. Historic Yates Mill County Park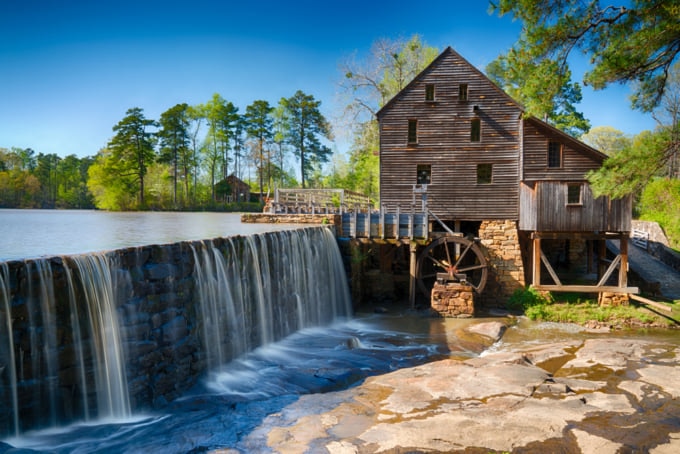 Photo by Paul Brady Photography/shutterstock.com
The fantastic 174-acre park is the only remaining water-powered gristmill in the country. Travelers love to visit this place to enjoy the peaceful vibes. Long hiking trails stretching to extended miles makes the Historic Yates Mill County Park as one of the best places for hiking in Raleigh. Apart from hiking, you can also participate activities like Paddle the Pond and Fishing Foot Print. The park is definitely a gem that adds to the beauty of Raleigh. For people who love to get some fresh air and like a quiet and peaceful atmosphere are going to love this place.
Name:Historic Yates Mill County Park
Address:4620 Lake Wheeler Rd, Raleigh, NC
Related Site:http://www.wakegov.com/parks/yatesmill
5. Shelley Lake Park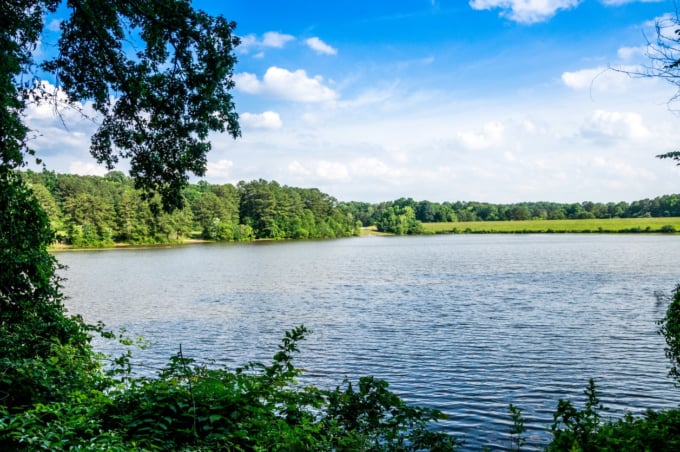 Shelly Lake Park is a well-known tourist attraction in Raleigh. The Lake Park extends to about 173 acres of which it has a massive lake spread over 53 acres is one of the hot spots for leisure activities. It is the epitome of scenic beauty. On the outskirts, you can find neatly paved trails stretches about 3 miles surrounding the park, which is a busy spot for jogging, bike ride, and walking, etc. If you are a nature lover, then this place will definitely give you the chills. Just rent a boathouse and a fishing bait and enjoy your day soaking in the sun while fishing. Another major attraction in the park is the Sertoma Arts Center, which offers classes for artists. Shelly Lake Park is the perfect place to blow some steam off.
Name:Shelley Lake Park
Address:1400 W Millbrook Rd, Raleigh, NC
Related Site:https://www.raleighnc.gov/parks/content/ParksRec/Articles/Parks/ShelleyLake.html
6. Memorial Bell Tower
The Memorial Bell Tower built to honor the NC State alumni lost their lives during the First World War. Visiting the memorial will dominate our mind with the sad memories of war and the brave hearts who fought with vigor and laid their precious life. You will get a lifetime opportunity to pay your tearful homage. The surroundings have beautifully landscaped to look more attractive and the best location for photography. People who want to spend some quality time with their loved one, it is an ideal location as it has lots of shady trees and walks ways for a cozy get together. Tourist comes here to pay their respectful homage and spend some quality time.
Name:Memorial Bell Tower
Address:2011 Hillsborough St, Raleigh, NC
Related Site:https://www.ncsu.edu/belltower/
7. North Carolina Museum of History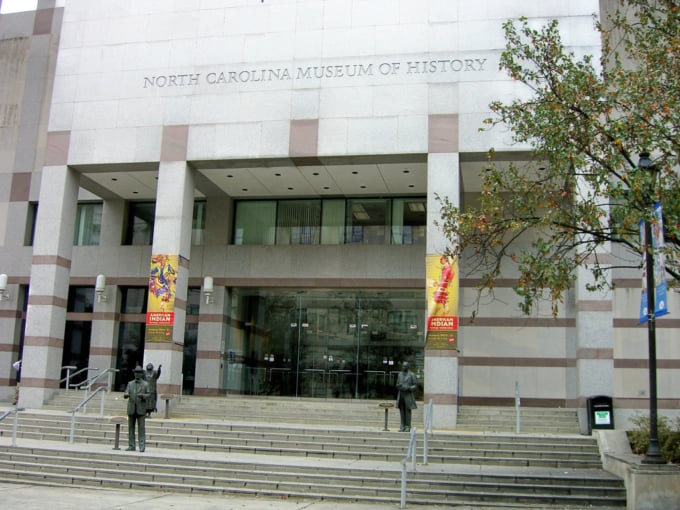 The North Carolina Museum of History is what it sounds like; it holds the history of North Carolina. It has an exhibit named "Story of North Carolina" that tells us about 1400 year's history of the state. The exhibition is grand and occupies around 20,000-square-foot of the area. Visitors find it intriguing and attractive. One of the major attraction is the life-size replica of the plane made by the Wright brothers. There are also exhibits based on the theme of Civil War. Those visiting a museum can learn a lot about the rich history of North Carolina. Entry to the museum is open from 9 am to 5 pm on Monday to Saturday, and on Sunday it opens from noon to 5 pm. Only some few exhibits charge for entry and rest all are free.
Name:North Carolina Museum of History
Address:5 E Edenton St, Raleigh, NC
Related Site:https://www.ncmuseumofhistory.org
8. Mordecai Historic Park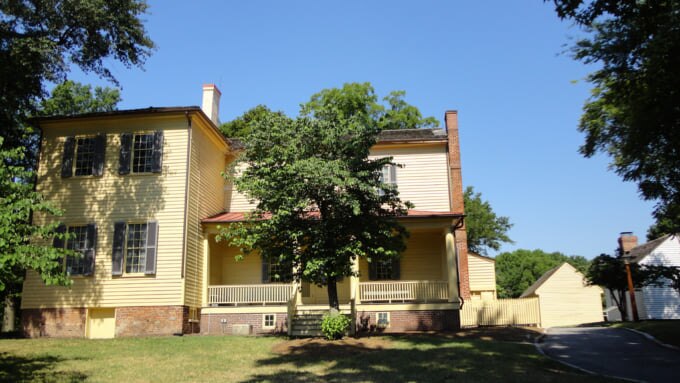 The Mordecai Historic Park built in 1785 spread over three and a half acres. It is the place of Raleigh's oldest house. Visitors will have the freedom to move into this historic home and will have a chance to learn the family history of people who lived there for five generations. This place will surely overwhelming and a fantastic nostalgic experience. Entry to the Mordecai Historic Park is restricted, and for adults, the entry fee is $5, and for kids, it is $3, and you will require 50 minutes to explore the whole area.
Name:Mordecai Historic Park
Address:1 Mimosa St, Raleigh, NC
Related Site:https://www.raleighnc.gov/parks/content/ParksRec/Articles/Parks/Mordecai.html
9. Neuse River trail
The Neuse River Trail is a 28-mile paved path offering the mesmerizing scenic sight of the surrounding area. It is a delightful location and locals use the trail for walking and riding. It is a beautiful location rich with natural tranquilities. You can rent a bicycle and roam along the trail, which will be a fantastic experience to get connected with nature.
Name:Neuse River trail
Address:Raleigh, NC
Related Site:https://www.raleighnc.gov/parks/content/ParksRec/Articles/Greenways/NeuseRiverTrail.html
10. Walnut Creek Amphitheater
The Walnut Creek Amphitheater is an exclusive outdoor music center organizing live concerts. The amphitheater has been holding various shows by world-famous musicians all across the globe. Apart from music concerts, the venue also has been hosting regular festivals, such as Furthur Festivals, JazzFest, Ozzfest, SoulFest Uproar, H.O.R.D.E.F, Charlotte Blues, Mayhem, Lollapalooza, and Warped Tour. The theater complex is covering about 77 acres, with a total seating capacity of 20,500 including 6,847 covered seating. While visiting Raleigh, check the program chart of Walnut Creek Amphitheatre as there will regular shows of one or the other and be part of the show to carry back cherishing memories. Since majority of the seats are outdoor, enjoy the rain or shine, as it may come. All types of snacks, drinks including hot drinks are available inside during the show. Children under 2 are free to enter but must sit on the lap of adults, and you cannot use additional seating. Book your ticket online enjoy every bit of your life, while at Raleigh.

Name:Walnut Creek Amphitheater
Address:3801 Rock Quarry Rd, Raleigh, NC
Related Site:http://walnutcreekamphitheatre.com/
◎ Closing
Raleigh is a place where you can have joyful, leisurely outing combined with academic enrichment. You can find a lot of museums, scientific and historical research centers, where you can get a chance to interact with ongoing research programs and stay connected with the latest development happening the world. Since there are many colleges and universities, the city is always vibrant with youngsters. One of the most interesting you can find here is the trendy food culture. Visiting North Carolina Museum of Natural Sciences will give you rare opportunity to have an on hand experience of watching the giant fossils of North Carolina Museum of Natural Sciences, and the largest aquamarine exhibitions are truly wonderful, fill you cherishing memories.