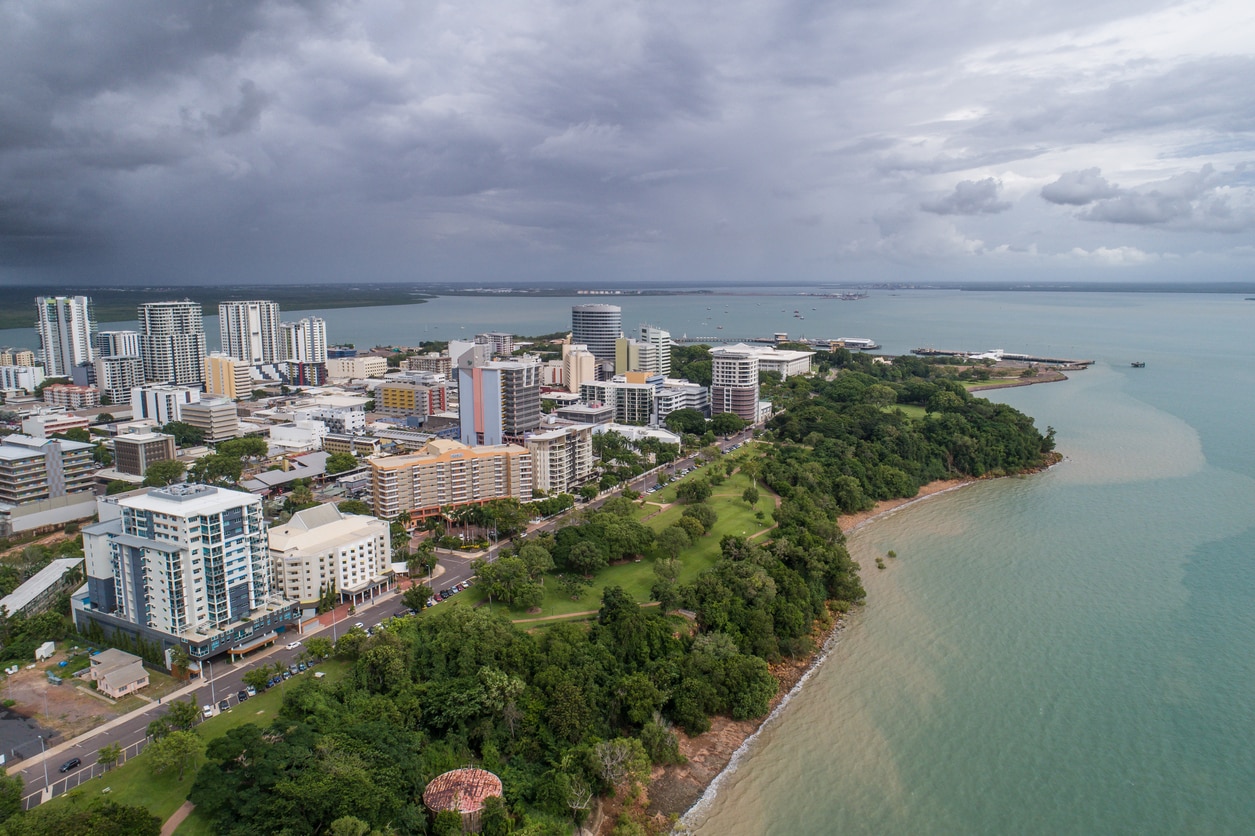 Darwin : The City You Should Never Miss While in Australia
Darwin, the capital of Australia's Northern region, a former frontier is a popular tourist destination. While you have reached Darwin, you will have to enter the Kakadu National Park from where your journey to the land of splendid tourism will begin. Visitors love to visit the waterfront and attractive beaches here. Darwin is known for Bicentennial park (a green area), Museum and art gallery in the Northern region. It is one of the best locations for leisure activities and offers opportunities to interact with the Pacific and South Asian art forms displayed in various museums. The best time to visit Darwin is the dry season which starts from April/May and continues until September/October. Darwin is characterized by pristine clear sky, pleasant nights and warm days.
table of contents
[x] close
Darwin : The City You Should Never Miss While in Australia
1. Mindil Beach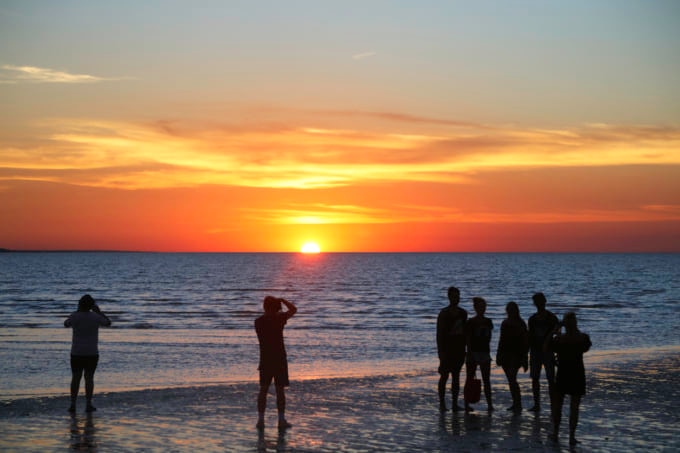 Mindil beach is located in Darwin's Central business district. It is a beach and a point of attraction for all visitors because of the spectacular sunset and the night markets. You must never miss a visit to the night markets during Thursdays and Sundays. It will be a pleasant experience, enjoying every moment and hanging around in the markets with your friends. After finishing your shopping, enjoy the leisure hours playing beach volleyball and Frisbee. You will love sunbathing and the warmth of the sun. No other place will offer you host of fun activities like enjoying a picnic at film spots, eating Asian inspired food and many more. Plan a visit while the Darwin Beer-can Regatta (an event) which celebrates on the beach to make it an unforgettable moment and go for boating at Darwin Power Boat Club.
Name:Mindil Beach
Address:Mindil Beach, The Gardens NT 0820, Darwin, Australia
Related Site:http://mindil.co.au
2. Wave Lagoon
If you love Darwin's waterside location, Wave lagoon is the most desired place for spending some quality time with your family. It has a recreational pool for swimmers and for those who like to embrace summer. With the backup support of lifeguards for ensuring safety, you can fearlessly enjoy water sports activities and swing in a hammock in the shades near the lagoon. You have to wear swimsuits, carry hats and apply sunscreen lotions to protect your skin from sunburns. Also, you won't feel tired as you can find enough refreshments and beverage counters in various part of the lagoon. Although you won't be able to dive or jump off the boat, you will enjoy endless swimming. You cannot drink alcohol or smoke here. Children under a certain height will be supervised. The entry fee for an adult is $7 and for a child is $5. For a family of 2 children or maximum three children, the entrance fee is $18. Never miss this opportunity to swim to your heart's desire.
Name:Wave Lagoon
Address:Kitchener Dr. Darwin City NT 0800, Australia
Related Site:https://www.waterfront.nt.gov.au/
3. Darwin Aviation Museum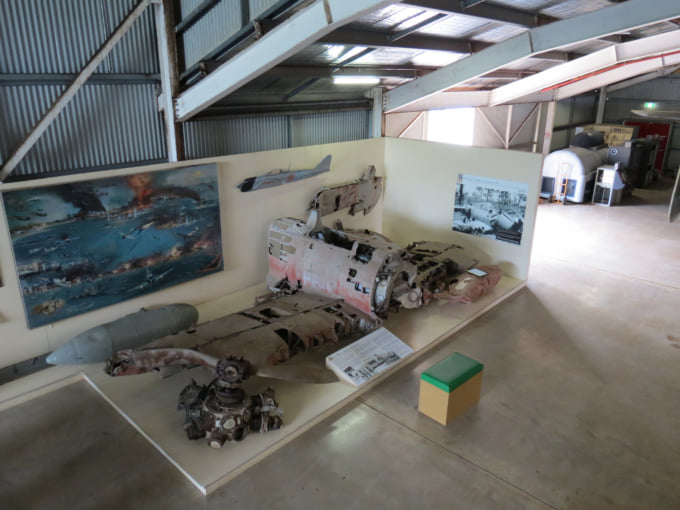 Located in the Northern region of the territory, Darwin Aviation Museum is all about aircraft, aircraft engines, and accessories. It will be a surprising experience to find 19 civil and military aircraft, with details of its specs. You will see 21 engines and relicts of a crashed plane and these are the main points of attraction in Darwin Aviation Museum. On the academic level, you will have a satiating experience, while watching the video presentation of aviation history. If you are lucky, you can also have the privilege to meet various aviation personalities. The museum is just 8Kms away from the city, and you can easily reach there by bus or tram. Entry is against admission fee, which is for adults $15, children $7 and for senior citizens or pensioners, it is $10 per head. If you are fond of aviation and adventure, never skip this museum, as there so many things to learn and understand.
Name:Darwin Aviation Museum
Address:557 Staurt Hwy, Winnelie NT 0820, Australia
Related Site:https://www.darwinaviationmuseum.com.au/
4. Berry Springs Nature Park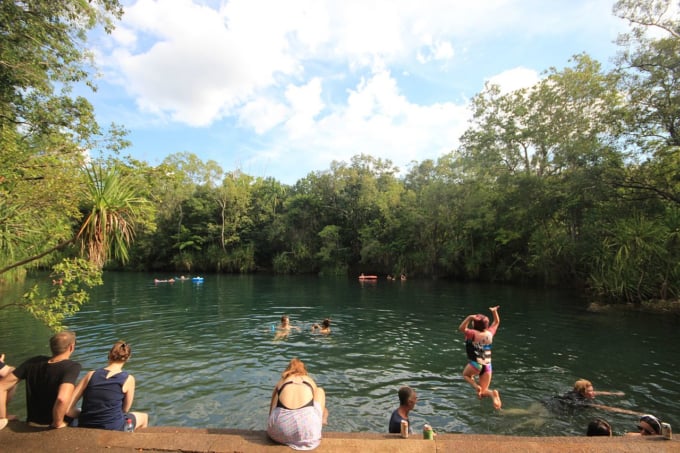 Photo by commons.wikimedia.org
Berry Springs Nature Park is one of the most beautiful parks of its kind situated very close to Darwin. You will find the shaded picnic area and barbeque zone which is an excellent point of attraction. Strollers and bird watchers prefer the monsoon forest and Woodland Park. What may make you emotional is the remnants of World War II in this park. Enjoy bushwalking, bird watching, wildlife watching, historical remains, and picnicking, swimming and other ranger-guided activities. To reach here, you will have to travel south along the Stuart highway and then turn right towards the Cox Peninsula. You can avail various amenities over here including kiosk, public toilets, wheelchair access, information signs, barbeque area, fire pits, ranger stations and drinking water. Don't worry about the strict rules and regulation as a visitor you need to abide, when everybody can keep the rules; it won't be a problem for you too. Wind up your tour by visiting the Spring Nature Park, another beautiful tourist spot near Berry Springs.
Name:Berry Springs Nature Park
Address:Cox peninsula road, Noonamah NT 0837, Australia
Related Site:https://nt.gov.au/leisure/parks-reserves/find-a-park-to-visit/berry-springs-nature-park
5. Darwin Waterfront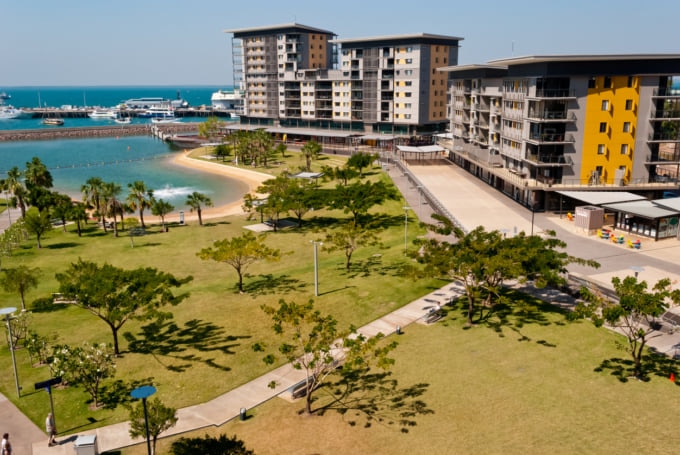 Darwin waterfront is a recreational area situated in the Northern territory of Darwin. If you want to enjoy the tropical lifestyle, resort-style luxuries, food, ocean views and swimming, then you must choose to visit Darwin Waterfront. There are all types of arrangement so that you can stay, play and dine here. Take a sunset cruise or the jet boat ride to get an enthralling experience. The crystal clear water attracts every visitor for a dip. Make sure to take a trip in the waterfront shuttle that is flying between 11:30 am to 2 pm. And again between 4 pm and 9 pm. Negotiate on the Sky Bridge that connects to the sea. You may take a stroll in the Smith Street Mall, scenic Parklands and old town ruins and parliament house while you visit Darwin waterfront.
Name:Darwin Waterfront
Address:19B Kitchener Dr, Darwin City NT 0800, Australia
Related Site:https://www.waterfront.nt.gov.au/
6. Crocosaurus Cove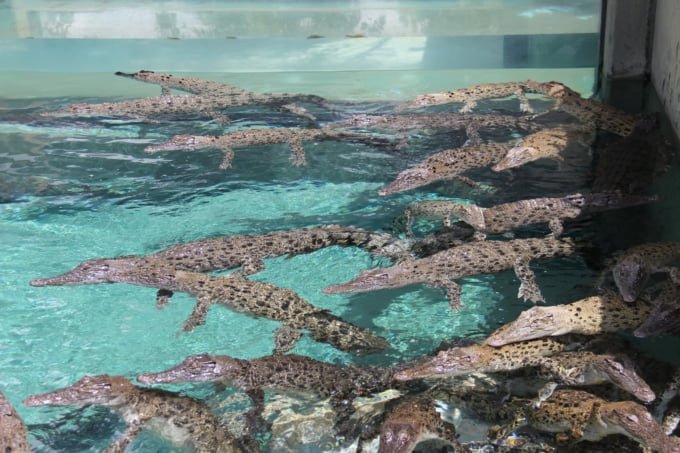 Crocosaurus Cove is an amusement park situated at the heart of the Darwin city. It is the home of one of the largest congregation of saltwater crocodiles and reptiles in Australia. Enjoy photographing in the crocodile park or enjoy feeding the snakes here, you will love every moment. Try to be part of the crocodile shows in the park which is conducting at regular intervals. Entry tickets are always available at the entry gate. If you are brave enough, then visiting the famous Cage of death will be a memorable experience, which is one of its kind dangerous crocodile dive show. You will be put in a cage, and that will be drawn by the overhead monorail towards the crocodile allowing you a very close look. Entry fee is for adults $35, children $23 and senior citizen $28. If you are an adventure freak, never miss this thrilling opportunity to visit Crocosaurus Cove.
Name:Crocosaurus Cove
Address:58 Mitchell Street, Darwin City, NT 0800, Australia
Related Site:http://www.croccove.com/
7. Magnetic Termite Mounds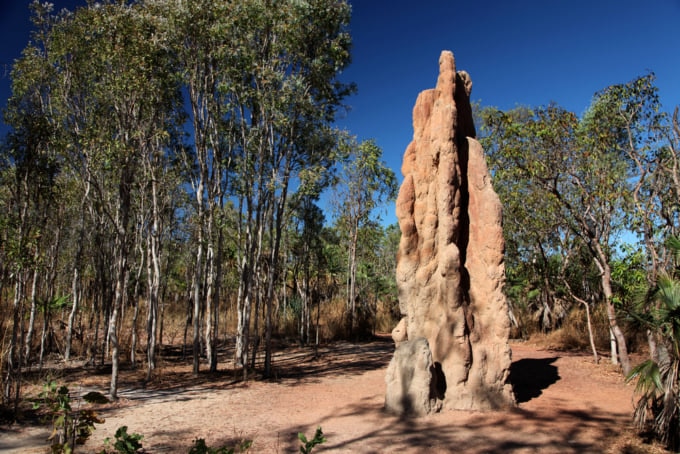 Photo by pierdest/shutterstock.com
Magnetic Termite Mounds are massive white ant structures, located about 17 km from Litchfield Park. You don't have to pay any fees for entering the park. View the fantastic architectural feats built by termites. Apart from the structures, you will see the Upper Finnis River, swimming pool, local wildlife and park facilities. Drive 85 km south of Darwin and the 27kms north of Adelaide. Take the left turn to Litchfield National park and then reach Magnetic Termite Mounds. Choose to stay in camps or hotels depending on your budget. Study the road conditions before getting there in the jeep. Never miss the sight of this architectural feat that completes tunnels, insulation, chimneys and lots of nursery chambers.
Name:Magnetic Termite Mounds
Address:Litchfield Park NT 0822, Australia
Related Site:http://northernterritory.com/darwin-and-surrounds/things-to-do/magnetic-termite-mounds
8. Nightcliff Jetty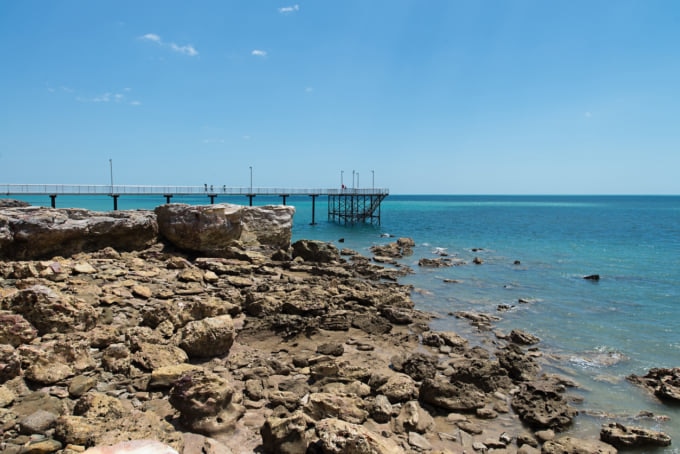 Nightcliff Jetty situated in Casuarina drive, Darwin is one of the best sites to enjoy the ocean view. You will see people fishing on the pier. It is one of best spots for fishing. Here, you can catch fishes like rock cod, blue salmon, squid, small shark, queenies, and trevally. People come here to enjoy barbequed fish beside the jetty. You will fall in love with the spectacular sight of sunrise and sunset. The view from the red rock is a photographer's delight. If you visit on Saturdays, you will see the van of fish and chips. You may bring your picnic chairs and tables to enjoy.
Name:Nightcliff Jetty
Address:Night Cliffe, Nightcliff NT 08100, Australia
Related Site:https://northernterritory.com/darwin-and-surrounds/see-and-do/nightcliff-markets
9. Defense of Darwin Experience
It is one of the military heritage sites situated in Australia. Weekdays are preferable to visit Defense of Darwin. Entry fee for an adult costs $18, for children it's $8, and for senior citizens, it's $8. Darwin and Northern territory have played a critical role in defending Australia during World War I. If you visit the military heritage places, then you can see the airfields, explosive stores and also watchtowers. In continuation of the visit, you can see the oil tunnels, east point military complex, 16-mile camp, Strauss airfield and doctors gully which are some of the important spots, and you should not miss while visiting here. Besides all these, a large museum and art gallery welcomes you with materials of historical importance. The museum has well documented, and visitors can download the multimedia copy for a better understanding of the museum and its relevance.
Name:Defense of Darwin Experience
Address:5434 Alec Fong Lim Drive, East Point, Darwin NT 0801
Related Site:http://www.defenceofdarwin.nt.gov.au/index.php?id=22
10. Territory Wildlife Park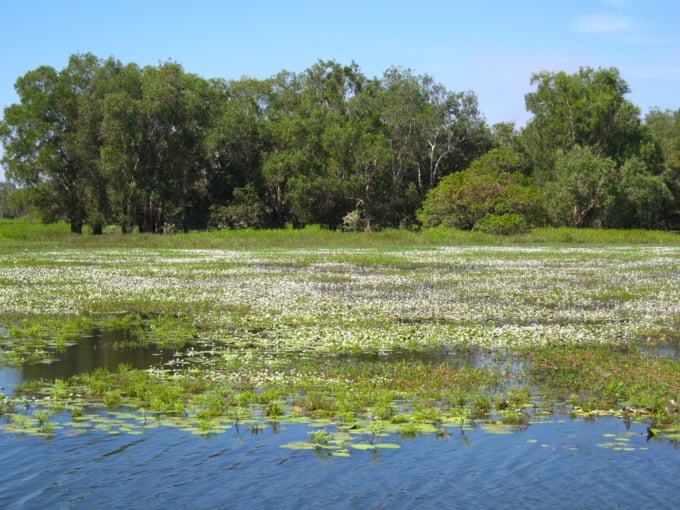 Photo by Sean Lema/shutterstock.com
At Territory National Park, you will be excited to see the wildlife closely. You might see rare sights of the wild beauties on treetops or when they are strolling around the parks. The entry fee is $115 per person per day. The package offers morning & afternoon tea, guided activities, and lunch. As memorabilia, the park gives certificates for kids along with hat and water bottle. Moving inside the park is relatively easy either by taking a walk, ride the free shuttle train, stroll or ride bicycles or scooters. You can also see the wetlands, woodlands, and monsoon vine forests. It is an abode for nature lovers as there is a lot of things to watch and closely interact. Besides, you will love to enjoy the aquarium, lagoon, goose lagoon and Oolo Sandbar in the Territory Wildlife Park.
Name:Territory Wildlife Park
Address:Cox Peninsula Road, Berry Springs, Darwin NT 0838, Australia
Related Site:https://territorywildlifepark.com.au/
◎ Closing
Darwin is merely a world within it. You can find a variety of interesting locations ranging from wildlife, museums, amusement parks, and natural resources. If you are fond of fishing, trekking, and other activities, choose Darwin which offers a lot of colors, culture and course craziness. Enjoy snorkeling, swimming, farm trekking and of course beach walk in Darwin. You can pick a package of your choice from your travel agent and avail a two-day, three-day or 5-day trip. Avail a cruise to experience the magnanimity of the city. Without tasting the local food, and taking the culture trip, your Darwin trip will be incomplete. Undoubtedly, there is no place in Australia so warm and hospitable like Darwin.