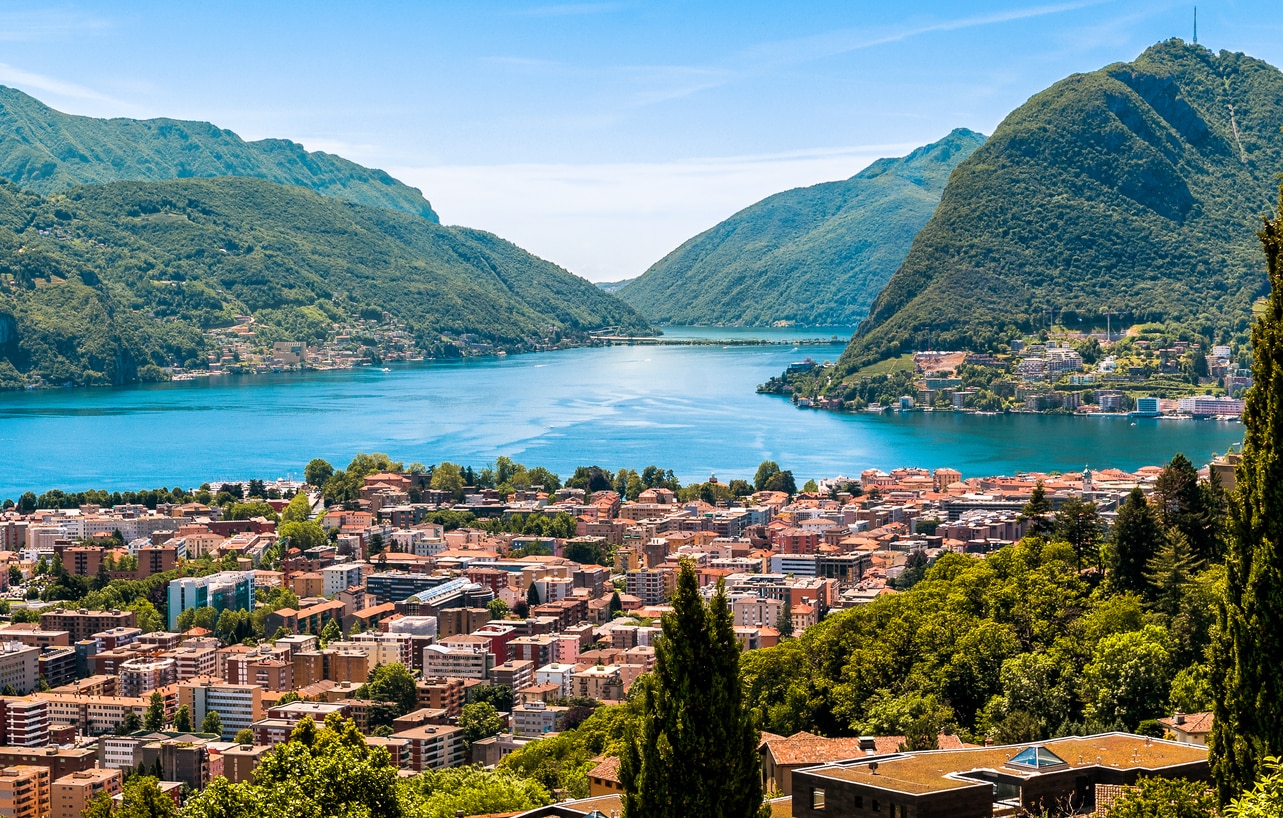 Lugano: A Beautiful Lakeside City in Southern Switzerland
Lugano is an amazingly beautiful city located in Cantone Ticino, Switzerland, the southern part of Switzerland and is a lakeside spot with numerous beautiful sightseeing spots and some of the best scenic landscape in Switzerland. Lugano enjoys a temperate climate and offers sightseeing like views with stunning palm trees, unique boulevards, and lots of outdoor and indoor activities.
table of contents
[x] close
Lugano: A Beautiful Lakeside City in Southern Switzerland
1. Lake Lugano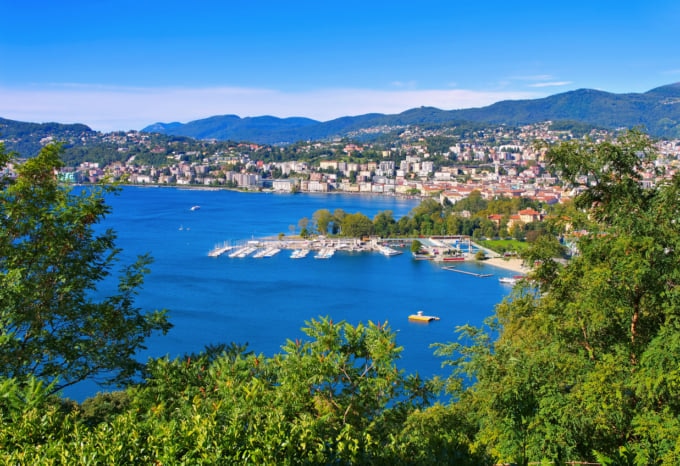 Lake Lugano, which is one of the most entertaining and beautiful sightseeing in Lugano, is a great tour destination especially for summer visits. This is a spot with amazing views and it is a great lake – a cool place for swimmers and swim lovers. Visiting this sightseeing with kids would be even more entertaining and fun. You could use water bikes and have some ride on the water. Along with this you can try the tastiest food and drinks of Lugano and totally get pleasure from your tour.
Name:Lake Lugano
Address:Lugano, Switzerland
2. Chiesa di Santa Maria degli Angeli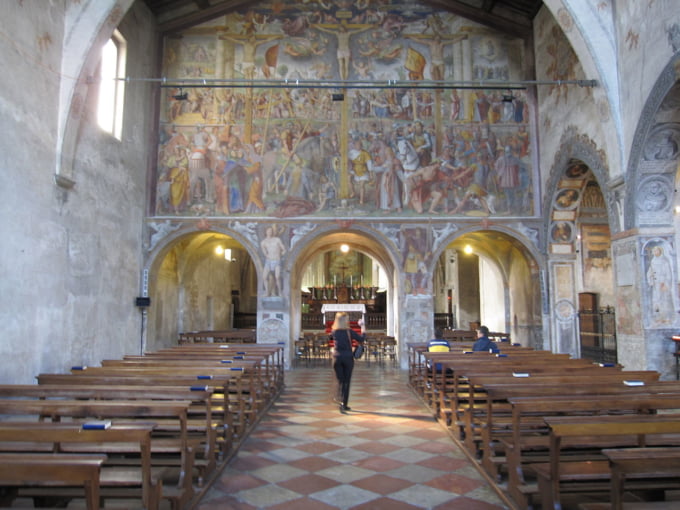 Chiesa di Santa Maria degli Angeli is an astonishing sightseeing in Lugano. This place never lacks of visitors due to its stunning interior, that's even more impressive than the outside. This is a very peaceful church decorated with remarkable paintings and antique frescoes. This is because the atmosphere is uniquely calm and makes you feel the religion inside. The church was built in the 15th century and is one of the most historic building in Lugano.
Name:Chiesa di Santa Maria degli Angeli
Address:Via Loreto 16, 6900 Lugano, Switzerland
Related Site:http://www.luganoregion.com/en/detail/id/3198/chiesa-santa-maria-degli-angeli
3. Parco Civico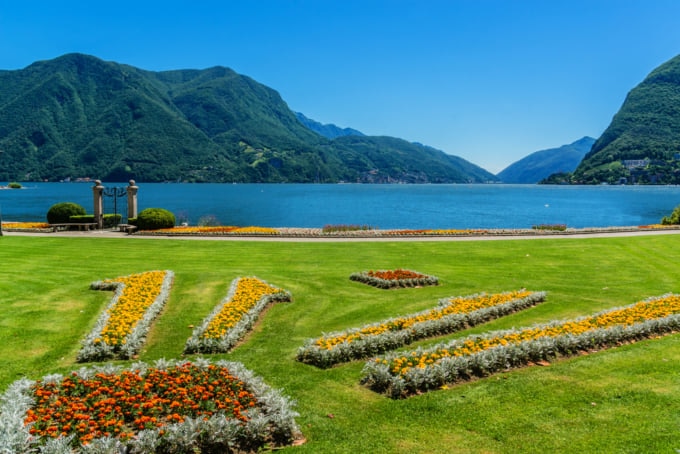 Photo by Kiev.Victor/shutterstock.com
Parco Civico is one of the most beautiful sights in Lugano. The views are jaw dropping and stunning even for Switzerland. Walk around this fabulous park and enjoy the perfect landscapes that make the area even more attractive. The area is clean and relaxing, but above all, you should provide some time to make some photographs of you. You will never find a more impressive corner in Lugano than this park is. Do not miss your chance to see this wonder on your own eyes.
Name:Parco Civico
Address:Viale Carlo Cattaneo, Lugano 6900, Switzerland
Related Site:https://www.myswitzerland.com/en-gb/parco-civico-ciani-lugano.html
4. Monte San Salvatore
Monte San Salvatore is not just a beautiful spot in Lugano. This is something unreal, since it looks like a perfect painting by a professional artist. Everything is so right and so perfect and the views are so ideal, that you will not believe you are somewhere on the earth. You cannot even describe the beauty of this sightseeing and besides this spot is also rich in history of Lugano and has an essential importance for the city as a historic value. Do not hesitate visiting this sightseeing while you are Lugano.
Name:Monte San Salvatore
Address:Lugano, Switzerland
Related Site:http://www.montesansalvatore.ch/en/
5. Monte Bre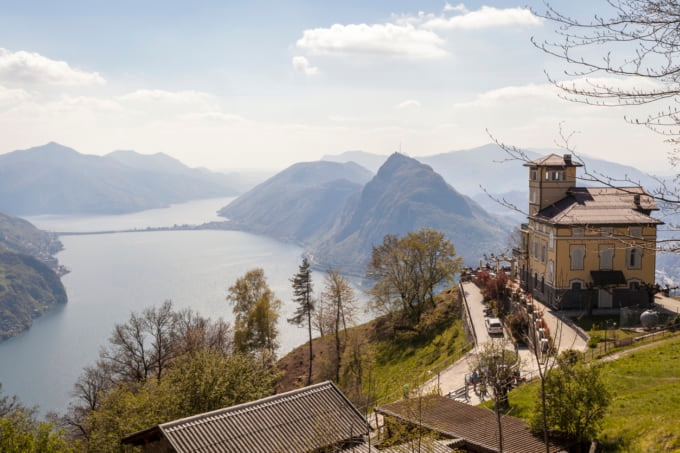 Monte Bre is sightseeing with wonderful views and scenery. You need to get a ticket for visiting this spot, which means that you need to put some plans before visiting there. The sightseeing is available both for kids and adults, so if you are with children, give them this special chance to see the most astonishing sides of Lugano. There opens a whole scenery of beautiful landscape. The area also includes cafes and restaurants – suitable for having a great meal in Lugano's tastes.
Name:Monte Bre
Address:Lugano 6979, Switzerland
Related Site:http://www.montebre.ch/eng/menus/index
6. Piazza della Riforma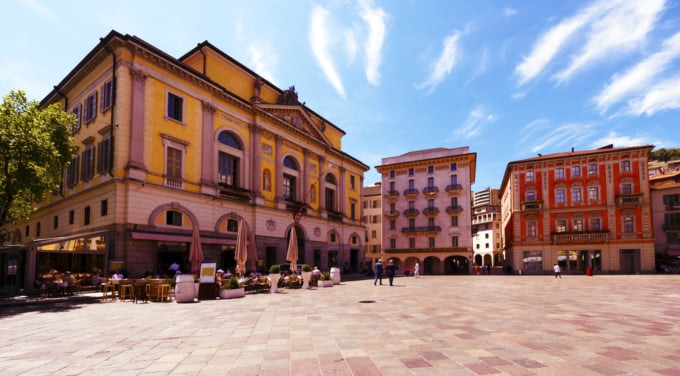 Photo by Horst Lieber/shutterstock.com
Finally we are in Piazza della Riforma, which is one of the most famous sightseeing in Lugano. This is a charming square ideal for having a walk during the daytime, but perfect for evening walk, especially in summer. We would advise you to have some walk around this sightseeing, even if you have already seen it in daylight. This has a special beauty and it is so relaxing to enjoy the evening lights and the breeze in this spot. Take some money to enjoy ice-cream or some drinks during your walk.
Name:Piazza della Riforma
Address:Piazza della Riforma, Lugano, Switzerland
Related Site:http://www.luganoregion.com/en/detail/id/10047/piazza-della-riforma
7. Lido di Lugano
Another summer tour destination in Lugano is Lido di Lugano. This sightseeing will attract you with its nice and clean area, at the first sight. Then you will notice some bars and restaurants around the area, ideal for having some food and drinks during your day. So, being sure that you are provided with clean atmosphere and food, start finding the most suitable part where you want to have your rest. Have some swim and enjoy the sunbath. For those who are planning to go to Lugano with kids, there is also a special area for children.
Name:Lido di Lugano
Address:Via Lido, Lugano 6906, Switzerland
Related Site:https://www.ticino.ch/en/commons/details/Lido-di-Lugano/1501.html
8. Olive Trail
Olive Trail is a very unique sightseeing spot in Lugano and a must-see for any visitors to the area. This spot can be enjoyed by a boat, which is very recommended, because it would be a great start for a great tour in this sightseeing. Then, reaching the spot, you will have some walk, which will be very pleasant, since it will be accompanied by nice views and attractive scenery. With the chances to enjoy the beautiful and picturesque area, you will also get the opportunity to make some amazing photos of this place and you.
Name:Olive Trail
Address:Via Cortivo, Lugano, Switzerland
Related Site:https://www.myswitzerland.com/en-gb/olive-trail-lugano.html
9. Cattedrale di San Lorenzo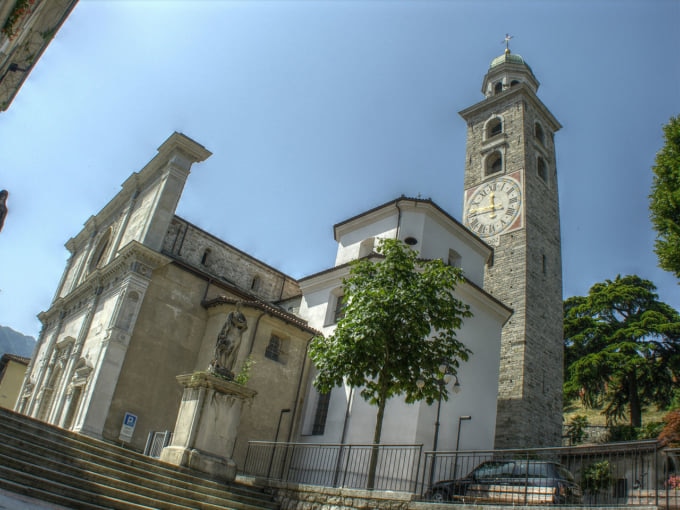 After a major renovation Cattedrale di San Lorenzo is again open for its visitors and for the tourists of Lugano. This is an amazing cathedral with amazing look both outside and inside. It is located right above the hill not so far from the center of Lugano, so it will be a short walk to this sightseeing when you are in the center of Lugano. This cathedral has always been of a great importance for the habitants of Lugano and now when it had some renovation, it is even more beautiful and pleasant.
Name:Cattedrale di San Lorenzo
Address:Via Borghetto 1, 6900 Lugano, Switzerland
Related Site:http://luganotourism.blogspot.am/2006/12/san-lorenzo-cathedral_07.html
Conclusion
Lugano is a city with so many things to do and to see. The travelers certainly like this magic city, since Lugano offers plenty of impressive sights, like various museums, churches and cathedrals, gorgeous sights and landmarks and natural parks. Take a tour to Lugano to build fascinating memories for your lifetime.