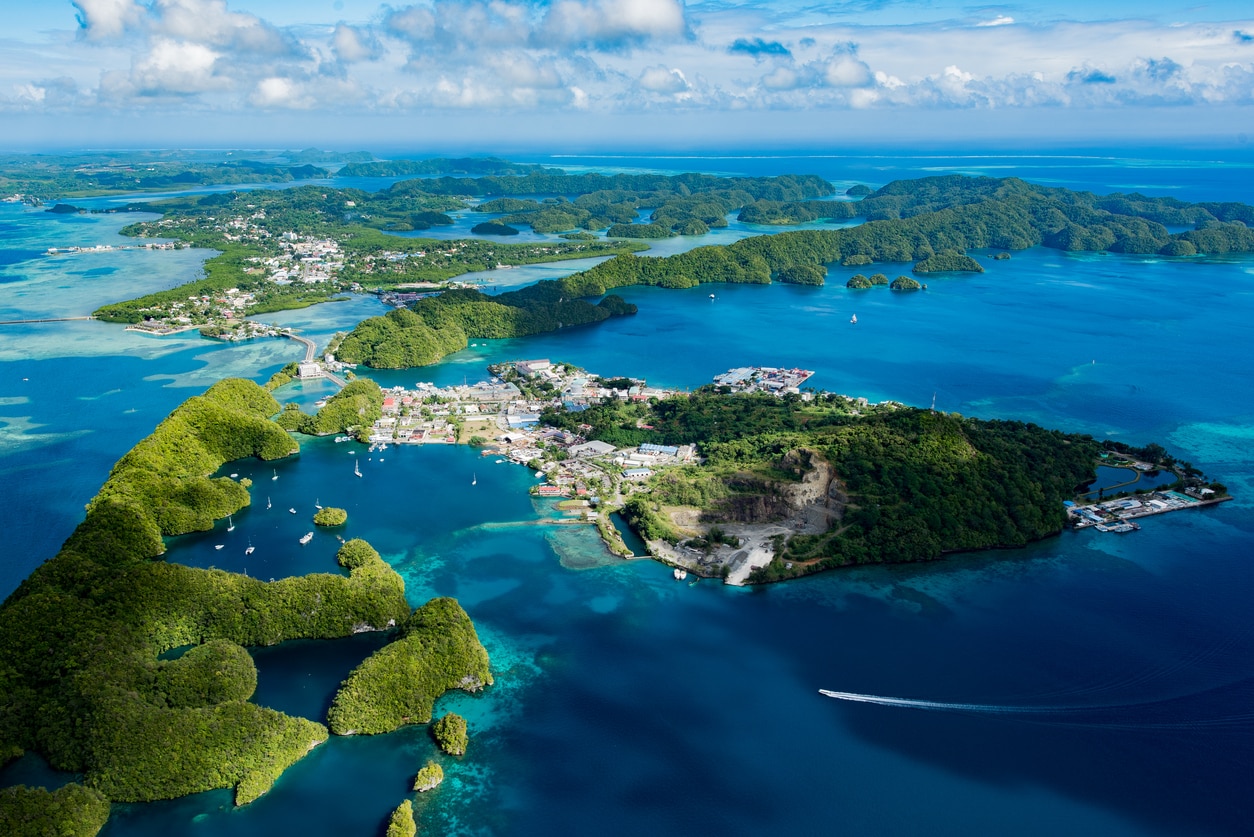 Koror : The Commercial Center and the Only Notable City of Palau.
Koror is the only notable city in Palau as it also serves as the commercial and economic center for Palau. Koror hosts about 70% of the total population. As much as Koror may not be as fascinating as other island paradises, it still has some fascinating spots that will attract the people to the place. The provincial town atmosphere allows it to maintain its charm with the various restaurants, cute museums, and compact centers filled with idiosyncratic shops. Below are some of the places you should consider sightseeing in Koror.
table of contents
[x] close
Koror : The Commercial Center and the Only Notable City of Palau.
1. Rock Islands Southern Lagoon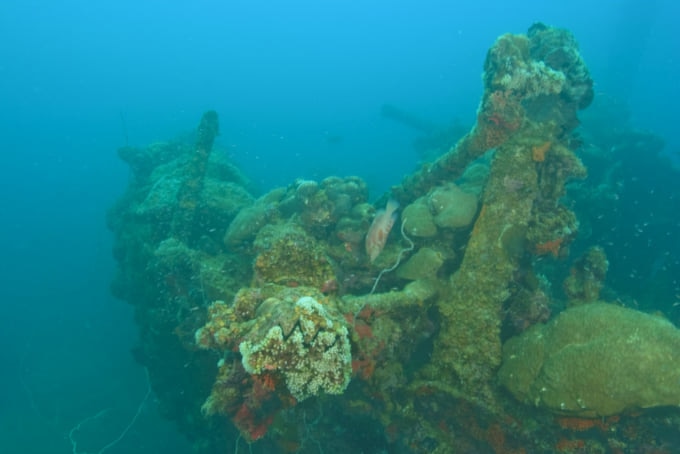 Photo by Danita Delmont/shutterstock.com
Rock Islands Southern Lagoon is an offshore sightseeing experience where tourists get to see some interesting rock formations as well as sea creatures. The corals are very beautiful and you can tell they are healthy and undisrupted. Due to this, you cannot hike on them and tourists can only get to see them from afar either by boat or helicopter. The area has a variety of sea snakes, turtles, and even sharks which makes it more intriguing. If going by helicopter, the cost is about 1,200 USD which lasts about 55 minutes. For those going for scuba diving, you can get to see some wrecks of the WWII which has many artifacts visible.
Name : Rock Islands Southern Lagoon
Address : Koror, Koror Island, Palau
Related Site : http://whc.unesco.org/en/list/1386/
2. Milky Way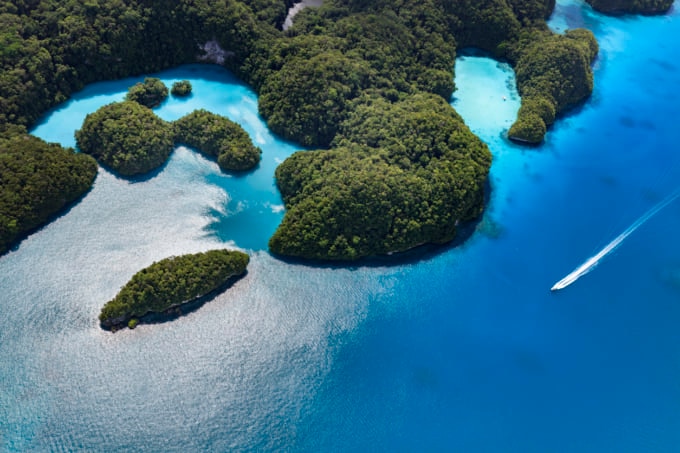 Tourist are applied some white clay which is a trademark in Palau. This clay bath is full body allowing a refreshing experience. One also tends to feel energized right after. The clay is slimy and slightly sticky with a weird smell but it naturally came from the island grounds. Once applied, you are to enter the boats and head to sightsee the milky way which is a water channel between two giant coral rocks. The place has nice clear waters for snorkeling as well as swimming especially when washing off the white mud.
Name : Milky Way
Address : Koror, Koror Island, Palau
Related Site : http://www.splash-palau.com/
3. Long Beach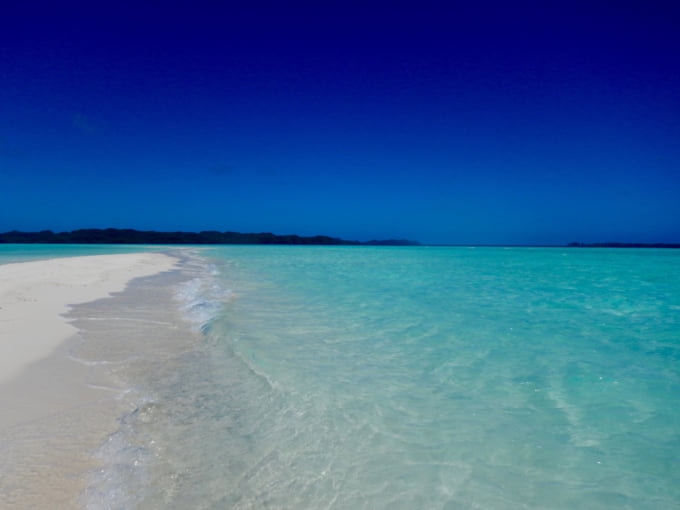 Long Beach is a great vast land of white sandy beaches. Often you will find, locals swimming and snorkeling in the area as they mingle with tourists. These are some of the most interesting beaches you will find on the island. These beaches is a must stop especially if you will be sightseeing the coral rocks or the milky way. Along the beach, you may see some traditional houses too but not so many. It is nice to know about the currents and the tides so as to plan any water activities. Some nice tree trunks along the shore are ideal photo backdrops.
Name : Long Beach
Address : Koror, Koror Island, Palau
4. Belau National Museum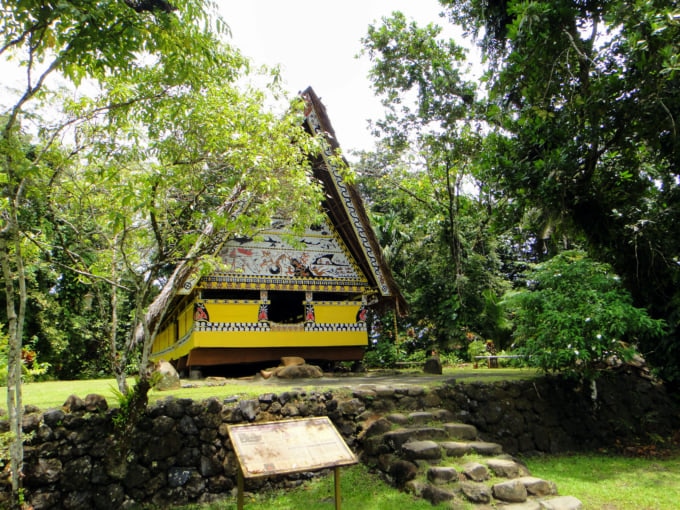 Belau National Museum is a nice museum found in Koror. The museum hosts some native collections such as shells, stone money among other items of Palau. This is the perfect place to get some details about Palau and the history of the area. The greater collections are the jewelry made by the locals which are very beautiful. There is also a gift shop where you can get souvenirs if you wish. All the displays are well explained and in English too so be prepared to be well-informed. An interesting aspect is the scope of items from the initial days of Palau and their developments to date.
Name : Belau National Museum
Address : Koror, Koror Island 96940, Palau
Related Site : http://www.belaunationalmuseum.net/
5. Etpison Museum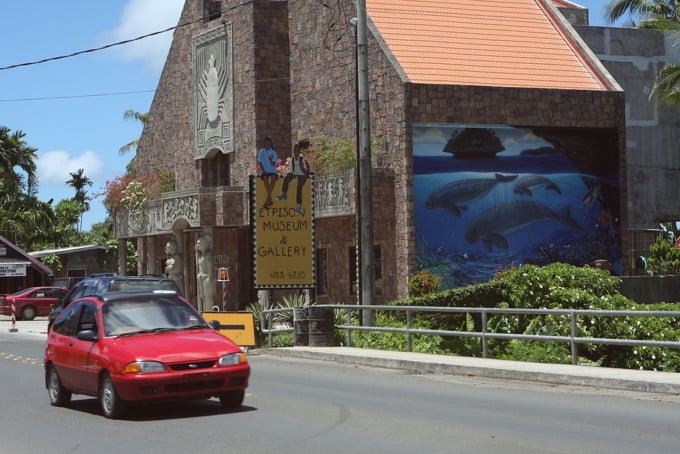 Photo by commons.wikimedia.org
Etpison Museum is a quaint museum full of Palauan culture. Especially the process of pregnancy and giving birth within the community. There are other storyboards giving different histories on the cultures. There are also collections of war episodes, books, and other interesting histories such as the role of Japanese in the region. There is also a gift shop which you can visit for some souvenirs which has some handmade items from the locals of Koror. The people at the museum are very welcoming which makes the whole experience welcoming. Entrance is charged at 10 dollars per person.
Name : Etpison Museum
Address : Koror, Koror Island 96940, Palau
Related Site : http://www.etpisonmuseum.org/
6. Dolphins Pacific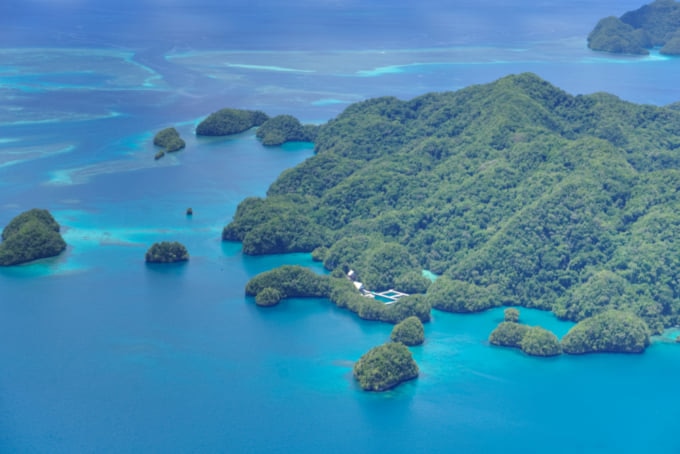 Photo by highD/shutterstock.com
Dolphins Pacific is a Dolphin sanctuary found in Koror. The center was developed on 4 million dollars providing information on dolphins. One of the most interesting things you will get to enjoy aside from playing with the dolphins is the ability to get into the waters and swimming with them.
The dolphin pacific has done a great job rehabilitating these dolphins and giving them a home. The center is non-profit needing some funding from donors for the upkeep of the dolphins. The staff is very friendly to the tourists and provide help when needed.
Name : Dolphins Pacific
Address : Koror, Palau
Related Site : http://www.dolphinspacific.com/
7. Palau Aquarium
Palau Aquarium is the perfect place for sightseeing tourists to understand the marine life of Koror. People get to be enlightened on the importance of conservation and preservation of fragile marine and terrestrial ecosystems. The goal of the aquarium is to ensure it's broadening the knowledge to people who are less informed of the importance of their work to the environment. Upon entry, tourists can take part in the various exhibits and programs. The place has both outdoor and indoor tanks which provide aesthetic surroundings. Entrance per adult is charged at $10 while children pay half the fee.

Name : Palau Aquarium
Address : Palau International Coral Reef Center, Koror, Koror Island, Palau
Related Site : http://www.picrc.org/picrcpage/
◎ Closing
When you think of Koror, think of an islander way of life, simple and relaxing yet full of adventures.The sandy beaches are so beautiful providing a great escape for tourists. The many water sports activities makes it very interactive. Sample the many types of fishes as you enjoy some island beer and mingle with the locals. The culture is rich and still thrives on since the locals have preserved their traditions. Koror will ideally provide a nice destination to travel if you are thinking of a Palau paradise experience.