United Arab Emirates:Country with the Tremendous Sence of Scale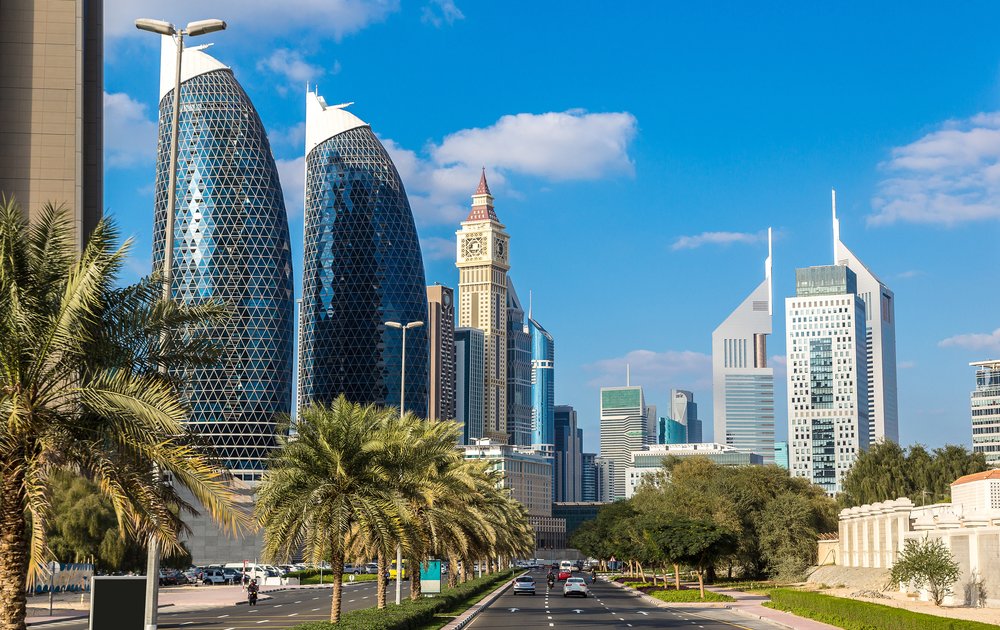 Photo by S-F/shutterstock.com/
[x] close
United Arab Emirates:Country with the Tremendous Sence of Scale:table of contents
The United Arab Emirates (UEA) is a country on the Arabian Peninsula, located on the coast of the Persian Gulf between Saudi Arabia and Oman. The United Arab Emirates is one of the youngest countries in the world, as it was only established in 1971. The United Arab Emirates is formed of seven emirates. The emirates have a rich culture and a long and interesting history, worth learning about by sightseeing the country. The United Arab Emirates is best known for its two biggest cities, Abu Dhabi and Dubai, full of modern skyscrapers and luxurious buildings. However, the United Arab Emirates also boasts stunning nature: beautiful beaches, magnificent mountains and golden desert which all make good sightseeing.
1. Sheikh Zayed Mosque (Abu Dhabi)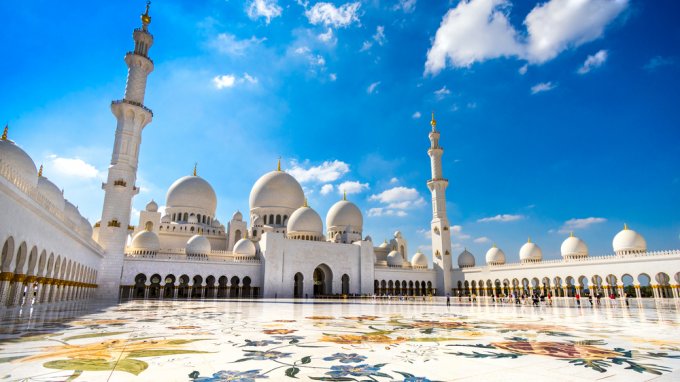 Photo by Luciano Mortula - LGM/shutterstock.com
When sightseeing in the United Arab Emirates, this magnificent mosque is likely to be your first stop. It is named after the United Arab Emirate's first president. It is built of white marble and decorated with semi-precious stones, gold and Swarovski crystals. The mosque has four towering minarets and 80 domes held up by a thousand columns. It can accommodate over 40,000 worshippers. The mosque is open to non-Muslims for sightseeing. There are free guided tours of the mosque in English and Arabic. When sightseeing the mosque be sure to be respectful as it is used as a place of worship.
Name:Sheikh Zayed Mosque
Address:Sheikh Rashid Bin Saeed Street، 5th St, Abu Dhabi, United Arab Emirates
Related Site:http://www.szgmc.gov.ae/en
2. Burj Khalifa (Dubai)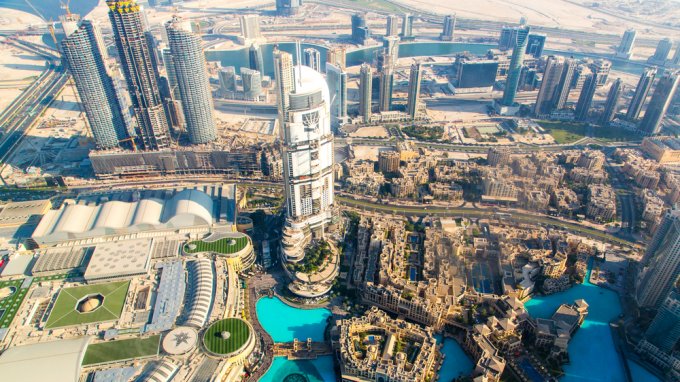 Photo by Ingus Kruklitis/shutterstock.com
Burj Khalifa is the tallest building in the world and a must see when sightseeing the United Arab Emirates. It is over 828 meters tall and has more than 160 stories. Those sightseeing in Dubai will be most interested to learn that Burj Khalifa has outdoor observation decks at levels 124, 125 and 148. The 148th level is at 555 meters and offers spectacular, panoramic views of Dubai. Sightseeing tickets for the observation decks can be booked online in advance at a discounted rate. It is also possible to have a meal on the observation deck.
Name:Burj Khalifa
Address:1 Sheikh Mohammed bin Rashid Blvd, Dubai, United Arab Emirates
Related Site:http://www.burjkhalifa.ae/en
3. Jabel Hafeet (Al Ain, Abu Dhabi)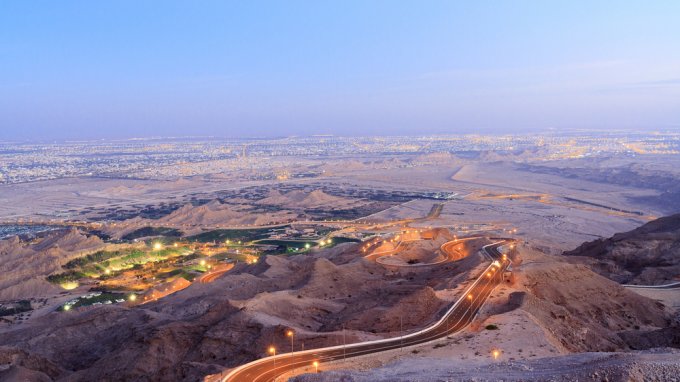 Photo by Kingsly/shutterstock.com
Jabel Hafeet is a mountain located by the United Arab Emirate's border with Oman. It is well worth a sightseeing trip from Abu Dhabi. Visitors can hike up the mountain or take a car up the Jabel Hafeet Mountain Road to admire the views. There are over 500 tombs dating back to up to 3200BC on the foothills of Jabel Hafeet. The tombs and the surrounding area are a UNESCO World Heritage site, so sightseeing these is highly recommended. Visitors sightseeing Jabel Hafeet often also visit the nearby Green Mubazarrah hot springs.
Name:Jabel Hafeet
Address:Al Ain, Abu Dhabi, United Arab Emirates
4. Dubai Mall and Dubai Fountains (Dubai)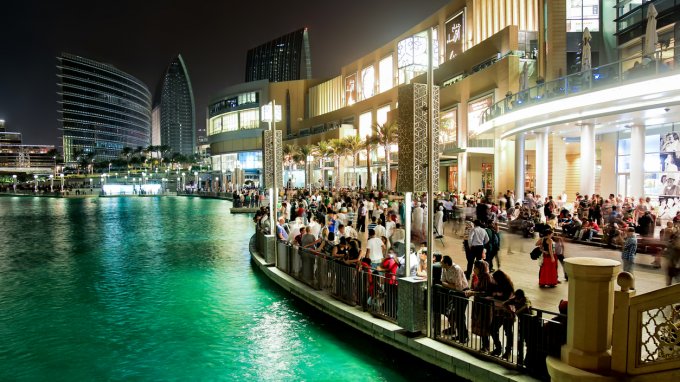 Go sightseeing while you shop! Dubai Mall is one of the biggest malls in the world. It houses over 1200 shops, an aquarium and a zoo, as well as hotels and restaurants. The Dubai Fountain is another place which should be on your sightseeing list. It is located just outside of the Dubai Mall, and is the world's biggest choreographed fountain. It is illuminated by over 6000 lights and accompanied by music. The streams of water go up as high as 150 meters. There are two shows during daylight and numerous evening shows each day put on for sightseeing tourists.
Name:Dubai Mall
Address:Financial Centre Road, Downtown Dubai, Dubai, United Arab Emirates
Related Site:https://thedubaimall.com
5. Dubai Museum (Dubai)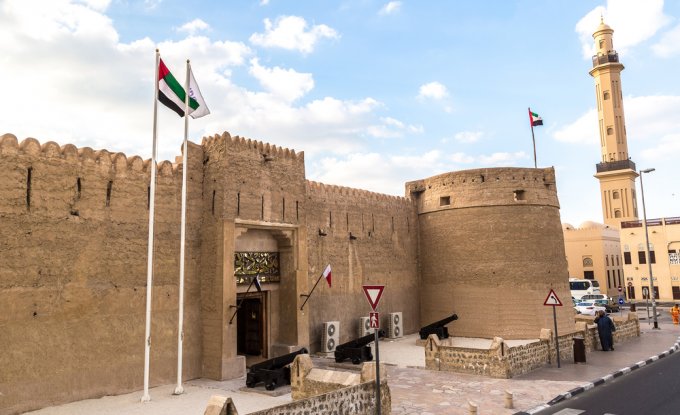 Dubai Museum is located in the Al Fahidi Fort, the oldest building in Dubai, constructed in 1787. It is a great sightseeing stop for this reason. The fort was originally built to protect Dubai from Pirates. The museum houses an impressive collection of Arabic artefacts which will be interesting to anyone sightseeing in the Middle East. The Museum retells Dubai's history for those sightseeing, from the earliest days to just before the oil-boom, through a series of detailed dioramas. A must stop for anyone sightseeing Dubai.
Name:Dubai Museum
Address: Al Fahidi St., Bur Dubai, Opposite Grand Mosque, Dubai, United Arab Emirates
6. Singing Sand Dunes of Liwa (Mezairaa)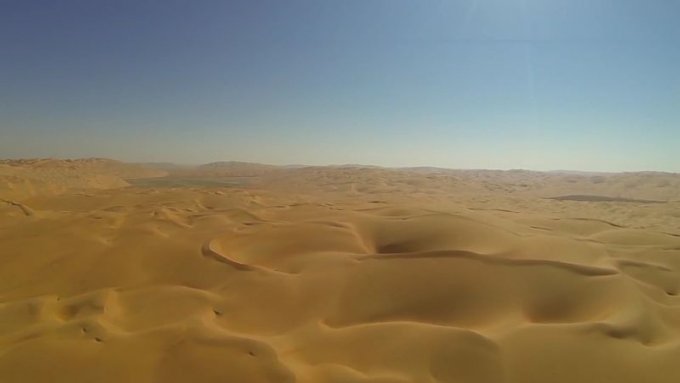 Photo by commons.wikimedia.org
The desert in the United Arab Emirates is vast and incredible. Many people sightseeing in the country want to go out and see the desert. The country has many impressive dunes for sightseeing, but perhaps the most special are the Singing Sand Dunes of Liwa. The sand grains at Liwa vibrate as they move and hit one another in the wind, creating an incredible, deep roaring sound. The experience is totally unique, and you will not forget it. Guided sightseeing tours to Liwa can be organised from Dubai and Abu Dhabi.
Name:Singing Sand Dunes of Liwa
Address:Mezairaa, United Arab Emirates
7. Camel Racing at Al Watahba Camel Racetrack (Al Wathba, Abu Dhabi)
Camel racing is a popular traditional sport with a modern twist in the United Arab Emirates. It is popular with locals and with sightseeing tourists. Between 15 and 70 camels take part in each race. Each camel is equipped with a robot jockey, prompting it to run as fast as it can. The race tracks are between 4 and 10 kilometres long. Entrance to camel races is free. The main camel racing season is between October and April so plan your sightseeing for then. Al Watahba Camel Racetrack in Abu Dhabi is one of the more known racetracks, but camel races also take place in 14 other locations across the United Arab Emirates, so you can include a camel race in your sightseeing plan wherever you go.
Name:Al Watahba Camel Racetrack
Address:Al Wathba, Abu Dhabi, United Arab Emirates
8. Dubai's Souks (Dubai)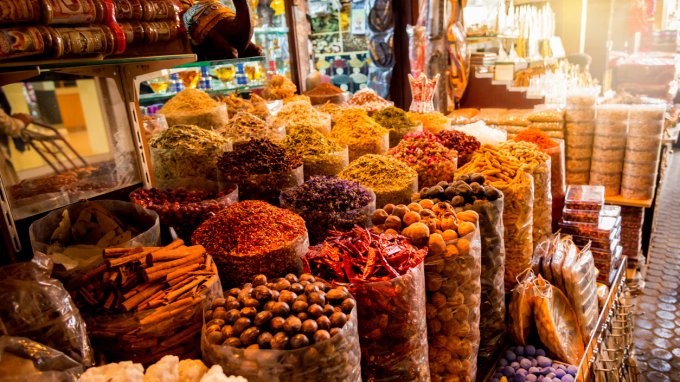 Souks are traditional Arabian shopping markets. Dubai's many traditional souks offer a completely different shopping experience to Dubai's modern malls. Souks are excellent for sightseeing as well as buying the many products sold. It is possible to enjoy walking through the souks and just enjoy the atmosphere. Explore Dubai's history and tradition by sightseeing one of its many souks. The Golden Souk specialises in all sorts of jewellery. Souk Madinat sells souvenirs, sculptures and various art pieces. You could also visit the self-explanatory Spice Souk, Perfume Souk or the Textiles Souk.
Name:Dubai Gold Souk
Address:54 Al Khor St, Dubai, United Arab Emirates
9. Abu Dhabi Falcon Hospital (Abu Dhabi)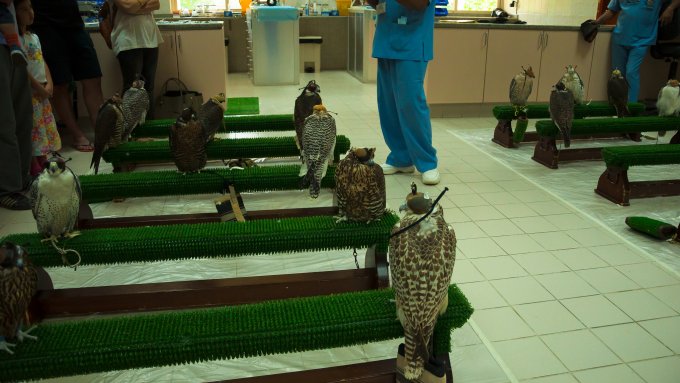 Another excellent sightseeing stop in the United Arab Emirates is the Falcon Hospital in Abu Dhabi. The Falcon is the United Arab Emirate's national bird. In 1999 The Abu Dhabi Hospital was established and since then it became one of the leading institutions of its kind. It has room for over 200 birds. The hospital offers sightseeing tours that are engaging and informative and allow guests to get up close to falcons. It is possible to hold one of the birds. Make sure to add Dubai's national bird to your sightseeing trip.
Name:Abu Dhabi Falcon Hospital
Address:Sweihan Road, Al Shamkha, Near the Abu Dhabi International Airport, Abu Dhabi, United Arab Emirates
Related Site:http://www.falconhospital.com
10. Burj Al Arab (Dubai)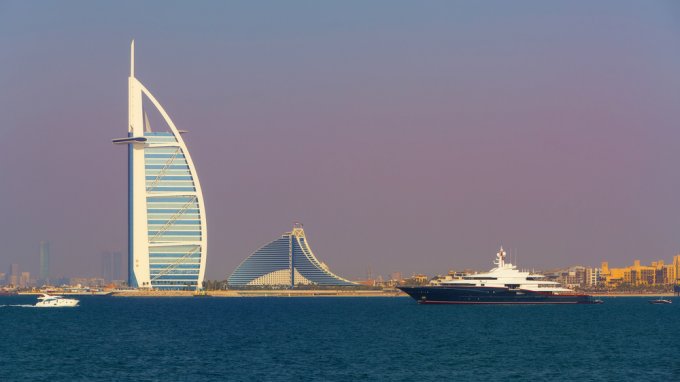 Photo by RastoS/shutterstock.com
Burj Al Arab is the famous tower-building in Dubai that is shaped like a giant sail. It is one of the world's most luxurious 5-star hotels. Due to its famous luxury and amazing shape it has become a sightseeing destination in its own right. Burj Al Arab has a private beach, a helipad at 212 meters and an underwater aquarium restaurant. All suites have spectacular views of the Persian Gulf. Obviously sightseeing at the hotel is best done by staying there, but this can be very expensive. Those not staying at the hotel can still do sightseeing here. You could arrange to have luxurious afternoon tea at Burj Al Arab's Al Muntaha restaurant on level 27.
Name:Burj Al Arab
Address:Jumeira Road, Umm Suqeim 3, Dubai, United Arab Emirates
Related Site:https://www.jumeirah.com/en/hotels-resorts/dubai/burj-al-arab/
◎ Closing
As you can see, there is some great sightseeing on offer in the United Arab Emirates. The two big cities are the biggest attractions but there is also spectacular nature sightseeing. In facet tle United Arab Emirates się a sightseeing paradise. So why wait? Book your ticket and start your sightseeing adventure in the United Arab Emirates today.