Azerbaijan:The Place Historical Things and Cutting-Edge Things Coexist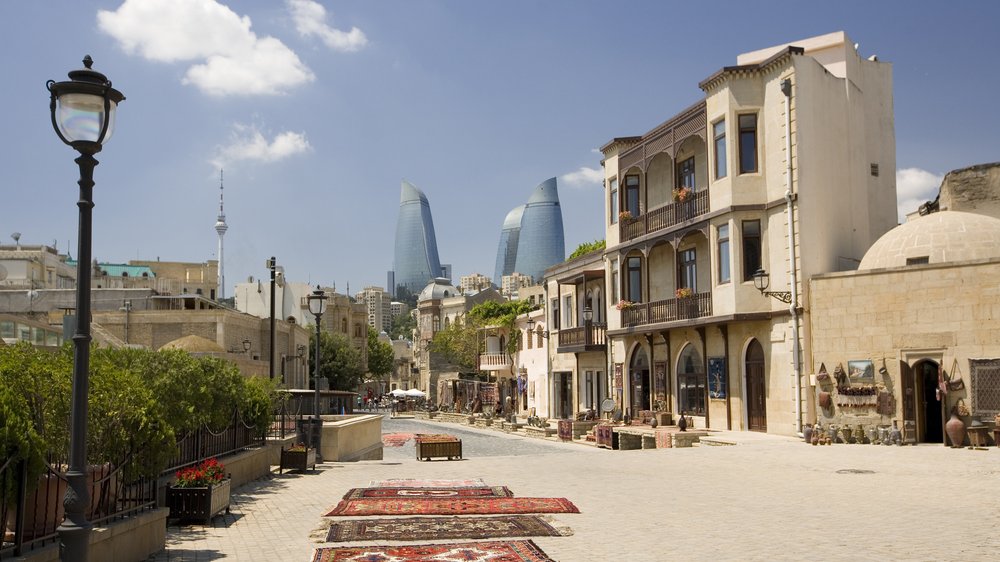 Photo by Kutikan/shutterstock.com
[x] close
Azerbaijan:The Place Historical Things and Cutting-Edge Things Coexist:table of contents
A home to several historical and modern attractions, Azerbaijan is a great place for sightseeing. Also known as the Land of Fire, Azerbaijan is a country found near the Caspian Sea. Situated right in between West Asia and Eastern Europe, the country possesses a mixture of western and eastern cultures which tourists can immerse with when sightseeing in the country. With a lot of places worthy of sightseeing in Azerbaijan, we have narrowed the list down to eight tourist attractions you need to visit when sightseeing in the country.
1. Walled City of Baku(Baku)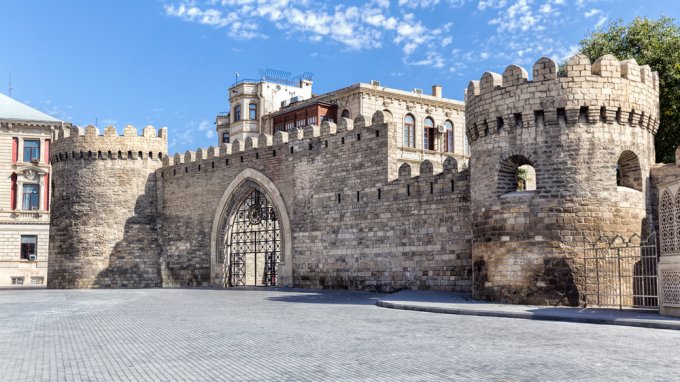 Photo by ET1972/shutterstock.com
Known locally as Icheri Seher, the Walled City of Baku is a UNESCO World Heritage Site in Baku, Azerbaijan most famous for its architectural attractions found all over the place. Its grand walls and historic buildings make the place an excellent destination for sightseeing especially when you are visiting the country's capital. You may also find several mosques in the Walled City, providing its tourists a glimpse of the Eastern influence in Azerbaijan. If you are seeking for local products, there are several shops in the place where you can purchase locally-made handicrafts and textiles. We recommend picking up a souvenir from the stores for a memorabilia from your Azerbaijan visit.
Name:Walled City of Baku
Address:Baku AZ1000, Azerbaijan
2. Fountain Square(Baku)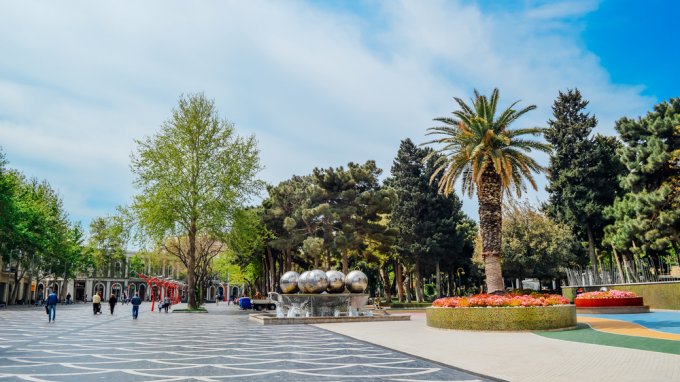 Photo by Andrii Lutsyk/shutterstock.com
For tourists who wish to immerse themselves with local Azerbaijan scene, you can try Fountain Square, a public square in the capital of Azerbaijan. Located in downtown Baku, the square is described by the presence of a lot of fountains which were built during the Soviet rule in Azerbaijan. Fountain Square is ideal for sightseeing and strolling. Several trees and facades can also be found in the square. A lot of people gather throughout the plaza for leisure, especially during the weekend. Tourists can try out local restaurants and boutiques which are situated throughout the square. For tourists who wish to witness several festivals, the Fountain Square is recommended for you since many celebrations are held on the square.
Name:Fountain Square
Address:Baku 1005, Azerbaijan
3. Heydar Aliyev Cultural Center(Baku)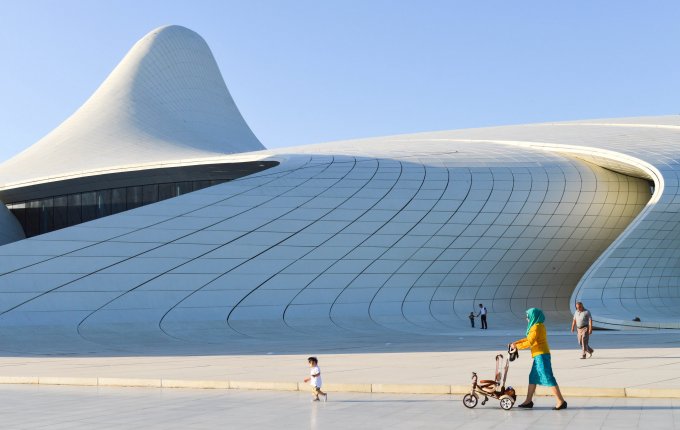 Famous for its distinct architecture, the Heydar Aliyev Cultural Center is a stunning complex situated in Baku, Azerbaijan. Its exterior follows a fluid style devoid of any sharp angles. Designed by Zaha Hadid, the center's design mimics abstract waves that seemingly connects various cultural spaces. The Heydar Aliyev Cultural Center also plays an integral role in the redevelopment of the city. The center is home to a conference hall, a museum, and a gallery hall, perfect for those who are sightseeing around Azerbaijan. Completed in May 2012, the center was named after the former Azerbaijan Republic President Heydar Aliyev. The center holds several art exhibitions and opera performances.
Name:Heydar Aliyev Cultural Center
Address:1 Heydar Aliyev prospekti, Baku AZ1033, Azerbaijan
Related Sites:http://www.heydaraliyevcenter.az/
4. Flame Towers(Baku)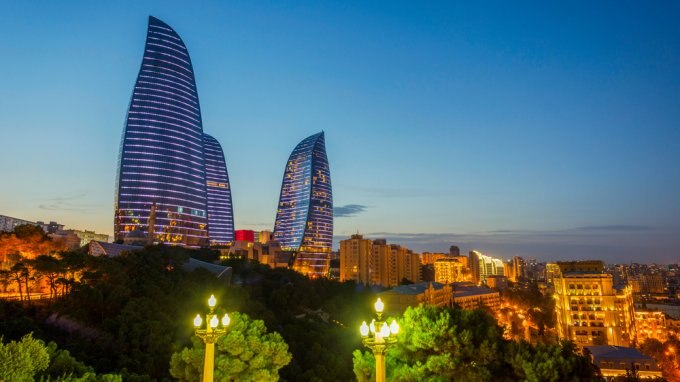 Photo by dinozzaver/shutterstock.com
Located in the heart of Baku, Azerbaijan, the Flame Towers is the city's tallest skyscraper with a height of 620 feet. Completed in 2012, the Flame Towers comprises three buildings, each consisting of hotels, apartments, and office establishments. It possesses large LED screens on its façade which is lit to give its spectators a fiery appearance, especially at night. Such light installation can still be witnessed even from the furthermost point in Baku. The flame-like display of the Flame Towers has received various recognition, including the 2004 Pittsker Prize for achievement in the field of architecture. When sightseeing in Azerbaijan, make sure to take a moment and wonder at this picturesque three-piece tower.
Name:Flame Towers
Address:Baku, Azerbaijan
5. Gobustan National Park(Baku)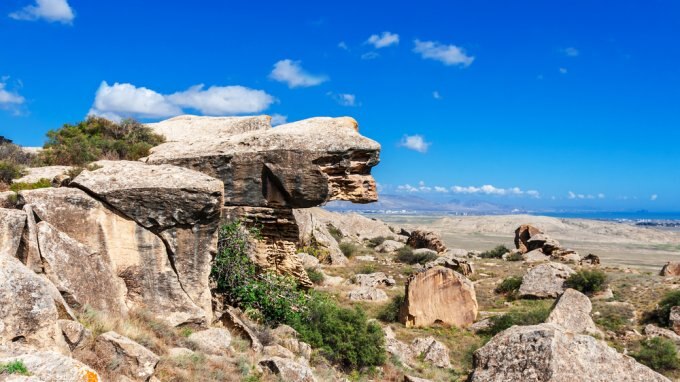 Photo by kerenby/shutterstock.com
Situated on the southeastern end of the Great Caucasus mountain ridge, the Gobustan National Park features a myriad of prehistoric rock carvings on large cromlechs. Spanning over 530 hectares, the national park contains over 6,000 carvings that provide its tourists an excellent overview of the ancient civilization. When sightseeing in the park, you would not only get to feast your eyes, but you are also going to gain new knowledge on the history of Azerbaijan through the rock drawings. The Gobustan National Park was inscribed as a UNESCO World Heritage Site in 2007.
Name:Gobustan National Park
Address:Qobustan, Azerbaijan
6. Azerbaijan Carpet Museum(Baku)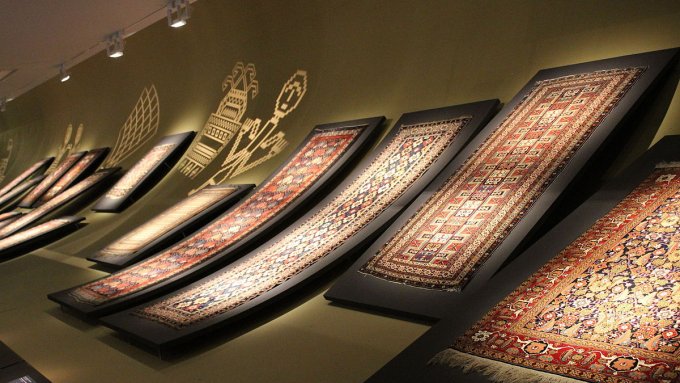 Established in 1967, the Azerbaijan Carpet Museum is a gallery which exhibits various carpets and rug items created by Azerbaijan locals from various periods. Carpets made from various weaving methods are also displayed in the museum. It also features several other collections such as ceramics from the 14th century, jewelry from the Bronze Age, and applied artworks of the Modern Age. National costumes are also displayed in the museum. The Azerbaijan Carpet Museum has developed from a simple exhibit hall to a research and educational center where several international conferences and exhibitions are held. If you wish to go sightseeing in the museum, take note that it is open from Tuesday to Sunday. The museum is closed every Monday.
Name:Azerbaijan Carpet Museum
Address:28 Mikayil Üseynov küç., Bulvar, Baku, Azerbaijan
Related Sites:http://azcarpetmuseum.az/front/en
7. Martyrs' Lane(Baku)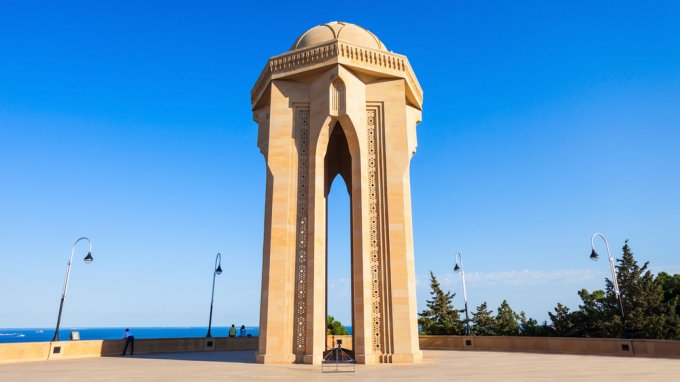 Photo by saiko3p/shutterstock.com
Located in Baku, Martyr's Lane is a memorial park dedicated to those who have risked their lives during two pivotal events in Azerbaijan history – Black January and Nagorno-Karabakh War. Other names of the place include Alley of Martyrs or Şəhidlər Xiyabanı. Situated on a hill in the south of Baku, Martyr's Lane has around 15,000 people buried in the place. Many people visit the cemetery to pay respect to those who have risked for the country's independence. Many visitors also visit the place for sightseeing. Also found in the memorial park, the Eternal Flame memorial consists of a hexagonal block made of red granite. A white marble crescent-star is embedded on each face.
Name:Martyr's Lane
Address:Baku, Azerbaijan
8. Maiden Tower(Baku)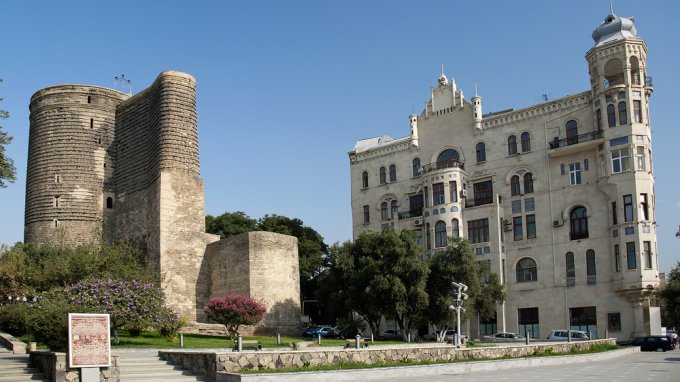 Photo by JM Travel Photography/shutterstock.com
A historical monument found in Baku, the Maiden Tower is another site inscribed by UNESCO as a World Heritage Site. The tapering tower houses a museum which presents its sightseeing spectators an overview of the rich history of Azerbaijan. The tower is shrouded with legends and mysteries, a huge portion of these are connected to the medieval period in Baku, Azerbaijan. A visit to the rooftop of the Maiden Tower would allow its visitors to witness a stunning view of the Caspian Sea and the Old City. When sightseeing all over Azerbaijan, you should include the Maiden Tower in your itinerary.
Name:Maiden Tower
Address:Baku, Azerbaijan
9. Yarat Contemporary Art Center(Baku)
Situated in Baku, Yarat Contemporary Art Center is a non-profit organization dedicated at developing the Azerbaijan arts scene by providing an avenue where locals can showcase their talents. Founded by Aida Mahmudova in 2011, the center organizes several exhibitions and arts festivals to realize its mission of helping locals understand contemporary art. The term YARAT is an Azerbaijan word which means Create. Several educational activities including seminars and master classes are also initiated. Its Young Artist Project Program called ARTIM encourages the youth to immerse themselves in the arts by exhibiting their outputs. At present, Yarat Contemporary Art Center is housed in an old naval building overlooking the Caspian Sea.
Name:Yarat Contemporary Art Center
Address:E119, Baku, Azerbaijan
Related Sites:http://www.yarat.az/
10. Palace of the Shirvanshahs(Baku)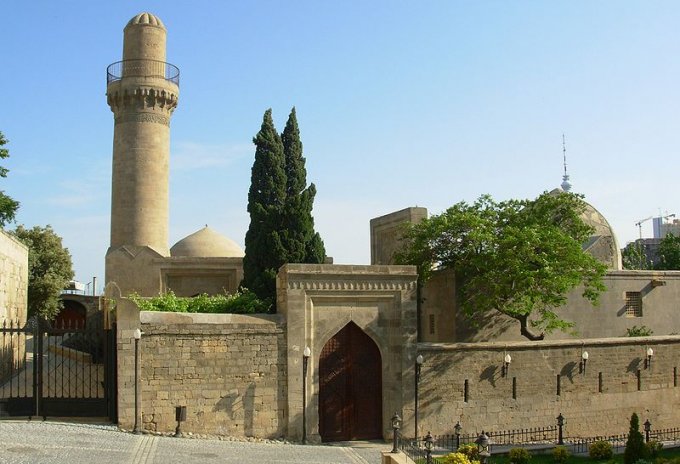 Photo by commons.wikimedia.org
Situated in the country's capital city, the Palace of the Shirvanshahs is a sandstone palace which served as the home of the ruling dynasties of Azerbaijan in the 15th century. Together with the Old City and the Maiden Tower, the Palace of the Shirvanshahs forms an ensemble of historic sites declared by UNESCO as a World Heritage Site. The place is famous for its stunning architecture. Apart from its main building, the palace also houses a few mosques, a mausoleum, a bathhouse, and a museum. The site is recommended for those who are seeking to immerse themselves in the lifestyle during the middle ages.
Name:Palace of the Shirvanshahs
Address:Baku, Azerbaijan
◎ Closing
The country of Azerbaijan is home to several beautiful tourist attractions perfect for sightseeing. Many of the tourist attractions in Azerbaijan are historic buildings, providing its visitors with ample information regarding the rich history of the country. Yet the presence of contemporary attractions gives its spectators a whole new picture to the so-called Land of Fire. Spectators will not only get to immerse themselves in the rich history of Azerbaijan when sightseeing, but they will also get to experience the rich art scene of the country: from spectacular architecture to fascinating art made by the locals.