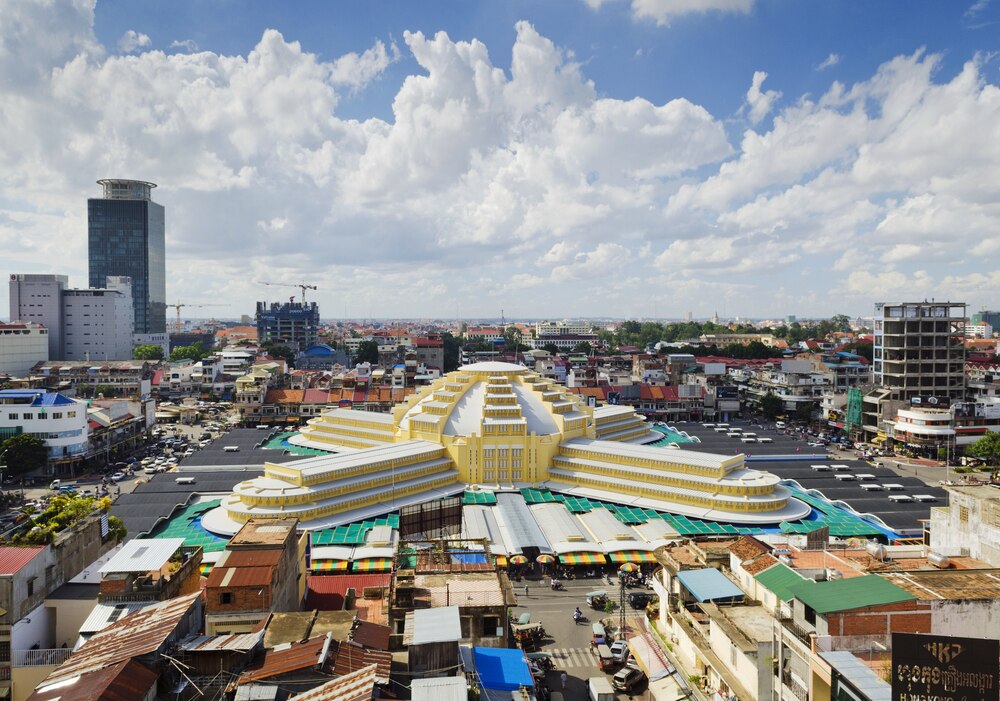 Photo by JM Travel Photography/shutterstock.com
Phnom Penh located in the heart of Cambodia is known for its marvelous architectures, rich cultural history and mouth watering culinary experiences. Considered as Mecca for backpackers and travelers in budget, there are museums that speak out loud about the history of this gorgeous place. A place with a tragic past and the magnificent Angkor Wat Temples, it is a place definitely to be visited once in your lifetime. It is located at the banks of Mekong River it combines the beauty of modern with rustic through its gorgeous alleys. The tragic and terror under Khmer Rouge Rule reigns to be present in ruins. Here are top 10 places to visit in Phnom Penh:
[x] close
Phnom Penh:table of contents
1. Tuol Sleng Genocide Museum
Phoyo by LivingSync/shutterstock.com
The museum brings forward the murky and tragic past of Cambodia and shows the sufferings under rule of Khymer Rouge. The security prison has seen some of the most traumatic atrocities and nearly 17,000 people were tortured after being accused of betraying the revolution. The museum is well maintained and has a lot of photographic evidence of the atrocities. There are sparse rooms with small air vents and windows, tiny cell confinements and prisoners were kept in rooms that had barely any space to move. It was abandoned in 1979 after Vietnamese took over.
Name:Tuol Sleng Genocide Museum
Address:Street 113, Phnom Penh, Cambodia
Related Site:http://tuolsleng.gov.kh/en/
2. National Museum of Cambodia
Phoyo by Sam DCruz/shutterstock.com
This is one of the best places for historians and cultural buffs to know in depth about the past of Cambodia. It is a traditional Khymer building turned into museum that holds huge number of national collection and was built in the year 1920. It is a place to learn about the beautiful Angkorian Era. The museum has some of the most exquisite collection of artifacts that can be traced back to the Funan and Chenla period of Cambodia. The beautiful architecture along with huge historical impact makes it one of the best places to visit.
Name:National Museum of Cambodia
Address:Preah Ang Eng St. (13), Phnom Penh, Cambodia
Related Site:http://www.cambodiamuseum.info/en_information_visitors.html
3. Royal Palace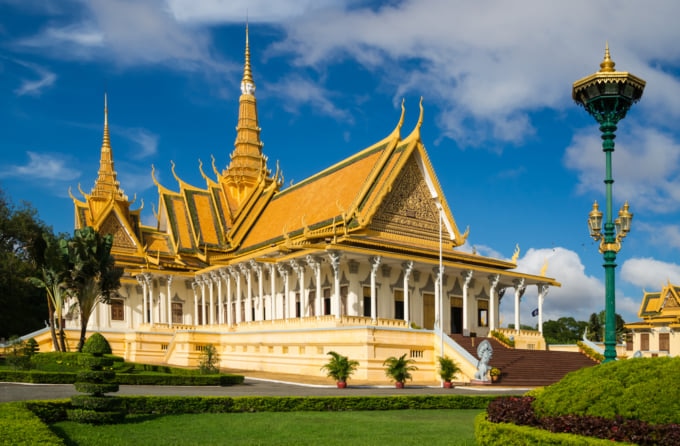 Phoyo by Ralf Siemieniec/shutterstock.com
This represents one of the most phenomenal architecture in Phnom Penh and appeals the eye with its exquisite architectural excellence. It is the residence of the royal family of Cambodia since 1860s and has beautiful spiral roof pavilions with a gorgeous Khymer architecture. It is a well landscaped garden that seats the Throne hall and Silver Pagoda. The Throne Hall was built in the year 1917 and the Silver Pagoda homes the Emerald Buddha Statue and diamond studded statue of the mammoth. The interiors are gorgeously done with murals and inscriptions.
Name:Royal Palace
Address:Samdach Sothearos Blvd (3), Phnom Penh, Cambodia
Related Site:https://www.canbypublications.com/phnompenh/pproyalpalace.htm
4. Choeung Ek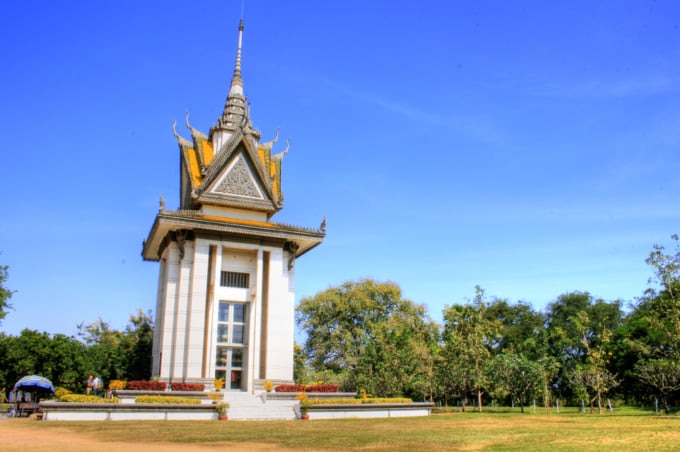 Phoyo by PlusONE/shutterstock.com
It again is a reminder of the dark days that the people of Cambodia has witnessed with terror under the reign of Khmer Rouge. The killing fields has seen lot of deaths as the ruler tried to convert the country into socialist agrarian society and most of the terrors were suffered between 1975 and 1979. Cambodia has seen lot of dark days and tough times and this place is known to be the death place of nearly 17,000 people. There are 29 massive graves along with a memorial stupa that has nearly 8000 skulls.
Name:Choeung Ek
Address:Sangkat Cheung Aek, Phnom Penh, Cambodia
Related Site:http://www.killingfieldsmuseum.com
5. Ta Prohm Temple at Tonle Bati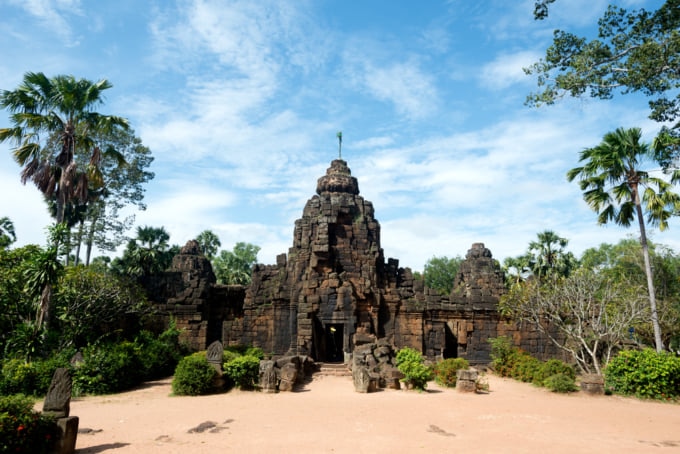 Phoyo by Chris Howey/shutterstock.com
The temple dates back to 12th century and is an important temple of Hindu Mythology. It has well preserved stone inscriptions and carving that is similar in pattern to the famous Angkor Wat Temple. It is not within the city but a place that is accessible within one hour from the city of Phnom Penh. It is close to the Tonle Bati Lake which is a serene and silent place mostly used by the locals as picnic spot. It is a gorgeous and rustic temple.
Name:Ta Prohm Temple at Tonle Bati
Address:30 kms South of Phnom Penh, Takeo Province, Cambodia
6. Wat Phnom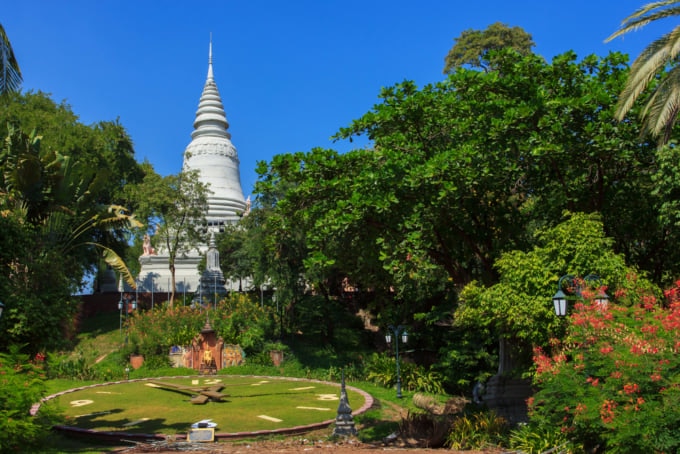 Phoyo by Lenar Musin/shutterstock.com
The temple is present on an elevated land and the landscape is around 27-meter-high that is present on a hillock. It was constructed in the 14th century and has undergone reconstruction lot many times. The main temple was built in 1926 and is one of the most prominent Buddhist temples in the place. In the hustle bustle of the city, it is a tranquil place to be in. The pagoda is perched on a small hill inside a park.
Name:Wat Phnom
Address:Street 96, Norodom Blvd, Phnom Penh, Cambodia
7. Wat Ounalom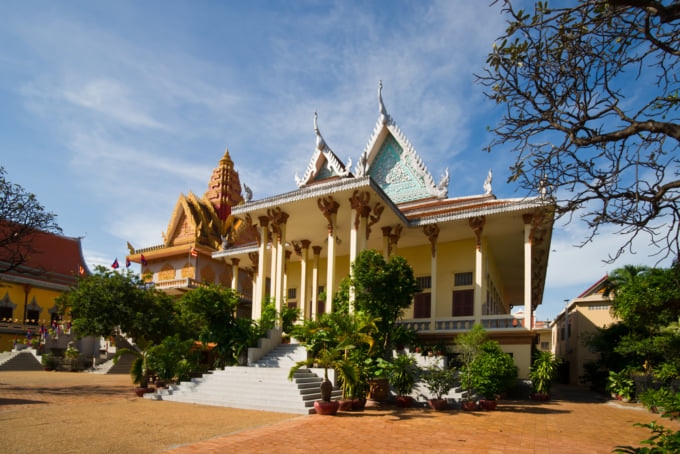 Phoyo by Ralf Siemieniec/shutterstock.com
It is a gorgeous temple and is headquarter for the Buddhist within the country. The complex is marked by presence of Stupa and is known for containing hair of Buddha. It has been damaged a lot during the Khmer Rouge era but still it is renovated and stands as attractive as ever to the tourists. It extends learning about Buddhism, involved in spiritual teaching and enriches your brain with Cambodian Buddhism culture. It was built in 1443 to enshrine eyebrow hair of Lord Buddha.
Name:Wat Ounalom
Address:Ly Yoak Lay St. (172), Phnom Penh , Cambodia
Related Site:http://www.tourismcambodia.com/travelguides/provinces/phnom-penh/what-to-see/19_ounalom-pagoda.htm
8. Psar Thmei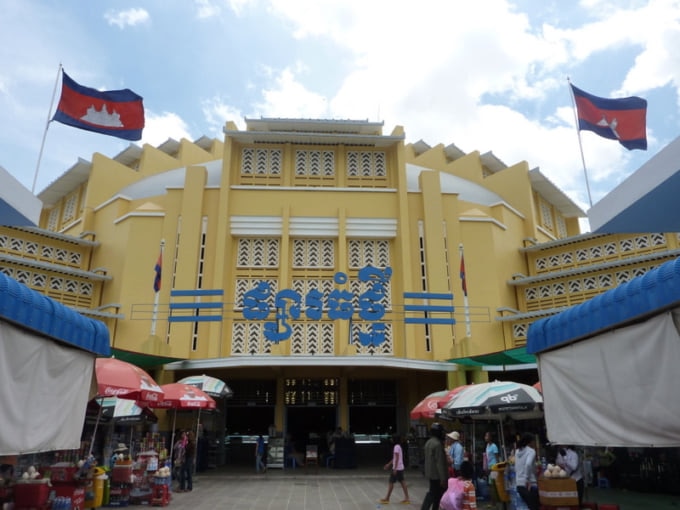 It is a distinctive and gorgeous dome shaped building that holds the central Psar Thmei Market and was established and built in 1937. It highlights its gorgeous Art Deco style and is one of the best places to understand the local life of the place. It is a huge market place that sells versatile products and is always chaotic with number of people around for shopping. The market place is the shopping place for everything right from groceries, jewelry, clothing, etc. It is a very colorful aura inside.
Name:Psar Thmei
Address:Prey Nokor St. (126), Phnom Penh, Cambodia
Related Site:http://www.tourismcambodia.com/travelguides/provinces/phnom-penh/what-to-see/25_central-market-phsar-thmei.htm
9. Independence Monument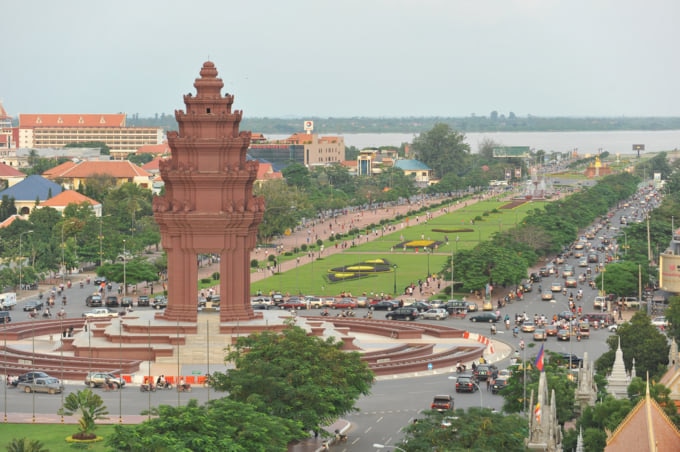 Phoyo by Ari V/shutterstock.com
The Independence Monument is built on a patch of grass which intersects the Sihanouk and Norodom Boulevards and marks the independence to Cambodia. It was built as a celebration to Independent Cambodia after the rule of French Colonial in 1953. It reflects the beautiful Angkorian Temple and is made of sandstone that is intricately designed with multi headed snakes. It is also the memorial for the ones who were dead during the war. There is also a Cambodian Vietnam Friendship Monument built in 1979 after Vietnamese force defeated Khmer Rouge.
Name:Independence Monument
Address:Sihanouk Boulevard, Phnom Penh, Cambodia
Related Site:http://www.tourismcambodia.com/travelguides/provinces/phnom-penh/what-to-see/21_independence-monument.htm
10. Koh Dach
This is one of a kind experience that one must not miss and it is very close to the city center. The Silk Island is a peaceful place where you learn about weaving Cambodian silk and there are many weaving hand-loom villages that you can visit. There are many workers who use the hand-looms to spin silk and there are stunning dye material used for creating amazing designs. It can be reached by one hour of ferry ride.
Name:Koh Dach
Address:Koh Dach, Phnom Penh, Cambodia
Related Site:http://www.tourismcambodia.com/travelguides/provinces/kandal/what-to-see/253_koh-dach.htm
◎ Closing
Phnom Penh have witnessed some of the gory past days. However, now it stands to be one of the most amazing places with historical and cultural per se.