10 Underrated Dishes You Have to Try When Visiting Thailand
Nowadays Thai food is ubiquitous around the world, renowned for its explosion of strong flavors that somehow manage to blend together perfectly. Outside of the country you'll often find the same few dishes repeated so commonly you'd think the menus are just copy and pasted, as restaurants strive to please diners with the most popular dishes. Within Thailand however, you'll find a never ending list of vibrant, mouth-watering dishes, with so much more on offer than just the well-known rainbow of curries.
table of contents
[x] close
10 Underrated Dishes You Have to Try When Visiting Thailand
Jok (โจ๊ก)
Photo by chaechaebyv/Shutterstock
As much as we love it, Chinese congee can often be a little bland in terms of flavor, but not in Thailand. Trust the Thais to take rice porridge to the next level, jok is one of the most popular dishes in the country among locals, one that's usually eaten for breakfast on the street. Compared to other Thai food it's not exactly a flavor-bomb. Jok is more of a comforting dish, easing you into the day slowly instead of waking you up with an electrifying shot of spice. With the main flavors of ginger and black pepper, vendors usually throw balls of pork into the mix along with egg and top it off with patong ko - a kind of fried bread-stick - and sometimes crispy fried onion.
Khao Soi (ข้าวซอย)
Photo by polaris50d/Shutterstock
If you're visiting the northern regions of Thailand, khao soi is a must-try, but even for those just staying in Bangkok, this dish shouldn't be ignored. Similar to laksa, khao soi is a curry noodle dish made with egg noodles in a soupy coconut broth that has a flavor similar to yellow curry. Usually served with a chicken leg, the noodle dish is taken to another level with a healthy dose of deep fried crunchy noodles thrown on the top.
Nam Tok Neua (น้ำตกเนื้อ)
Often called a Thai beef salad, if it truly counts as one then this has to be the greatest salad we've ever come across. Chunks of grilled beef and steak are thrown together with a wonderful mix of Thai flavorings, mainly fish sauce, lime juice and chili, along with sliced shallots, cilantro and mint leaves. The name actually translates as 'waterfall beef' as the beef is taken off the grill when it starts to hiss from the juices dripping into the flames and sizzling.
Som Tam (ส้มตำ)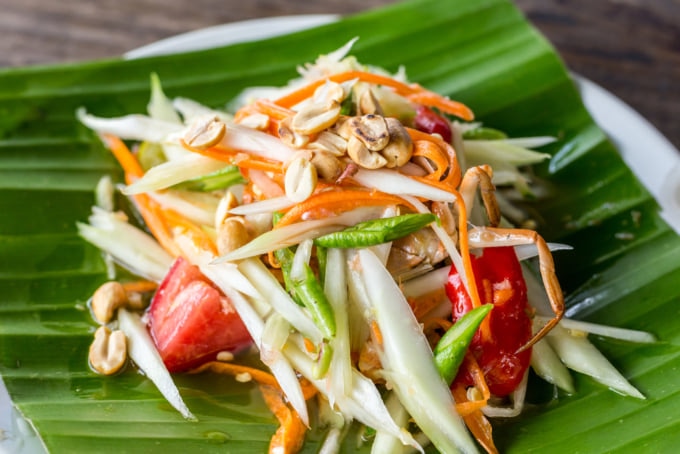 While som tam is starting to gain traction outside of Thailand, this Isaan dish is often a favorite among native Thais. Using super fresh ingredients, this spicy green papaya salad is a healthy mix of various local vegetables that are then softly mashed together to bring out the flavors.
Yam Naem (ยำแหนม)
Similar to the Laos dish of naem khao, yam naem is made from deep fried curry-flavored rice balls that are crumbled up and mixed with fermented pork sausage, peanuts and various flavorings. With a wonderful crunchy texture from the crispy rice balls, the mixture is also usually added with a healthy dose of lime juice and chili giving it a tangy and spicy flavor as you crunch through the dish.
Massaman Curry (มัสมั่น)
While most foreigners tend to favor the red and green Thai curries as they're the most common, our favorite is gaeng massaman. Although milder in heat than most of the other curries, it doesn't lack in flavor. Massaman is a mix of a wide range of spices commonly found more often in Indian dishes such as cinnamon, star anise and cardamon. These are then mixed with more local produce like lemongrass, galangal and shrimp paste to make the curry paste. The beautiful blend of Thai and foreign flavors gives this curry a unique flavor hard to replicate with anything else.
Sai Ua (ไส้อั่ว)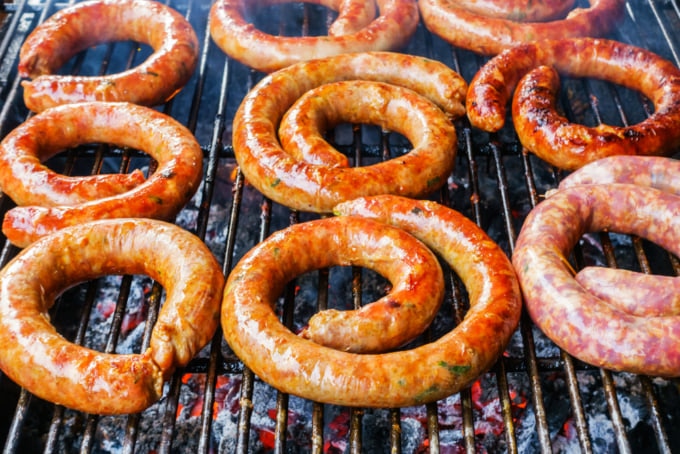 Photo by Take Photo/Shutterstock
Another popular northern Thai dish, sai ua is a sausage on flavor steroids. Minced pork mixed with a bunch of herbs and spices along with red curry paste, the sausage is then made into a spiral and grilled on a barbecue. One bite of this succulent treat will have your senses tingling a mixture of joy and spice-induced shock. It's a good shock though, as spicy as they can often be you'll still keep reaching for another bite.
Sangkaya Fak Thong (สังขยาฟักทอง)
When most people think of Thai deserts, it's usually the ubiquitous mango sticky rice or the tapioca balls in coconut milk you seem to get everywhere around the world in Thai restaurants. Thailand has a huge array of tasty deserts however, many of which haven't really escaped the boundaries of the country yet unfortunately. One of our favorites is sangkaya fak thong, a kind of Thai custard that's cooked in a holed-out pumpkin. The sweet coconut-flavored custard matches perfectly with the sweetness of the pumpkin and while it might look a little strange, the taste is phenomenal.

Thai custard is one of our favorite kinds and is always made fresh unlike as is often the case in the west. For another mouth-watering sweet Thai treat try khao niao sangkaya (ข้าวเหนียวสังขยา), the steamed custard is placed on balls of sweet sticky rice, often looking like a sweet version of sushi.
Khua Kling (คั่วกลิ้ง)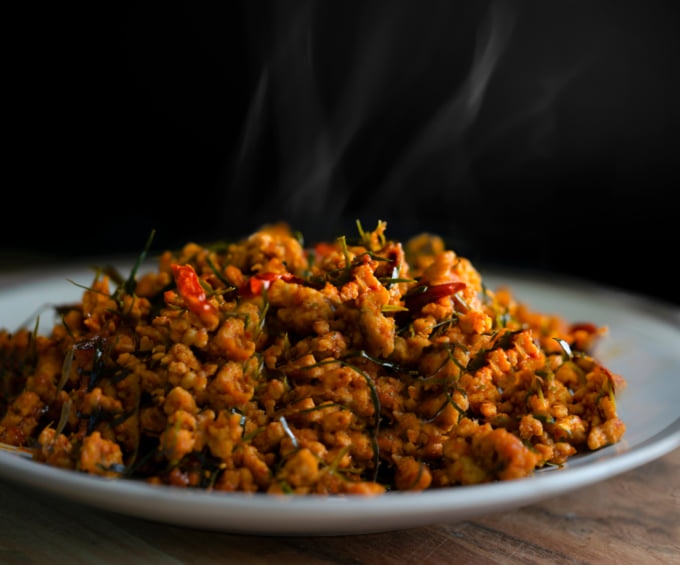 Photo by Ann in the uk/Shutterstock
Not for the faint-hearted, this dish is for those who want to test the boundaries of spice and flavor. Khua kling is a dry curry with fierce flavors and is often mind-numbingly spicy. A popular dish in southern Thai restaurants, ground meat is stir-fried in a curry paste along with lemongrass, kaffir lime leaves, fish sauce and usually an extra helping of red chilies. One of the hottest dishes in the country, when you can handle the heat however, khua kling is one of the most flavorful dishes on the planet.
Gaeng Som (แกงส้ม)
Photo by Chapatta/Shutterstock
Most around the world have tasted tom yam gung, but we personally prefer the lesser-known gaeng som. Similar to tom yam, this dish is a spicy, sour seafood soup with the sour aspect coming from a healthy addition of tamarind. Gaeng som is a perfect balance of sour, sweet and salty with a kick of chili albeit more mild compared to most Thai dishes.
Conclusion
These dishes only start to scratch the surface of the incredible array of mouth-watering dishes that are found all around Thailand. While Thai food often gets grouped into one cuisine, you'll find in the country they're generally split into the main food regions of Isaan and North, South and Central Thailand.