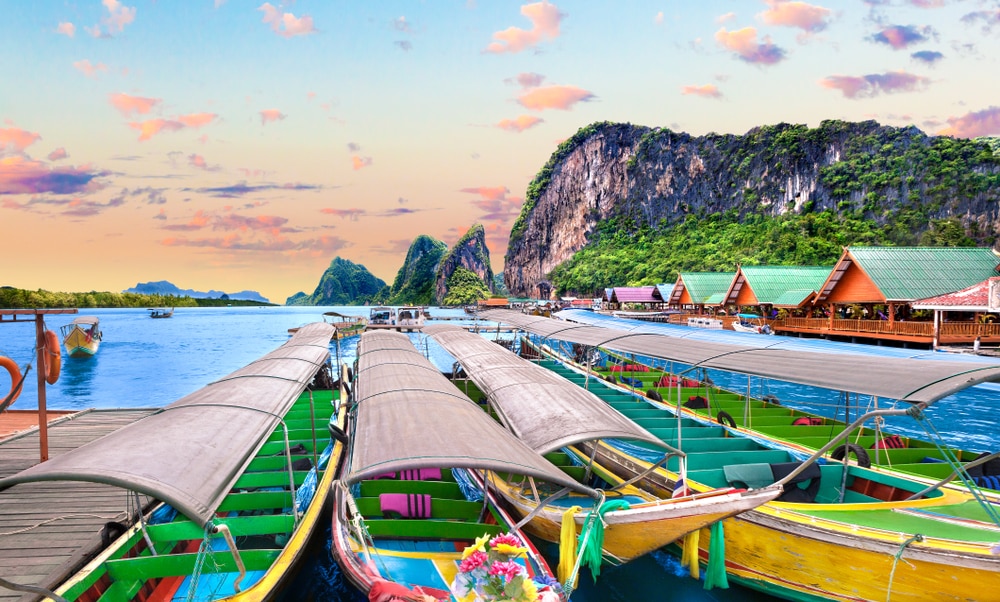 Photo by Carlos Castilla/Shutterstock
5 Memorable Day Trips From the Thai Paradise of Phuket
Located in the warm waters of the Andaman Sea, just an hour flight away from bustling Bangkok, lies the breathtaking, vibrant and wildly popular island - Phuket. With its abundance of nature, idyllic white-sand beaches, balmy tropical climate, well-developed tourism industry and proximity to hundreds of small scenic islands, it's the perfect base for anyone wanting to explore the natural splendors of the region. Below are five easy day trips you can take that will make your stay on this incredible island truly unforgettable.
table of contents
[x] close
5 Memorable Day Trips From the Thai Paradise of Phuket
Phang Nga Bay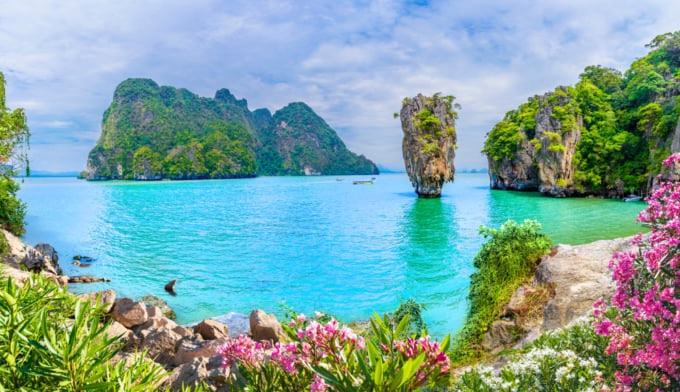 Several boat tours from Phuket are available daily to this spectacular bay. Characterized by the tall, distinctive limestone formations that jut haphazardly out of the turquoise sea around them, it's impossible to visit and not feel moved by the magnificence of nature here. Some of the more famous spots located along this bay include Koh Tapu, more popularly known as James Bond island. An oddly shaped but beautiful rock formation made famous by the 1974 Bond movie - 'The Man with the Golden Gun'. Along with Koh Panyee, a charming, floating village built on stilts besides large limestone cliffs.

Tours to Phang Nga Bay can easily be booked online or from your hotel concierge in Phuket and almost always come with pick up and drop off services included. Be sure to pack your sunscreen and swimsuit as every tour comes with plenty of opportunities to swim, sunbathe, snorkel and explore the enchanting beaches located along the way.
Elephant Sanctuary
Photo by Brendan Van Son/Shutterstock
Elephants - the national animal of Thailand, have held an important and influential position in Thai society for centuries. A trip to Thailand would be incomplete without a visit to see some of these spectacular, gentle giants. Sanctuaries like the Green Elephant Sanctuary Park, Elephant Jungle Sanctuary and Phuket Elephant Sanctuary provide ethical opportunities to learn about and interact with old, injured, sick and rescued elephants - without the riding and without the chains.

Most elephant sanctuaries in Phuket offer morning or evening visits, and come with hotel pick up, drop off and a meal. Prepare for a memorable and exhilarating day of elephant feeding, mud baths and incredible travel pictures to share with family and friends.


Coral Island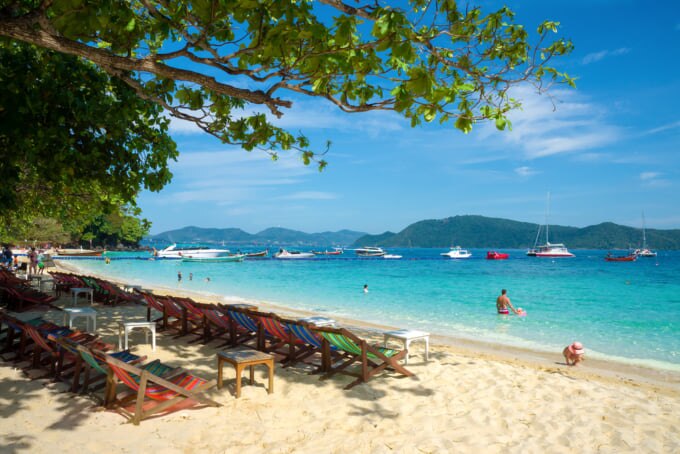 Photo by Windofchange64/Shutterstock
Located to the south of Phuket - just around ten minutes away by speedboat - Coral Island or Koh Hae is a stunning hideaway for anyone that loves gorgeous beaches, snorkeling and other popular recreational activities. Here you can spend the day parasailing, underwater walking, catching the breeze on a banana boat or simply exploring the islands two long stretches of white-sand beaches and clear blue water - home to an abundance of tropical fish and colorful stretches of corals.

Half day tours from Phuket usually run from around 11:00 - 16:00 and full day tours from 07:00 to 15:00. However, you can also opt to stay a night or two and have plenty of additional time to enjoy the beautiful beaches and hidden coves without all the tourists.
Phuket City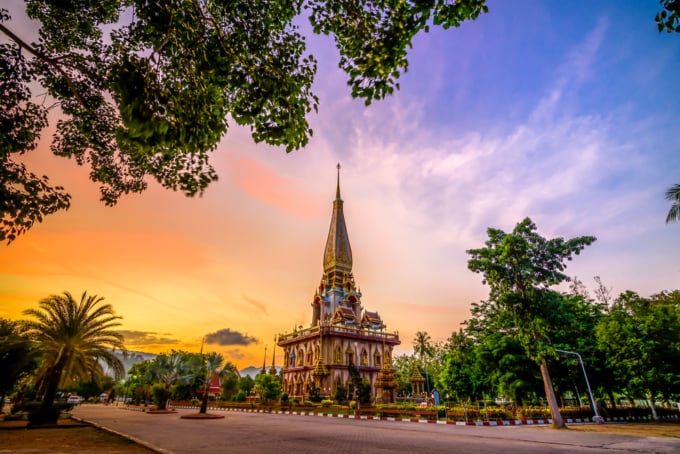 Photo by Chanasorn Charuthas/Shutterstock
If you're looking to do something a little different from the typical cruise, snorkel, swim and trekking experiences, then a tour of Phuket City might be just the thing. Stroll through Old Phuket Town with it's charming, picturesque Sino-Portuguese architecture and visit the incredibly stunning Wat Chalong - Phukets most important Buddhist temple built sometime in the early 19th century. Stop to get some impressive pictures of Phuket at famous viewpoints like Karon and Khao Kad. Finally, indulge yourself in a little shopping and a quick stop to the local honey farm before heading back to your hotel to reflect on these wonderful experiences as you sip on a cold glass of fresh mangosteen juice.
Koh Yao Noi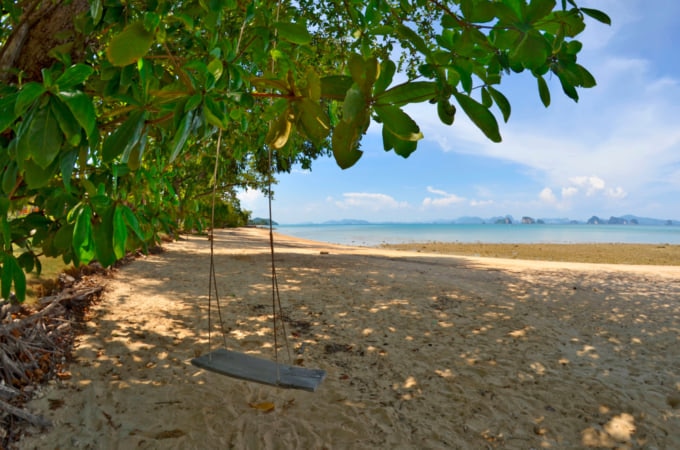 Photo by Denis Costille/Shutterstock
Koh Yao Noi is the perfect little hideaway for anyone looking to escape the busy crowds of Phuket. About half an hour by speedboat from Bang Rong Pier in Phuket, this tranquil little island is a great way to immerse yourself in traditional Thai culture. Simply hire a scooter and take a peaceful ride around the island. See how the locals live as you whiz past rice paddies and buffaloes, lush green plantations, mangroves and local residences.

If you have enough time, perhaps look for your own little secluded area of beach where you can take in some beautiful views of the pristine, clear water and head down to one of the few bars and restaurants dotted along the coastline for a quick meal before heading back.
Conclusion
Phuket is a wonderfully warm and inviting island, it's no wonder that it has consistently remained on the list of top destinations to visit for tourists across the globe. To make the most out of your next trip, try including a few day trips to your itinerary. That way, you can discover even more of the bountiful nature, delicious food and rich, diverse culture of Phuket and its surroundings.