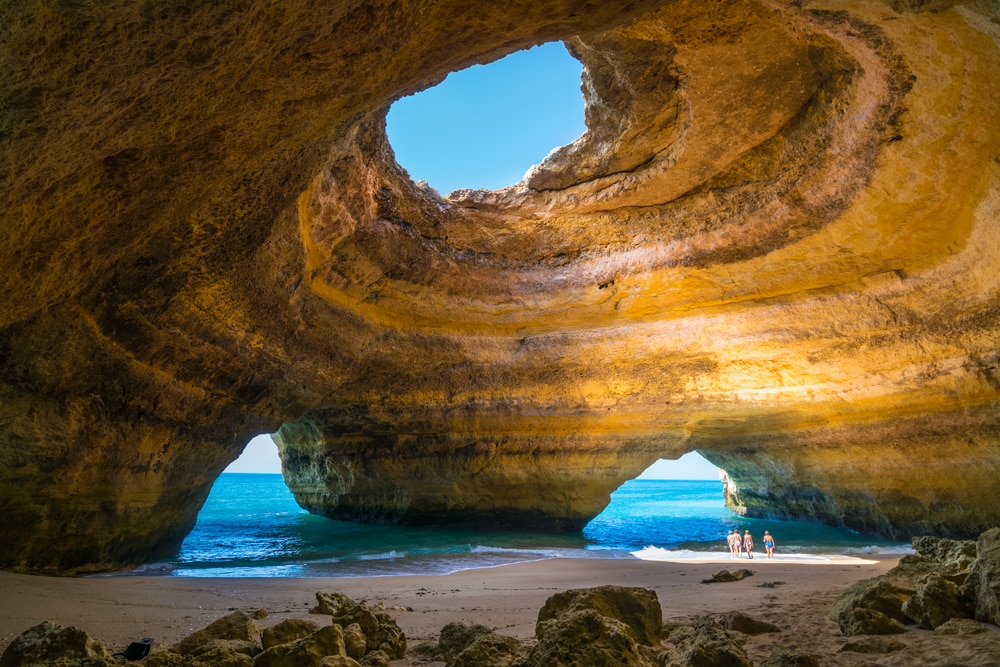 Photo by Nido Huebl/Shutterstock
8 Picture-Perfect Destinations for a Beach Holiday in Europe
Summer is around the corner, which means it's the perfect time to start planning a summer holiday. Europe certainly has its share of exquisite beaches with stunning scenery, crystal clear waters, pristine coastline and the perfect weather. So pack your favorite bathing suit, put on some suntan lotion and get ready to be a beach bum in some of these amazing places throughout Europe.
table of contents
[x] close
8 Picture-Perfect Destinations for a Beach Holiday in Europe
Carvoeiro Beach, Portugal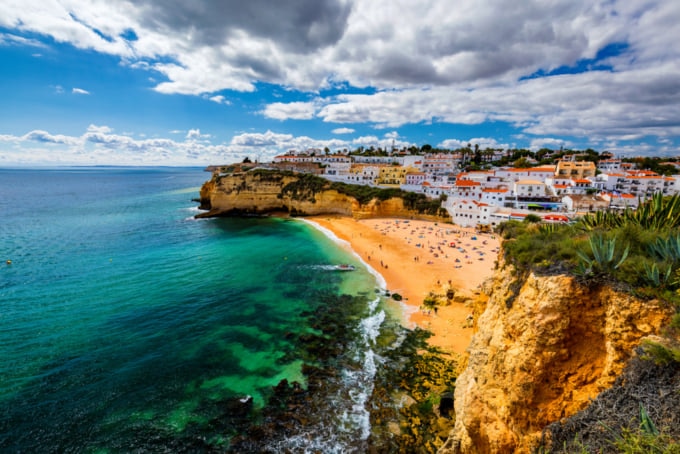 The resort town of Carvoeiro is charming and full of life with its star attraction as the stunning Carvoeiro Beach. Nestled between high cliffs on either side and set against the backdrop of a quaint fishing village, Carvoeiro is a small but picturesque beach that should be on everyone's travel list this year. Think golden sand, white and colorful terracotta-tiled houses, tons of cafes and restaurants along with calm sea waters. Laze on the beach, take a boat tour, enjoy water sports or try the Carvoeiro Boardwalk trail if you're feeling adventurous, before ending the day with some delicious food and drinks. Ice cream, anyone?
Cala Goloritzé, Sardinia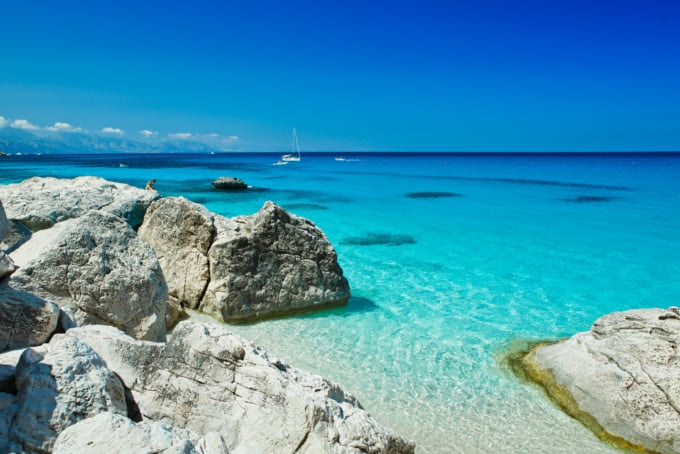 If you're searching for a beach that seems right out of a postcard, then look no further. Cala Goloritzé was created by a landslide and is most well known for its 143-meter-high pinnacle that rises up above the cove and a rock arch, both of which are stunning sights. There are two ways to get here, you can either take a boat from Arbatax or Santa Maria Navarrese or hike here from Su Porteddu (only recommended if you're fit and healthy).

What makes this beach special other than the views however, is that it's an isolated paradise. There are no kiosks, no toilets and no services of any kind found around here. Make sure to bring your own garbage bags and don't forget your snorkeling gear, the water here is clear and beautiful, perfect for swimming around in. Many state this beach is one of the most beautiful not just in Sardinia but in the world and we couldn't agree more.
Atrani Beach, Amalfi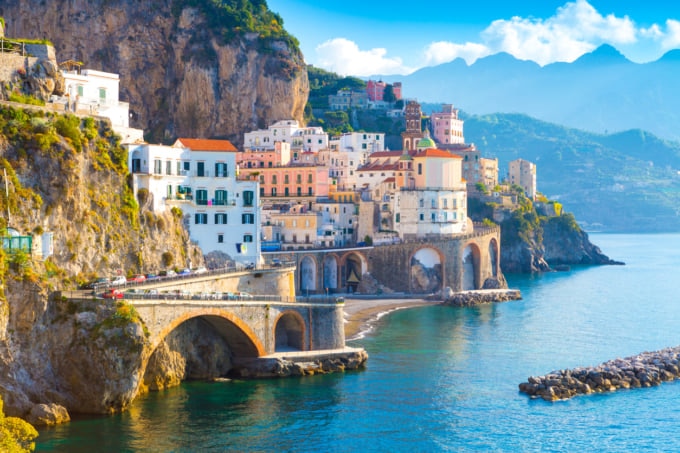 Amalfi is exquisite no doubt but during peak season the sheer number of tourists can get rather irksome. For a quick escape, we recommend taking a short walk to Atrani beach. Even though it's quite close to Amalfi, this town remains relatively untouched by tourists and retains the old world Italian charm. The beach itself is dramatically beautiful with plenty of reasonably-priced beach chairs perfect for lounging around on and soaking in the sun. When you're done admiring the beautiful coastal scenery, we recommend wandering through the narrow streets of Atrani and spending some time people-watching and eating around Piazza Umberto, the main square.
Elafonisi Beach, Crete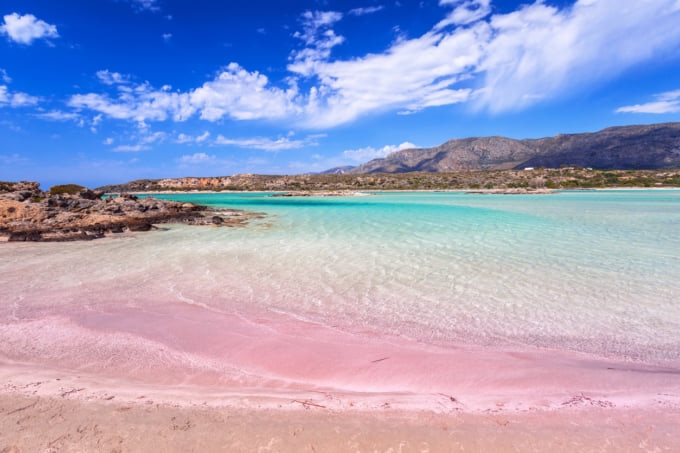 Given that Greece is defined by its beautiful beaches, it's hard to choose just one but Elafonisi Beach in Crete is right up there on the list. With shallow turquoise waters, intriguing rock formations, lovely wildflowers and pink sand (yes, pink!), this beach is unlike anywhere you've ever seen before. It's also an internationally-recognized nature reserve and is home to many rare plants and flowers and if you're lucky, you may even spot a loggerhead sea turtle or two swimming around. It's also a great beach for windsurfing. Make sure to bring your camera, this spot is particularly beautiful during sunset.
Praia da Marinha, Algarve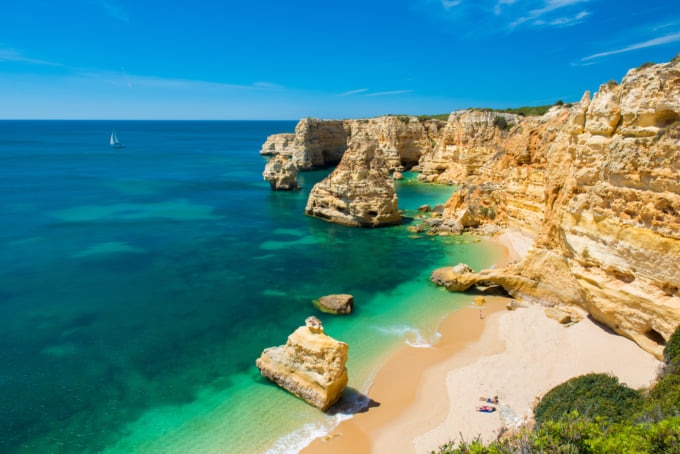 Photo by Simon Dannhauer/Shutterstock
Look for Algarve on Instagram and you're bound to come across plenty of pictures of Praia da Marinha, one of the most scenic beaches in the world. Surrounded by limestone cliffs, dramatic rocks (keep your eye out for the famous M-shaped formation) and ledges, this azure-watered gem will surely take your breath away! Not only is it a great spot for sandcastle-making and sunbathing, but it's also full of enchanting marine life so don't forget your snorkeling and scuba diving gear. If you're up for a little activity, we recommend taking the four-mile walking trail to the town of Carvoeiro. The view as you walk along the cliffs is just out of this world!
Reynisfjara, Iceland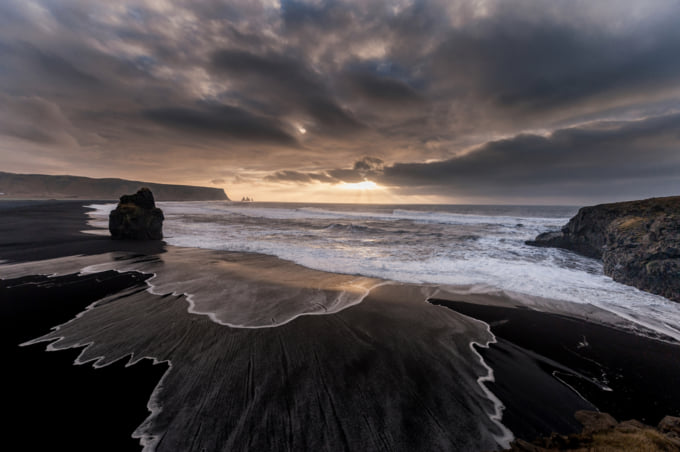 Photo by photosounds/Shutterstock
Let's go up a little North to magical Iceland and all that it has to offer, particularly the volcanic beach of Reynisfjara. Located close to the town of Vik in the south of Iceland, what sets it apart from your usual golden and white sand beaches is its beautiful pitch-black sand! Add to that the unique rock formations and basalt columns collectively known as 'Reynisdrangar' and you have one of the most unique beach destinations in all of Europe. It's more a hiking kind of beach than a tanning one but we promise you that its rugged raw beauty is well worth the trip!
Scala dei Turchi, Sicily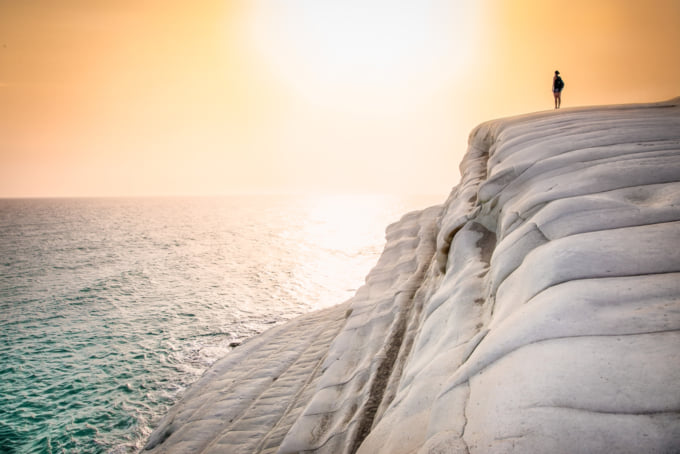 Photo by Aleksandar Todorovic/Shutterstock
Scala dei Turchi or 'The Stairs of the Turks' is a spectacular coastline stretch located between Realmonte and Porto Empedocle. What makes it unique is the pristine white marlstone 'staircase' that has been carved by the sea and wind over centuries. Back in the day, Arab and Turkish pirates would anchor their boats here while they pillaged surrounding towns, hence the name. The white of the staircase with the stark blue of the ocean offers a beautiful contrast, reminding us that nature indeed is the best artist. Get there early to capture the best pictures.
Olüdeniz Beach, Turkey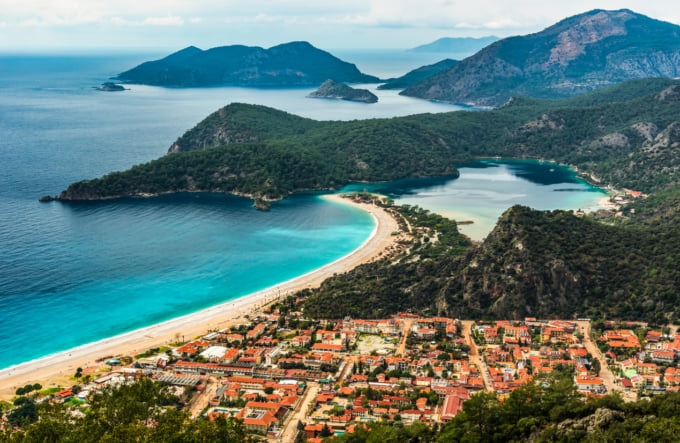 A vast stretch of golden sand, pleasant year-round Mediterranean weather and the perfect amalgamation of blue skies and crystal clear waters make Olüdeniz in the Fethiye district one of the hottest beaches to visit this year. There are tons of umbrellas and sun loungers as well as beach bars and restaurants to satiate your inner foodie. If you're feeling a little adventurous, try some water sports like jet skiing, banana boat riding, parasailing and tandem paragliding. The shoreline and the surrounding hills are even more beautiful when viewed from above.
Conclusion
Whether it's a party beach you're after, a quiet getaway or a fun family vacation, there's a beach for every person and mood in Europe. What are you waiting for? Pick one of these incredible destinations and get packing!