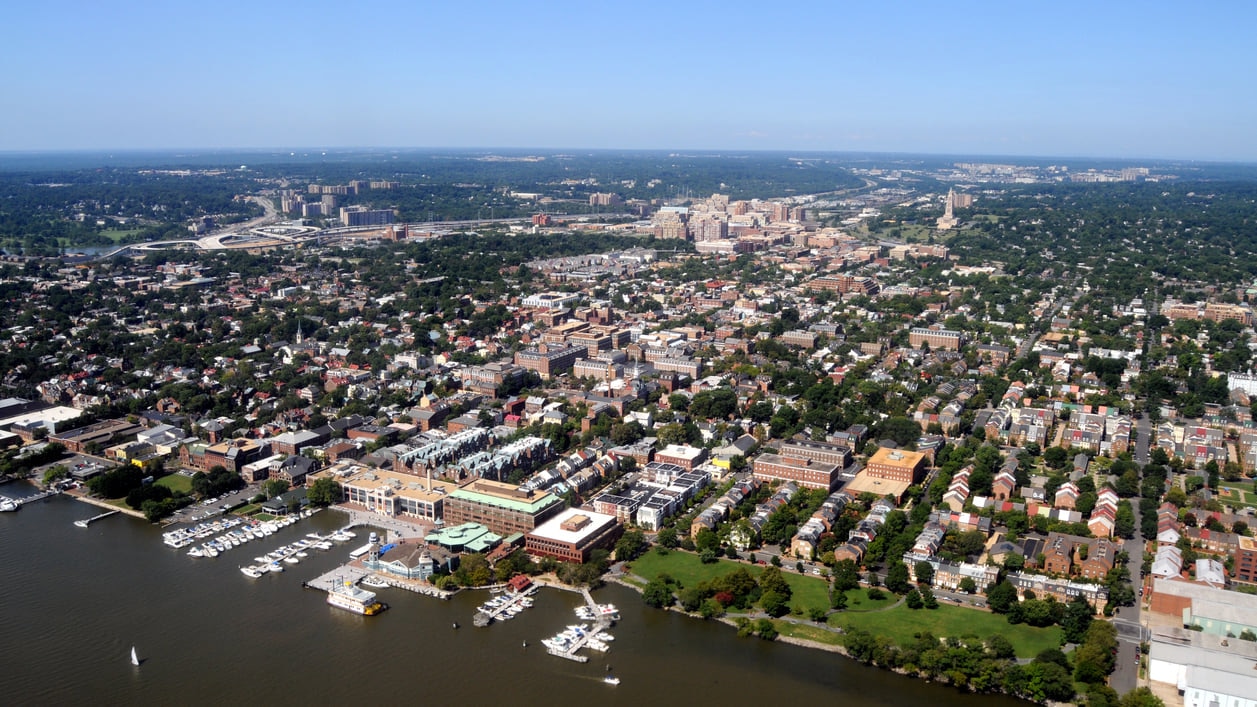 Alexandria:The Beautiful City Linking America's Storied Past with Its Celebrated Present
Alexandria is a destination considered to have extraordinary attractions, exquisite cuisine, and sophisticated style. If you wish to experience a more contemporary side of Alexandria, the streets of the stylish Del Ray neighborhood is a perfect place to wander. You will get to see where local artists operate boutiques and studios. There are many things that make Alexandria so extraordinary. Among hundreds of experiences to enjoy, here are some of the top sightseeing spots across Alexandria.

table of contents
[x] close
Alexandria:The Beautiful City Linking America's Storied Past with Its Celebrated Present
1. Mount Vernon
Mount Vernon is a national historic landmark in Alexandria and is considered a wonderful place to learn about one of our nation's greatest founding fathers, George Washington. This remarkable attraction is open every day of the year making it accessible all year round. Visits to see the estates is part of a two-hundred-year-old tradition initiated by George Washington himself. The place is very beautiful and is flooded with helpful staff that makes your visit worthwhile as they answer all questions. The place has a variety of spots to visit such as the tomb, the home and pioneer farm which can be done under three hours if planned well. Some short sightseeing boat trips are also offered making them more preferable than a car to avoid some long ticket lines.
Name:Mount Vernon
Address:3200 Mount Vernon Hwy, Mt Vernon, VA
Related Site:http://www.mountvernon.org/
2. George Washington Masonic National Memorial
George Washington's devotion to the Freemasonry fraternity and its principles together with the history of Freemasonry are magnificently showcased at the George Washington Masonic National Memorial. Anyone can visit the place with no need of being part of the Freemasonry fraternity. The space also has some amazing architecture and stunning art that is worth a look. Most floors are open to the public and one has the opportunity to linger before or after the tour. The most scenic point of the place is the ninth floor which has an observatory deck offering some beautiful sightseeing views of the city. Access to the main floor is free but a guided tour of the whole place costs $15. The George Washington Masonic National Memorial is an ideal tourist attraction for those interested in some history with mystical twists.
Name:George Washington Masonic National Memorial
Address:101 Callahan Dr, Alexandria, VA
Related Site:https://gwmemorial.org/
3. Carlyle House
Carlyle House is the home of one of the founders of Alexandria it was built by Scottish merchant John Carlyle. Its architecture is beautiful being the only mansion built in this unique Georgian Palladian style in Alexandria. It is also surrounded by some beautiful landscapes.Some great tours are offered to give a brief history of what Alexandria was like in the early days and how people lived especially the upper-class life in the 1700-1800s. The tour will cost about $5 and one may need about 45 minutes. The peaceful surrounding garden makes the grounds suitable for photography and weddings.

Name:Carlyle House
Address:121 N Fairfax St, Alexandria, VA
Related Site:https://www.novaparks.com/parks/carlyle-house-historic-park
4. Capital Wheel
Capital Wheel is not your average Ferris wheel, this beautiful masterpiece is located on The National Harbor. It is an ideal location for a date night or just spending time with friends. The scenery is considered to be more beautiful at night especially from the top.Due to its popularity, some long lines are experienced and morning hours are advisable if you wish to go for a ride. The cars are air-conditioned to keep you cool and the wheel moves smoothly accommodating all including those with fear of heights.The average ride takes about 15 minutes. There is a standard package for a few pictures which costs about $20. There is also an upgrade of VIP cars that cost slightly higher than the regular cars, at $52 per person.
Name:Capital Wheel
Address:116 Waterfront St, Oxon Hill, MD
Related Site:http://thecapitalwheel.com/
5. Jones Point
Jones Point is a quiet escape in the middle of the city located along the Potomac River in Alexandria. This great piece of history was one of the largest centers for shipping, manufacturing, and transportation in the nation. Its lighthouse is the last remaining riverine lighthouse in Virginia.The grounds of Jones Point Park are open to the public all year round from early morning till late. There is a fishing pier where fishing is allowed for those with the right license. You can see the south points of DC, MD border, and VA from the top of the lighthouse.
Name:Jones Point
Address:Jones Point Dr, Alexandria, VA
Related Site:https://www.nps.gov/gwmp/planyourvisit/jonespoint.htm
6. Mason District Park
Mason District Park is a beautiful tourist attraction around Alexandria. It is an all-around recreational park that has almost everything under one set up. Some of its features include hiking trails, hilly landscape, tennis courts, a soccer field, a football field, two baseball fields, an amphitheater for musical concerts and a children's play area. Its playgrounds are also categorized into two to facilitate different age groups. Aside from the sporty aspect, the park also has a picnic area with tables, benches, and grills, which is also used for BBQs and is available on a first come first serve basis. There is also a secluded park for dogs. Mason District Park also has some interesting activities through the week including the farmers market that takes place every Thursday from 8 am to 12 pm. There are also free music concerts some nights during summer. The ideal time to visit if over the weekend is Sunday morning before 11 am if you are looking for some privacy.
Name:Mason District Park
Address:6621 Columbia Pike, Annandale, VA
Related Site:https://www.fairfaxcounty.gov/parks/wp-omp.htm
7. Gadsby's Tavern
Gadsby's Tavern was erected back in 1792.It has maintained its popularity since the eighteenth century and remains to be a notable resort.It is located on a quiet Old Town corner near Market Square.It has maintained its popularity because George Washington's first birthday was held here and his last military order was also given here.Apart from its great history, many tourists flock the resort to experience the 1700s dining. The servers dress in period costumes and also talk and walk as though they were in the 1700s.The menu is not to be spared, you can even get an ale if you wish.The resort no longer gives guided tours and you will be expected to take an individual tour of the place.However, some servers are kind enough to give a brief history of the place.
Name:Gadsby's Tavern
Address:134 N Royal St, Alexandria, VA
Related Site:https://www.alexandriava.gov/GadsbysTavern
8. Huntley Meadows Park
Huntley Meadows Park is a beautiful oasis nestled in a suburban metropolis just off route 1.It is considered to be one of the best parks found in the DC metro area. This tourist attraction is very well Incorporated into a wetland with a forest to walk through and observe a variety of wild animals present such as beavers, water snakes, snapping turtles, and the very rare otter.The place is also a famous sightseeing spot since it is a favored stop for migrating birds hence constantly has different assortments of birds through the seasons.
Name:Huntley Meadows Park
Address:3701 Lockheed Blvd, Alexandria, VA
Related Site:https://www.fairfaxcounty.gov/parks/huntley-meadows-park/
9. Winkler Botanical Preserve
Winkler Botanical Preserve is an interesting secluded little spot featuring a variety of nature trails, a mountain lodge & waterfall flanked by woods.This hidden gem is ideal for a quiet walk which will take about 30 to 45 minutes.You get to enjoy the nature and beautiful trees and also get to stroll along the small lake.The area is beautiful all year round, however, it doesn't offer much botany during the winter season but still gives it a new perspective on its design. Another thing to note is that if you plan a sightseeing visit, it should be earlier than 4 pm as the place closes at 4 PM.

Name:Winkler Botanical Preserve
Address:5400 Roanoke Ave, Alexandria, VA
10.Fort Foote
Fort Foote is a hidden piece of local history located in Alexandria. This old fort was built to protect Washington DC from naval attack during the Civil War. Some wood, earthworks and stone ruins remain, along with several cannons.This amazing open space has some walking trails and deer paths which lead to two Rodman cannons on display in what looks like their original locations but the fortifications have slightly deteriorated. The fascinating thing is that you can actually touch them. From the top part of the fort, you are able to catch great views of Dyke Marsh, National Harbor, and New Alexandria.This great sightseeing experience will need about two hours or so.
Name:Fort Foote
Address:8626 Fort Foote Rd, Fort Washington, MD
Related Site:https://www.nps.gov/fofo/planyourvisit/basicinfo.htm
◎ Closing
Alexandria is the perfect escape from the fast-paced capital life.Whether you are a museum-goer, history fanatic, art enthusiasts, or just an adventurer, there are always remarkable things to do around Alexandria. Night or day Alexandria offers some amazing activities that are pocket-friendly and worthwhile. So what are you waiting for?