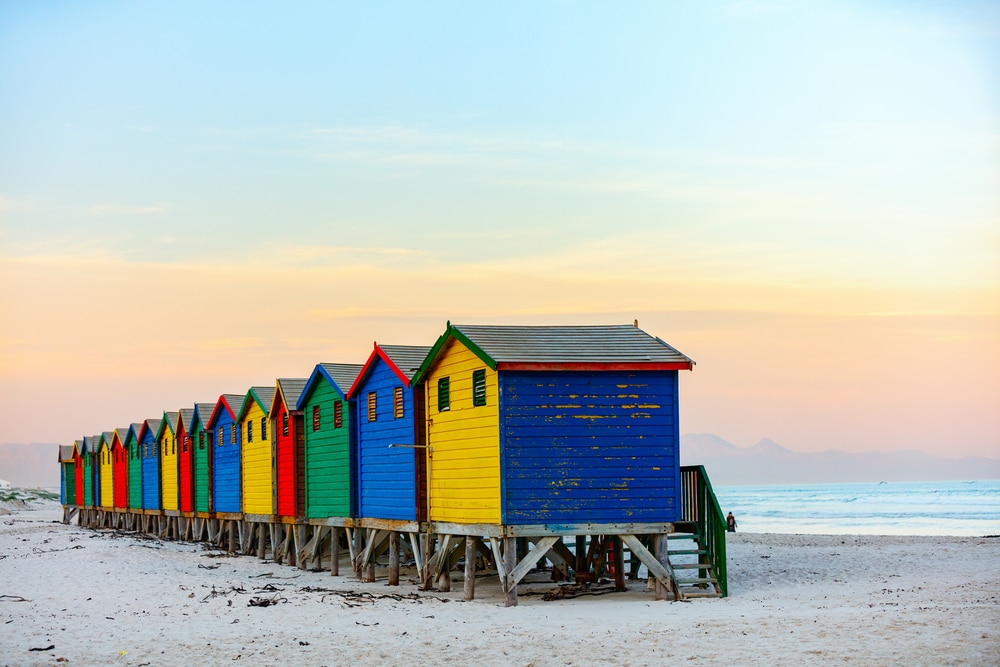 Photo by BlueOrange Studio/Shutterstock
10 Amazing Things to Do For Free in Cape Town
Known as the 'Fairest Cape' and the Mother City of South Africa, Cape Town is a city hard to beat for its magical vibes, scenic beauty and unique character. The city is perched between mountains, a national park, two oceans and surrounded by the natural wonder that is Table Mountain. This beloved plateau looms over the city, visible everywhere as you traipse the streets and ogle at everything this dazzling playground has to offer.

Always a hive of activity, there are plenty of things to do in Cape Town and those that are free are often equally as exciting as the ones you need to pay for. Here are ten incredible things you can do in the city, without even spending a dime.
table of contents
[x] close
10 Amazing Things to Do For Free in Cape Town
Visit the Aquarium on Your Birthday
The famed Two Oceans Aquarium situated at the V&A Waterfront have announced you can get free entry on your birthday. One of the best aquariums in all of South Africa, Two Oceans features an incredibly diverse amount of marine life from both the Indian and Atlantic Oceans, on either side of the iconic city with its fascinating ocean exhibits and galleries.
Hike up Lion's Head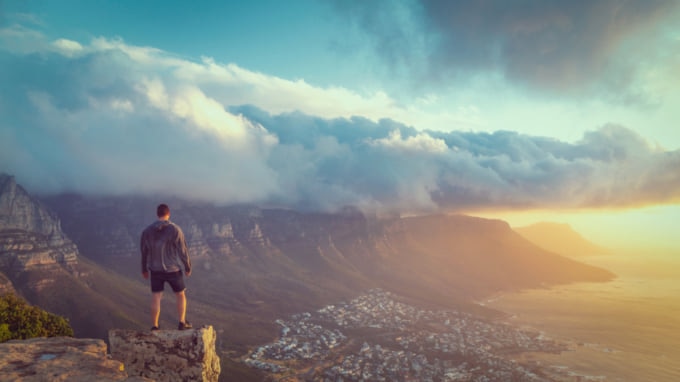 Photo by Dmitrii Sakharov/Shutterstock
If you enjoy hiking and love the outdoors, you'll easily fall in love with the view from Lion's Head, located between Table Mountain and Signal Hill. It's the perfect spot to enjoy a picnic while you watch the sunset with your beloved or some good friends. You'll find the most breathtaking views of Cape Town and Camps Bay here and one of the most incredible panoramic scenes in the world, it's nothing short of spectacular!
Head to Muizenberg Beach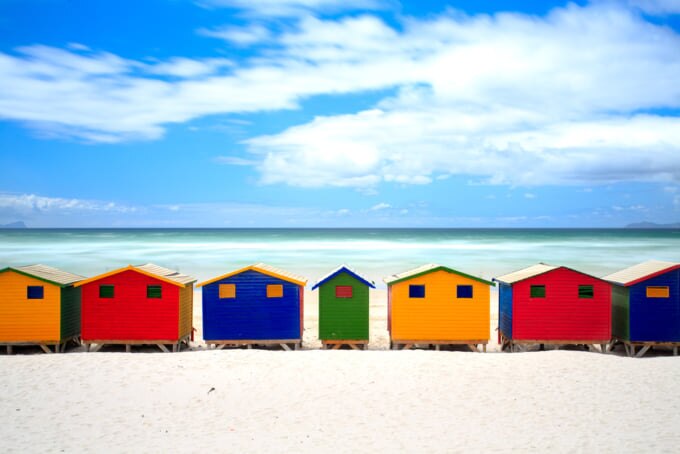 There's a wonderful vibe to be found at this little corner of Cape Town, known as the surfing mecca of Muizenberg. Pro surfers know that the best waves are actually during winter time, but you can enjoy watching the surfers riding swells at this iconic surfing spot all year around. You don't need to spend a cent to make a wonderful day at this famous beach. But if Muizenberg isn't your beat, there are many other beautiful beaches just as spectacular to be found across the peninsula. World-renowned Clifton Beach and Camps Bay can be found on the Atlantic side whilst Kalk Bay and Noordhoek, all must-see spots, can be found on the False Bay side.
Escape to Nature in Cecilia Forest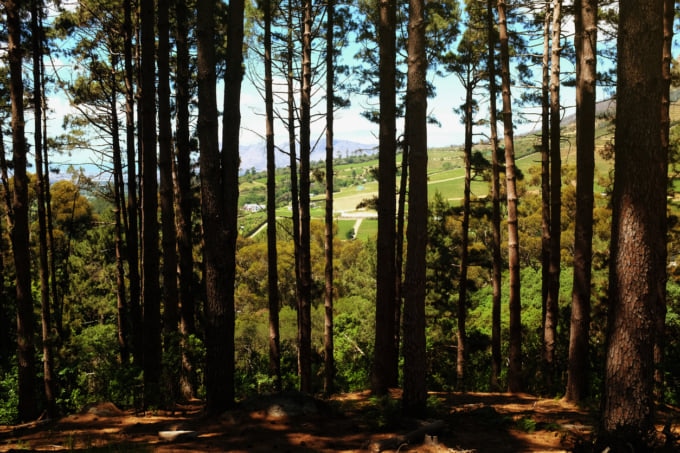 Cape Town's vast natural beauty is something unforgettable. Serious hikers can head over to the Cecilia Forest to catch a glimpse of the legendary fairies and take a sip of fresh mountain water. It's a great spot to allow your mind and body to feel revitalized and rejuvenated. The glades, waterfall, streams, and soft, mossy paths here bring peace and equanimity to the body and soul.
V&A Waterfront
Photo by South African Tourism/Flickr
The perfect hotspot for people who just want to walk around and shop with their eyes. You can linger around at the Blue Shed Craft Market – live music if often to be heard at the amphitheater. What about a lovely stroll along the harbor to watch the boats and the seals? Don't forget to check out the Clock Tower at the Red Shed Food Marke t? While you are there, there's a free diamond tour at Shimansky's as well. Experts reveal all the factors that affect a diamond's value. It's easy to believe you'll be back to buy a sparkling little rock to propose with one day!
Groot Constantia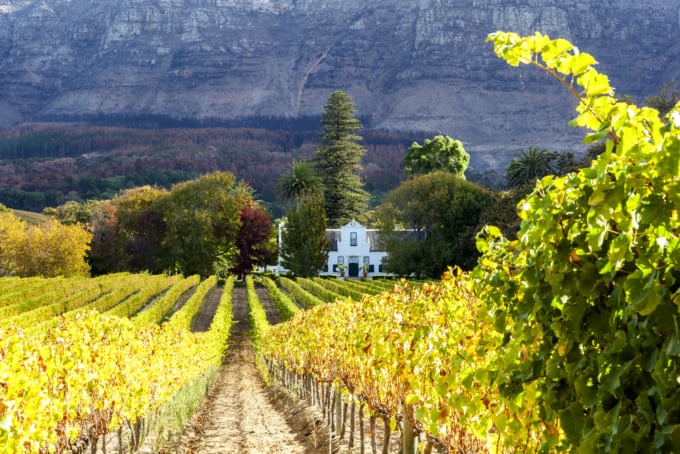 Photo by Ilonde van Hoolwerff/Shutterstock
If you want to take that diamond with you to propose somewhere, then Groot Constantia is the place to do it. This is one magnificent wine estate, a historic one, and the oldest along the Constantia Wine Route. Even though you won't be able to taste the wine for free, the spectacular scenery makes it well worth a visit anyway.
Free Tasting at Wine Concepts on Kloof
If you do want to wine-taste the best of South African wines, then head to Cape Town's central district, to Wine Concepts. You can swirl and sip some of SA's best tipples for free here. This wonderful opportunity lasts from 4 pm in the afternoon until 7 pm in the evening on Mondays to Fridays. On weekends you can be there from 12 noon to 3 pm in the afternoon for the free tasting. If you do decide to buy a bottle of any wine that was out for tasting you even get 10% off.
Experience Cape Biodiversity at Green Point Urban Park
If you haven't got money to go into Kirstenbosch, you're not going to be disappointed with Green Point Urban Park – an amazing place of natural beauty. It's a spectacular free alternative to the famed Kirstenbosch National Botanical Gardens. Learn about over 300 Cape plant species native to the area. There are beautifully-kept lawns here too, to sprawl on and enjoy a wonderful outdoor picnic while you bask in the glory of Cape Town.
Take Part in Museum Night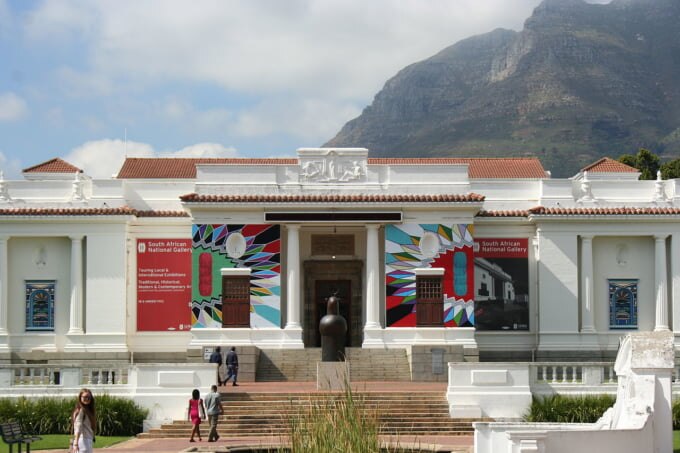 Every year eleven participating museums such as Iziko South African National Gallery and Museum and District Six Museum allow the public free access between 5 pm and 10 pm, for one night on the 21st February. For those who love wandering around museums but aren't inclined to pay every time, this is the perfect opportunity to check out the best in the city.
Browse the Natural Goods Market in Century City
For a free outing in the Northern Suburbs, gather friends and family and head out to the Century City Natural Goods Market. It's held on the last Sunday of each month in summer which is October to April. There's a lovely grassy expanse to sit on next to the wetland and bird sanctuary of Intaka Island – just sheer outdoor idyllic hours spent soaking up the sun and the outdoors. Enjoy the artisan stalls and live local music for a leisurely day.
Conclusion
No matter if you're a tourist or a regular in this vibrant city, there are always fabulous memories to be made here. While traveling can often quickly rack up costs, you'll find a number of entertaining things to do without needing to reach into your wallet, saving you more money to spend on some incredible souvenirs or gifts to bring back.