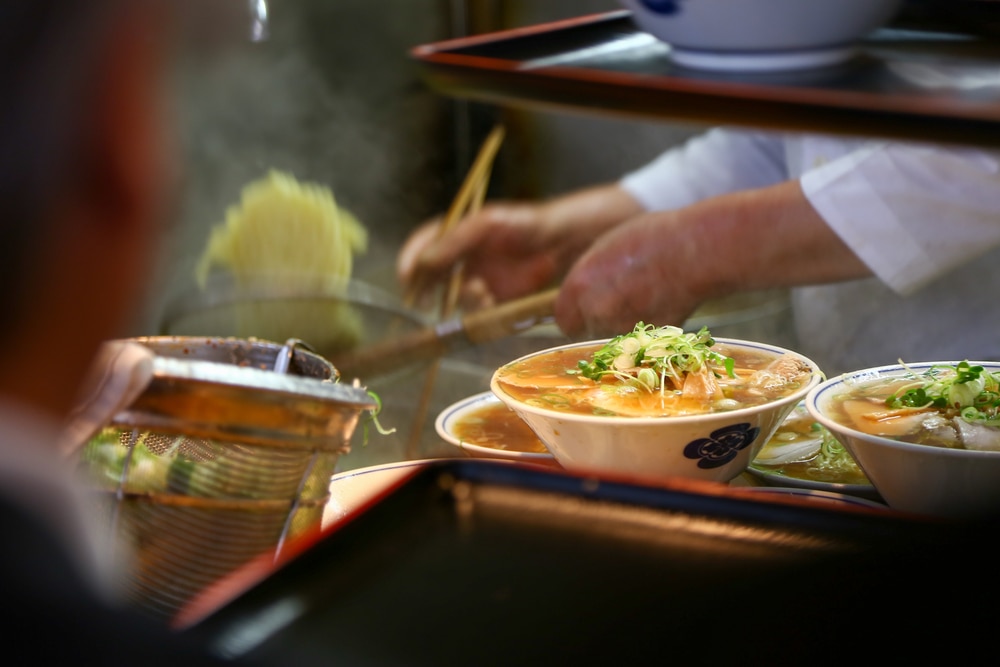 Photo by iamshutter/Shutterstock
Tokyo Ramen Guide: Where to Eat the Best Noodles in Japan's Capital
If you're a fan of ramen, then there's no better city to eat your way around than Tokyo. This inexpensive and savory dish is massively popular among Tokyoites, and ramen shops can be found scattered around almost every neighborhood in the city.

With so many shops in operation though, choosing where to go can be a bit of a task. You can either be adventurous and wing it or play it safe with some of these ramen fan favorites.
table of contents
[x] close
Tokyo Ramen Guide: Where to Eat the Best Noodles in Japan's Capital
Classic Ramen - Harukiya
Opened in 1949, Harukiya, one of the oldest ramen shops in Tokyo, is the perfect place to enjoy some of the best chuka soba (Chinese noodles) available in the city. Both the noodles and soup are prepared in house using a recipe that has never changed since the opening of the restaurant. The exact same niboshi-rich flavor that has kept Harukiya famous since it was founded shortly after the second world war, is the exact same flavor you can expect if you visit today. Old school simplicity at its finest.
Address: 1 Chome-4-6 Kamiogi, Suginami City, Tokyo 167-0043
URL:http://www.haruki-ya.co.jp/english/
Dipping Ramen (Tsukemen) - Fuunji
Conveniently located in the popular shopping and entertainment district Shinjuku, Fuunji is renowned for what many have labeled as the best tsukemen in the whole of Tokyo. You should expect quite a long queue here, but it's definitely worth it for the thick, chewy noodles that are served alongside tender pork belly slices, bonito powder and egg, immersed into a star broth made by simmering locally procured chicken and dried, smoked skipjack tuna into a velvety, explosively flavorful, umami-rich creation.
Address. 2 Chome-14, Yoyogi, Shibuya, Tokyo
URL:http://www.fu-unji.com/
Soupless Ramen (Abura Soba) - Chinchintei
If you're a fan of abura soba or soupless ramen, then you should definitely add a bit of depth to the experience of eating your next bowl by having it where it was supposedly created, Chinchintei. This small ramen shop, located in a quiet neighborhood in Tokyo known as Musashi Sakai, has been serving abura soba since 1965.

While it might not be the fanciest or most conveniently located of places, it's remained quite a popular spot over the years. Once you've tried a bowl of their chewy noodles and chashu pork slices coated in a layer of thick, savory tare (thickened soy sauce), you'll understand why.
Address: 5 Chome-17-21 Sakai, Musashino-shi, Tokyo
Healthy Ramen - Taiyo No Tomatomen
Taiyo No Tomatomen's philosophy is basically to serve ramen that's good for your health, and that's good for the health of the planet, without compromising on taste. To accomplish this, a low fat chicken broth and tomato soup is used in place of the fatty, meat and sodium rich soy base used in typical ramen. This is served with thin, soy-milk-infused noodles to create a refreshing and light bowl of ramen.

The officially recommended dish here is the Taiyo No Cheese Ramen. A steaming bowl of tomato soup ramen topped with a generous amount of cheese and basil. Delicious.
Address: 1-19-1, Kabukicho, Shinjuku-ku, Tokyo
URL:http://taiyo-tomato.com/
Vegan/Vegetarian Ramen - Afuri
With branches scattered all around the city, and even abroad, Afuri has always taken pride in making ramen using fresh, regional ingredients, and avoiding the use of artificial colors, flavors or preservatives. It's no surprise then that this health conscious franchise would be one of the few in the city offering a vegan option in their menu. A hot, appetizing bowl of vegetable broth and wheat noodles topped with fresh, seasonal vegetables.
Address: 1-1-7 Ebisu, Shibuya-ku, Tokyo
URL:https://afuri.com/
Michelin Starred Ramen - Tsuta
It's not everyday you get to eat at a Michelin-starred ramen shop, so if you're in Tokyo and have the opportunity to eat at Tsuta, then take it. Not only is the ramen here exceptional, it's also entirely affordable. The signature dish here is the shoyu soba made using a unique blend of soy sauce, including a custom in-house brew made from soy beans that have been matured for two years and a dash of truffle sauce to top it off.

However, as every dish here is masterfully made using only the highest quality natural ingredients, you can't really go wrong whatever you chose to eat.
1 Chome-14-1 Sugamo, Toshima City, Tokyo
URL:http://www.tsuta.com/index.php
Conclusion
Whatever your ramen preference, whether soupy or dry, fatty or fresh, you won't have to look far to find it in the ramen loving metropolis that is Tokyo. Delicious and cheap, it's the perfect meal for budget-conscious travelers, and if you aren't able to get enough of it during your stay, you can always take home a few bags full of Japanese cup ramen which are pretty next level themselves.