Orlando:The East Coast Capital of Entertainment in the US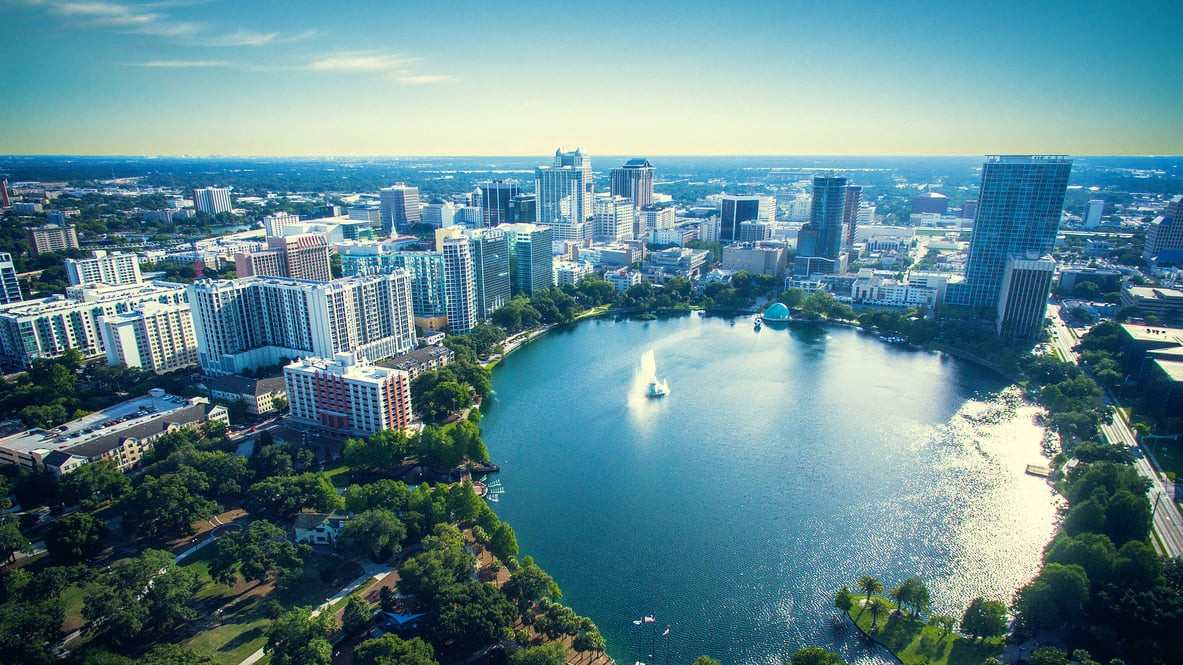 Orlando is a thrilling city situated in Florida's Orange County in the United States of America. The city is known as the home of more than a dozen theme parks such as water parks the and the famous Walt Disney World. Being among the frequently toured destination, its famed attraction sites form the backbone of its tourism industry.Orlando is the third most populated area in Florida with a population of 2,387,138.Touring Orlando will give one an opportunity to experience the Islands of adventure and the Wizarding World of Harry Potter straddling both, below are among the notable sightseeing sites in Orlando.
[x] close
Orlando:The East Coast Capital of Entertainment in the US:table of contents
1. Walt Disney World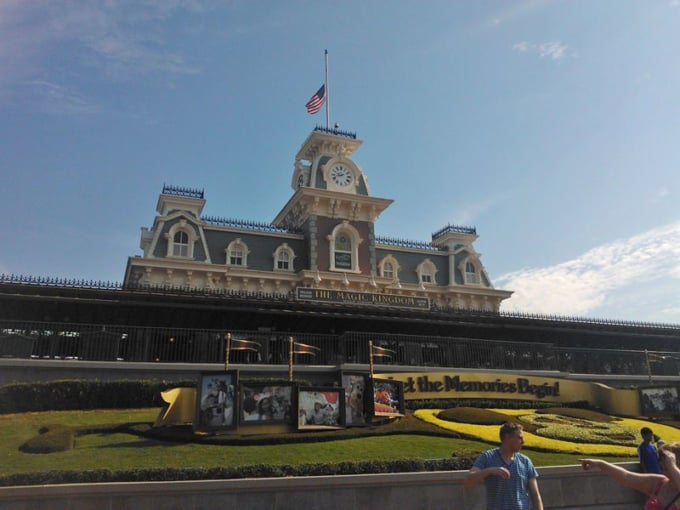 Walt Disney World is located in Bay Lake and Lake Buena Vista, Orlando. The place is officially known as the Walt Disney World Resort and covers nearly 47 square miles full of theme parks, water parks, hotels and entertainment districts. Enough to keep you entertained for weeks on end if needed. Walt Disney World is the ideal place to escape the stress of work and give your kids a first-hand experience of the iconic Disney world and its incredible magical atmosphere.
Name:Walt Disney World
Address:Walt Disney World Resort, Orlando, FL
Related Site:https://disneyworld.disney.go.com/
2. SeaWorld Orlando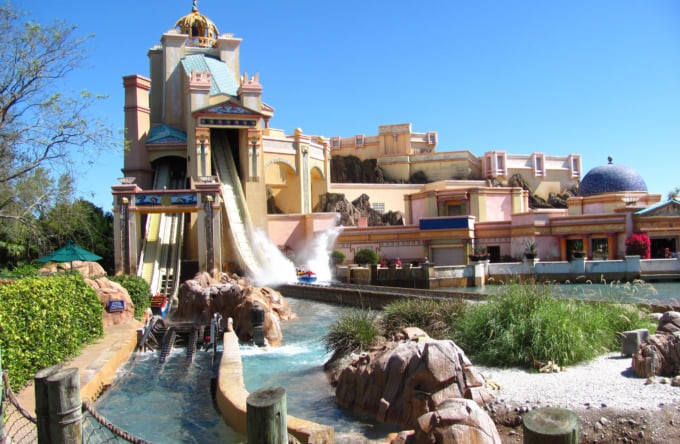 SeaWorld is a themed and marine zoological park situated in Orlando, Florida. It is ranked the tenth most popular sightseeing amusement park in the United States. The park is separated into different areas known as "seas" with each area having a unique themed element. The SeaWorld Orlando offers the possibility of one experiencing the seas mysterious myths and the tales of the sea. The tourist site features both boat rides and roller coaster rides, ranging from just the right amount of speed and excitement to those with the highest thrill and speed like the Kraken. Many recommend the place for its captivating live concerts, festive holiday celebration and personal interaction with dolphins, penguins among other marine animals. For a dashing dining experience combined with good food and an underwater thrill into the world of sharks, the place will be ideal.
Name:SeaWorld Orlando
Address:7007 Sea World Dr, Orlando, FL
Related Site:https://seaworld.com/orlando/?utm_source=gmb&utm_medium=organic
3. Harry P. Leu Gardens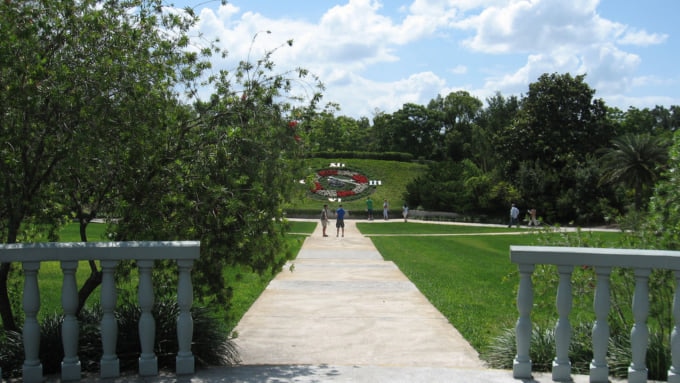 The name originates from its founders Harry and Jane Leu.The garden sits on about 50 acres of landscaped grounds and lakes, which is U.S historic district. The exquisite garden is located near downtown Orlando. It is remarkable being the largest formal rose garden around Orlando and contains a variety of exotic plants. Aside from the fascinating botany life availed in the garden, Harry's home is located in the heart of the garden along with two other historic buildings. Harry P.Leu Garden is everblooming with beauty and hence a charming tourist site.The place is open to the public at a convenience fee and gives you an opportunity to experience nature's beauty. For those who opt for less involving activities, a walk in the garden will suit them just fine. The best time to visit the place is from mid-December to February season.

Name:Harry P. Leu Gardens
Address:1920 N Forest Ave, Orlando, FL
Related Site:https://www.leugardens.org/
4. Universal's Volcano Bay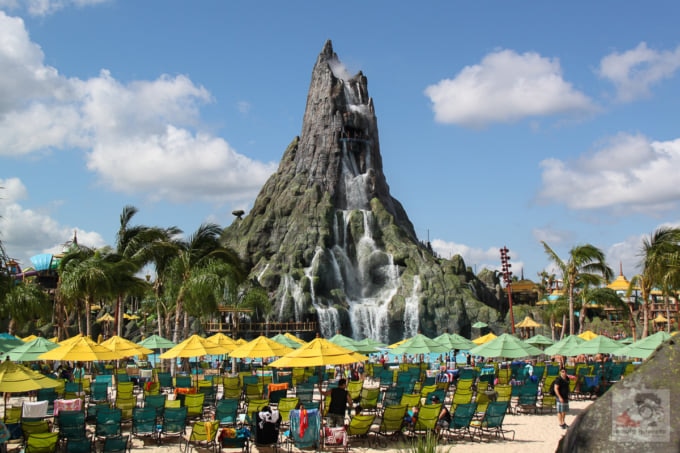 Photo by commons.wikimedia.org
Volcano Bay is a themed water park at Universal Orlando Resort in Orlando, Florida.The park is themed around a 200 ft long artificial volcano named "Krakatau". It houses three drop capsule slides the Ko Okiri body plunge, Kala and Tai Nui which are considered the tallest drop capsules slides in the world. One can experience a free-flowing slide that ranges from 125 ft tall. The exhilarating feel of sliding through a pool full of guest. The park also gives an astounding technological experience of the Tapu Tapu which is a wristband that enhances a users experience. The Tapu Tapu experience offers value to one's money it helps hold places in lines instead of standing in queues, allows the purchase of merchandise, food, and drinks.It even allows the user an interaction with the environment such as setting of water springs and illuminates the light. There are villages for sunbathing and relaxation with the Kopiko Wai Winding River with caves and random special effects. It is a good tourist sightseeing site to experience the waterfall during the day from the volcano and lava at night.
Name:Universal's Volcano Bay™
Address:6000 Universal Blvd, Orlando, FL
Related Site:https://www.universalorlando.com/web/en/us/theme-parks/volcano-bay/index.html
5. Orlando Science Center
The Orlando Science Center is a private establishment situated in Orlando, Florida.it is renowned as a place that motivates exploration and purposes to provide experience-based opportunities for enlightening on science and technology. The tourist attraction has a way of encouraging learning through fun activities. The Orlando Science Center is laid out in a four-storey building, in which each floor has its exhibits. The centre is equipped with 3D films and facilitates for live programming. For children who are two years and below no charges will be levied upon them and the rest access the facility at a specific fee. When touring Orlando one should take time to visit the Science Center with their family to indulge in fun sightseeing activities and build their knowledge.

Name:Orlando Science Center
Address:777 E Princeton St, Orlando, FL
Related Site:http://www.osc.org/
6. Charles Hosmer Morse Museum of American Art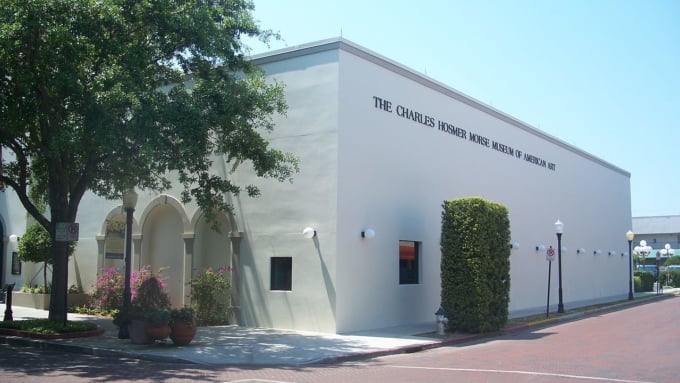 Photo by commons.wikimedia.org
The museum is located in Winter Park Florida, Orlando in the United States of America. It is the home of the most comprehensive collection of Louis Comfort Tiffany. The Tiffany collection forms the centrepiece of the museum.Some of the works of William Morris are represented in the jewellery and silver leaded glass windows. There is a furniture collection featuring works Emile Gale. The museum has over 800 exquisite pieces in its 19th century American Art Pottery Collection. The sculpture collection by John Rodgers.Today it occupies more than 42000 square feet of space on its campus. For an experience of soul-satisfying art for the art lover, it is recommended sightseeing this museum.

Name:Charles Hosmer Morse Museum of American Art
Address:445 N Park Ave, Winter Park, FL
Related Site:http://www.morsemuseum.org/
7. The Mall at Millenia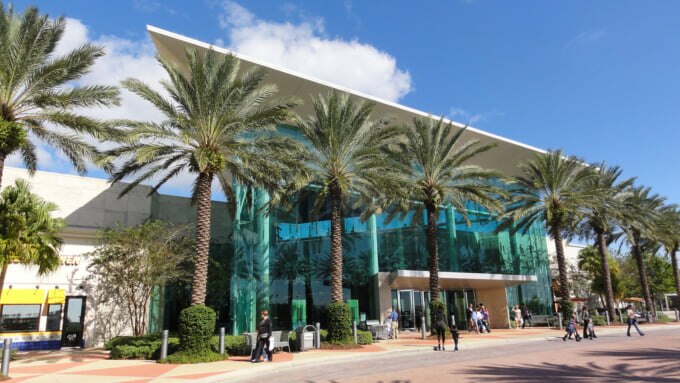 The Mall at Millenia with an award-winning architecture is located in Orlando, Florida right off Interstate 4 at Conroy Road.The place is exclusive for sightseeing activities containing more than a hundred and fifty stores anchored by Bloomingdales and Neiman Marcus not forgetting the over twenty executive dining spots. The mall is marginalized amongst the upscale establishments, premium shopping malls and termed as the largest in Central Florida. The finest collection of luxury boutiques including Rolex, Prada, Gucci and Chanel among many others are all at your display.When touring Orlando you shouldn't miss visiting the mall at Millenia for the best shopping experience since the place not only offers a variety of commodities but also ensures maximum security of their customers and belongings too.
Name:The Mall at Millenia
Address:4200 Conroy Rd, Orlando, FL
Related Site:https://www.mallatmillenia.com/
8. Madame Tussauds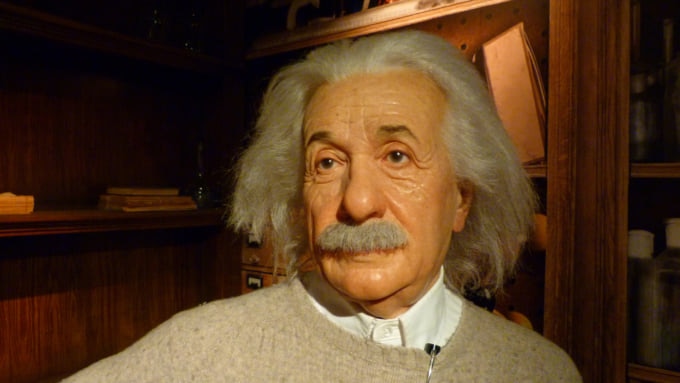 Photo by Rusty Clark ~ 100K Photos
Madame Tussauds is renowned sightseeing destination for its life-size replicas of famous American and historical icons in the themed gallery situated in Orlando, Florida. It is one of the major branches of the Madame Tussauds museum. It allows tourists the ultimate experience of fame and celebrity life.The museum gives its visitors the chance to take pictures with dummies of A-list celebrities and even shake hands with the president.The skillfully sculpted eyes of the waxed celebrities make them even more real like.one can get on stage with their favourite musicians, experience political events, and sports.It is a highly recommended tourist destination for a celebrity experience and a chance to get wax souvenirs. Tickets can be purchased online.
Name:Madame Tussauds
Address:8387 International Dr, Orlando, FL
Related Site:https://www.madametussauds.com/orlando/en/
9. Ripley's Believe It or Not!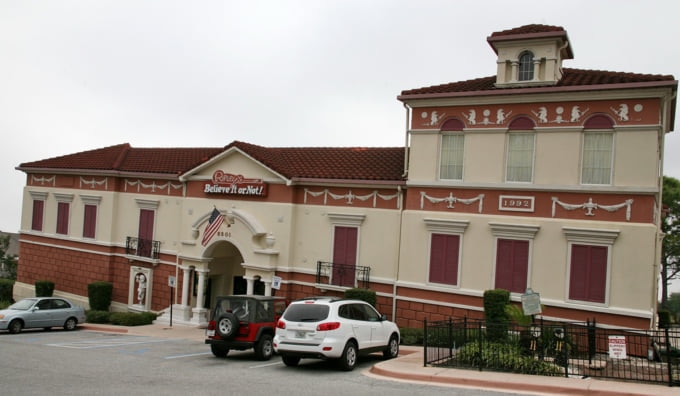 The Ripley's Believe it or not odditorium in Orlando, Florida is one of a kind.
It has been set up on 10000 sq ft and resembles a structure sinking in a sinkhole. This is a uniquely amazing tourist attraction site because at this point you will be able to view authentic vampire killing kits, a wild spinning vortex tunnel, and a shooting gallery. One is able to enjoy vast galleries filled with exhibits artefacts and oddities from all over. It is ideal for entertainment and fascination because you are given the mandate to interact with the "Shut The Front Door."The place is filled with mind-blowing visual illusions and a thrilling array of the weirdest stuff in all of Orlando. The Odditorium is among the few places open daily. On arrival to Orlando, the Ripley's Believe it or Not is recommended as your first checkpoint for a thrilling experience. The icing on the top is the free car park available here.
Name:Ripley's Believe It or Not! Orlando
Address:8201 International Dr, Orlando, FL
Related Site:http://www.ripleys.com/orlando/
10. WonderWorks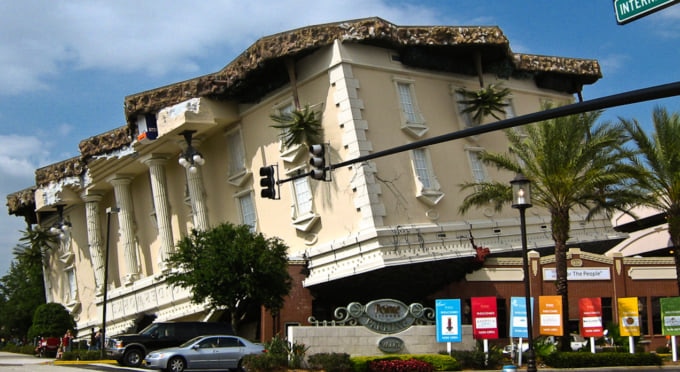 Wonderworks is an interactive entertainment exhibit based on the themes of space, physics, and math. It is considered an indoor amusement park and has experiences suitable for all ages. It historically was a top-secret laboratory. An experiment caused it to turn upside down on the top of a brick warehouse. One gets to adventure the six wonder zones of natural disasters. This tests knowledge and one's physical capacities. One can experience the rush of a hurricane force wind and test their courage by lying on a bed of 3500 rising nails.Aside from the sightseeing, this is ideal if one wants to experience a mind-blowing adventure in science it is recommended to visit the Wonderworks.



Name:WonderWorks
Address:9067 International Dr, Orlando, FL
Related Site:https://www.wonderworksonline.com/orlando/


Conclusion
It is clear that the biggest economic news was the building of Disney World in Orlando, hence attributing to the economic growth of the region. Besides the tourist sites mentioned, Orlando also offers indigenous meals at exquisite restaurants giving you an angelic feel of the place.