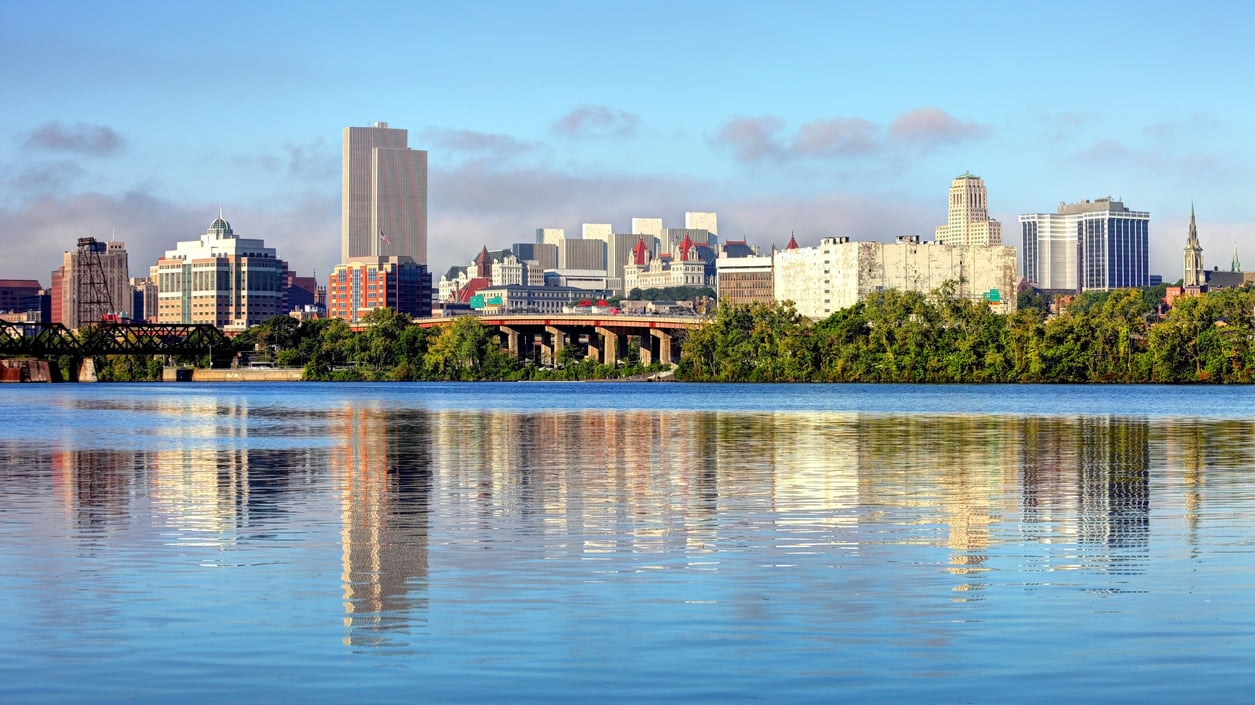 Albany (New York)
Albany situated in New York. It constitutes the economic and cultural core of the Capital District of the New York State. The beauty held by the place keeps people coming from all walks of life. Some interactive, breathtaking and fun activities and places that can be toured have been outlined below.
table of contents
[x] close
1. New York state capitol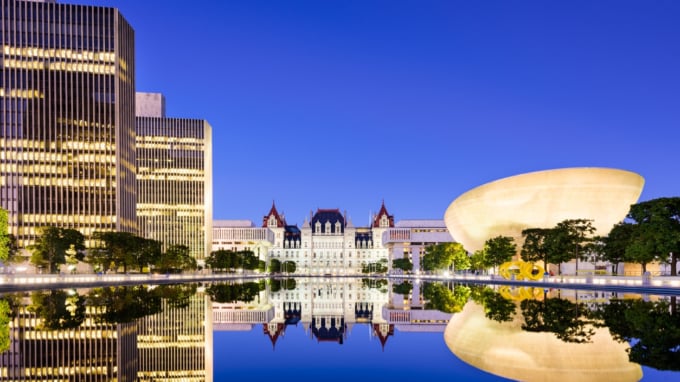 New York state capitol is a jewel that was established in the 1880s in Albany. Its strategic positioning and its perfect layout built by hand solid masonry architectural grandeur, makes it stand out as a major sightseeing site in Albany. The haunted Ghost tour is the climax of the place. Upon entry, one is levied with a small fee. It is guaranteed no regrets after experiencing the once in a lifetime zeal at the state capitol. The building is magnificently filled with beautiful features, sculptures, and architecture. The exquisite stairway is just but an icing on the cake. This is a must visit sightseeing site, ensure to carry along comfortable shoes for the best architectural experience.
Name:New York state capitol
Address:State St. and Washington Ave, Albany, NY
Related Site:https://ogs.ny.gov/esp/
2. USS Slater DE
USS Slater DE is among the last battleships remaining afloat in America. It is a remarkable sightseeing site situated in Albany that exposes many to the American history. Visitors get the opportunity to walk the decks which were walked by hundreds of sailors before. Being the only WWII Destroyer Escort ship still available to tour, the honor and the excitement to be at the place is at its fullest. The ship also has professional guides who offer presentations and are well informed. On tour, one has the opportunity to view the officers' lounge, dining area and the living quarters. The tour is ideal for families to see their history as it was and hear its story.
Name:USS Slater DE.
Address:Broadway and Quay Street, Albany, NY
Related Site:http://www.ussslater.org/
3. Washington Park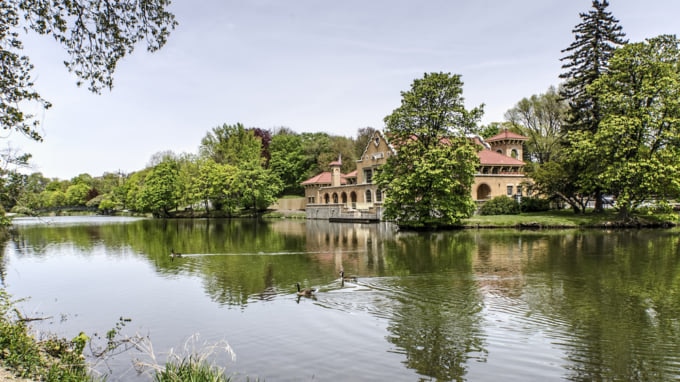 Photo by Raymond B. Summers/shutterstock
Washington Park in Albany is filled with ravishing beauty and great facilities. The blooming historical park features a vast variety of beautifully maintained trees and dazzling gardens. The sightseeing site is splendid for relaxation or a walk in the evening. The place is chilled with a gorgeous pond and pond house were several events and summer plays are performed. Kids haven't been left out as they have a well-designated playground. For the dog lovers, a dog park is in place. Washington Park is a pleasant place and can be easily traversed within 45 minutes enjoying the panoramic view of homes and the adjacent lake. For the best tour try visiting during May when the tulips flourish.
Name:Washington Park
Address:Madison Ave and Willet St, Albany, NY
Related Site:https://www.washingtonparkconservancy.org/
4. New York state museum
New York State Museum under the New York State Education Department is a well established educational center. A sparkling modern setup overlooking the impressive government buildings in the district. The ambiance of the place is just perfect. There is a wide space filled with a variety of historical sentiments including the wreckage from the 9/11 exhibition and world war one exhibits. A touch of wildlife is given by the Adirondack logging exhibits which entail a superb wildlife section and the mineralogy display. The sightseeing site is top rated and offers free admission for grade ten students. For the best social, cultural, natural and historical artifacts, this is the right place to tour.
Name:New York state museum.
Address:Empire State Plaza, Albany, NY
Related Site:http://www.nysm.nysed.gov/
5. The egg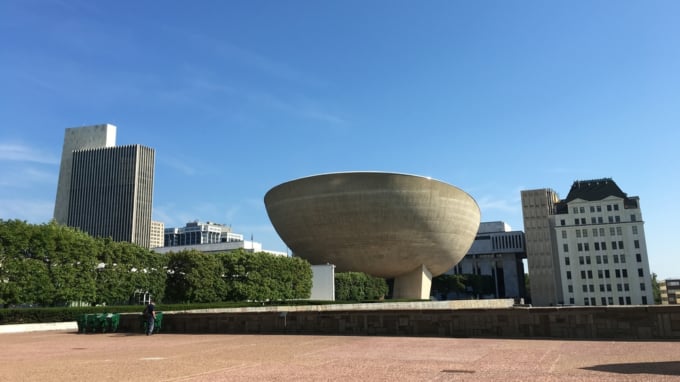 Photo by Shuster1391/shutterstock
The egg is a world-class performing arts complex situated in downtown Albany near trade Union building. The place is laid out on a small landscape giving an intimate feel. It is also equipped with a U-shaped seating that is elevated row by row giving a perfect view. Live performances are a norm at the place such as the Chinese Acrobatic Troupe which leaves many marveled by the skill set they display. An ample parking space is availed for its visitors at a convenient cost. The place is recommended mostly for solo artist performances but is also good for relaxation.

Name:The egg
Address:Empire State Plaza, Concourse Level, Albany, NY
Related Site:http://www.theegg.org/
6. Times union center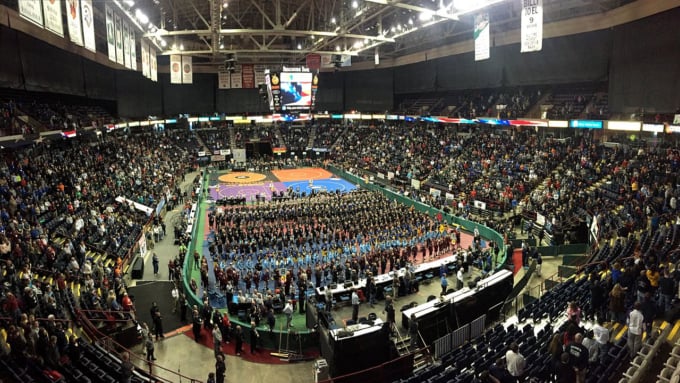 Photo by commons.wikimedia.org
The times union center is an enticing sightseeing site filled with fun activities is located in South Pearl Street, Albany. This multipurpose civil center hosts not only ice shows but also musical performances among other things. The light show and good music is outstanding. The Orchestra uses some local musicians in the program to keep things interesting and lively. Mouth-watering delicacies are also prepared at center. What makes it even more interesting is the fact that it is home to all AHL River Rats, NLP Attack, and the Siena Saints MAAC basketball teams. Evening hours are ideal for enjoying the light shows and good music at the center.
Name:Times union center
Address:51 South Pearl Street, Albany, NY
Related SIte:http://www.albanyarena.com/
7. Crossgates mall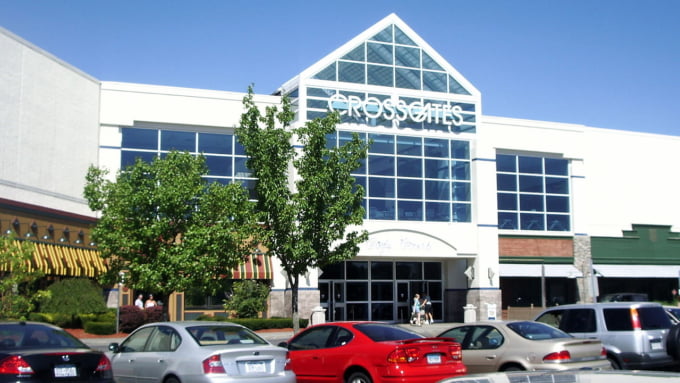 Photo by commons.wikimedia.org
Crossgates mall is one of the two large indoor malls in Capital district. Its finely and neatly divided into two wings inclusive of renowned chain stores and a clean environment. A large cinema for the movie lovers and a nice selection of eateries. The sightseeing site is strategically positioned and allows for easy access and with a large parking space. Crossgates Mall is a remarkable place and ideal for family outings or shopping with friends. On a good day, one can enjoy outstanding offers. When visiting Albany one should take time and tour the beautiful Crossgates mall.
Name:Crossgates mall
Address:1 Crossgates Mall Rd, Albany, NY
Related Site:https://www.shopcrossgates.com/
8. Schuyler mansion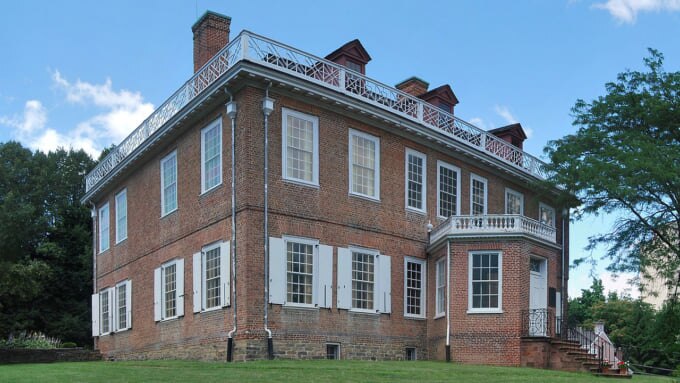 Photo by commons.wikimedia.org
Schuyler Mansion is the holder of the history of the colonial and revolutionary America. It is situated on Catherine Street, Albany. The mansion gives one a close picture of American revolution as the place has been restored as it originally looked. From design to furnishing and decoration of the house. Despite not being a major attraction site, it is worth the visit. A well-explained tour around the place is offered by the guides. The best time to visit the magnificent sightseeing site is during the Christmas period as people recreate the original atmosphere of warmth and congeniality.
Name:Schuyler mansion
Address:32 Catherine St, Albany, NY
Related Site:https://parks.ny.gov/historic-sites/33/details.aspx
9. Chester A. Arthur Memorial Tomb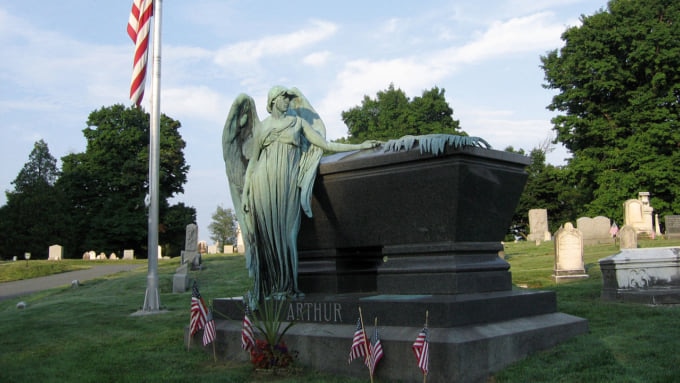 Photo by commons.wikimedia.org
Chester A.Arthur memorial tomb is located in Albany Rural Cemetery. The cemetery is large with well-cut grass on its lawn and a pathway. Although being amongst the earliest rural cemeteries, it still has vacancies. Arthur's tomb is centrally positioned at a corner plot with a rather ravishing and touching. At the entrance, one is given a paper copy of the cemetery map allowing easy movement around the cemetery. The most eye-catching feature of the place is the unique headstones. The sightseeing site filled with history and is a must-stop destination before departing Albany.
Name:Chester A.Arthur memorial Tomb
Address:Albany Rural Cemetery, Cemetery Ave, Albany, NY
Related Site:http://albanyruralcemetery.org/
10. Erastus Corning Tower
Erastus Corning tower is a 42-story building dedicated to the memory of Erastus Corning 2nd who played a special role in the creation of the Plaza as the center of state government. The sightseeing site is the tallest building in New York and dominates the Albany skyline with its impeccable glass, marble, and angular forms. It is a perfect viewpoint as one is able to see the beautiful Hudson River Valley, Port of Albany and large portions of the city. To enjoy the one of a kind aerial view of the city, check-in from 10:00 am to 4:00 pm. Access to the corning tower is allowed only for people from the age of 16 years but those below must be accompanied with by an adult. For the best thrilling experience while in Albany, check in at Erastus tower.
Name:Erastus corning tower
Address:5 Empire State Plz, Albany, NY
◎ Closing
Albany is a ravishing place filled with a handful of activities and the locals are loving and welcoming. Not only can one make lifetime memories at this place, but also one can build themselves both mentally and physically from the vast facilities available here. When
planning an escapade, Albany should be put into consideration.