9 Amazing Things To Do And See In London's Camden Town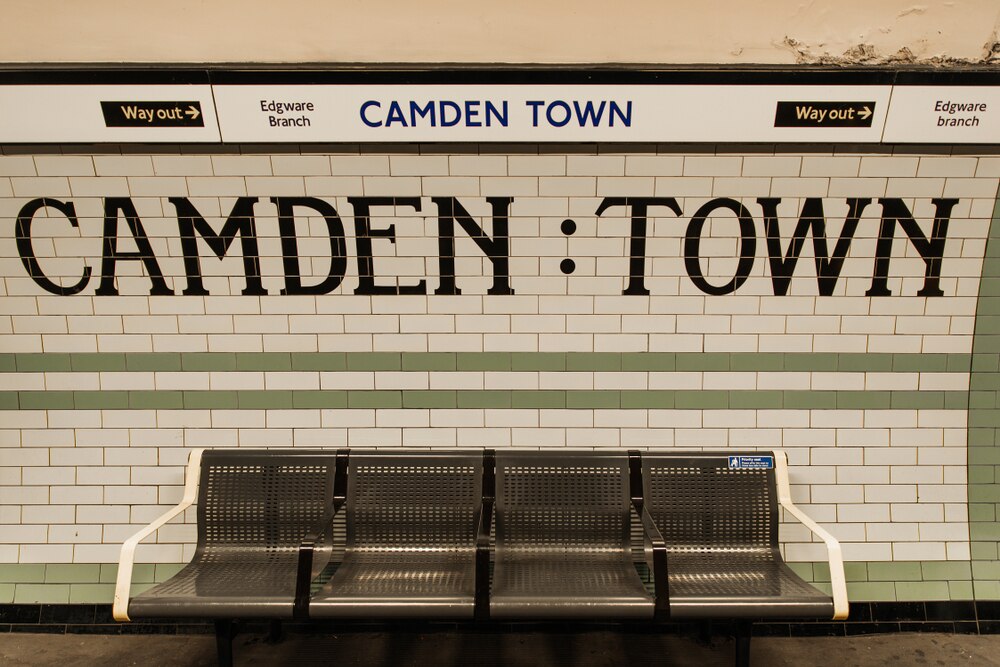 Photo by marandstock/Shutterstock
Known worldwide for its buzzing music scene and eccentric markets, Camden is a must visit for anyone that wants to experience London's more eclectic side. In recent years, Camden has managed to reinvent itself and now offers visitors more than just music venues and vintage clothing. Hidden among the maze of long-established musical institutions and diverse markets are an ever-expanding abundance of innovative eateries and unique experiences.

What you'll find in this creative hub is never completely certain, but one thing that is for sure, Camden is like nowhere you will find in England's capital. Read on to discover some of the amazing things to do and see in Camden Town.
[x] close
9 Amazing Things To Do And See In London's Camden Town:table of contents
Explore the Stable's Market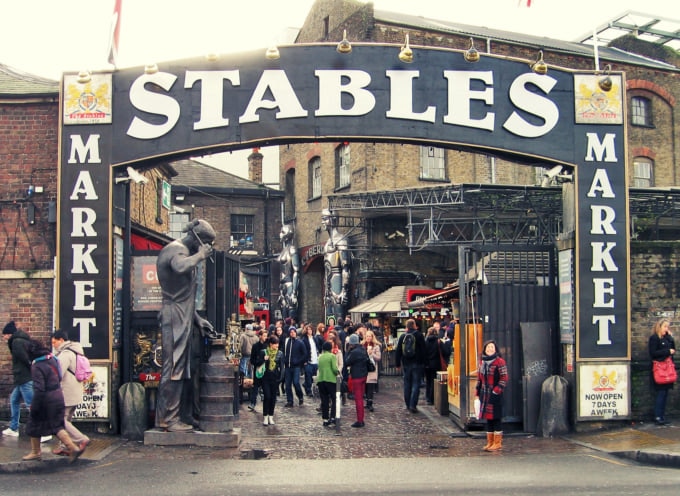 Photo by Lorena Suárez/Shutterstock
The Stable's Market is undoubtedly one of Camden's biggest pulls. Sprawled under railway arches, along quaint cobbled alleyways and through converted horse stables, keen shoppers can find anything here; from one-off antiques to personalized phone cases. One of the most established shops in the market is the infamous Cyberdog. Originally occupied by English punk band, The Clash, this huge space has been converted into one of the most garish shops in Camden. Specializing in neon clothing and trance accessories, Cyberdog has been setting trends for ravers since the early nineties. This neon world, full of weird and wonderful things, is well worth exploring.
Take A Ride Along Regent's Canal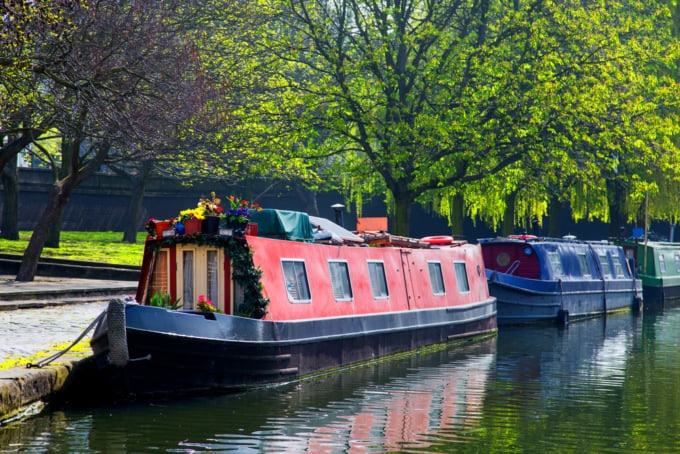 Photo by Viiviien/Shutterstock
Visible from almost everywhere in Camden Town, Regent's Canal has become one of the suburb's most famous landmarks. The 200-year-old waterways are easily explored on foot, with plenty of public footpaths closely following the canal. However, there is no better way to get to know Regent's Canal than by riverboat. There are plenty of tour operators in the area that can take you to a number of different places along the canal. Why not stop off at London Zoo, jump off at Little Venice for a quick coffee or grab lunch at the floating Chinese Restaurant, Feng Shang Princess?
Discover Liquid Nitrogen Ice Cream
Pioneers of the liquid nitrogen ice cream movement in London, Chin Chins Laboratory is a unique gastronomic experience. Opening their doors in 2010, the culinary scientists behind Chin Chins have been perfecting their weird and wonderful ice cream flavors ever since. Order at the counter and, through a cloud of liquid nitrogen, watch your ice cream come to life right before your eyes. When you visit Chin Chins you don't just get unbelievable flavor combinations, but also an unforgettable experience.
Find Panoramic Views At Primrose Hill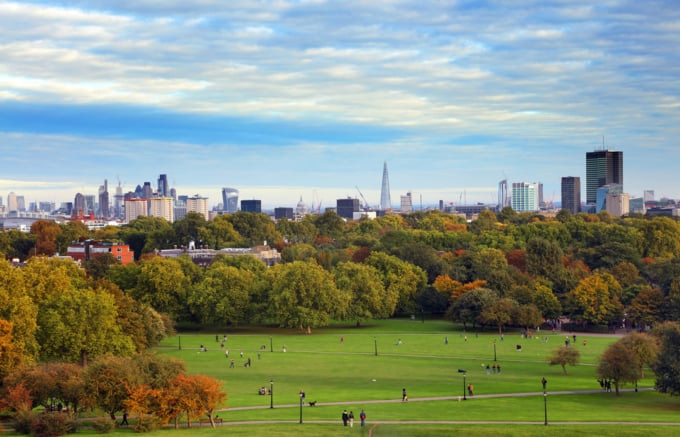 In a city as big and busy as London, it can be difficult to find a serene green space where you can just… breathe. When you visit Camden you will be just around the corner from one of the most beautiful green spaces in London, Primrose Hill. Located just across the road from Regents Park, Primrose Hill sits well above the blocks of flats and high-rise office buildings and provides visitors with unrivaled views over London's skyline. During summer this is a popular spot for boozy picnic lunches, so don't forget to take a blanket and some food. For a quintessential London experience, climb the hill on Bonfire Night for unspoiled views of London's firework displays.
Fill Up On Street Food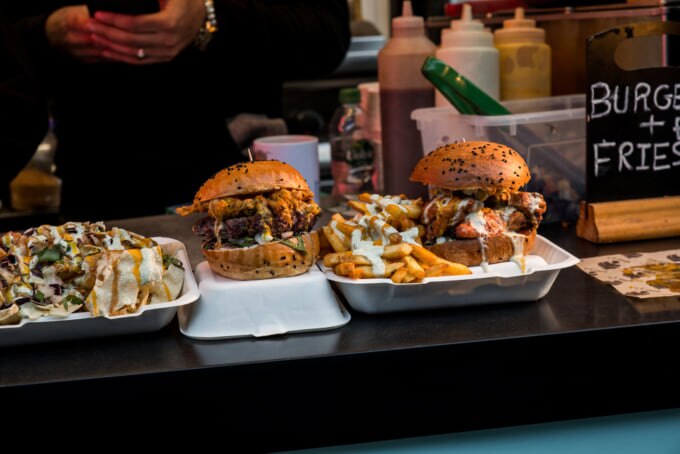 Photo by marandstock/Shutterstock
In a city that's said to be one of the most expensive in the world, it's often hard to find good value cheap eats. Luckily for those that are on a strict budget, (and for those that aren't), the street food scene has exploded in London in recent years. KERB market in Camden was one of the first markets to promote this affordable street food movement and continues to be one of the best in the capital. Open seven days a week, boasting a choice of over 35 street-food traders, expect to find anything here from delicious bhangra burgers to authentic Spanish paella. 
Visit London Zoo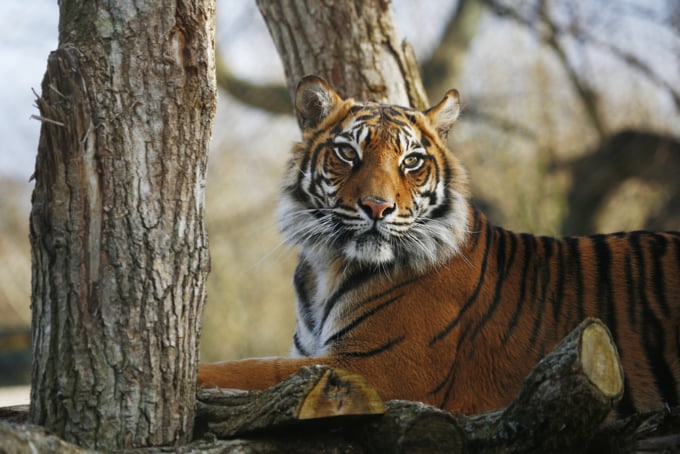 Photo by Bikeworldtravel/Shutterstock
For any wildlife enthusiasts visiting Camden Town, make sure to pop into London Zoo. Claiming to be one of the world's oldest zoos, this well-established venue houses over 700 species of animals in well-designed and comfortable enclosures. For a truly unique experience, why not coincide your visit with one of the Zoo Night events. Suitable for people over the age of 18+ only, the zoo takes on a carnival type appearance with performance artists on stilts, plenty of bars selling cocktails and exciting fair rides. Arrive by barge from Camden Lock for a discounted ticket and embrace your inner child for one night only.
Trace The Steps Of The Late Amy Winehouse
Anybody who is anyone in the music world has been seen in Camden at one point or another. But no one is associated more with this area that the late Amy Winehouse, who played some of her first gigs here and was regularly seen drinking in classic Camden pubs. Head to the Jazz Café, one of Camden's most iconic venues and a place where Amy Winehouse regularly gigged during her early career. Next, grab a pint at the Hawley Arms, Amy's favorite watering hole. Finally take a sentimental visit to No. 30, Camden Square, to see the place where Amy lived for many years and where she sadly passed away in 2011.
Join A Walking Tour Of Camden's Street Art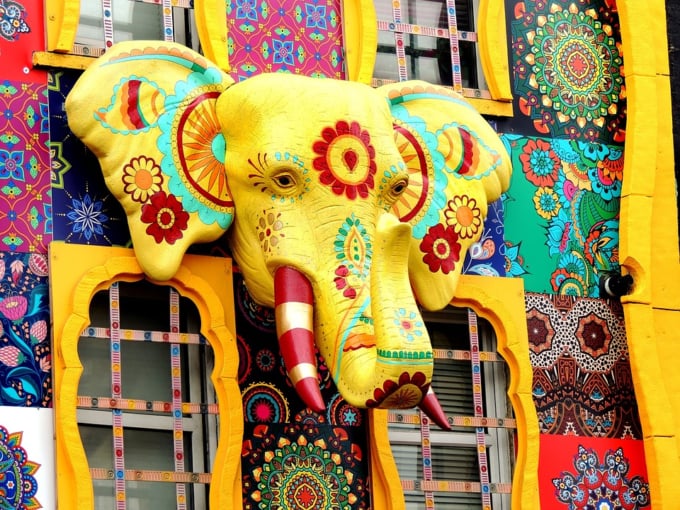 Much of Camden's charm comes from its vibrant streets and alleyways, uniquely decorated by creative locals. To learn about the booming street art movement in Camden, take a walking tour of some of the ever-changing street art hot spots in Camden. With more than one hundred murals and graffiti pieces adorning the streets of Camden, it is hard to turn a street corner without seeing a unique piece. If you would rather take a self-guided tour, Castlehaven Road and Hawley Street are some of the most popular spots for impressive sprawling murals.
Catch a Stand Up Comedy Show
Camden has always been a suburb full of creative and expressive individuals. It is no surprise then, that you can catch a stand-up comedy show every night of the week in some place or another. Many of the pubs and bars that line the high street have hidden intimate theater rooms above them. Just look up! One of the most well-established events is the Comedy Club held at The Camden Head in the center, just a five-minute walk away from the underground station. Expect a variety of stand up comedy nights, sketch shows and improv evenings.
Conclusion
This distinct London suburb draws in over half a million visitors each and every week, and there are good reasons for this. There is so much to see and do in Camden, that this list has only just scratched the surface. Visit this arty suburb for yourself to experience everything Camden Town has to offer.