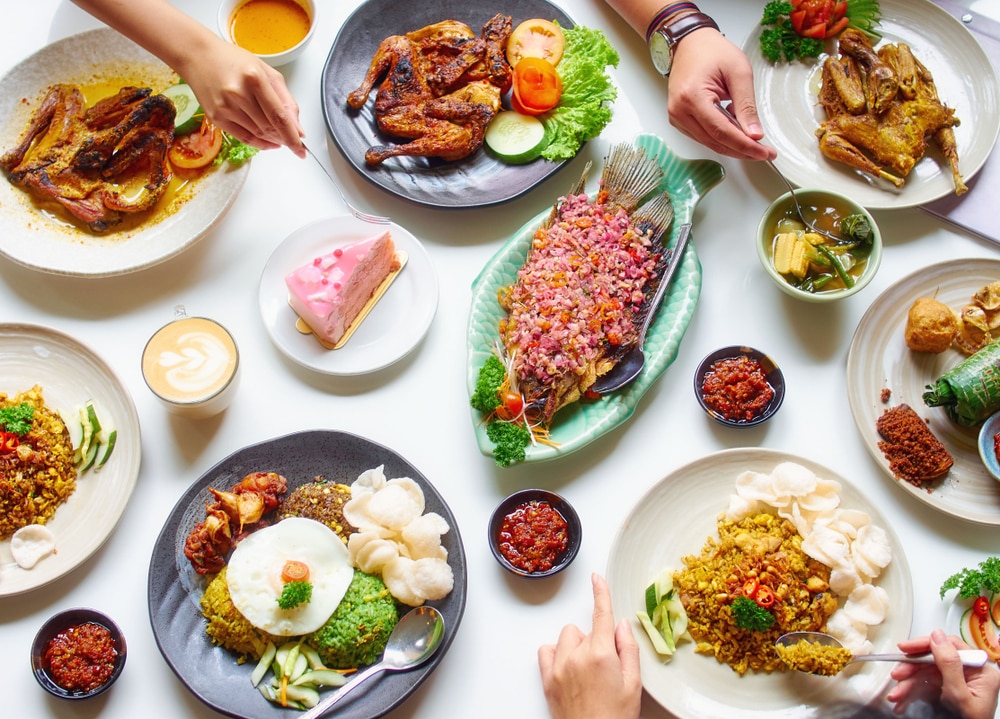 Photo by thefoodgrapher/Shutterstock
9 Foods You Need To Try When Visiting Indonesia
Indonesian cuisine might not be as easily accessible around the world compared to the more common cuisines like Thai and Vietnamese. However this nation has a long history as a land of spices and fresh herbs, inventing some of world's most vibrant and flavorful delicacies. In fact, a CNN poll on the world's best foods was triumphed by none other than Indonesia's beef rendang. Among the array of restaurants in the country, to really get to know Indonesia, it's best to hit the streets. Beneath the shadows of the skyline, lies some of the best delicacies the world has never tasted before.
table of contents
[x] close
9 Foods You Need To Try When Visiting Indonesia
Nasi and Mie Goreng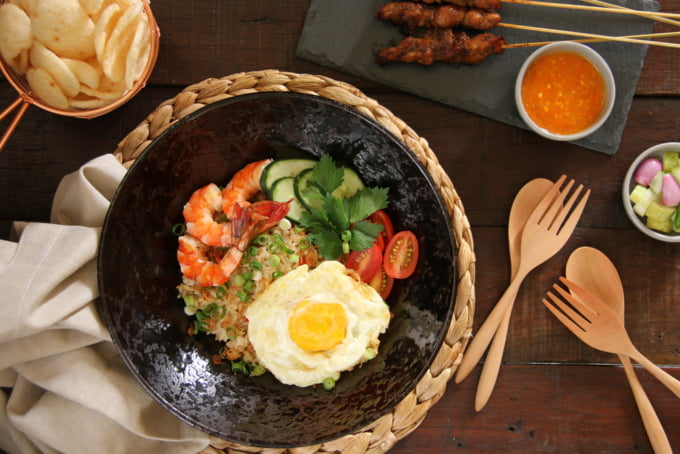 Photo by Ariyani Tedjo/Shutterstock
The most common Indonesian street food that first comes to one's mind will usually be nasi goreng. Considered the national dish, Indonesia's take on Asian fried rice is coated evenly with sweet, thick soy sauce called kecap manis. The rice is stir fried, seasoned with crushed chili sambal, garlic and handful of local spices which gives the dish its unique Indonesian touch. They are best served with fried egg on top and pickled vegetables on the side, and as you dig in you will discover whatever ingredients in the stall's cabinet – vegetables, chicken, or even stink beans.

The exact same dish normally can also be opted with the noodle version called 'mie goreng' as you might know from everyone's favorite instant noodle, Indomie. If you happen to be in the capital Jakarta, go ahead and try the legendary goat fried rice at nasi goreng kambing kebon sirih, it's delicious.
Nasi Padang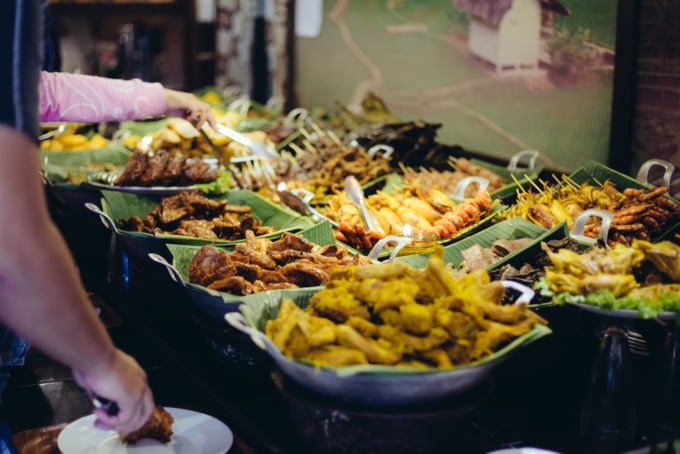 Photo by Izzul Rosli/Shutterstock
Don't be puzzled when you stumbled into millions of 'nasi' related options on an Indonesian restaurant's menu - it simply means 'rice'. Nasi Padang is named after the city of Padang, infamous for their extremely spicy and flavorful cuisine. Other than its top notch flavors, what makes nasi Padang interesting is how it's served. A huge array of dishes are brought to your table stacked on top of each other. Just take what you want from the dishes and the waiter will calculate the cost by checking what's gone from the plates. You'll usually find delicious options such as beef rendang, curried fish, stewed greens, chili eggplant, fried chicken, and of course, sambal, the spicy sauce ubiquitous at any Indonesian table.
Siomay and Batagor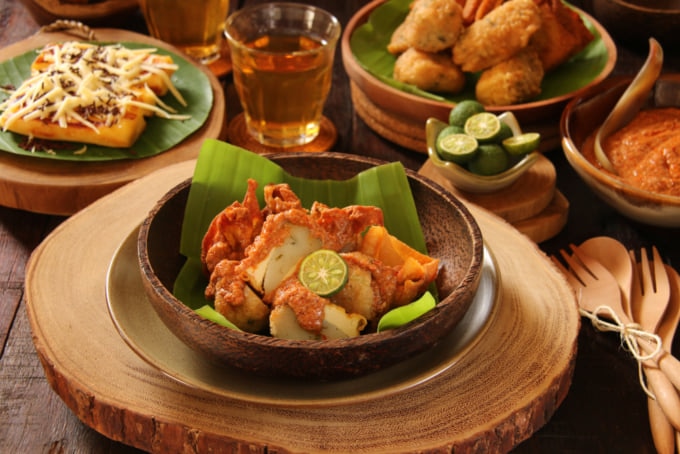 Photo by Ariyani Tedjo/Shutterstock
Like an Indonesian take on dim sum, Siomay and batagor are both fish dumpling dishes however what differs the two of them is their cooking process. Siomay is served steamed while batagor is deep fried. The portion often comes with steamed potato, cabbage, egg and served with peanut sauce along with a drizzle of kecap - Indonesian sweet soy sauce. Though they are commonly available in areas of street food vendors, there is nothing like the siomay sold on the back of a bicycle as the 'uncle' weaves his way through neighborhood after neighborhood selling his delicious wares.
Mie Ayam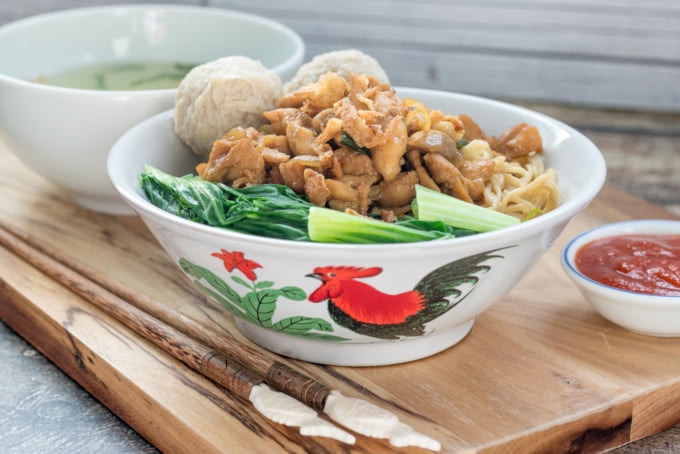 Photo by Aris Setya/Shutterstock
One of the tastiest noodle dishes at the heart of Indonesian street food is mie ayam or bakmi as it's often called. These noodles are also typically served with a variety of delicious toppings on top such as mushrooms, meatballs and vegetables. The most famous mie ayam restaurant favorited by locals is Bakmi GM, easily accessible via their advanced delivery service across the nation.
Satay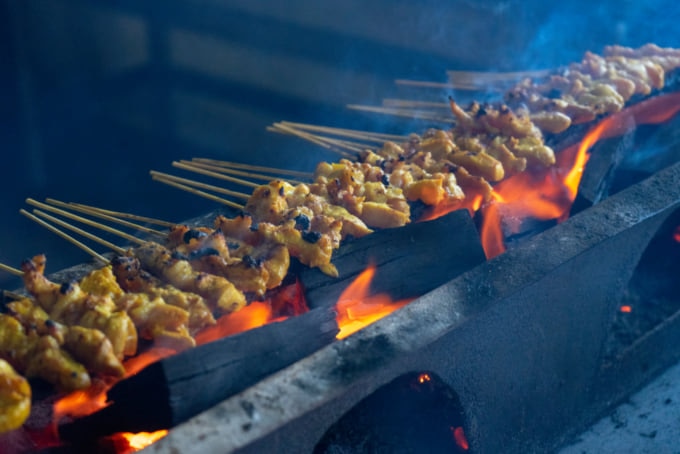 Skewered grilled meat is a common dish around the whole world, but the Indonesians just do it best. Satay is usually chicken or lamb skewers that are grilled over coals so hot they need fans to waft the smoke away, they're then bathed with a hearty dose of peanut sauce and kecap which is the winning element of this dish. Indonesians incorporate shrimp paste into the peanut sauce mix, giving a uniquely impressive umami kick you don't get with peanuts alone and you won't find this taste in any other country's meat skewers.
Kerak Telor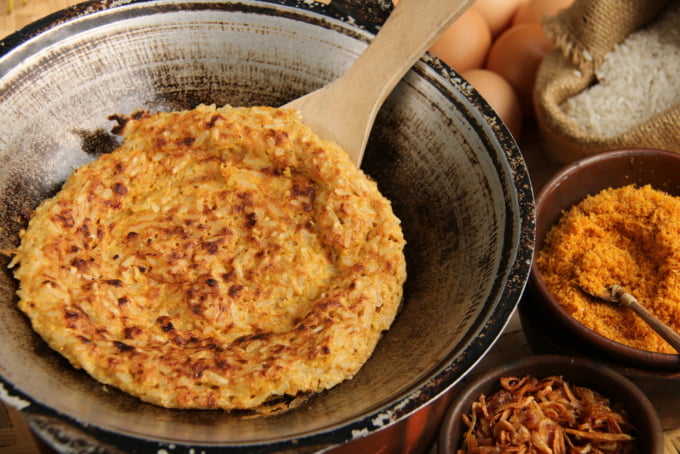 Photo by Ariyani Tedjo/Shutterstock
This special dish is remarked as the capital Jakarta's 'official' street snack. As exciting as witnessing teppanyaki chefs grilling flames, seeing a street vendor preparing kerak telor from scratch in their squatting stall is a source of entertainment on its own. In order to make kerak telor, the vendor takes a handful of soaked sticky rice and places it on the bottom of a charcoal heated wok, topped off with either chicken or duck egg, which is the heart of the dish. Kerak telor can be found in popular haunts such as around Jakarta's landmark, Monas.
Gado Gado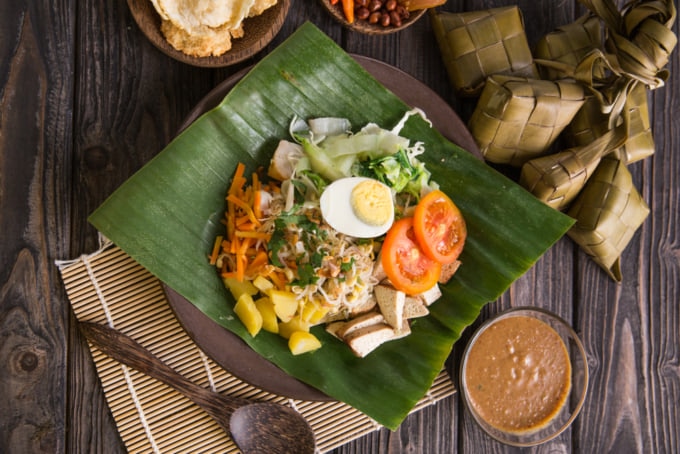 Photo by Odua Images/Shutterstock
With a infusion of pungent ingredients, intense spices and a heavy reliance on oil that ensured explosive tastes in Indonesian delicacies - it is safe to say that these dishes are often not the best options for the health conscious. Most likely the best salad you'll ever try the dish is a mixture of blanched and fresh vegetables, tofu, and tempeh, bathed in, you guessed it - the ultimate classic peanut sauce. Best of all, you won't feel guilty after eating it.
Bakso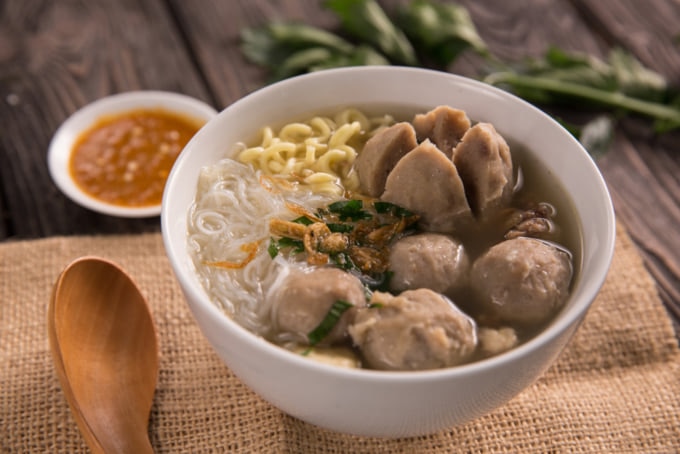 Photo by Odua Images/Shutterstock
On par with nasi goreng, bakso is another staple Indonesian street food that you'll find on every corner of the country. A favorite to even the former American president Barack Obama, bakso is simply a warm bowl of meatball soup with your choice of either thin white rice noodles or yellow egg noodles. This hearty dish is the Indonesian equivalent of a chicken soup for the soul.
Martabak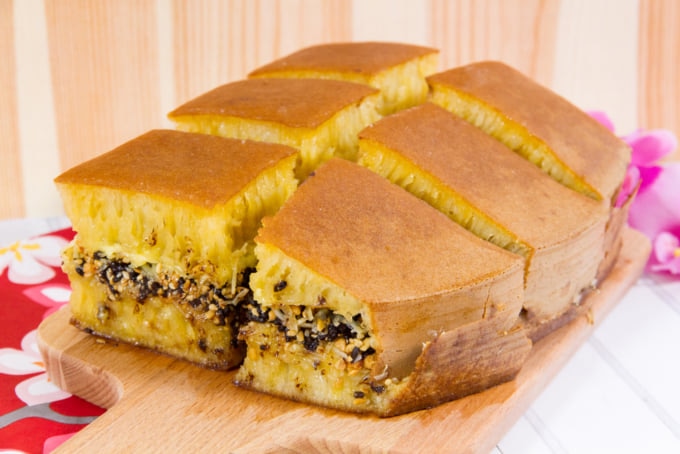 Photo by Rizvisual/Shutterstock
If you made it to the last on this list, you're in for a sweet treat. Martabak is an iconic snack that is uniquely Indonesian. There are two variety of this dish, a savory and sweet martabak. The sweet version resembles a giant stuffed pancake and every vendor has a closely guarded secret recipe behind it. Recently, creativity among martabak joints has gone through the roof - providing a myriad of flavors and topping options including red velvet, black forest, green tea, nutella and much more.

The savory option remains to sticking with the original comprising of meat, along with scrambled egg mixture, scallions, and other finely chopped vegetables. A trip to Indonesia is simply incomplete without stuffing your face with some martabak at least once.
Conclusion
Classic, ubiquitous Indonesian meals infused with a wealth of vibrant flavors inherently reflects the nation's diversity and versatility. Mixing together delicious food with delightful and casual local settings, the street food scene brings people together and still remains as one of the best ways to truly taste the country. If this variety of mouth-watering dishes doesn't prompt you to make a visit to Indonesia soon, have yourself a little bit of taste of what the nation has to offer by making yourself a pack of Indomie noodles, for now.