6 Souvenirs You Need to Buy When Traveling to NYC
Attracting visitors from all around the globe, NYC is a beacon of tourism, with people traveling from far to see some of the city's iconic sights such as Times Square and the Empire State Building. However most people seem to all bring back the same monotonous gifts back, that are usually plastered with an I heart NYC slogan. There's much more on offer to purchase while you're in the Big Apple however, so if you're stuck for ideas then check out the following list.
table of contents
[x] close
6 Souvenirs You Need to Buy When Traveling to NYC
Sports Memorabilia
Photo by baaelectronics/Flickr
Whether you root for the Mets or the Yankees, or prefer football instead of baseball, there's a plethora of sports memorabilia that make for the perfect gifts to bring back home, either for yourself or someone else. Catch a game while you're in the city to see whichever New York team takes your fancy and pick up some sports gear to bring back while you're there. If you don't manage to book tickets for a game, you can always just visit one of the many gift shops around town instead.
Hot Sauce
The days of only Tabasco lining the tables of US diners are long gone, nowadays there's a gazillion different sauces to choose from, with all kinds of flavors and peppers. The hot sauce boom has been kicking off in the US in the past few years, and you'll find a number of local New York companies making their own sauces. Head to the Heatonist in Brooklyn, for a huge range of US made hot sauces, where they'll even let you try them out before buying.
NYC Snow Globe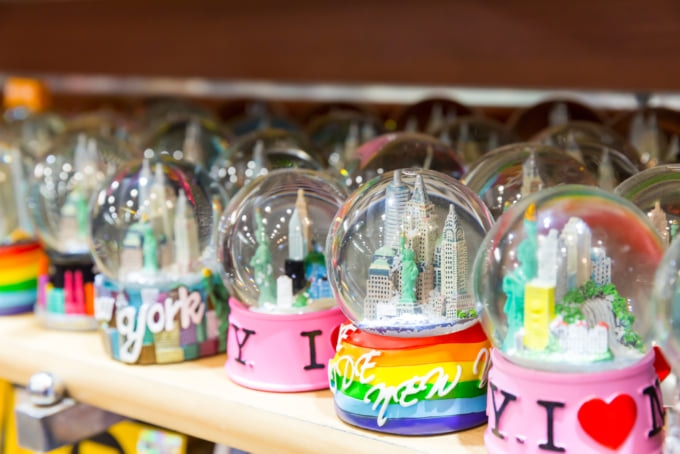 Photo by Nomad_Soul/Shutterstock
It might still be one of the popular souvenirs to get alongside an I heart New York t-shirt, however a snow globe with the iconic skyline of NYC is a timeless gift that'll never fail to disappoint. You'll find them at gift shops all over the city, it's the perfect gift to bring back for children or to decorate your friend's mantelpiece.
New York Style Bagel Chips
New York style bagels are famous worldwide as some of the best baked goods the US has to offer and trying them while you're visiting the city is a must. With a short expiration date however, bringing them back home is a little difficult. While they might not be quite as delicious as the real deal, getting a packet or a few of bagel chips to bring back home. They also make for great gifts to those expecting something edible on your return.
Candy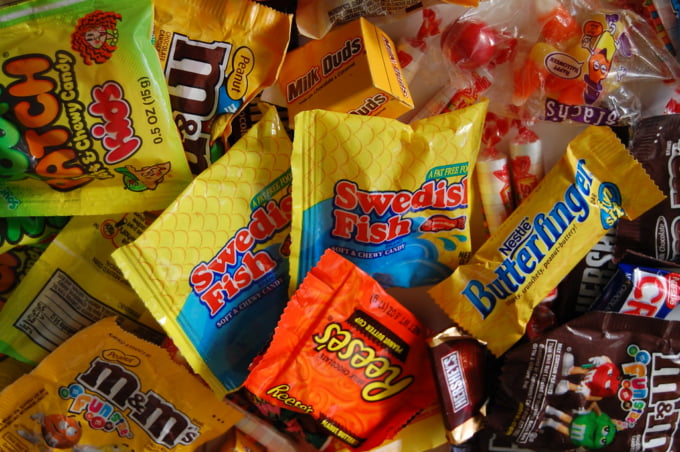 It's no secret Americans love their candy, there's even a national holiday dedicated to it (or was there a different reason for Halloween?). Like many a US city, New York is full of stores selling candy, some that have been open for decades like the Lower East Side's Economy Candy, selling sugary snacks since the 1930s. If you're not sure what gifts to bring back for someone, sweets or chocolate never goes unwanted, and even if it does, then it's just more for you to snack on.
Brooklyn Made Products
Brooklyn is full of artisanal shops selling an array of locally-made products that make for perfect gifts for those back home. Depending on what you fancy, there's most likely a store selling handmade items in this corner of the city. Some of the most popular products include gifts from Nunu Chocolates and Brooklyn Candle Studio.
Conclusion
There's no excuse to come back from NYC with shoddy gifts, the city is full of amazing places to get your shopping game on and surprise your friends back home. If you're looking to check out more of the artisanal locally-made products, make sure to head to some of the city's many produce markets such as Chelsea Market and Union Square Greenmarket.