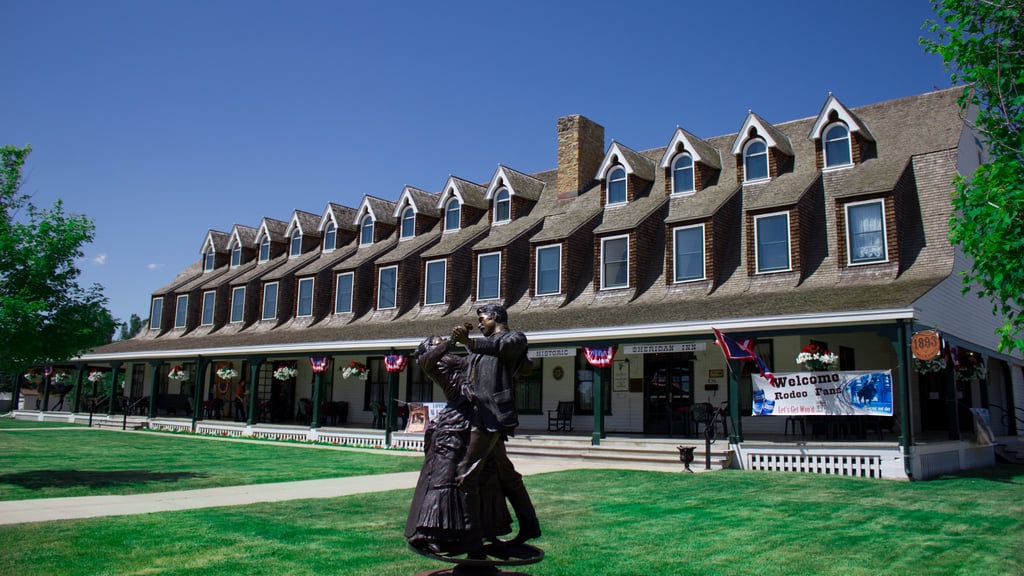 Sheridan:A Culturally Exquisite City with Glimpses of Cowboy Lifestyle
Sheridan is a quaint city that is located in the state of Wyoming along the south of the border of Montana. The city has a rich cultural and countryside history with glimpses of cowboy lifestyle, farms, horse ranches etc. There are many historical sites that represent the beautiful culture and is a paradise for offbeat hikers and travelers. There are lot of things to explore and experience to tame your wanderlust quotient in the city of Sheridan. Here are the top 10 best places to visit for sight-seeing when in Sheridan.
table of contents
[x] close
Sheridan:A Culturally Exquisite City with Glimpses of Cowboy Lifestyle
1. Trail End State Historic Site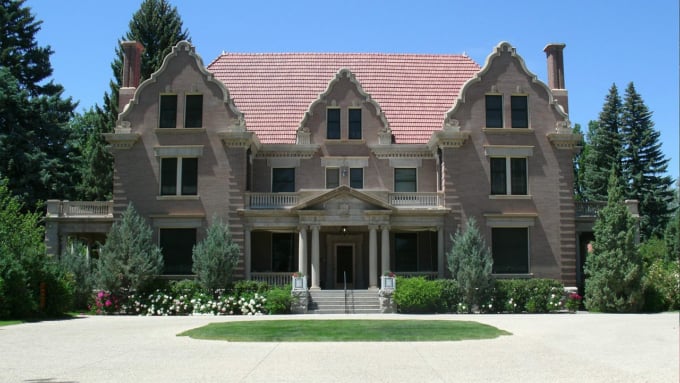 Photo by commons.wikimedia.org
Trail End State Historic Site is one of the best estates to explore to get a glimpse of the glorious city. It is an iconic estate that was occupied by the prolific Kendrick family from 1913 to 1933 and is well maintained with luxury intact. The contemporary styled luxurious rooms are not open for visitors which are designed on lined of Flemish revival style. The family artifacts, well maintained gardens, ranches and everything else gives a glimpse of the old good days. It is a historic house museum that represents the year 1913 – 1933 and lives of John B Kendrick.
Name:Trail End State Historic Site
Address:400 Claredon Avenue, Sheridan, WY
Related Site:http://www.trailend.co/
2. Bighorn National Park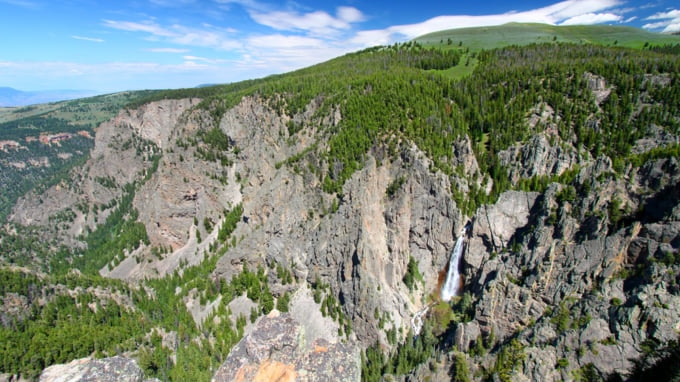 Photo by Jason Patrick Ross/shutterstock.com
The national park takes you through the idyllic bounty of nature on the Northern rocky mountain and plains. It also has the majestic Bighorn canyon inside it which is the "Grandest Canyon in Northern Rockies". The gorgeous cliff with the sight of clear blue water along the border of Montana and Wyoming is a great place for a day trip. Bighorn National Park is a great place for hikers and picnics surrounded by gorgeous forest. There are number of sight-seeing places inside the national park that takes you through scenic drives.
Name:Bighorn National Park
Address:Buffalo, WY
Related Site:https://www.fs.usda.gov/bighorn
3. Kings Saddlery & Museum
If you are a historical buff and love exploring a city touching through it cultural and historical jewels it is a great place to visit. The city of Sheridan is known for its cowboy history and the museum holds huge collection of artifacts and tools representing the cowboy life. It is a western tack store with number of cowboy merchandise and has a huge collection of barrel racing equipment, saddle bags, reins, halters, headstalls, bridles, ropes, etc. Kings Saddlery and Museum is a great place to visit with unique artifacts also for display.
Name:Kings Saddlery & Museum
Address:184 N, Main Street, Sheridan, WY
Related Site:http://www.kingssaddlery.com/
4. Shell Falls
The Shell Falls is a gorgeous waterfall that flows from a canyon and is one of the best sight-seeing places in the city. It has an approx. height of around 120 feet that tumbles from basement of a rock into the gorge. It has gorgeous and verdant trails around the waterfall to take a walk around. The place is surrounded by number of animals and birds making it even more beautiful. It is a great place to visit for a day trip wondering across the trails and fishing.
Name:Shell Falls
Address:Big Horn National Forest, WY
Related Site:https://www.fs.usda.gov/recarea/bighorn/recarea/?recid=30868
5. Sheridan County Museum
The Sheridan County Museum is dedicated to the vivid and rich cultural history of Sheridan and is surrounded by lush green verdant landscape. It is surrounded by the Big Horn mountain with glimpses of the gorgeous Tongue River. There are lot of things to see inside the museum like Oscar Granum, Battle of Rosebud and all the bright history of the city. There is a rich history of the logging and mining industry that can be seen inside and experienced through local community.
Name:Sheridan County Museum
Address:9626, 850 Sibley Cir, Sheridan, WY 8
Related Site:http://www.sheridanmuseum.org/
6. Historic Sheridan Inn
The building was constructed in 1890s and is one of the rich historical places in the city. It was built along the Burlington and Missouri Railroad and was previously managed by Buffalo Bill Cody. The gorgeous place still serves as accommodation to feel like a royal and has many dining options. It is recommended to visit it to check the exquisite craftsmanship of the building and intricate detailing. The Historic Sheridan Inn is expensive for a overnight accommodation but that does not mean you cannot set your foot in for an exotic lunch.
Name:Historic Sheridan Inn
Address:856 Broadway St, Sheridan, WY
Related Site:http://www.sheridaninn.com/
7. The Blacktooth Brewing Company
Do you want to experience a phenomenal process of brewing and explore a brewery to see fresh preparation? If you are beer guzzler, The Blacktooth Brewing Company is a place that you must stop by to drink some freshly brewed beer. The atmosphere and ambiance is fantastic around the place. It is located in the historic downtown of the city. There is an assortment of beer that you can taste and try in the brewery. It is a great place to chill and relax with your friends and sample on different types of fresh brewed beer.
Name:The Blacktooth Brewing Company
Address:312 Broadway Street, Sheridan, WY
Related Site:http://www.blacktoothbrewingcompany.com/
8. WYO Theatre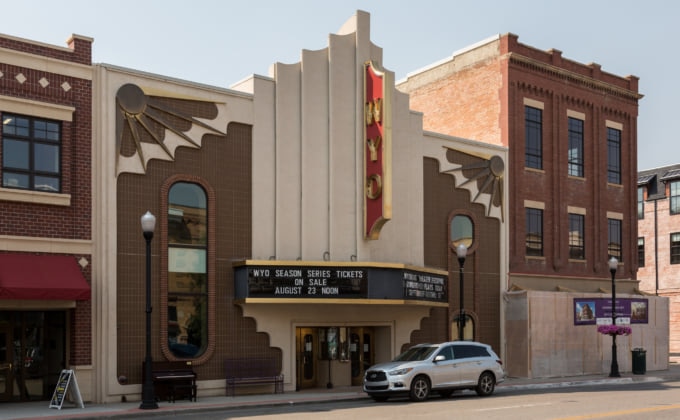 Have you ever experienced going to an iconic theater and going back to time? The WYO Theater gives an experiential experience and is the oldest operating theater in WY. It is a treasured building with number of events like theaters, dance, music, etc. performances happening all year long. It was established in 1923 and so far has conducted many events. The theater has witnessed some of the greatest plays, events and concerts in its glorious past.
Name:WYO Theatre
Address:42N Main St, Sheridan, WY
Related Site:http://wyotheater.com/
9. Sheridan Artists' Guild
If you want to awaken your creative side, this place is a must visit in Sheridan. It is operated by Sheridan Artists Guild and is located in the historical Montgomery Ward building with display of lot of arts and paintings. It also features many regional and national art shows and events. SAGE Community Arts brings to you many artistic experiences.
Name:Sheridan Artists' Guild
Address:21 W Brundage St, Montgomery Building, Sheridan, WY
Related Site:https://www.artinsheridan.com/
10. Holy Name Catholic Church
The Holy Name Catholic Church is a beautiful church with Sunday mass and it is mostly open on Mondays, Tuesday and Saturdays. The church also has a thrift store with number of little treasures. You can also volunteer at the Rock Bottom thrift store and spend time with some of the warmest people. It is a simple architecture with beautiful work on the inside.
Name:Holy Name Catholic Church
Address:260 E Loucks St, Sheridan, WY
Related Site:http://www.holynamesheridan.org/
◎ Closing
Sheridan is a historically rich state that represents the rich culture and heritage of the place through numerous architectures and museums. The glimpses of cowboy lifestyle and phenomenal presence of ranches across with themed places makes it unique and an elaborative sight-seeing city.