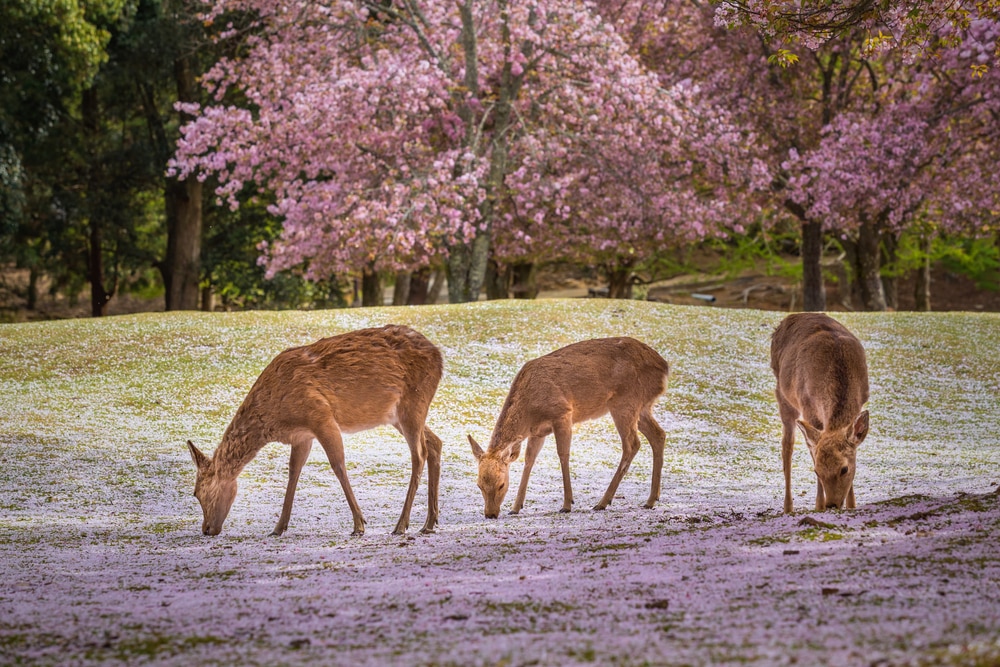 Photo by Bule Sky Studio/Shuttershock
Must-Visit Places in Japan for Animal Lovers
Rejoice zoophiles, the 'Land of the Rising Sun' is full of incredible opportunities to get up close to some of the country's adorable animals. Seemingly more associated with cutting-edge robots and other eccentric creatures, Japan is also home to a huge variety of wild creatures native to the land. The character of these animals often borderline mimics the classic Japanese 'omotenashi' culture, with them having been familiarized to be tame and friendly towards visitors - even the animals here know how to show Japanese hospitality.
table of contents
[x] close
Must-Visit Places in Japan for Animal Lovers
Nara Park
Just a 45-minute train ride south of Kyoto lies the city of Nara, famed for its enchanting and sacred deer sanctuary. Considered the messengers of the gods, over a thousand free-roaming deer are the treasured mascots of the city and often a highlight for every tourist traveling to the region. A piece of history, Nara Park is home to Kofukuji Temple which belonged to one of the most powerful clans during the height of Nara's influence. The area is also home to the beautifully preserved Todaiji Temple which has since been awarded 'UNESCO World Heritage Site' status. These divine creatures have been taught to bow for centuries, respectfully mimicking the antics of Japanese residents. In exchange, you can feed them special deer treats available to buy at the petting zoo.
Aoshima Cat Island
Photo by sido kagawa/Shuttershock
Japan might be famous for kick-starting the 'cat cafe' trend worldwide which has since created a buzz worldwide among cat lovers. However, unbeknownst to many, the motherland of 'Hello Kitty' also fittingly hosts not one, but seven 'cat islands' in total. One of the best-known being Aoshima island in Ehime Prefecture, a former fishing village overtaken by cats since its feline residents well outnumber the human residents there. Once you arrive on the island via a ferry from Nagahama Port, you'll be instantly greeted by a mob of cute friendly faces. If you are planning to visit, please take note that there is no accommodation or shops throughout this quiet island so make sure to bring everything you need when entering this feline fanatics' dreamland.
Jigokudani Monkey Park, Nagano
Photo by BlueOrange Studio/Shuttershock
Another spectacular natural sight to behold are the 'snow monkeys', a group of Japanese macaques that seek refuge in Jigokudani Yaen-koen, a natural hot spring area located in the mountains of Nagano Prefecture. Well conserved to remain as their natural habitat, the park is not restricted by any fences or barriers, allowing them to roam around freely. Although the park is open all year round, the bathing monkeys are particularly photogenic when the area is covered in snow during the winter time. Every corner of this landscape is truly picture-worthy, let's face it where else in the world can you witness snow monkeys submerge themselves in warm natural hot springs pool against a backdrop of luscious white snow?
Zao Fox Village, Miyagi
Photo by wolfmaster13/Shuttershock
Contrary to popular belief, in Japan foxes are believed to be magical beings and messengers of Shintoism's Inari Okami. In fact, in the picturesque mountains of Miyagi prefecture lies a sanctuary that takes care of wild foxes called the 'Zao Fox Village' where you can find six different types of foxes roaming freely around the area. Exclusively in spring time, you can opt for the 'hug a baby fox' experience for a chance to cuddle these furry creatures as if you're in some kind of live-action fairy tale.

Rabbit Island, Okunoshima
Photo by studio_s/Shuttershock
From enchanting deer to furry foxes, you've almost heard it all - but not quite. Next on the list is an island full of everyone's favorite cute and cuddly creatures, rabbits. The previously concealed history of this place features a dark story that can be traced back to the 1920s where it was used for producing deadly gases. The former top-secret military location has now been transformed into a wilderness of over 1,000 cute rabbits dubbed as Japan's only 'Rabbit Island'. Unlike Aoshima Cat Island, Okunoshima has embraced being an attractive tourist destination. Against the picturesque scenery of the Seto Inland Sea, visitors can spend the night at this national park or at the camp site there, then explore various attractions such as the Poison Gas Museum while you witness the island's main inhabitants hop around to their heart's desire.
Animal Cafes, Various Locations in Tokyo
Photo by Ronny Wu/Shuttershock
While it's become a well-known fact in recent years, Tokyo hosts some of the most unique animal cafes in the world. From the ubiquitous cat cafes that are beginning to spring up all around the world, Japan has now expanded and brought more excitement to the scene by introducing exotic and unusual animal cafes such as snakes, hedgehog, penguin, shiba inu and owl cafes just to name a few. These cafes can be found in various locations around the city, but are mostly centered around the midst of the popular youth districts of Harajuku and Shibuya.
Conclusion
Japan is blessed with a geological history of rich nature, comprising of an archipelago that encompasses a wide range of climates from subartic snowscapes in the north to subtropical jungles in the south which cultivates a suitable habitat for a range of different animals you won't find elsewhere. The nation has also done a stellar job in building environments that are accessible for animal lovers to indulge in friendly encounters with these adorable creatures. More than just a brief glance at caged animals like you'd find in a zoo, these places offer you intimate sessions to directly interact with your favorite animals.