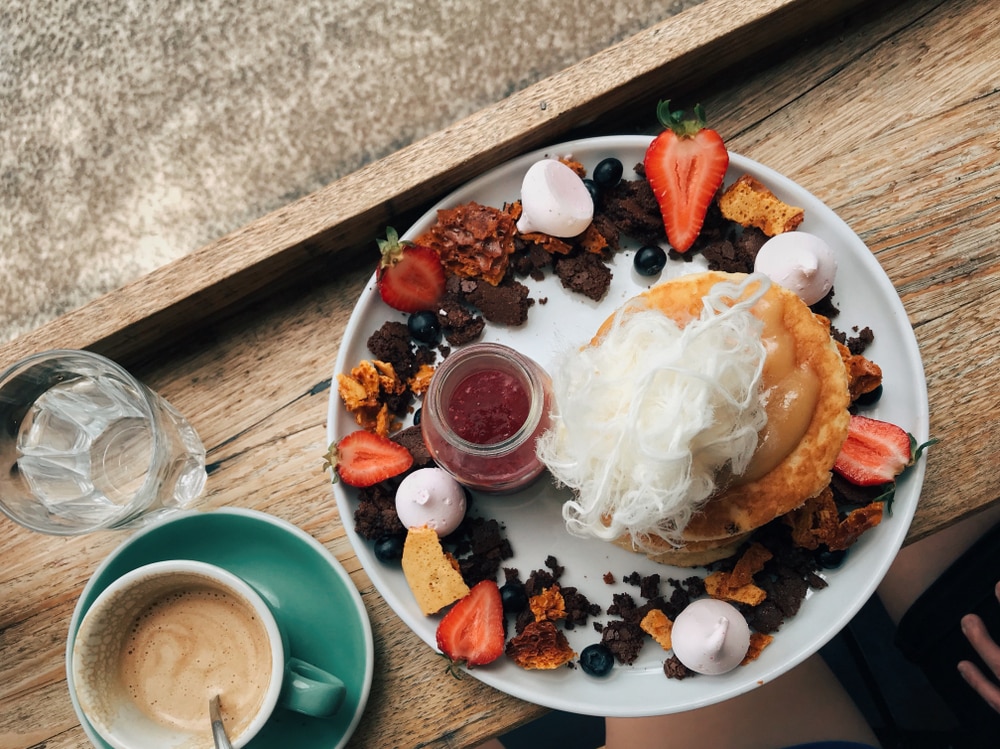 7 Cafes and Brunch Spots in Melbourne Well Worth a Visit
Often considered as the 'most live-able city in the world,' Melbourne is a destination brimming with activities, events and a host of excursions to satisfy the most ardent of travelers. It comes as no surprise then that the city offers visitors a wealth of unique culinary experiences that are as vibrant and multi-cultural in their disposition as its many residents. Apart from the regional restaurants, food trucks and elegant dining options, Melbourne promises a thriving cafe scene that is the perfect union of modern decor and classic ethos.
table of contents
[x] close
7 Cafes and Brunch Spots in Melbourne Well Worth a Visit
The Kettle Black
A trendy cafe that caters to the health-conscious as well as the hipster crowd, the eccentrically named Kettle Black, is one of Melbourne's most popular cafes. Its terrace-house site comes with large glass windows that allow oodles of natural light to pour in during the daytime. The cafe is popular amongst the Instagram crowd for having a whimsical decor that utilizes a medley of elements such as wood, concrete, and marble to create a memorable atmosphere.

Must-try: The Chili Scrambled Eggs with house-cured kangaroo, feta, and leaves comes bursting with robust flavors that make for the ideal wake-me-up breakfast.

Address: 50 Albert Rd, South Melbourne VIC 3205, Australia
Kinfolk
An experiment gone right, Kinfolk takes everything that is good about serving food and brings it to your table. Their menu changes daily based on seasonal and fresh ingredients. The cafe buys everything locally, preferably directly from farmers, and always fair-trade. Moreover, Kinfolk works on a volunteer concept and also donates every cent of their profits to various charities.

Kinfolk's ambiance is as comforting as its ethos. Wooden chairs and tables along with beautiful wall art, give it the kind of warmth that rejuvenates the mind when having a freshly brewed cup of coffee.

Must-try: The cafe's Wasabi Mousetrap Toastie is a hit with the regulars and comes loaded with glazed ham, salami, house-made sauerkraut, cheese, and wasabi mayonnaise. Ask for a fried egg as an add-on to make this into the ultimate comfort sandwich.

Address: 673 Bourke St, Melbourne VIC 3000, Australia
Brother Baba Budan
The second thing new customers note about Brother Baba Budan is its unusual decor that consists of chairs hanging from the ceiling. The first, of course, is its name, which refers to a Sufi saint credited for bringing coffee to Chikkamagalur, India. Brother Baba Budan is a specialty cafe, that carries an assortment of coffees from around the world.

The cafe is typically full during the morning rush hour. However, most locals pay a quick visit to get a take out coffee. There is a communal table in the somewhat cramped space, for those who want to sit awhile. The refreshing smell of coffee that lingers on inside, throughout the day, can be addictive.

Must-try: Give one of their 'Alt Milks' - Bonsoy or Fly High Almond - a chance when having a cappuccino or a flat white for some extra flavor.

Address: 359 Little Bourke St, Melbourne VIC 3000, Australia
Three Bags Full
There's always something going on at Three Bags Full no matter what time of the day you visit it. It's a highly rated, family-owned cafe that serves some of the most delicious fare in all of Melbourne. The staff are more than happy to alter the dishes based on your preferences, making it perfect for vegans or those with dietary restrictions.

You'll find the atmosphere inside the cafe playful and jovial. The teacup light fixtures add a dash of color and contrast to the exposed brick and industrial ambiance. Outside, they have a small courtyard, perfect for a meal when the weather is good. The cafe is a pet-friendly place, adding to its charming appeal.

Must-try: The Loaded Avocado Toast at Three Bags Full is super healthy and oh-so-delicious. It features chipotle pickled red onions, charcoal and walnut dukkah, and comes with the option of adding a poached egg, bacon, or halloumi.

Address: 60 Nicholson St, Abbotsford VIC 3067, Australia
Operator 25
Often listed among the 'top brunch venues' in Melbourne, Operator 25 gets its shot of personality from the heritage-listed building it's housed in. The cafe has an unassuming facade, but don't let that dissuade you from trying its numerous delectable offerings. Inside, the look is quintessential coffee shop-esque with an open plan that does well to make Operator 25 seem more spacious than it really is.

The menu at the cafe has a predominantly Asian theme to it and you'll also find a small selection of alcoholic drinks, including wine and cider.

Must try: Operator 25's Japanese Open Omelet is a delightful eat. Ingredients include octopus, pickled ginger, radish, and the omelet is served with sourdough toast.

Address: 25 Wills St, Melbourne VIC 3000, Australia
Two Birds One Stone
Two Birds One Stone leaves behind the coziness typically associated with a cafe to create an 80-seat space, with booths and tables. A white theme runs all along the walls and the ceiling of the cafe helps keep its primary focus of food.

Customers are spoiled for choice at Two Birds One Stone, especially when it comes to coffee. Various brewing options are available, ranging from drip coffee, Aeropress, and pour-overs. They also sell cold-pressed juices and kombucha.

Must try: The cafe serves a killer Crab Omelet, which includes delicious ingredients such as salmon caviar, onion jam, caper berries, and sun-dried tomatoes.

Address: 12 Claremont St, South Yarra VIC 3141, Australia
Cherry and Twigs
A quaint coffee shop that highlights good food and coffee, Cherry and Twigs is ideal for a quiet morning bite. The setup is simple and homely with an almost zen-like minimalist feel to the place.

The food menu at Cherry and Twigs is limited, comprising of breakfast specials and a few mains such as their beef massaman curry which is particularly delicious.

Must try: For something extraordinary, ask about the soup of the day, which at times turns out to be nothing short of heavenly. The Spiced Moroccan Tomato and Red Lentil soup is a personal favorite.

Address: 1b/555 Flinders Ln, Melbourne VIC 3000, Australia
Conclusion
With an emphasis on fresh food, quality tea and coffees and all-round friendly service, Melbourne's cafes are frequently featured as some of the best in the world. Add to that the ingenuity of the menus which combine international classics with regional delicacies and cafe-hopping in Melbourne is no longer a simple outing, but a gastronomic adventure worth exploring by all food lovers.