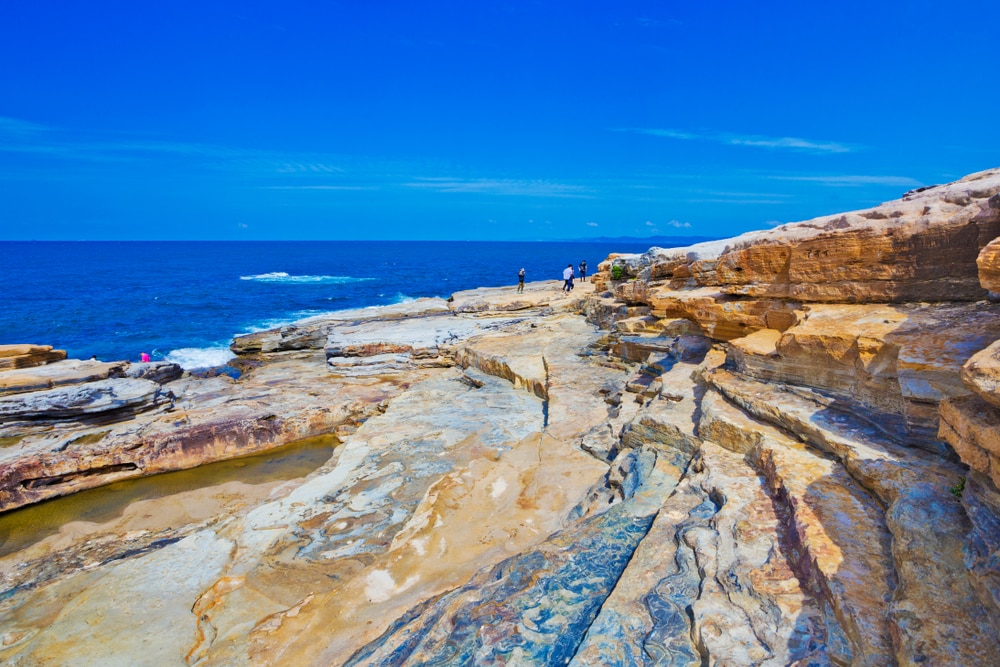 Things to Do in Wakayama, the Spiritual Center of Japan
Wakayama Prefecture is part of Japan's spiritual heartland, the Kii Peninsula, and is home to a wealth of natural beauty, sacred shrines and cultural heritage sites. Home to Japan's tallest waterfall, the Kansai region's most beautiful beaches, a wealth of UNESCO World Heritage gems and some of the country's most unique cultural experiences, unforgettable memories await for anyone the underrated gem of Wakayama.
table of contents
[x] close
Things to Do in Wakayama, the Spiritual Center of Japan
Wakayama Castle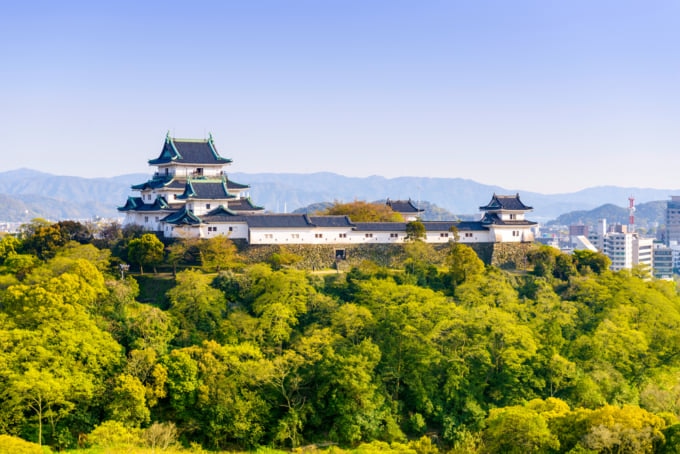 Photo by Sean Pavone/Shutterstock
During the Edo Period, Wakayama Castle was an important base for the powerful Tokugawa Clan. The original structures were demolished or destroyed during the Meiji Restoration and bombing of World War II, and the current Wakayama Castle is based on 17th-century descriptions. The castle is especially beautiful in spring, when the surrounding cherry blossoms come into season.
Kumano Kodo Pilgrimage Route
Photo by Sean Pavone/Shutterstock
The Kumano Kodo is a series of mountainous trails crossing the Kii Peninsula, used by Buddhist pilgrims for centuries. The trail connects the region's most sacred sites, including the temples of Mount Koya, the Three Great Shrines of Kumano (Kumano Sanzan) and Ise Grand Shrine. The pilgrimage routes and the sacred temples and shrines have been collectively named as a UNESCO World Heritage Site. Visitors can hike along these once well-traveled routes as well.
Nachi Falls and Kumano Nachi Grand Shrine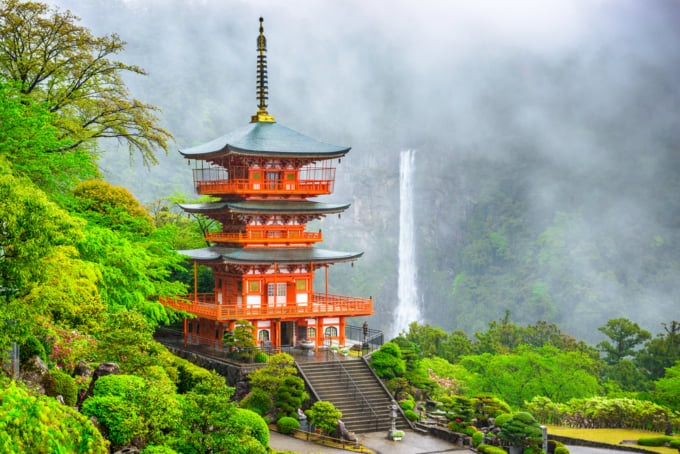 Photo by Sean Pavone/Shutterstock
One of the Three Great Shrines of Kumano, Kumano Nachi Taisha is located in southeastern Wakayama, not far from the hot spring town of Katsuura. Japan's tallest waterfall, Nachi Falls, is located right next to the shrine grounds. The striking red pagoda that sits in front of the falls is part of the nearby temple, Seiganto-ji, which was once a section of the main shrine. Nachi Falls is considered one of Japan's 'Power Spots', a place of natural or sacred power.
Motoderamachi
With its tin-covered walkways and various international cuisines on offer, Motoderamachi is the place locals in the know go for drinks after work or to dine on Southeast Asian fare. Located in Wakayama City, the neighborhood would be right at home overseas in Ho Chi Minh or Manila, but instead stands in stark contrast to the typical Japanese eateries found elsewhere in the city.
Mount Koya Temple Village Lodgings, Shukubo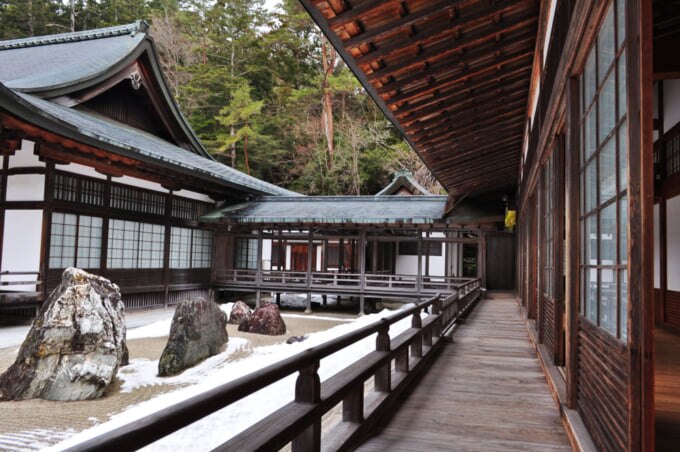 Photo by Wissuta.on/Shutterstock
For over a thousand years, the Shukubo (temple lodgings) on Mount Koya have provided shelter to weary pilgrims tackling the Kumano Kodo. There are 52 lodging facilities on Mount Koya, ranging from the bare necessities to large halls complete with gardens and a tea ceremony room. Pescatarian meals, the same light and healthy fare the monks themselves enjoy, are typically included.
Shirahama Beach and Shirahama Onsen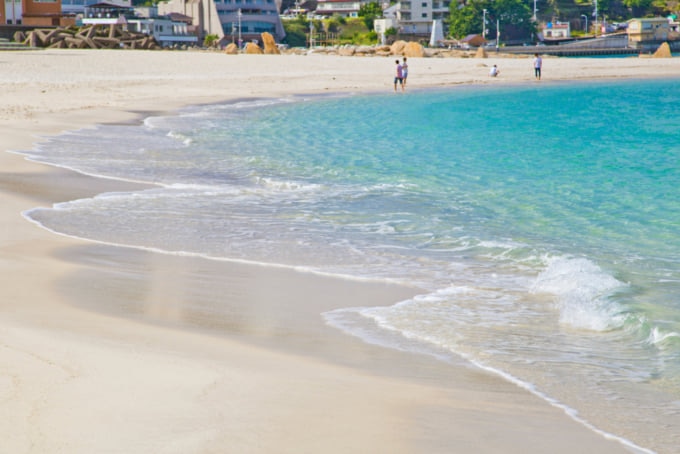 Shirahama is a famous beach and hot spring resort town on the southwestern coast of Wakayama Prefecture. The region's Saki-no-yu, with its dreamlike outdoor baths (rotenburo) overlooking the Pacific Ocean, is rumored to be one of the oldest onsen - traditional Japanese hot spring - in Japan. In summer, white sand and turquoise waters attract swimmers to Shirahama Beach, named the sister of Hawaii's famous Waikiki beach.
Yuasa Historic Towncape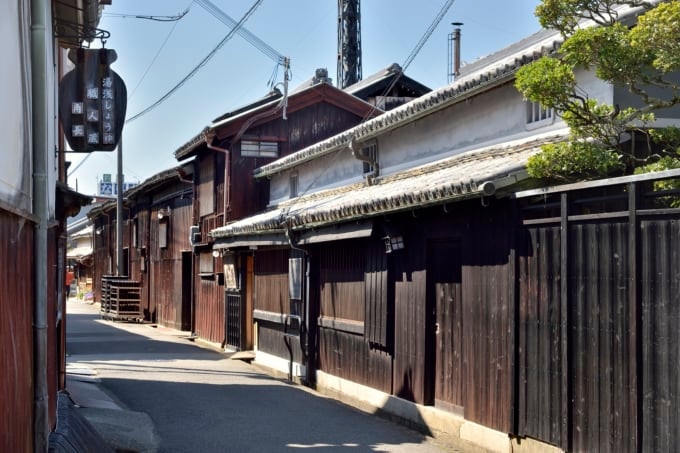 Yuasa is known as the birthplace of Japan's quintessential condiment, soy sauce. Today, the town is also known for the many antique homes and shops which give it a unique historic atmosphere. One of the oldest soy sauce brewers in Japan, Kadocho, is still brewing via the traditional method at the Yuasa shop, which also houses a soy sauce museum.
Kishi Station and Stationmaster Tama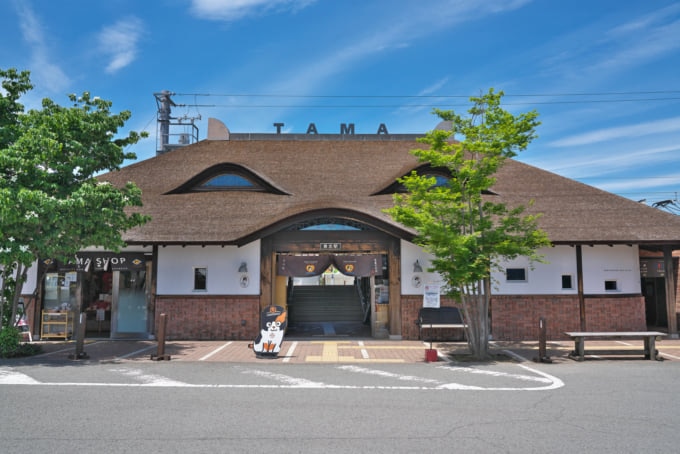 When the then current stationmaster heard that the Kishigawa Line had to be de-staffed to cut costs, she suggested Kishi Station's resident stray cat, Tama, take on the job. After Tama was hired, passenger ridership significantly increased, and the fluffy calico was credited not just with rescuing Kishi Station, but with bolstering the local economy. Today, feline successor Nitama looks after the passengers, while Tama is there in spirit at the nearby shrine (3,000 mourners attended her funeral back in 2015).
Kushimoto Diving Park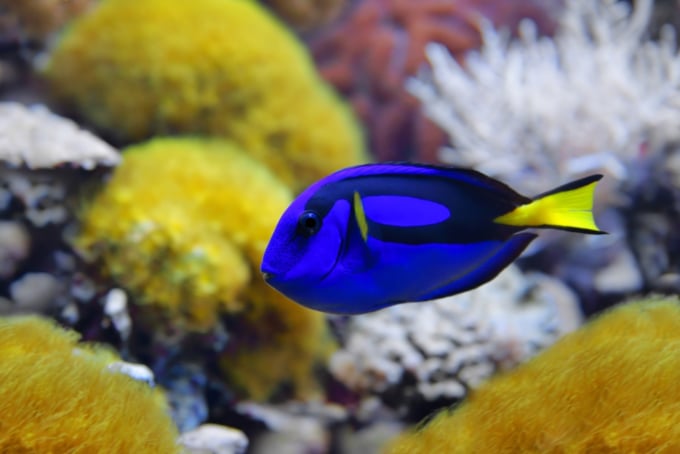 Photo by Mirek Kijewski/Shutterstock
Kushimoto Diving Park is a conservation initiative, aiming to protect the unique species of wildlife and coral which abound in its waters. Snorkeling as well as offshore and deep-sea diving packages are available, including lessons for beginners. For those hoping to stay dry, the park offers glass-bottomed boat tours and undersea observation decks as an alternative method of undersea exploration.
In Conclusion
Rich in cultural history and unrivaled natural scenery, this vast territory would require weeks to fully explore. And while it remains fairly undiscovered by travelers, Wakayama Prefecture never disappoints.