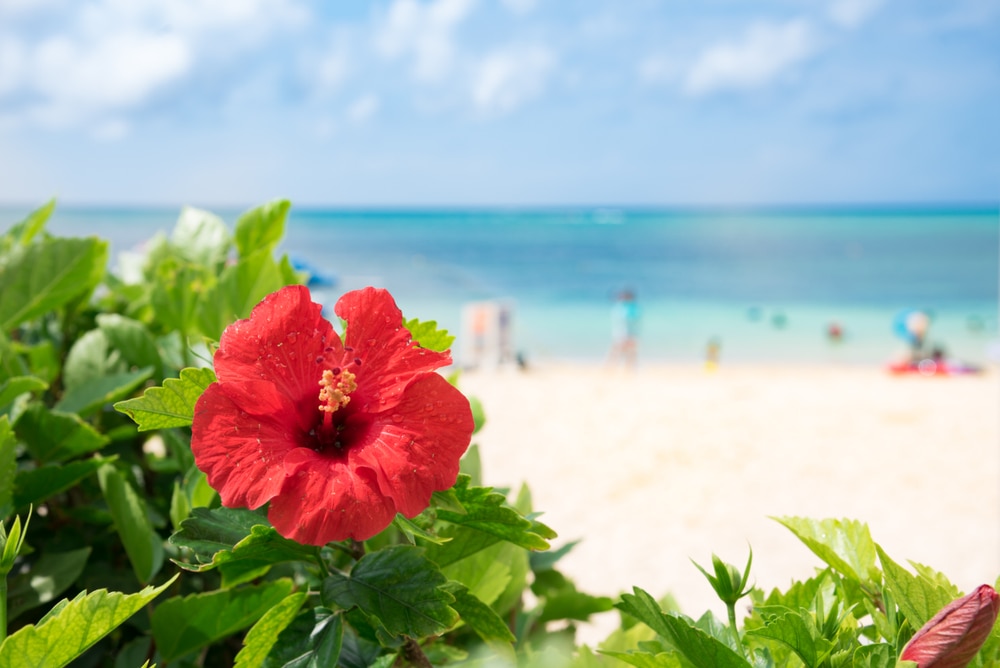 10 Incredible Experiences and Things to Do in Japan's Okinawa Islands
There is so much more to Japan's Okinawa Prefecture than pristine beaches and luxury resorts. The islands are also home to world-famous dive sites, historic relics of the Ryukyu Kingdom, the ancient rulers of the archipelago, as well as scenic hikes through tranquil forests and picturesque fields of Yonaguni horses. These top ten things to do and see in Okinawa Prefecture are sure to inspire your next island getaway.
table of contents
[x] close
10 Incredible Experiences and Things to Do in Japan's Okinawa Islands
Diving in the Kerama Islands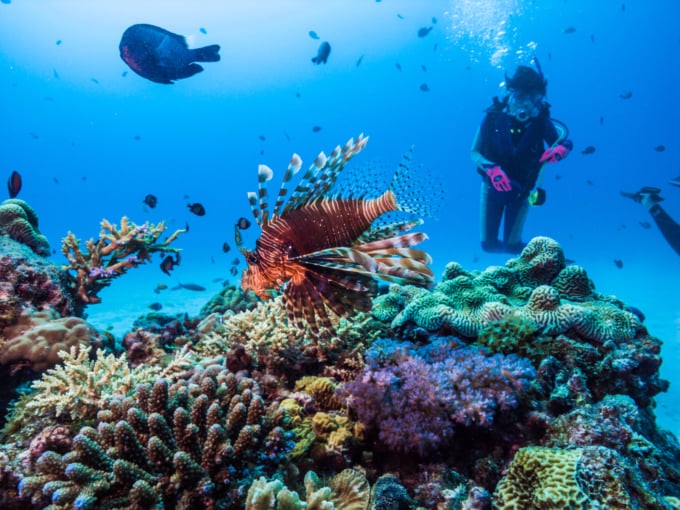 Photo by Tank200bar/Shutterstock
The Kerama Islands are a protected National Park and home to some of Okinawa's best diving spots. Advanced divers can head to Cave Nita on Zamami Island to explore the spectacular underwater world sheltered from the current. The Amuro Fish Reef, at a depth of just seven meters, is suitable for both beginners and advanced divers, and is home to a dazzling variety of marine life. Humpback whales visit the Kerama Islands each year from January to April, and whale-watching tours are offered on Zamami Island.
Watersports at Okuma Beach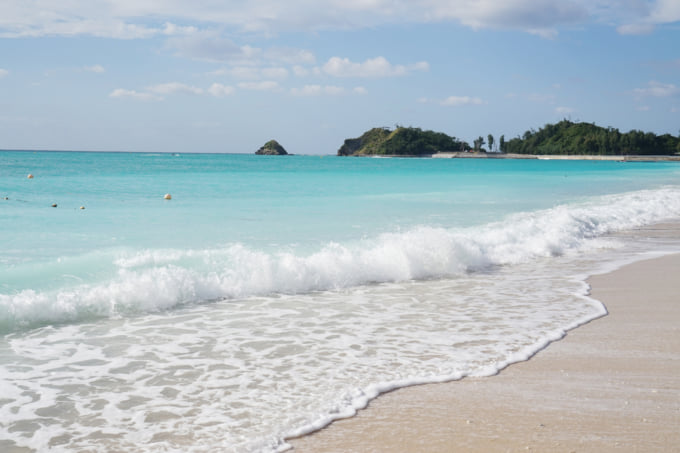 Photo by Anna Kuzina/Shutterstock
Located on the western border of Yanbaru National Park on Okinawa's main island, Okuma Beach is ideal for all kinds of watersports, from kayaking and canoeing to windsurfing and waterskiing. You don't have to stay at the Okuma Beach Resort to use to the beach, but there is a small fee of around 500 yen to access it. Okuma Beach is also a hotspot for beach camping, and there are a few quaint cottages and campsites available to rent.
Manza Beach and Cape Manzamo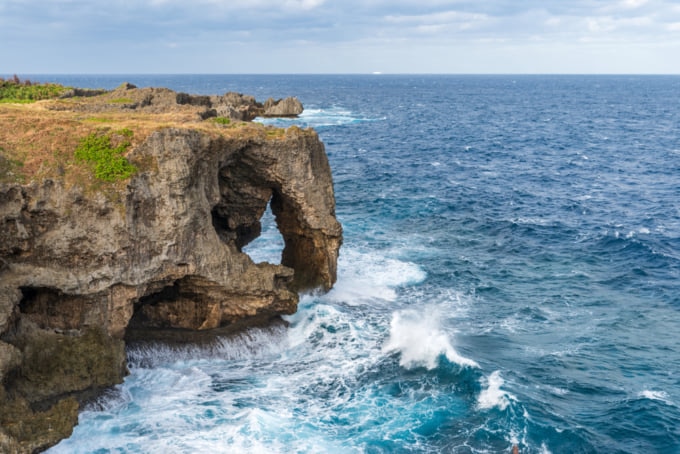 Photo by PaulWong/Shutterstock
Manza Beach is known for its wide selection of activities on offer and facilities available. The beach is equipped with chairs and umbrellas, and the swimming area is cordoned off, making this a perfect choice for families. The northern section of Manza Beach is dominated by a large beach resort, while across the bay, Cape Manzamo's otherworldy, flat-topped cliff jutting into the sea, is considered one of the most scenic places in Okinawa Prefecture.
Naha City and Kokusai Street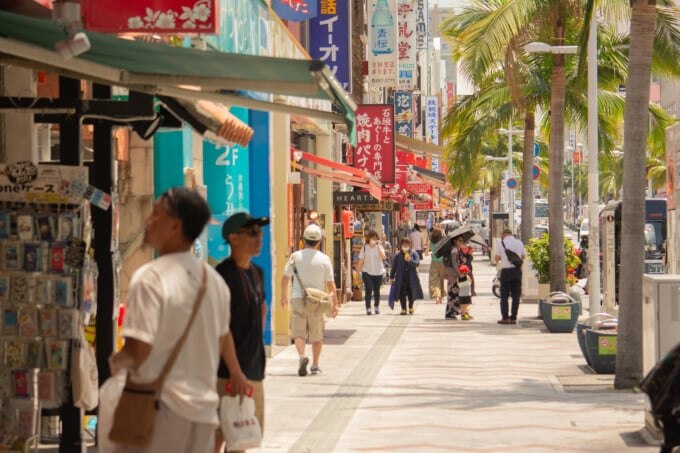 Photo by Daniel Ramirez/Shutterstock
Naha is the capital city of Okinawa Prefecture, located in the southern region of the main island. The city's airport is the biggest transportation hub in the region, shuttling countless visitors to and from the islands each day. Downtown, Kokusai Street is the main shopping and entertainment district and is home to dozens of charming hotels and cafes, boutiques and independent eateries.
Shikinaen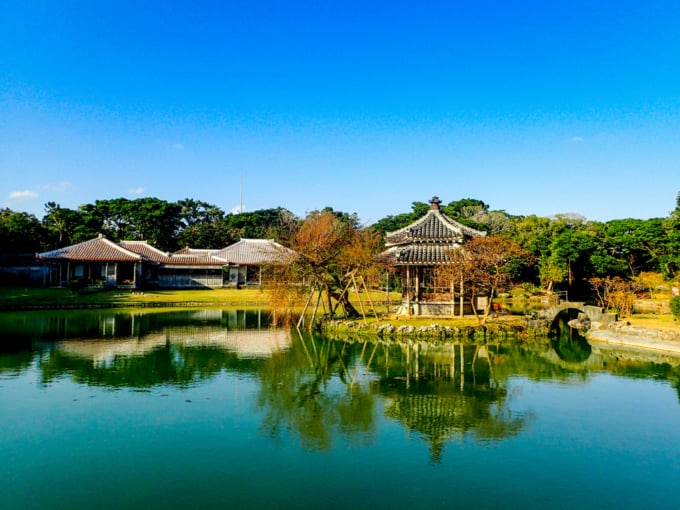 Photo by Thitinan Ananchaiphattana/Shutterstock
On the outskirts of Naha, Shikinaen is a historic garden and villa which once belonged to the Ryukyuan Royal Family. The garden is distinctly Okinawan, drawing influences from both mainland Chinese and Japanese aristocratic gardens of the time, and the mix of architectural styles is a delight to discover. Large ponds and scenic bridges take up much of the area, and the garden is populated by native flowering shrubs and tropical trees, creating a picturesque scene.
Shurijo Castle Park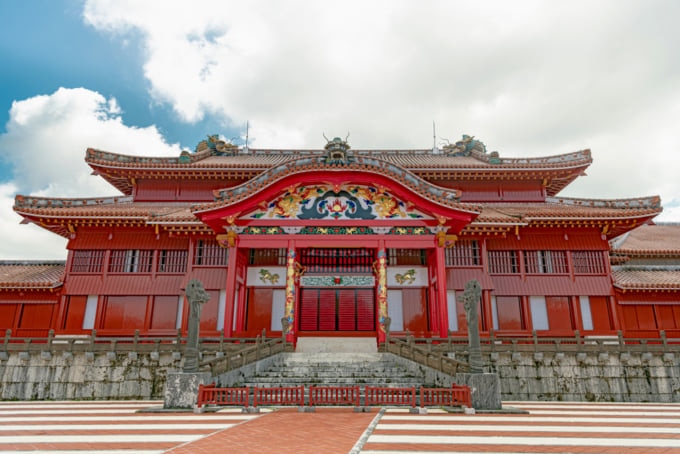 Not far from Shikinaen, the Shurijo Castle Park is a sprawling castle complex containing the former palace of the Ryuku Kingdom. Of the original castle, only a few pieces of the outer defense wall remain, while the rest is a recreation of the old palace structures. Shuri Castle stands apart from the castles of mainland Japan, drawing inspiration from the legendary Forbidden City of Beijing in its design. The castle's main hall was destroyed by a fire in 2019 and is undergoing reconstruction.
Yonaguni Island and Horse Spotting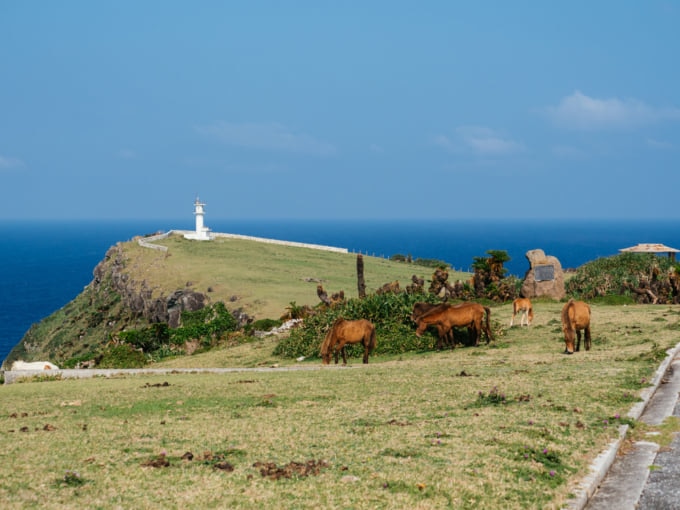 Located at the westernmost boundaries of Japan, Yonaguni Island has a unique culture and offers experiences you can't find anywhere else. On a rainy day, visitors can try their hand at Yonaguniori weaving techniques, and in nice weather swim with hammerhead sharks at the mysterious Underwater Ruins. Children can ride the endangered Yonaguni Horse, a very small pony native to the island, and explore the scenic cape around Irizaki Lighthouse.
Ocean Expo Park and the Churaumi Aquarium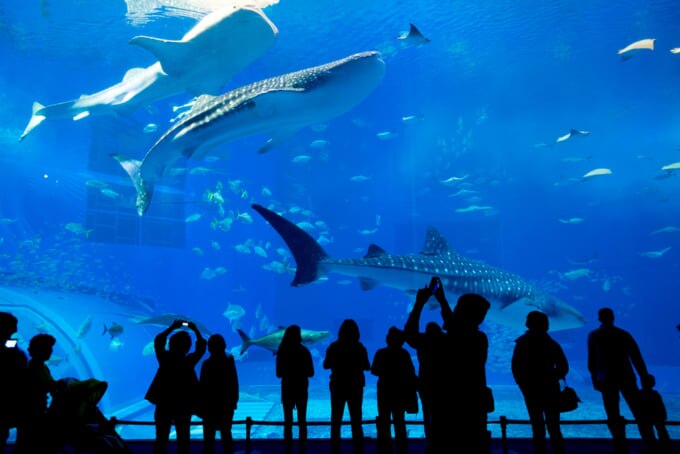 Photo by Leungchopan/Shutterstock
Often touted as the best aquarium in Japan, Churaumi Aquarium's massive Kuroshio Tank is one of the largest of its kind. Here, visitors can see whale sharks, rays and various species of fish up close and personal, through its massive acrylic walls and tunnels. The aquarium also houses tiger and bull sharks in a separate viewing area, as well as open tanks for examining small marine life like sea stars more closely. Churaumi Aquarium is part of the Ocean Expo Park, a theme park featuring several museums and gardens as well as a beach for swimming.
Mibaru Beach Glass-Bottom Boat Tour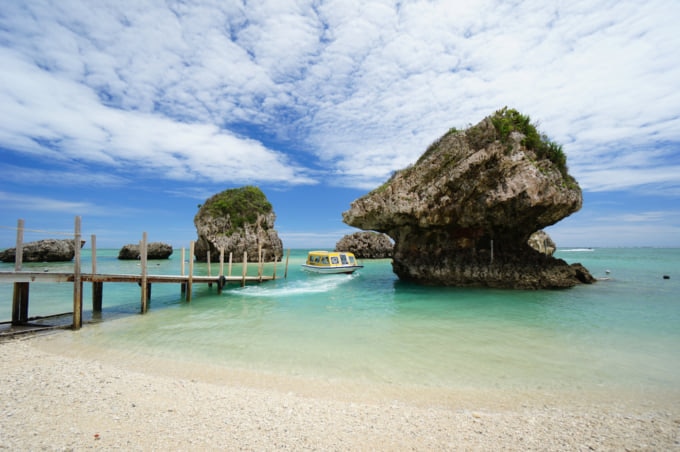 Photo by gitin750809/Shutterstock
Just one of Okinawa's many scenic beaches, Mibaru Beach stretches for about two kilometers on the southern tip of Okinawa's main island. The shallow, tropical waters are home to a vast array of plant and animal species, making it the ideal place for amateur snorkeler to explore. Another of Mibaru Beach's popular activities are glass-bottomed boat rides, offering unrivaled views of Okinawa's marine world from above.
Hiji Waterfall Hike
Photo by Dreamsky/Shutterstock
Along Okinawa Island's western coast, the trailhead for the Hiji Waterfall nature hike leads through a subtropical forest, over sturdy suspension bridges and culminates in the 26-meter drop of Hiji Otaki. The trail is home to various species of native birds, turtles and lizards, so hikers should be on the lookout for local wildlife. The area is also a popular camping destination and there are campsites and picnic areas at the trailhead.
In Conclusion
With its white-sand beaches and tropical blue waters, Okinawa is often compared to the Polynesian Island of Hawaii, the Paradise of the Pacific. Just like Hawaii, the huge variety of activities on offer as well as the scenic landscapes of Japan's southernmost islands attracts visitors from all over the world. From the amateur diver to the equine fanatic, there's surely something for everyone in this sunny island prefecture.