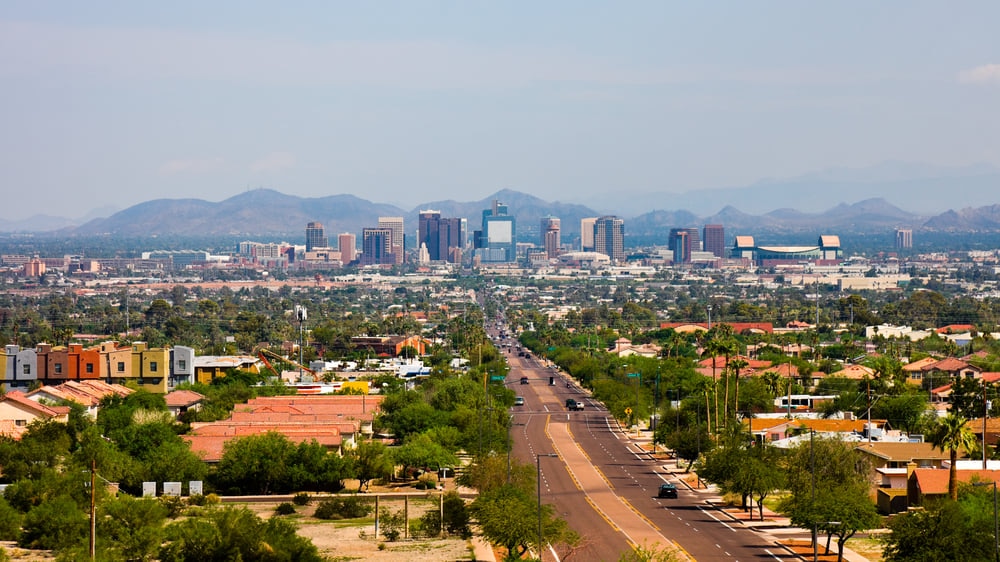 Photo by Andrew Zarivny/Shutterstock
Phoenix: 10 Things to Do in Arizona's Valley of the Sun
Phoenix is Arizona's vibrant state capital and the fifth largest city in the US. The city is known for having some of the sunniest weather on the continent earning its nickname the 'Valley of the Sun'. Located in the Sonoran Desert, Phoenix is often the gateway for visitors traveling to the iconic Grand Canyon, one of the world's most incredible natural sites.
table of contents
[x] close
Phoenix: 10 Things to Do in Arizona's Valley of the Sun
1. Musical Instrument Museum
The Phoenix Musical instrument museum is one of Phoenix's must-visit spots with more than 6,000 instruments collected from over 150 countries making it a paradise for music lovers. Here you'll have the chance to learn about various music equipment in the museum along with discovering each item's history. Make sure to check out the gallery showcasing equipment used by popular musicians such as Carlos Santana and John Lennon while there. You can spice up your visit by playing your favorite songs using some of the old music equipment available for use. The museum is open to the public all day and also offers guided tours.
Name: Musical Instrument Museum
Address: 4725 E Mayo Blvd, Phoenix, AZ
Related Site: http://www.mim.org/
2. Heard Museum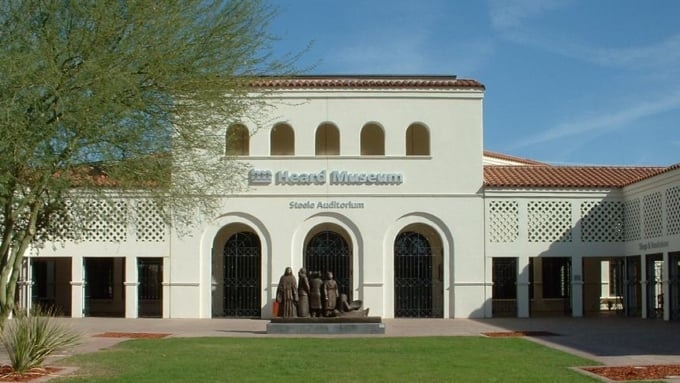 Photo by commons.wikimedia.org
Founded in 1929 by Dwight and Maie Heard, Heard Museum prides itself as the home to Native American culture in the region. The museum is filled with remarkable local stories along with striking artwork made from people in the Native American community. When visiting you'll get the chance to learn about the culture of the native Americans with numerous details from those who come from the Southwest on the US. Catch world-class events and exhibitions that often take place here. There is always something happening on any visit such as music concerts from popular bands, performances from popular singers and various events for kids.
Name: Heard Museum
Address: 2301 N Central Ave, Phoenix, AZ
Related Site: http://heard.org/currentexhibits/
3. Wildlife World Zoo & Aquarium
The Wildlife World Zoo & Aquarium opened its doors in 1962 and is recognized to hold the largest collection of exotic animals that range over 600 different species. It's a stunning attraction where visitors explore, connect and interact with wildlife such as giraffes and lions through feeding them. Enjoy a ride to watch the wildlife around the zoo and also get to interact with the nature here. It's a fun place for children to learn too due to their programs about the environment and the life of wild animals.
Name: Wildlife World Zoo, Aquarium & Safari Park
Address: 16501 W Northern Ave, Litchfield Park, AZ
Related Site: http://www.wildlifeworld.com/
4. Phoenix Art Museum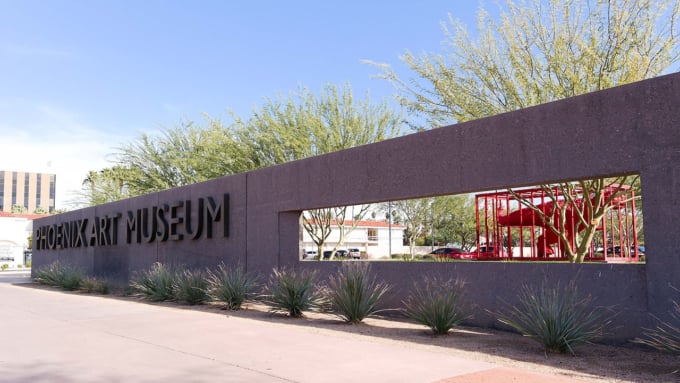 Photo by commons.wikimedia.org
The Phoenix Art Museum is a great tourist attraction surrounded by the magnificent well-manicured Dorrance Sculpture Garden and with collections of a variety of unique exhibitions. It is known as the largest in the number of art on display in America's south-west. It contains beautiful collections of contemporary collections of more than 18,000 works from places all over America, Asia and Europe that are both in permanent and temporary displays. The live performance and colorful events make this place a must visit site during the interactive gallery and educational programs. The garden around this museum is worth visiting as it contains a number of beautiful plants that are both pleasing and eye-catching.
Name: Phoenix Art Museum
Address: 1625 N Central Ave, Phoenix, AZ
Related Site: http://www.phxart.org/
5. Desert Botanical Garden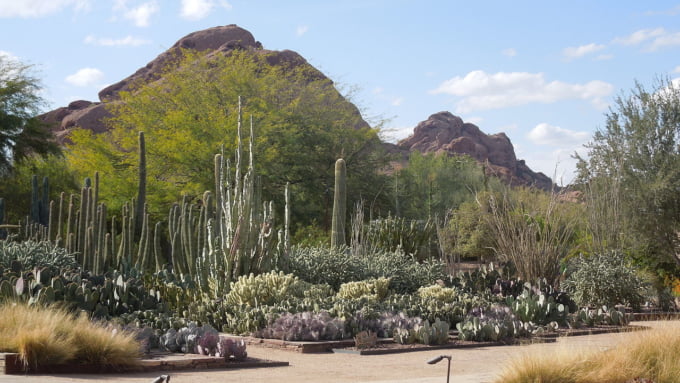 Photo by commons.wikimedia.org
The Desert Botanical Gardens in Phoenix covers an area of 140 acres and was founded by the Arizona Cactus and Native Flora society in 1937. It has a well-maintained garden with more than 21,000 different plants there including a large number of native plants such as the 139 species deemed as rare desert plants. Get to see the rich collections of the agave and cacti that gives a lick of color to the garden. Enjoy picnicking, strolling and walking around as you watch thousands of butterflies that also call the gardens home. There are many areas shaded from the sun though it is recommended to bring some head gear such as a cap, especially when you are exploring the beautiful open scenery around the garden.
Name: Desert Botanical Gardens
Address: 1201 N Galvin Pkwy, Phoenix, AZ
Related Site: https://www.dbg.org/
6. Enchanted Island Amusement Park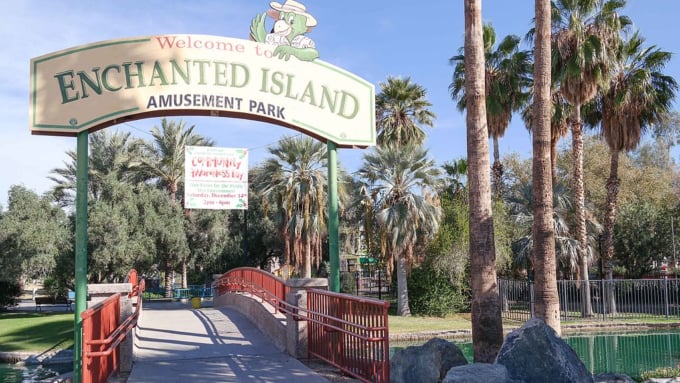 Photo by commons.wikimedia.org
One of the best places in the city to take the family, the amusement park is located on seventh avenue on Encanto Blvd. Packed with fun for kids especially younger children. Kids get to enjoy fun rides that engage them the whole day in popular attractions around the park. Also get fascinated by the fish-filled lagoons, ride on the pedal boat and participate in the fun-filled arcade. There are activities such as bike and cart riding available on rent and train rides.
Name: Enchanted Island Amusement Park
Address: 1202 W Encanto Blvd, Phoenix, AZ
Related Site: http://www.enchantedisland.com/
7. Hall of Flame Fire Museum
The museum is devoted to the preservation of firefighting tools used all around the world and throughout history. It contains numerous artifacts sure to amaze you as you learn about how they were once used. The museum is organized into five areas which showcase the different tools used around the world for many years. It's also combined with the Hall of Fame Fire Museum and the National Firefighting Hall of Heroes that remembers the contributions of firefighters who perished while on duty. Get to see more than ninety items of fire apparatus that dates as far back as 1725 when you join one of the museum tours.
Name: Hall of Flame Fire Museum
Address: 6101 E Van Buren St, Phoenix, AZ
Related Site: http://www.hallofflame.org/
8. South Mountain Park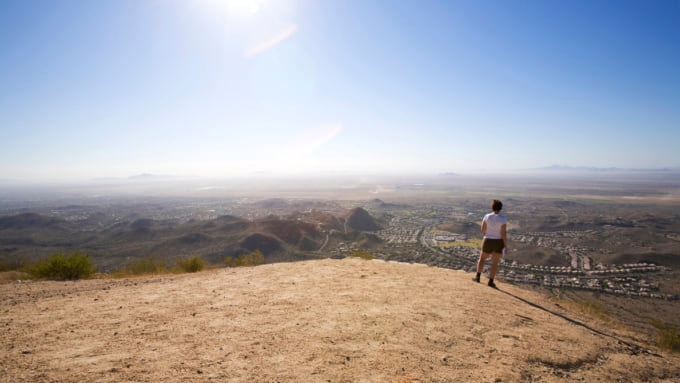 South Mountain Park covers an area of more than 16,000 acres with three different mountain ranges, the Ma Ha Tauk, Gila and Guadalupe. The park is one the largest in the country and boosts of long trails that cover distances of over 51 miles, especially perfect for horseback riding, hiking in the woods and for cycling. Make sure to stop by the Dobbins Lookout point for some gorgeous scenic views into the valley. It's also a great spot for camping although you'll need to apply in advance to do so. Mountain climbing is restricted to specific heights unless on guided tours with professional climbers to avoid accidents so check first before attempting.
Name: South Mountain Park
Address: 10919 S Central Ave, Phoenix, AZ
Related Site: http://phoenix.gov/parks/trails/locations/south/index.html
9. Papago Park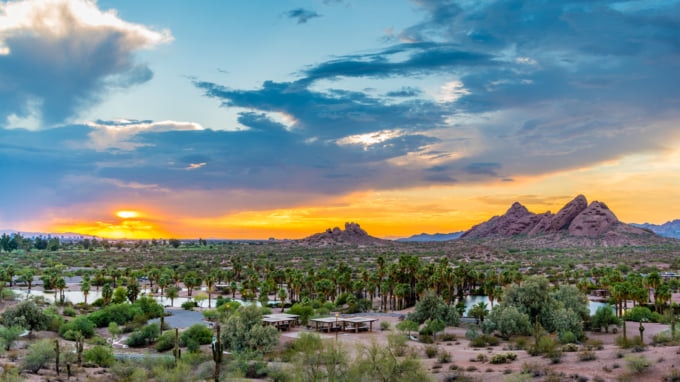 Photo by Gregory E. Clifford/shutterstock.com
Papago Park is located in the downtown area of Phoenix. Home to a number of recreational facilities that make it worth the trip there. It's another of the city's popular hiking spots. Take advantage of the well-maintained trails, being at quite a low elevation it's particularly popular for cycling along with hiking and running. Also make sure to see the first governor of Arizona's tomb, a structure built in the shape of a pyramid as you watch wildlife inside the zoo.
Name: Papago Park
Address: 625 N Galvin Pkwy, Phoenix, AZ
Related Site: https://www.phoenix.gov/parks/trails/locations/papago-park
10. Phoenix Mountain Preserve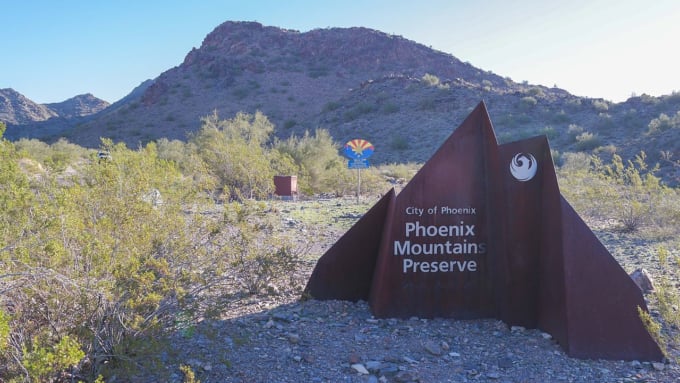 Photo by commons.wikimedia.org
The Phoenix Mountain Preserve is a beautiful natural spot in the boundaries of the city made up from a collection of parks located around it. The Phoenix Mountains Parks and Recreation Area also refers to Piestewa Peak, the pride and natural landmark of Phoenix. The area has a number of great hiking trails in the desert wilderness with spectacular desert plants and animals such as coyotes and roadrunners. The wildlife is breathtaking and you can even see mountain lions if you're lucky along with a number of other endangered animals.
Name: Phoenix Mountain Preserve
Address: 1431 E. Dunlap Ave, Phoenix, AZ
Related Site: https://www.phoenix.gov/parks/trails/locations/piestewa-peak
Conclusion
A city in the midst of the desert, Phoenix offers so much more than just the famous Grand Canyon it's often associated with. Here you'll find historical sites, fascinating museums and national parks and gardens perfect for exploring in the sunny Arizona weather.