Abu Dhabi:An Exciting City with the Largest Cluster of Cultural Buildings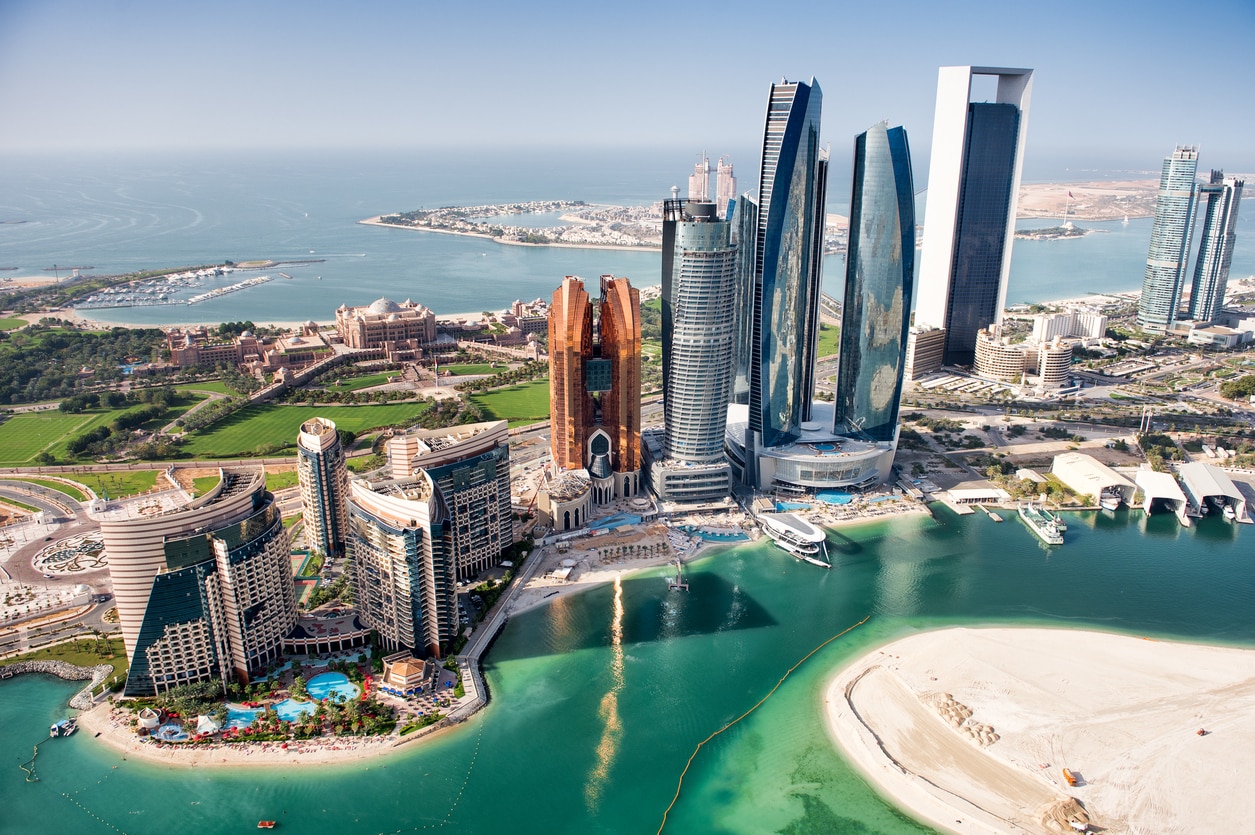 Abu Dhabi is the perfect place to enjoy with Gulf culture where nothing stands still. It offers opportunities to understand the UAE's history through its various attractions. This exciting city has beat some of the world's records some being the highest high tea, the fastest roller coaster among other titles. These are some of the popular sightseeing attractions in Abu Dhabi.
[x] close
Abu Dhabi:An Exciting City with the Largest Cluster of Cultural Buildings:table of contents
1. Sheikh Zayed Mosque
Sheikh Zayed Grand Mosque is the heart of religion in Abu Dhabi. The church is not so ancient as it was constructed between 1996 and 2007. This grand mosque is also the largest of its kind in Abu Dhabi. Many devotees use it for their Friday gatherings and it is also known to host thousands during Eid celebrations. The serene environment and modern art of the mosque are what makes it an interesting sightseeing attraction. Since it is a place of worship, proper decent attire should be worn by both men and women. The mosque opens its doors to visitors from 9 am.

Name:Sheikh Zayed Mosque
Address:Sheikh Rashid Bin Saeed Street, 5th St, Abu Dhabi
Related Site:https://www.szgmc.gov.ae/ar/Home
2. Ferrari World Abu Dhabi
Ferrari World Abu Dhabi is a one if its kind Ferrari-branded theme park in Abu Dhabi. This is the top leisure and entertainment spot while sightseeing Yas Island. Its unique frame boasts as the largest space frame structure ever built. If you are looking for adrenaline while in Abu Dhabi, Ferrari world will give you thrill and more. There are numerous adrenaline rides housed at this theme park with the world's fastest roller coaster existing here too. Since it is open all year round, there is no excuse to miss out on the fun.

Name:Ferrari World Abu Dhabi
Address:Yas Leisure Drive | Yas Island, Abu Dhabi, United Arab Emirates
Related Site:https://ferrariworldabudhabi.com/
3. Emirates Palace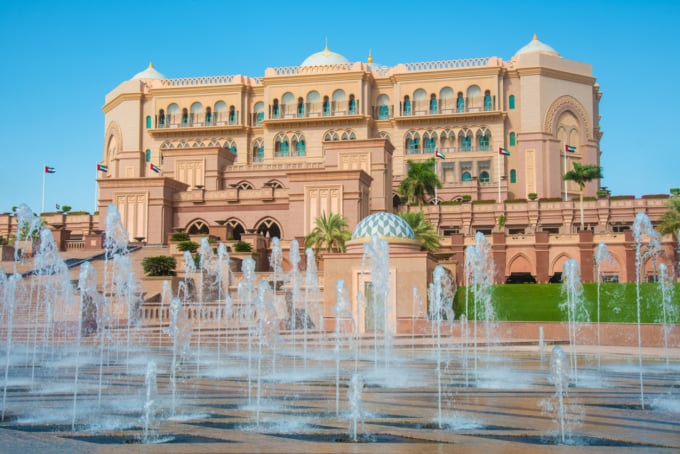 The Emirates Palace is a luxury hotel operated by Kempinski in Abu Dhabi. Some of its striking features are the Arabic architecture at its very best. The whole place is a world of luxury which can be felt immediately one steps foot in the lobby. Various tourists can be seen admiring the place in masses especially the fountain area while others take the opportunity to sample some fine delicacies at the restaurant. Despite being a free place to roam, the restaurant itself has a modest dress code which should be adhered to.

Name:Emirates Palace
Address:West End Corniche, Abu Dhabi, United Arab Emirates
Related Site:http://www.kempinski.com/en/abudhabi/emirates-palace/welcome/
4. Louvre Abu Dhabi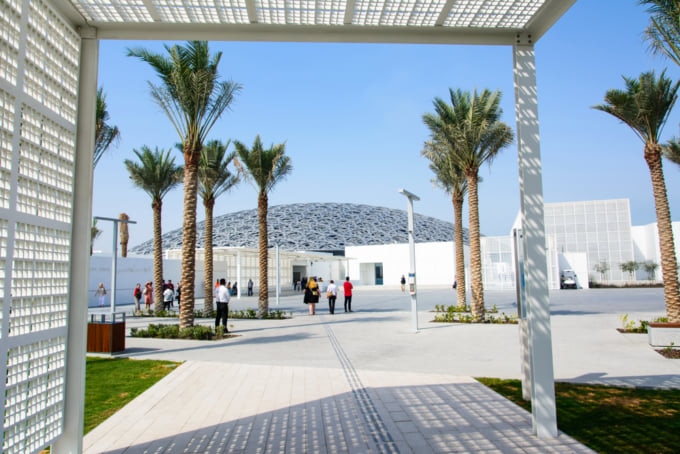 Photo by Creative Family/shutterstock.com
The Louvre Abu Dhabi is an art and civilization museum that is part of a 30-year agreement between the French government and the city of Abu Dhabi. The museum has only been recently established but still stands as the largest art museum in the Arabian Peninsula due to its vast size. There are over 300 items available on the permanent display. The architecture is not to be overlooked as it is very detailed and fascinating. Louvre is the perfect place for sightseeing the remarkable art when it comes to design fused with culture, heritage, and bits of technology.

Name:Louvre Abu Dhabi
Address:Saadiyat Island, Abu Dhabi, United Arab Emirates
Related Site:https://www.louvreabudhabi.ae/
5. Yas Waterworld Abu Dhabi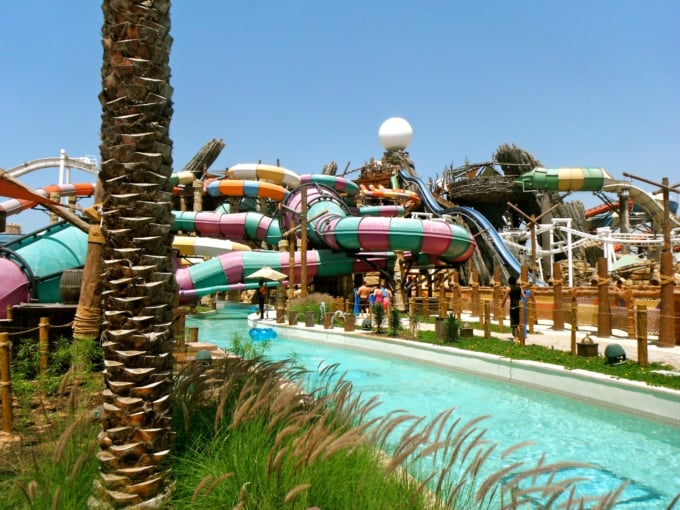 Yas Waterworld in Abu Dhabi is home to the longest suspended roller coaster in the Middle East known as Bandit Bomber. This Yas Waterworld spreads across 15 hectares of land. A brave girl named Dana was the reason behind the theme of this water park. Dana was in the pursuit of finding a lost pearl hence its architecture. All the characters, restaurants and shops are also based on Dana's story. Some of the park's main highlight include hosting the flowboarding championships back in 2013. If you choose to go sightseeing this park, be keen on opening and closing hours.

Name:Yas Waterworld Abu Dhabi
Address:Yas Island Yas Leisure Dr, Abu Dhabi
Related Site:https://yaswaterworld.com/
6. Etihad Towers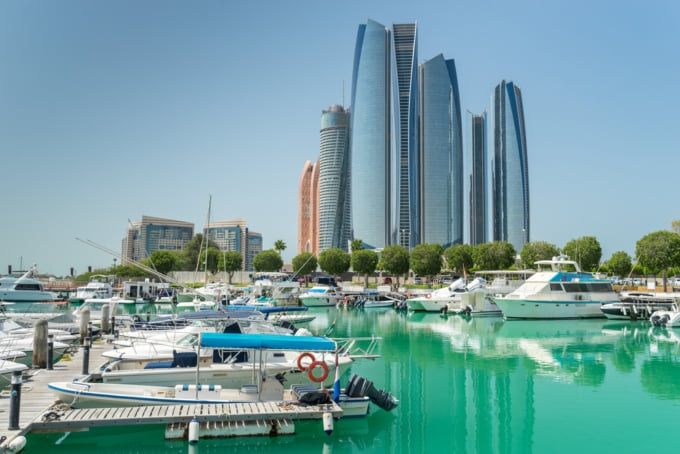 Photo by Gordon Bell/shutterstock.com
Etihad Towers is a huge contemporary yet sophisticated and luxurious hotel in Abu Dhabi comprising of 5 stunning towers that sparkle iridescently in the never-ending sunshine. Sightseeing tourists get an opportunity to get amazing 360-degree views of electric Abu Dhabi and immerse themselves in its modern beauty. Visitors are allowed admission to the observatory deck which is 95 AED but 55 AED can be redeemed for food and drink at the restaurant. This is great because there are a variety of items that cost less than 55 AED.

Name:Etihad Towers
Address:Corniche West St | Opp Emirates Palace Hotel, Abu Dhabi, United Arab Emirates
Related Site:http://www.etihadtowers.ae/
7. Aldar HQ Building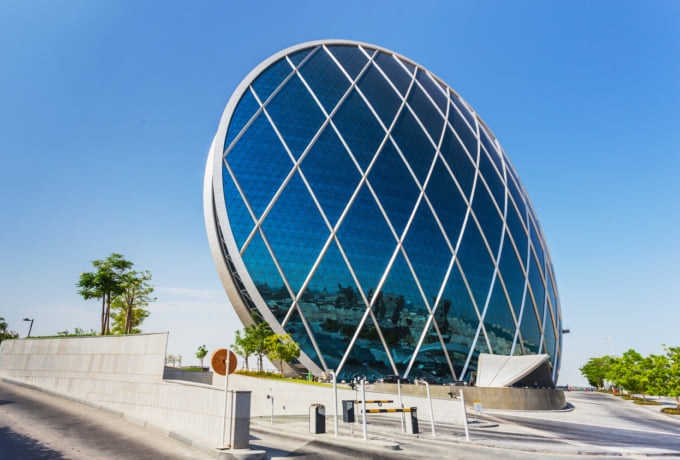 When looking for a one of its kind circular building in the middle east, look no further. The Aldar headquarters building is one that will leave you marveled at its unique coin shape architecture. Its shape is achieved through the use of structural diagrid, a diagonal grid of steel. There are no activities one can part take while sightseeing The Aldar headquarters building as it is not tourist spot for exploration. One can, however, admire its beauty from the exterior while going on a sunset cruise or just driving by. Its interior is nothing but office spaces for rent.
Name:Aldar HQ Building
Address:Al Raha Beach, Abu Dhabi, United Arab Emirates
Related Site:http://www.aldar.com/
8. Heritage Village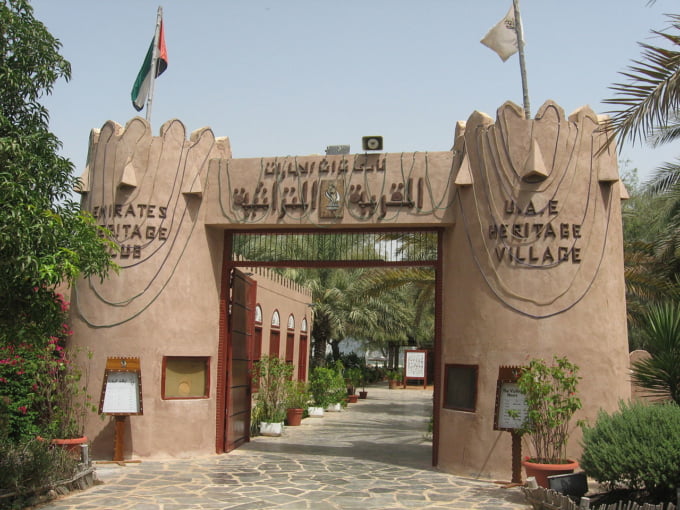 Photo by commons.wikimedia.org
Heritage Village is a great place in Abu Dhabi to experience the traditions of Bedouin and other cultures. It is also a good place to take home some souvenirs.This is because small workshops are thriving in the place. There is a small museum that will enlighten you on how life looked before. There are various exhibits you may be lucky to find such as the monthly culture festivals, carpet, and glass making exhibits among other cultural splendor. Since entrance is free, it is perfect for sightseeing. As a tip of the iceberg, the place is close to the magnificent Corniche beach.


Name:Heritage Village
Address:near Marina Mall, Abu Dhabi Corniche Breakwater
Related Site:https://visitabudhabi.ae/en/see.and.do/attractions.and.landmarks/cultural.attractions/heritage.village.aspx
9. Emirates National Auto Museum
Photo by commons.wikimedia.org
Emirates National Auto Museum in Abu Dhabi is an amazing 'pyramid' housing a collection of around 200 cars belonging to HH Sheikh Hamad Bin Hamdan Al Nahyan. It is one of the fascinating landmarks in Abu Dhabi that it is not to be missed especially for automobile lovers. One of the great exhibits is the Rainbow S Class Mercedes Benz painted in different colors. There are large versions of different vehicles that can be found at this museum which provide interesting photo opportunities. Entrance is just 50 AED per person with children under 10 enter free.

Name:Emirates National Auto Museum
Address:South of Abu Dhabi, Hamim Road, Off E11, Al Dhafra‐Abu Dhabi
Related Site:http://www.enam.ae/
10. Abu Dhabi National Exhibition Center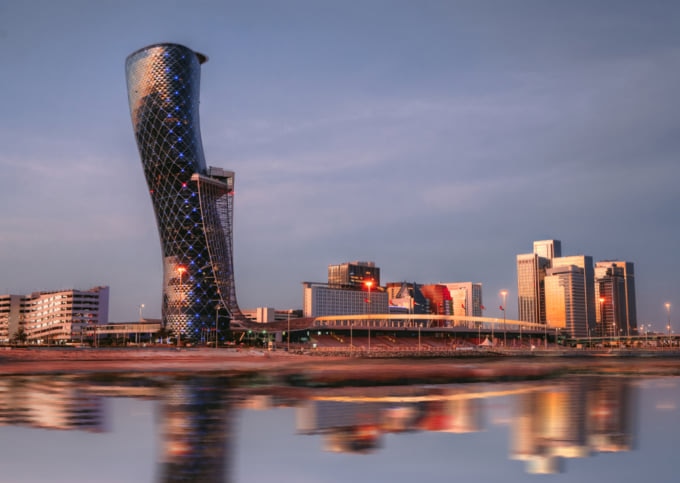 Photo by Kazzazm/shutterstock.com
Abu Dhabi National Exhibitions center is the largest exhibition venue in Abu Dhabi and greater Middle East. It opened its gates in 2007 spearheaded by The President of the United Arab Emirates, Sheikh Khalifa bin Zayed bin God Al Nahyan. There is not much available for sightseeing in this beautiful building apart from its architectural design. Its overhead bridge leading to the marina is absolutely stunning. One is, however, to take caution because photography is prohibited on the premises. The venue is usually used for conferences that can host over 10,000 people.

Name:Abu Dhabi National Exhibition Center
Address:Khaleej Al Arabi Street, Abu Dhabi
Related Site:http://adnec.ae/
◎Closing
Abu Dhabi will have you as a tourist getting lost in Emirati heritage due to the cultural diversity it lies on. This UAE capital will wow you with everything it has to offer. From the many sightseeing activities such as wonderful strolls through dhow harbor, a visit to Abu Dhabi will be a cinematic experience.