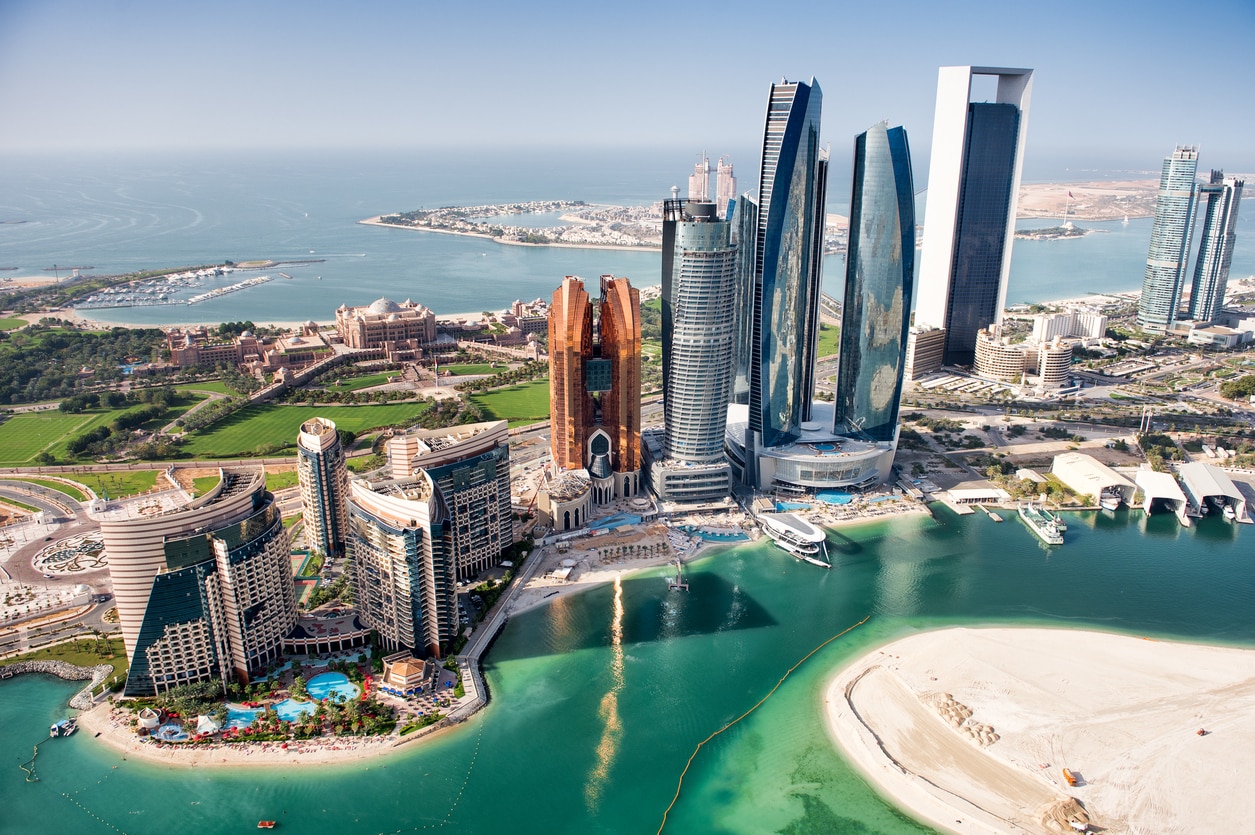 Abu Dhabi: Top 10 Things to do in the Futuristic Gulf City
Abu Dhabi is the perfect place to get a feel for the unique Gulf culture and fast pace of life found around here. You'll find a number of opportunities to understand the UAE's fascinating history and modern face of the city through the various attractions and places of interest. This exciting city has beat some incredible world records such as offering the world's highest high tea, the fastest roller coaster and other various unique titles. If you're heading to Abu Dhabi, make sure to check out these places.
table of contents
[x] close
Abu Dhabi: Top 10 Things to do in the Futuristic Gulf City
1. Sheikh Zayed Mosque
Sheikh Zayed Grand Mosque is the heart of religion in Abu Dhabi and the United Arab Emirates. This grand structure is actually a recent addition, built between 1996 and 2007 it's now one of the largest mosques in the world and arguably the most beautiful with its stark white facade and countless domes. Many devotees use it for their Friday gatherings and it hosts thousands of people during Eid celebrations. The serene environment and modern art of the mosque are what makes it such an intriguing destination. If you're planning to enter the mosque note that you'll need to wear decent attire and not show too much skin.
Name: Sheikh Zayed Mosque
Address: Sheikh Rashid Bin Saeed Street, 5th St, Abu Dhabi
Related Site: https://www.szgmc.gov.ae/en/Home
2. Ferrari World Abu Dhabi
Ferrari World Abu Dhabi is a one of a kind Ferrari-branded theme park in Abu Dhabi located on Yas Island. The unique frame of the building is known to be the largest steel frame structure ever built, but while the building might be impressive in itself, it's not the architecture you're coming here for. If you're looking for an adrenaline rush while in Abu Dhabi, Ferrari World will give you the thrill of your life and more. You'll find numerous adrenaline-pumping rides housed at this theme park along with the world's fastest roller coaster too. Since it's open all year round, there's no excuse to miss out on the fun.
Name: Ferrari World Abu Dhabi
Address: Yas Leisure Drive | Yas Island, Abu Dhabi, United Arab Emirates
Related Site: https://ferrariworldabudhabi.com/
3. Emirates Palace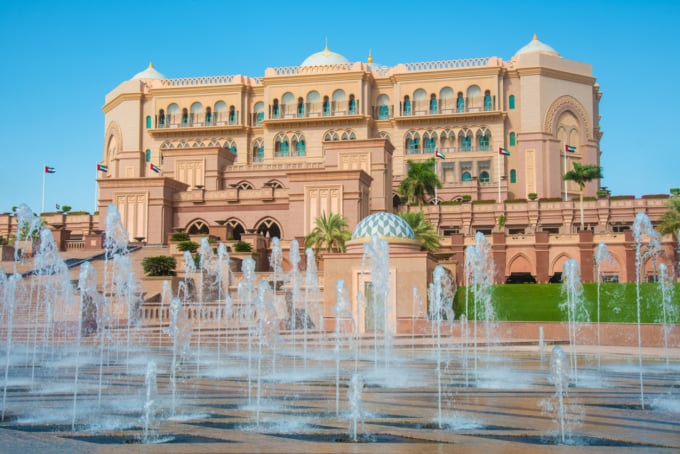 The Emirates Palace is a luxury hotel operated by the Kempinski group in the city. Some of its striking features include the beautiful Arabic architecture, some of the best you'll find in the region. The whole place is a world of luxury which can be felt as soon as you step into the lobby. If you don't quite have a large enough wallet to stay overnight here, it's still worth visiting to look around and admire the beautiful architecture found here along with the stunning fountain area at the front.
Name: Emirates Palace
Address: West End Corniche, Abu Dhabi, United Arab Emirates
Related Site: http://www.kempinski.com/en/abudhabi/emirates-palace/welcome/
4. Louvre Abu Dhabi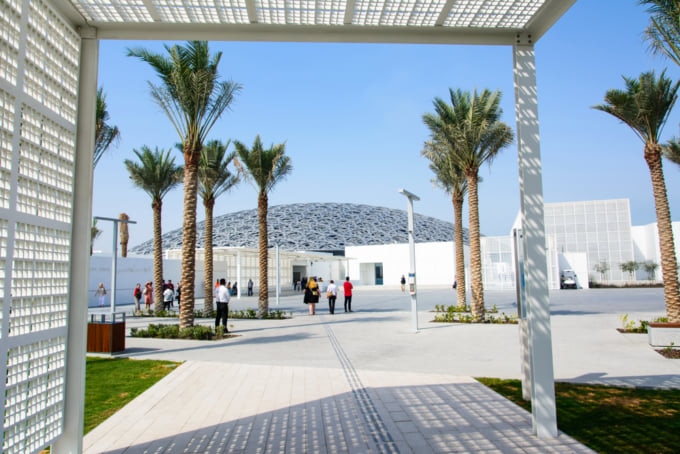 Photo by Creative Family/shutterstock.com
The Louvre Abu Dhabi is an art and civilization museum that's part of a 30-year agreement between the French government and the city of Abu Dhabi. The museum has only been recently established but still stands as the largest art museum in the Arabian Peninsula due to its vast size. There are over 300 items available here on permanent display. The architecture is not to be overlooked as it's both detailed with a fascinating modern flare to it. The Louvre is the perfect place for sightseeing the remarkable art when it comes to design fused with culture, heritage along with technology.
Name: Louvre Abu Dhabi
Address: Saadiyat Island, Abu Dhabi, United Arab Emirates
Related Site: https://www.louvreabudhabi.ae/
5. Yas Waterworld Abu Dhabi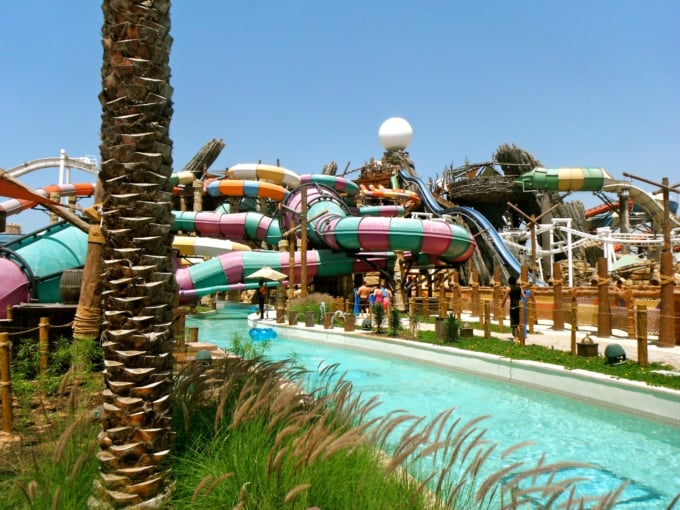 Yas Waterworld in Abu Dhabi is one of the region's most famous water parks, known in particular for hosting the longest suspended roller coaster in the Middle East, known as Bandit Bomber. The park is spread across 15 hectares, you'll find much more than just the standard log flume here with a huge variety of water-based entertainment on offer in its 43 different attractions. Along with providing endless entertainment the park does well to tie in Abu Dhabi's heritage by including the story of a young Emirati girl searching for the legendary pearl as a theme throughout its rides.
Name: Yas Waterworld Abu Dhabi
Address: Yas Island Yas Leisure Dr, Abu Dhabi
Related Site: https://yaswaterworld.com/
6. Etihad Towers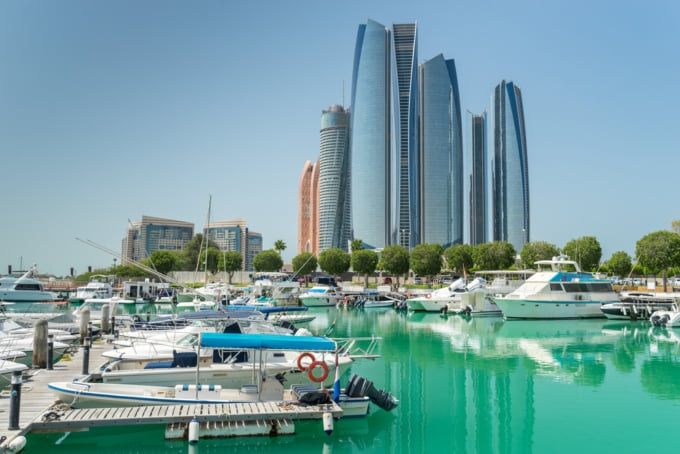 Photo by Gordon Bell/shutterstock.com
Etihad Towers is a huge contemporary yet sophisticated and luxurious hotel in Abu Dhabi comprising of five stunning towers that sparkle iridescently in the never-ending sunshine the city seems to bathe in. Visitors get the opportunity to see amazing 360-degree views of Abu Dhabi and immerse themselves in its modern beauty. You can get tickets to visit the observation deck on the 74th floor which costs 95 AED, although 55 AED is given back as credit that can be used to pay for food or drinks at the restaurant.
Name: Etihad Towers
Address: Corniche West St | Opp Emirates Palace Hotel, Abu Dhabi, United Arab Emirates
Related Site: http://www.etihadtowers.ae/
7. Aldar HQ Building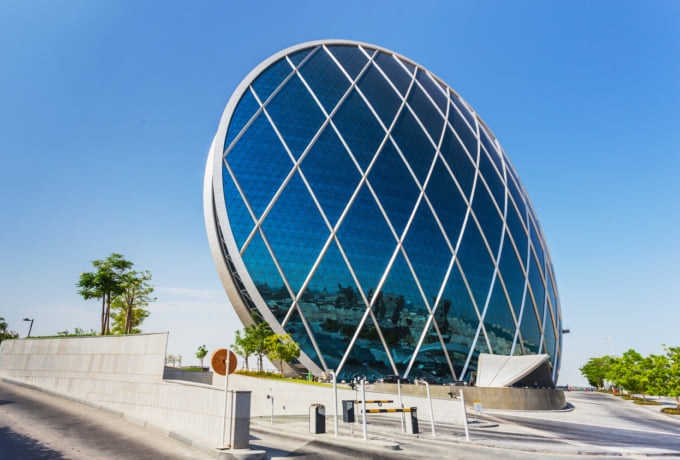 The first circular-style building of its kind to be built in the Middle East, the Aldar Headquarters building features some stunning architecture guaranteed to leave you with a sense of wonder. Its shape is achieved through the use of structural diagrid, a diagonal grid of steel. As the building is just used for the company's offices, there's nothing to actually do inside the building, however its beautiful appearance is well worth checking out when you're visiting the city.

Name: Aldar HQ Building
Address: Al Raha Beach, Abu Dhabi, United Arab Emirates
URL: www.aldar.com/
8. Heritage Village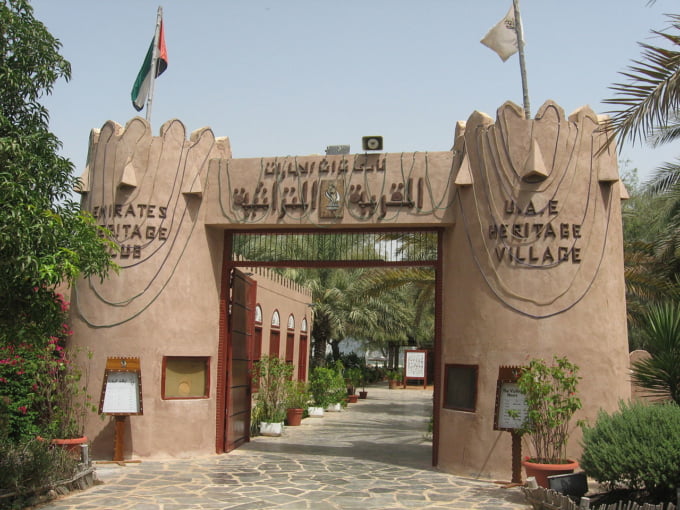 Photo by commons.wikimedia.org
The perfect place to get a feel for the local culture and what Abu Dhabi was like as a small town before the huge oil boom, Heritage Village not only offers historical insight through its museum, but also a small reconstructed village typical of what life was once like there. Seeing the exhibits there and comparing it to the modern new city really gives a perspective of how much this area has changed in the last few decades. Even better the entrance to the village and museum is completely free.
Name: Heritage Village
Address: Marina Mall, Abu Dhabi Corniche Breakwater
Related Site: https://visitabudhabi.ae/en/see.and.do/attractions.and.landmarks/cultural.attractions/heritage.village.aspx
9. Emirates National Auto Museum
Photo by commons.wikimedia.org
Emirates National Auto Museum in Abu Dhabi is an amazing 'pyramid' which houses a collection of around 200 cars belonging to HH Sheikh Hamad Bin Hamdan Al Nahyan. Not to be missed especially among automobile lovers, one of the great exhibits is the Rainbow S Class Mercedes Benz painted in different colors. There are large versions of different vehicles that can be found at this museum which provide interesting photo opportunities. Entrance is just 50 AED per person and children under 10 enter free.

Name: Emirates National Auto Museum
Address: South of Abu Dhabi, Hamim Road, Off E11, Al Dhafra‐Abu Dhabi
Related Site: http://www.enam.ae/
10. Abu Dhabi National Exhibition Center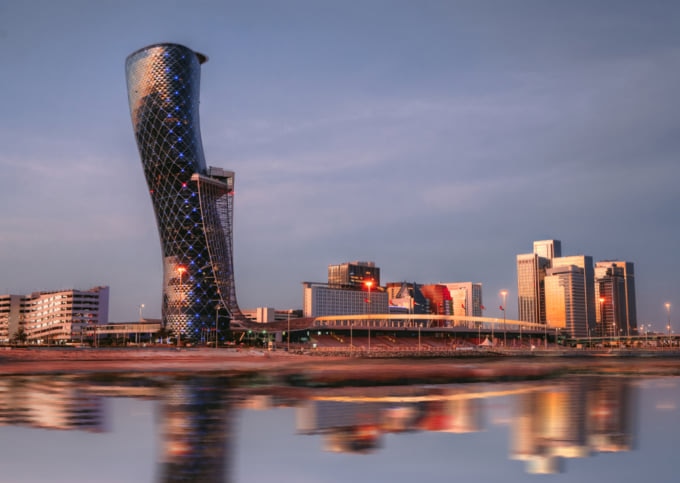 Photo by Kazzazm/shutterstock.com
The largest exhibition venue in the Middle East, the Abu Dhabi National Exhibition Center was opened in 2007 by the President of the United Arab Emirates. The design of the building is particularly stunning with its impressively unique leaning tower that stands out among the complex adding to the skyline of the city. The tower itself isn't actually used for exhibitions, mostly used for office space so there's not a lot to do there. Instead plan ahead by seeing what's being showcased at the exhibition center during the time you'll be visiting.
Name: Abu Dhabi National Exhibition Center
Address: Khaleej Al Arabi Street, Abu Dhabi
Related Site: http://adnec.ae/
Conclusion
Now one of the most modern and developed cities in the world, Abu Dhabi has seen an incredible breakneck pace of expansion in the last few decades, albeit often overshadowed by its nearby neighbor of Dubai. Abu Dhabi offers a side of Emirati culture and heritage you won't find in its nearby cousin however, along with a range of different incredible attractions to keep anyone entertained.