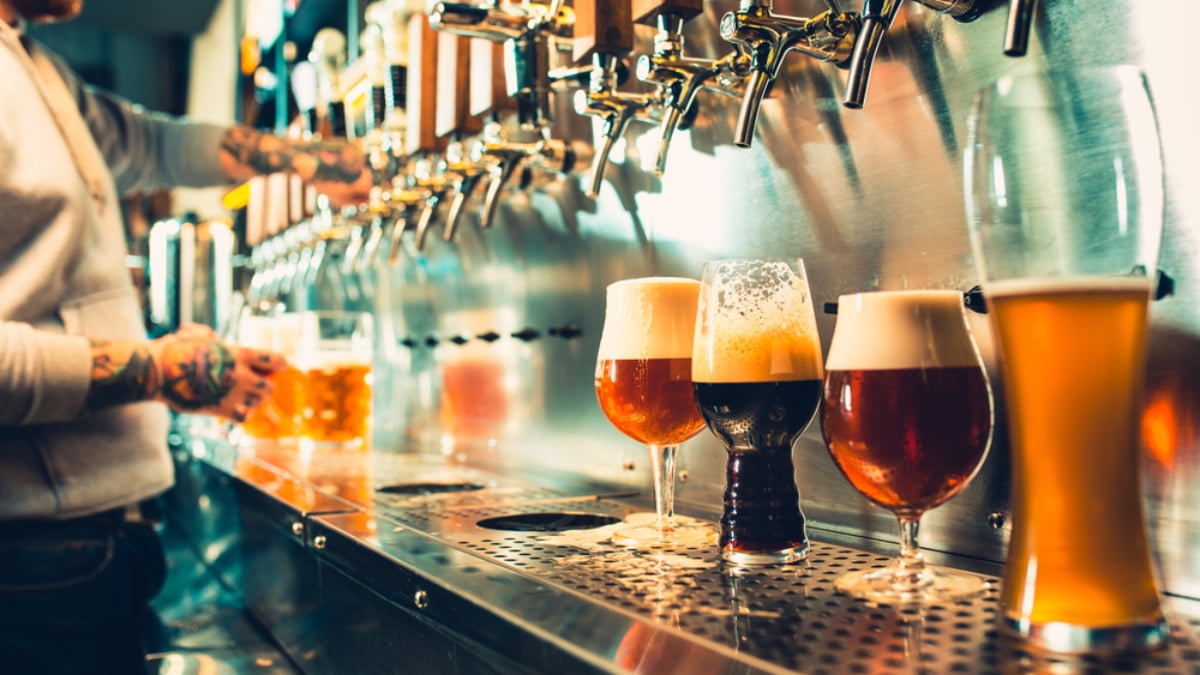 Photo by Master1305/Shutterstock
The Best Craft Beer Breweries and Brewpubs in Toronto
The appeal of craft beer lies in the quality of the brew, the transparency of the brewing process and the appeal of the inherent novelty and rarity of microbrews. Grabbing a drink at one of these neighborhood brewpubs is a completely different experience from downing a Molson Canadian or Coors Light at a corporate-owned sports bar or casual restaurant. Newcomers to Toronto's craft beer scene should head to one of these top craft beer breweries to see why the trend is here to stay.
table of contents
[x] close
The Best Craft Beer Breweries and Brewpubs in Toronto
Amsterdam BrewHouse
One of Toronto's oldest craft breweries, Amsterdam BrewHouse opened back in 1986. Today, the brewery operates three locations, the events-only brewery and retail shop in Leaside, the flagship 500-seat BrewHouse on Toronto's coveted waterfront and their newest brewpub, Barrel House. BrewHouse is the most happening of the three, a place where homemade pub grub meets crisp lagers and full-bodied ales brewed right in-house. Amsterdam BrewHouse is particularly well known for their interesting Adventure Brews which are only available from the retail stores (BrewHouse and Brewery), while their signature blonde ale has been made fresh daily since 1986.
Bandit Brewery
Designed after the beer gardens of Germany, Bandit Brewery's spacious premises on Dundas Street has a casual, welcoming atmosphere and a large patio that fills up quickly in summer. The brewery's mascot, a raccoon, is also the inspiration for the brewery's name. One of their most popular brews is the double-hopped IPA Hive, made with wildflower honey, while their more adventurous beers, like The Wizard of Gose series (fruit and sea salt sour ale or sour cherry gose), are the perfect gateway brews for those new to the craft beer scene.
Rainhard Brewing Co.
Toronto's Stockyards neighborhood, a former meatpacking district, came to unofficially be known as the Ale Yards after a cluster of microbreweries took over the strip. Rainhard Brewing Company, named after founder Richard Rainhard, was the first to pop up in 2015, outfitting an old refinery into one of the city's best and biggest craft breweries. The brewery includes the tasting and tap room, event space and a small retail area for bottle shoppers. The tasting floor is in full view of the brewing equipment and tanks in full view, so fans can get up close and personal with Rainhard's brewing process and philosophy. Dog owners can get a discount for bringing their pooch along on Wednesdays.
Black Lab Brewing
Founded by a couple of canine-loving brew hounds and their black labrador mix, Snoopy, Black Lab Brewing keeps their brewery completely separate from the taproom so humans can enjoy a beer with their four-legged friends (while abiding Toronto's notoriously strict health and safety bylaws). Black Lab Brewing is a little brewery with big aspirations, striving to create a cozy community of beer lovers and bridge the gap between brewer and consumer. The brewery doesn't serve food at this time (those pesky bylaws again) but they do allow outside food to be brought in or delivered. Try their Berczy Kolsch Inspired Ale, named after the canine-themed Toronto fountain, or the Tangerine Kennel Sour.
Radical Road Brewing Co.
Radical Road Brewing Co. opened up in 2019 in the up-and-coming hipster neighborhood of Leslieville on Toronto's east side. While they do whip up some interesting creations, like the cucumber-mint kolsch or the yuzu pale ale, the company focuses on brewing suspiciously easy-drinking crowd pleasers, and you won't find anything too outside the box here. Radical Road rents out the premises for private events, and also manages a portable version of their bar known as the Radical Roadster, a mobile, customizable craft beer bar for weddings, corporate parties and the like.
Junction Craft Brewing
Another Ale Yards institution, Junction Craft Brewing set up shop near Rainhard Brewing Co. in 2018, but has been making handcrafts beers since 2011. The brewery's current location was once a trash incineration plant used by the City of Toronto, built during the Art Deco Era of the 1930s, decommission in the 1980s and carefully restored by Junction Craft Brewing in 2018. The industrial setting is the perfect place to kick back with a freshly brewed ale or join the brewery tour, where you can not just learn about the brewing process but admire the red-brick heritage building once nicknamed 'The Destructor'.
Bellwoods Brewery
Bellwoods Brewery opened up in April of 2012, and is not shy about admitting the hardships of managing their growing brewery because they believe the beer tastes all the better for it. The brewery's popularity comes down to their beers - crisp, fruity pale ales and bold, hoppy IPAs - and they are particularly proud of their imperial stouts, farmhouse ales (saison) and barrel-aged brews. Bellwoods Brewery has won numerous awards from Ratebeer Best, a global community of beer snobs, and the Golden Tap Awards, an annual beer awards events held in Toronto to celebrate Ontario's best craft beer and microbreweries.
In Conclusion
In 2006, there were 88 independently-owned craft beer breweries operating across Canada. By 2018, that number reached 700, and the trend shows no signs of slowing down. Seemingly dozens of brewers have set up shop in the past few years alone, and as Toronto's craft beer market continues to expand, competition between the city's microbreweries, brewpubs and small-scale breweries is fierce. See what all the fuss is about at one of the top microbreweries and craft beer brewpubs in Toronto.