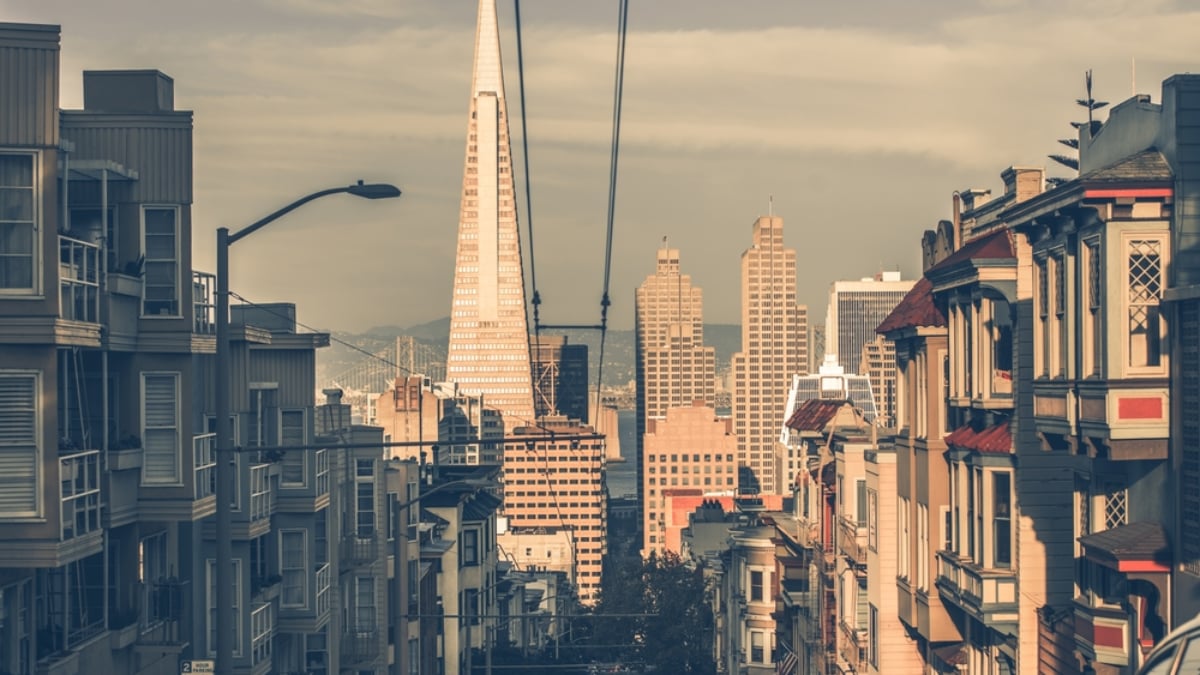 Photo by welcomia/Shutterstock
5 Chic and Luxurious Hotels in San Francisco
As a city that is both packed with exciting excursions and is a pleasure to explore visually, it is no surprise that San Francisco attracts millions of tourists from around the country and the world, every year. To help accommodate this inflow of diverse travelers, San Francisco has everything, from budgeted hip abodes to hotels that take you into a contemporary world of incredible comforts and extravagances. Often as chic and culturally rich as the city they are in, hotels in San Francisco are eccentric destinations with a whole lot of personality.
table of contents
[x] close
5 Chic and Luxurious Hotels in San Francisco
Hotel Zephyr
The nautical-themed Hotel Zephyr seizes the spirit of San Francisco by being in the right place and offering an unparalleled experience. Situated in the famous Fisherman's Warf, its location cannot get any better, especially if you are new in town looking to explore popular spots like Pier 39, Maritime Museum, and Anchorage Square, all of which are nearby.

However, Zephyr impresses guests from the moment they step in with its uber-cool lobby that houses old ship containers, and a hipster game room with a photo booth, table tennis, and a pool table. In tune with San Francisco's trademark as a fun destination, the hotel's yard is a one-of-a-kind interactive space boasting of its very own food truck, games, firepits, and "San Francisco's largest periscope." The guest rooms carry forth the vibrancy of the hotel with colorful rooms that promise all modern facilities. When staying at Hotel Zephyr, pick one of their waterfront balcony-rooms to enjoy magnificent vistas of San Francisco Bay.
Address: 250 Beach St, San Francisco, CA 94133
Hotel Vertigo
A must-visit for movie fans, Hotel Vertigo in Nob Hill was not only the location of Alfred Hitchcock's brilliant suspense thriller, it was the Empire back then, but is presently amongst the trendiest hotels to stay in San Francisco. Although the hotel shares and displays a direct link to the movie, Vertigo plays on a loop in the lobby; there is a sophisticated stylishness about the interiors of the hotel, which celebrates subtle finesse in a fun and friendly manner. Highly Insta-worthy, the vertigo-inducing staircase of the hotel is one of its main draws. However, so are the rooms that come with luxurious accessories like 300 thread count linen, mini-refrigerator, iPod docking stations, WIFI access, en-suite bathrooms, and ample space to make every stay a relaxing break.
Address: 940 Sutter St, San Francisco, CA 94109
Hotel Zeppelin
If the name weren't a dead giveaway, Hotel Zeppelin's interiors would leave you in no doubt that this is a music-inspired residence with oozing chutzpa. Located close to Union Square, guests staying at the hotel are in the thick of the tourist circuit with tour departures, trams, restaurants, and activities all within walking distance. Zeppelin's home is a vintage building with infinite style amplified by the hotel's décor, which exhibits a moody disposition, albeit a rock and roll one. The rooms here epitomize retro-chicness with heavy use of leather and velvet in furnishings, making every stay at Hotel Zeppelin a celebrity-like sojourn.

Each of the bedrooms comes fitted with conveniences like WIFI access, Nespresso coffee machines, blackout curtains, designer work-space, and "hooded jersey robes." Even though it has a novel approach to hospitality, this pet-friendly hotel still attracts business travelers, couples, as well as families.
Address: 545 Post St, San Francisco, CA 94102
Argonaut Hotel
The exposed brick exteriors of the century-old Haslett Warehouse merge beautifully with San Francisco's aura, enticing tourists to step inside and stay at the Argonaut Hotel, a contemporary escape in the heart of Fisherman's Warf. With San Francisco Bay and a host of other attractions around the corner, the hotel's location is ideal for first-time travelers.

Argonaut's uniqueness is in that it charges an "amenities fee" from its guests, but in return offers a host of opportunities to experience better the thrill of being in one of the most revered cities of the world. From bike rentals, dedicated concierge service, and complimentary WIFI to discounts at nearby shops and eateries, the offers more than make-up for the extra money you spend. As an award-winning boutique hotel, the rooms at the Argonaut deserve a special mention. Pet-friendly, spacious, nautical design and boasting of panoramic views, each of the rooms and suites create a bright and welcoming environment. Argonaut Hotel is a San Francisco institution, one that is especially fitting for families traveling together.
Address: 495 Jefferson St, San Francisco, CA 94109
Phoenix Hotel
A multi-sensory feast, it doesn't get any more vivid and animated in San Francisco than at the Phoenix. Situated conveniently by Tenderloin and Little Saigon, the hotel is famous for having hosted music greats over the years, who come to play at the nearby concert halls. The décor and architecture of the Phoenix is a throwback to the classic American motel, but the service and features are that of any deluxe hotel. The poolside central courtyard is one of the chief gathering points in the hotel, always lively and the perfect place to mingle with others.

The 44 rooms, recently refurbished, glow thanks to the rather cool neon lights, bright furnishings, concert posters on the walls, and a hint of retro brought about by additions like vintage in-house telephones. Phoenix's restaurant, Chambers eat + drink, is equally iconic with its massive collection of vinyl on display, 70s-esq sensual temperament, and a menu that features gourmet cuisine made using seasonal produce. When staying at the Phoenix, make it a point to strike up a conversation with the staff, who will let you in on the city's many hidden gems that are otherwise missed by regular tourists.
Address: 601 Eddy St, San Francisco, CA 94109
Conclusion
There's an omnipresent element of joy associated with San Francisco hotels that make them such delightful stay options. Service is almost always paramount, and in most cases, the buildings that house these hotels have their own history that further adds to the charisma of the establishment. When selecting a place to stay in San Francisco, opt for something different; a hotel that shares the attitude of the city, while fashioning a unique individual identity that guarantees a memorable time for everyone who decides to stay there.