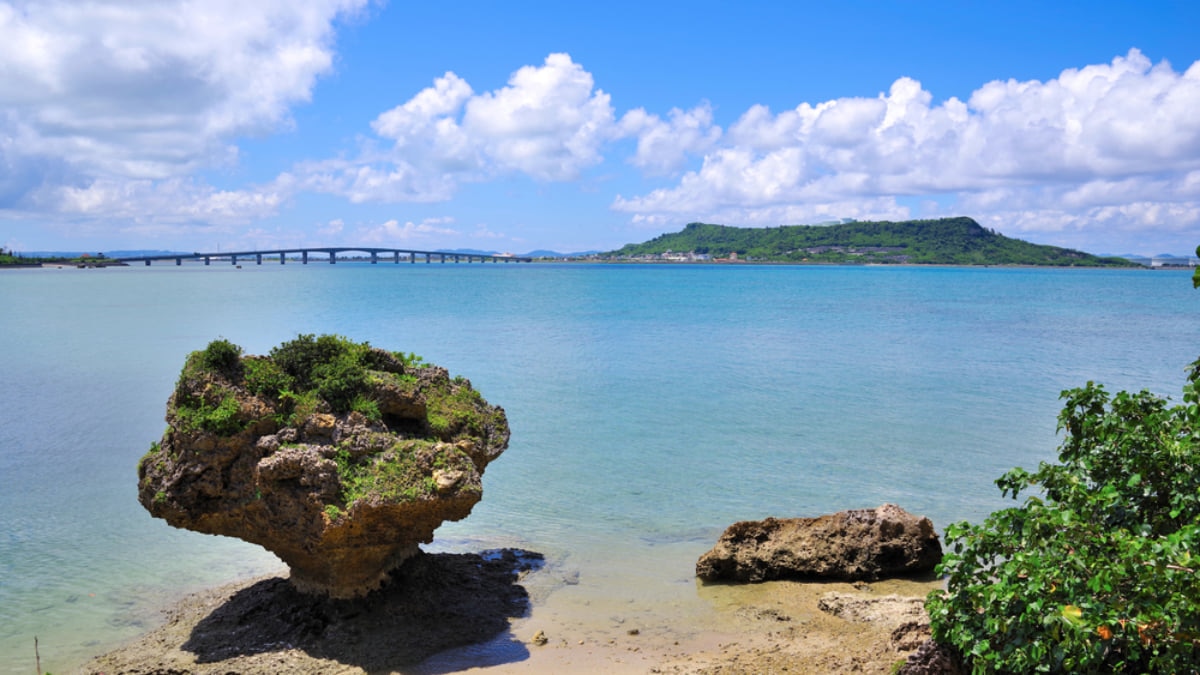 7 Things to Do on Okinawa's Yokatsu Islands
The Yokatsu Islands are a group of eight islands off the coast of Okinawa's main island, part of the municipality of Uruma City. Most of these islands have a thriving tourism industry which promotes their natural beaches and scenic coastal landscapes as well as cultural and historical sites. All but three of the islands are accessible by car, and make for an excellent day trip from Naha City. Discover the charms of these off-the-beaten-path islands just a short drive from Okinawa's main island.
table of contents
[x] close
Kaichu-doro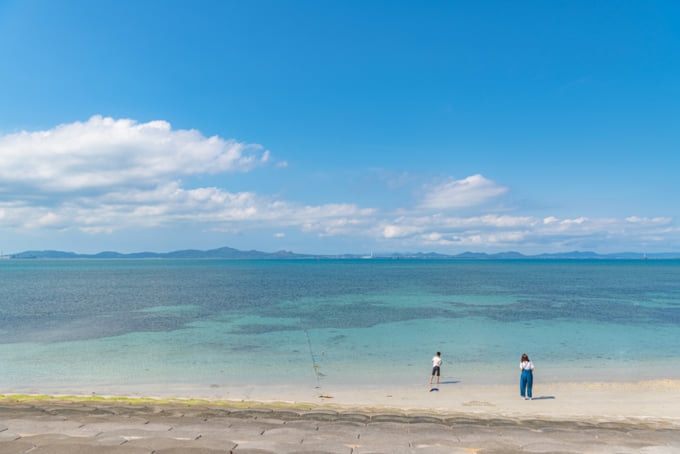 Kaichu-doro or 'Road through the Sea' is a manmade highway connecting Okinawa's main island to Henza Island. The highway was built by Idemitsu Kosan Co., a petroleum oil company, in order to better service their tankers and other facilities located on the island, and the company is still responsible for its maintenance and cleaning today.

Kaichu-doro is popular with casual fishers and offers stunning ocean views. Halfway to the islands is a scenic seaside promenade and beach park as well as restaurants, cafes and the Uruma City Sea Culture Museum. Kaichu-doro is a great introduction to the landscapes and culture of the Yokatsu Islands.
Nuchi-una Sightseeing and Salt Factory, Miyagi Island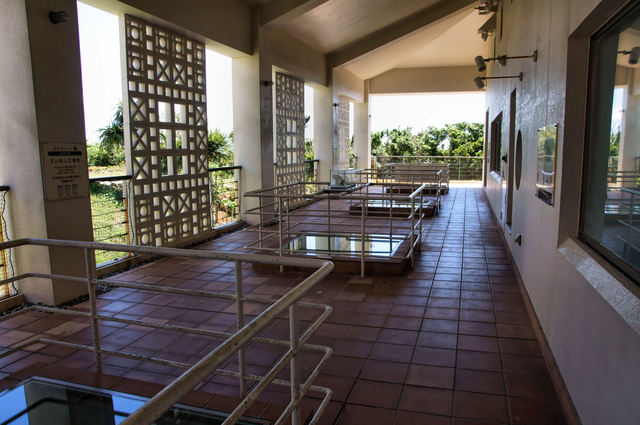 Although Henza Island is mainly used by oil tanker facilities, the residents of Miyagi Island opposed similar plans for their island's development, and Miyagi Island is now known for its beautiful beaches and sugarcane fields. The world's most mineral-rich salt is also produced here by the Nuchi-Una Salt Factory, using their patented refining method. Tours of the small factory are free, but are currently only offered in Japanese, although visitors can choose a self-guided tour as well.

The Nuchi-Una Salt Factory also has a cafe and gift shop where their award-winning salt is available for sale. Across from the factory is Happy Cliff, a scenic spot of sheer cliffs overlooking a picturesque natural cove.
Nakabaru Village Ruins, Ikei Island
Decades ago, an archaeological dig discovered 2,000 year old artifacts at the site of the Nakabaru Village Ruins. The site was reconstructed to show how these villagers lived thousands of years ago during Japan's Jomon Period, and the village is now a recognized Historical Site of Uruma City. The huts are dug into the earth to protect them from the strong winds of typhoons, and unearthed tools revealed that these villagers were mainly fishermen.

Visiting the Nakabaru Village Ruins is free and there are signs explaining the history of the site in English.
Oodomari Beach, Ikei Island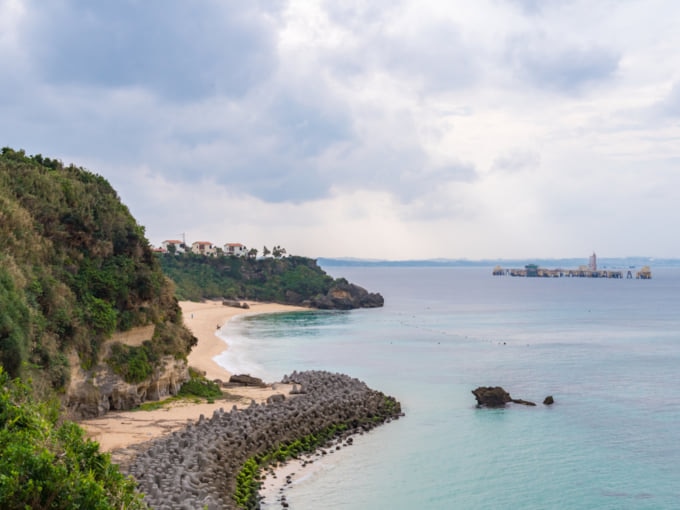 The northernmost of Uruma City's Yokatsu Islands, Ikei Island has several picture-perfect beaches, miles of scenic coastline and dramatic ocean cliffs. Oodomari is the island's premier beach, and offers excellent swimming and snorkeling opportunities. The beach is fully equipped with restrooms, showers and parking, which is included in the 500 yen entry fee.

Oodomari Beach has lifeguards and jellyfish nets as well, so it is perfect for families with young children. Public beaches with no nets, entry fees or lifeguards can be found on the east coast of Miyagi Island.
Tomb of Amamikyu, Hamahiga Island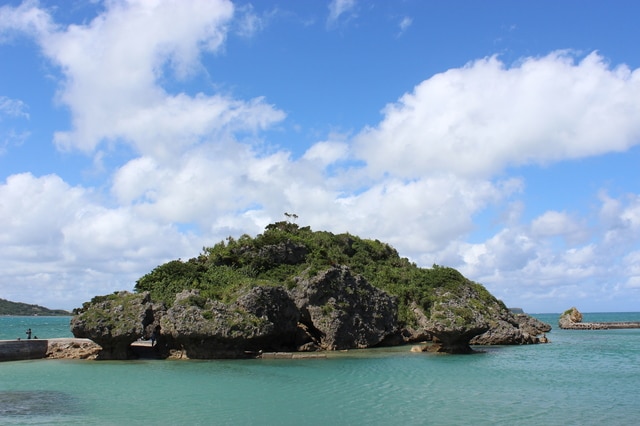 Hamahiga Island is known for its numerous spiritual sites connected to the ancient Ryukyu religion, the indigenous religion of Okinawa. The Tomb of Amamikyu (Amamichuu no Haka) is located on a rocky outcrop on the island's east side, and is accessible on foot.

Stone steps carved into the rockface lead to the tomb, a modest resting place where locals still leave offerings and prayers to this day. The tomb is surrounded by picturesque ocean and natural sea stacks carved by the waves. According to rumor, ancient Ryukyu Noro Priestesses continue to live in Hamahiga in order to be close to this sacred place.
Shirumichu's Cave, Hamahiga Island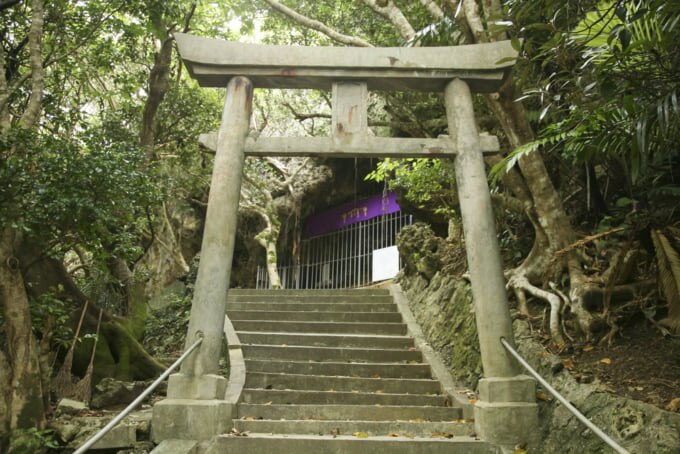 Photo by Japan Image/Shutterstock
Another of Hamahiga's island's sacred spots is Shirumichu's Cave, a natural cave believed to be the dwelling place of the first two Ryukyu deities, the goddess Amamikyu and her consort Shirumichu (Shinerikyu).

Although the staircase leading to the cave entrance is always open, the cavern itself is locked except during the Lunar New Year, when visitors are allowed to enter. A narrow passage with a small, round hollow at the end, those who climb out say it feels like being born again from the womb. Shirumichu's Cave is located on the hillside in a forested area, and visitors are advised to watch out for habu, a poisonous viper native to Okinawa.
Yabuchi Cave Ruins, Yabuchi Island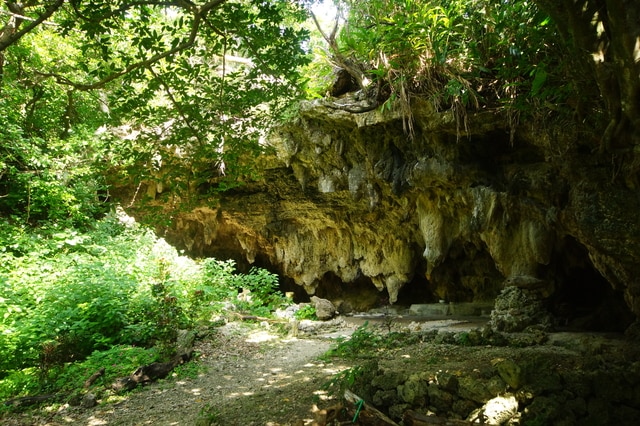 Yabuchi Island is one of the smaller Yokatsu Islands, located off the shore of the Katsuren Peninsula and not accessible via the Kaichu-doro. The island is uninhabited with few roads, and is used mainly for rice farming and tourism, and there are many pleasant beach parks to explore.

The Yabuchi Cave Ruins are on the southeast tip of the island. Ancient pottery pieces dating back 6000 years ago were discovered in 1959, and the caves are open to the public. The caves contain many ancient shrines of the Ryukyu religion. The Yabuchi Cave Ruins are also known by the native Okinawan name Janeh.
In Conclusion
Yokatsu is a Japanese word meaning 'eight', a simple but effective moniker for this group of scenic islands off the Okinawan shore. For historical sites and cultural exploration just a short trip from Naha, not to mention pristine beaches and picturesque coastal views, the Yokatsu Islands of Uruma City are the ideal choice.