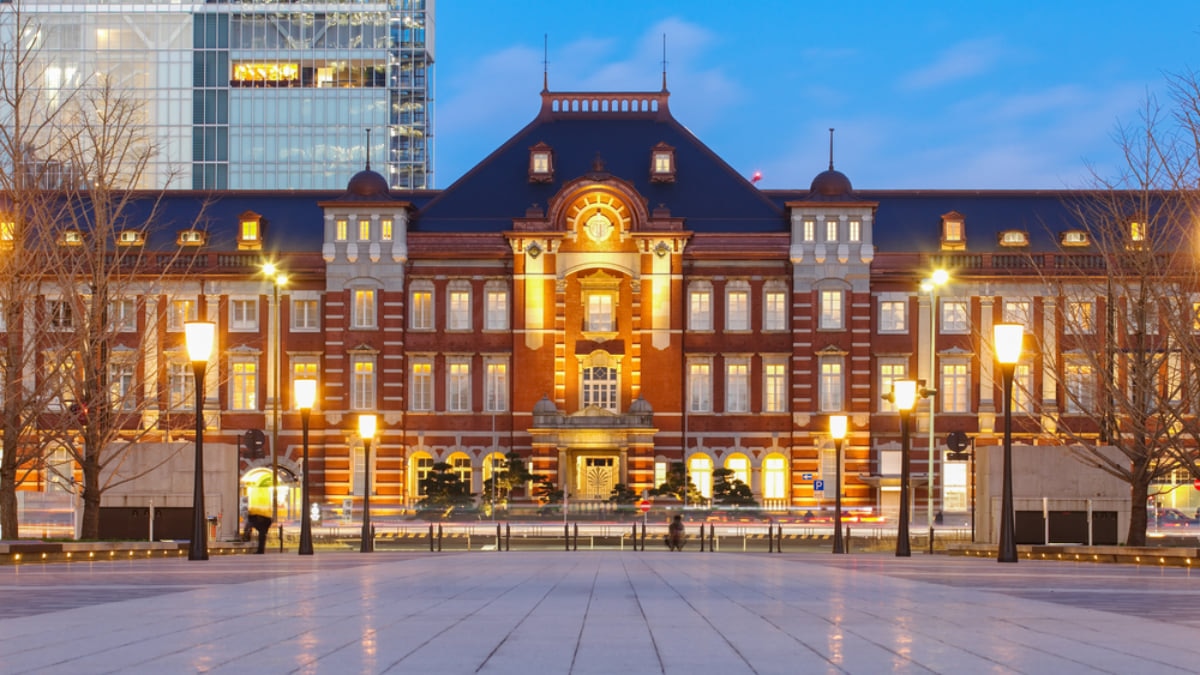 Photo by Sakarin Sawasdinaka/Shutterstock
The Top Things to Do Around Tokyo Station
Whether you just missed your train, got there too early or just want to hit the ground running on your travel plans in Tokyo, the area around Tokyo Station is full of interesting things to do. As the major artery for travel in North Japan and the Kanto area, Tokyo Station is one of the largest and most impressive stations in the world.
table of contents
[x] close
The Top Things to Do Around Tokyo Station
Eat at Ramen Street
Photo by City Foodsters/Wikipedia
Feast yourself on one of Japan's favorite dishes, Ramen Street is chock-a-block full of delicious ramen noodle restaurants. In the underground area of Tokyo Station, the eight different restaurants here are all worthy places to stop and eat, each with their own famous dishes.

Due to its location in Tokyo Station, menus at the restaurants here are translated into English and staff are used to foreign tourists.

For those who don't eat meat or gluten, you can even find gluten-free ramen and vegan ramen here too.
Shop Around Japan at Tokyo's Regional Antenna Shops
Each prefecture in Japan is famous for its local produce, dishes and snacks. Bringing back little sweets or snacks as gifts for your coworkers and friends is customary in Japan and every destination has its own famous 'omiyagi' for visitors to buy. While these tend to be location-limited goods, Tokyo is one exception where you'll find them all.

The area around Tokyo Station is dotted with places known as antenna shops or satellite stores, selling all kinds of goods and foods from a certain area in Japan. For instance, head south of Tokyo Station to Hokkaido Dosanko Plaza and you'll find a wonderland of produce, boxes of chocolates and snacks from Japan's far north in Hokkaido. Almost every prefecture has its shop in the area here, it's the perfect way to see more of Japan for visitors with limited time to explore the country.

While most of the antenna shops aren't actually in Tokyo Station, most of them are a short walk away in places like Nihonbashi, Yurakucho and Ginza.
The Imperial Palace
Photo by Tooykrub/Shutterstock
One of Tokyo's most famous sites, the impressive Imperial Palace, is just a short walk west of Tokyo Station. Encompassing a huge area in the center of Tokyo, while you can't usually actually explore the palace buildings (the royal family still live there) the expansive gardens and foundations of Edo Castle are accessible to the public.

Getting into the grounds usually requires a wait, with the area often closed at times, however you can walk around the outer walls and still get some picturesque photos if you're short on time.
See Some of the City's Best Museums
Photo by Richie Chan/Shutterstock
The area around Tokyo Station is packed with a number of interesting museums well worth taking some time out to explore. For the ultimate convenience, the Tokyo Station Gallery has regularly changing art exhibitions inside the station itself. Head opposite the main station building to Mitsubishi Ichigokan Museum, for another art-filled museum.

For those who aren't so keen on classic arts, the currency museum in the Bank of Japan is quite interesting and well constructed, it's a short walk north of the station.
Explore Tokyo's Craft Beer Scene
If you're looking for somewhere to sit back, relax sip on ale while waiting for your train, Tokyo Station is surrounded by some craft beer pubs and bars. Tokyo Beer Hall and Beer Terrace 14 is perfect for the summer weather with outside seating, something of a rarity in the concrete jungle of Tokyo.

Hitachino Brewing Lab Tokyo offers a wide range of their famous nest beers, known around the world by their 'owl logo'. They often have limited edition offerings available there too.

For the scotch enthusiasts, head to Liquors Hasegawa in the underground area, although space is limited and you'll need to stand, the shop allows people to sample different bottles from just 100 yen, including some Japanese whisky.
Dive into a Shopper's Paradise
It would be easy to spend a whole day exploring the different malls and shops connected to Tokyo Station. Whatever it is you're looking for, there's probably a shop for it around the area. Yaesu Shopping Mall or Yaechika is one of the largest of the malls, located underground next to the station, you'll find almost 200 shops and restaurants here. If you've got more time to kill, head to one of the other nearby malls such as KITTE or Daimaru.
Conclusion
Even if you're not planning to take a train to elsewhere in Japan from Tokyo Station, the area is highly recommended for those visiting the city. Its central location between many of Tokyo's famous sites means getting there is a breeze from almost anywhere in the city.