Jakarta:The Greatest Megalopolises with Surreal Juxtapositions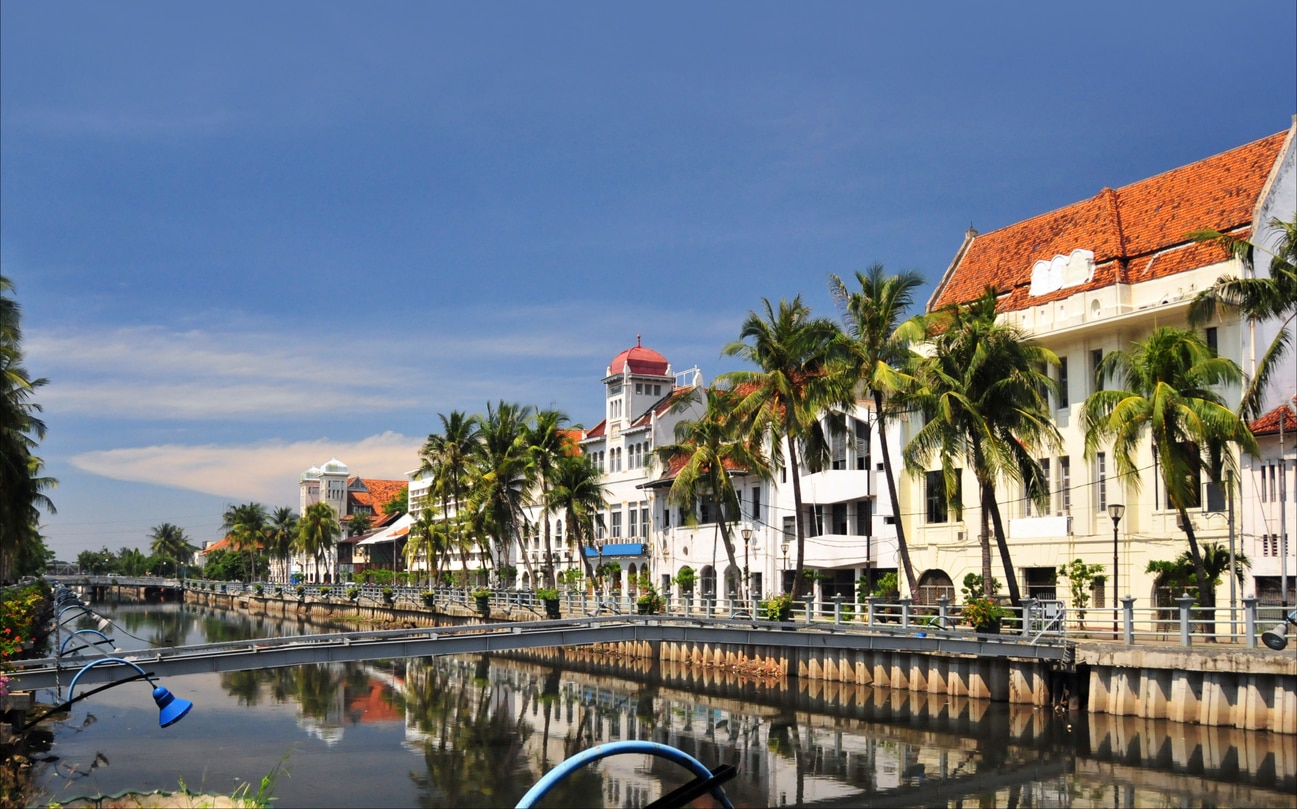 Jakarta is the capital and largest city of Indonesia. It was one of the oldest Hindu kingdoms in Indonesia. Mainly known for historical importance, Jakarta attracts millions of foreign tourists around the year. It's a place for art and culture and a plethora of other spots that attract tourists. In case you are planning for Jakarta, you must know the best spots and also the time of visit which will make it worth the money spent. If you look at the fact of having a museum, shopping malls, 'man-made' architecture and historical sites, there are some reasons which make it one of the most visited places on earth.
[x] close
Jakarta:The Greatest Megalopolises with Surreal Juxtapositions:table of contents
1. Taman Impian Jaya Ancol (Ancol Dreamland)
A beautiful destination for the much required break from all you mundane activities. It is one of the large tourist resort with a lot of amusement activities on the cost of Jakarta Bay, an ideal place for family retreat and enjoyment. The entertainment options are multifold, including water themes, making it impossible to wind up the activities in a day. The fantasy world is a crowdpuller and an international tourist attraction center. It is the only leisure park with marine themes in Southeast Asia. Tourists can participate in marine edutainment activities and also watch the daily Dolphin show. Other wonderful activities you can engage here are watching the freshwater and saltwater aquariums and a bird park. Actions and events never stop here, one or the other shall keep you engaged. You can keep yourself busy with cycling, canoeing, or just relax in the Ecopark or even take part in honey harvesting. Wonderful!!
Name:Taman Impian Jaya Ancol (Ancol Dreamland)
Address:Jalan Lodan Timur No.7, RW.10, Ancol, Pademangan, RW.10, Ancol, Pademangan, Kota Jkt Utara, Daerah Khusus Ibukota Jakarta 14430, Indonesia
Related Site:http://www.indonesia-tourism.com/jakarta/ancol.html
2. National Monument of Indonesia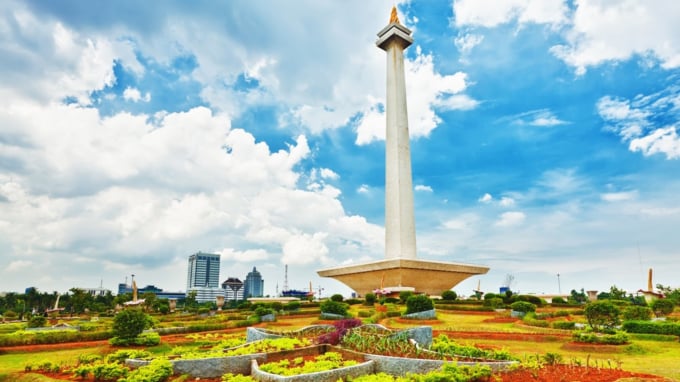 Photo by Khoroshunova Olga/shutterstock.com
The National Monument of Indonesia is a 132-meter long structure situated at the center of Merdeka Square. The National Monument is a symbol of the struggle for independence built on 17th August 1961. Total 284 piles were required to create the structure. Enjoy viewing the national history, hall of autonomy, deck, and other features. An adult ticket demands Rp 10,000. You may enjoy a lift up to the lookout platform and the base for a marvelous panoramic view of the city. Enjoy musical fountain, deer roam the park and other shady trees that give you a feeling of ecological conserve.
Name:National Monument of Indonesia
Address:Gambhir Central Jakarta city, Jakarta, Indonesia
Related Site:https://jakarta.go.id/
3. Cultural Heritage of Old Jakarta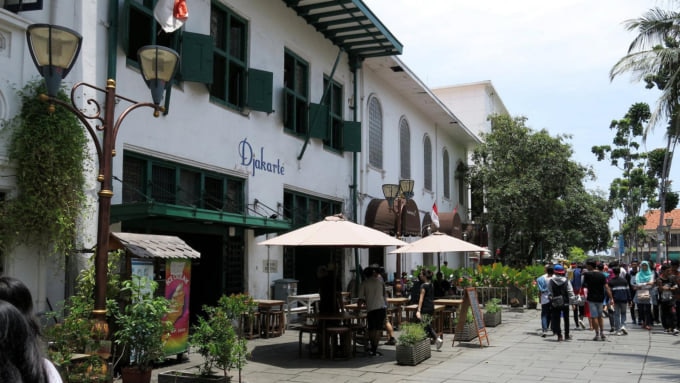 Developed in in 1619 by the VOC, the old town of Jakarta stand to wither the time as a monumental gift to the present generation. The nominated property is mainly in the riversides. They are – west warehouse, old town wall remains, floating warehouse and VOC shipyard. It is a living testimony of all residing cultures where European, Arabian, Indian and Chinese blended perfectly. Besides, you can find the Kalibesar canal and some islands busy with tourism activities. Notable isles are Onrust, Kelor, Cipir, and Bidadari with shipyards.
Name:Cultural Heritage of Old Jakarta
Address:On banks of Ciliwung River, Java, Old Town of Jakarata
4. Indonesia in Miniature Park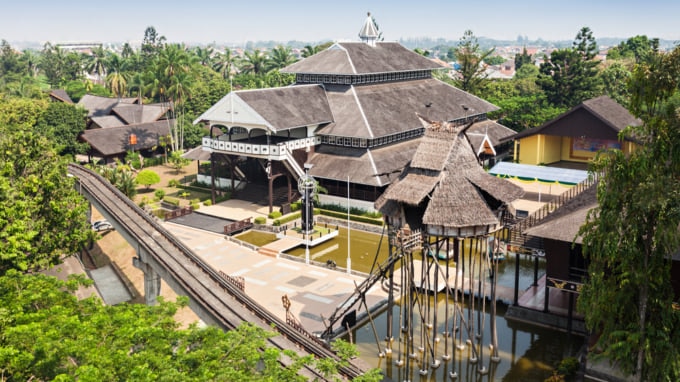 Photo by saiko3p/shutterstock.com
Beautiful Indonesia in Miniature Park (Taman Mini Indonesia Indah) is a shortcut wonder to explore the whole Indonesia in a single spot, beautifully architectured over 100 hectares on the outskirt of Jakarta. Here you can watch the rich cultural heritage of 27 Indonesian provinces and their miniature replicas and ancient architectural wonders. It is surprising feast to watch all provinces meticulously re-carved around the lake. There 27 exclusive pavilions representing each region, and each of them radiate the cultural and traditional identities of the provinces. The pillar of the attraction here is the artificial lake. The project is an initiative of Indonesia's first lady late Madam Tien Soeharto. The complex also a habitat for different varieties of birds including migratory birds, and a beautiful botanical garden showcasing different types of Orchids of Indonesian origin. Apart from all these, the complex also have various exhibition centers for traditional art and cultural forms.
Name:Indonesia in Miniature Park
Address:Jl. Cipayung Raya, Jakarta 13840, Indonesia
Related SIte:http://www.tamanmini.com/pesona_indonesia/
5. Patung Kuda Arjuna Wiwaha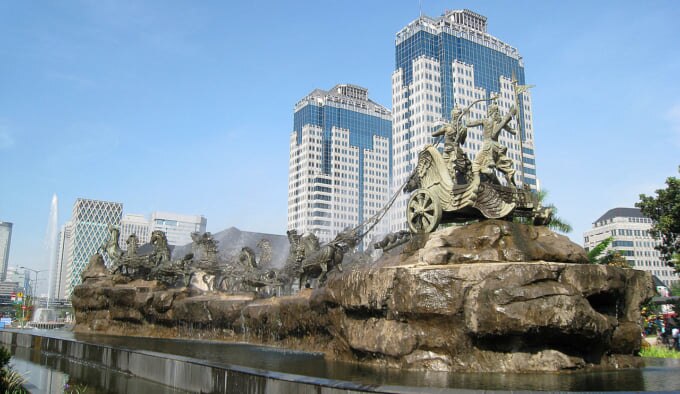 The sculpture based on the idea of the second president of Indonesia, established in 1987. It is also known as Arjuna Wijaya. The cost of visiting is Rp 300 per person. The significance of the statue is that it depicts the natural forces like - Agni (fire), Varuna (air), Surya (Sun), and Jal (water). The structure is centrally located and is a favorite spot for photography also. Enjoy taking photographs with this iconic statue behind. Hindu mythologies had always influenced Jakarta, and the structures represent them.
Name:Patung Kuda Arjuna Wiwaha
Address:Jalan Medan Merdeka Barat, RT.5/RW.2, Gambir, RT.5/RW.2, Gambir, Kota Jakarta Pusat, Daerah Khusus Ibukota Jakarta 10110, Indonesia
6. Ogoh-Ogoh -The Balinese Giant puppet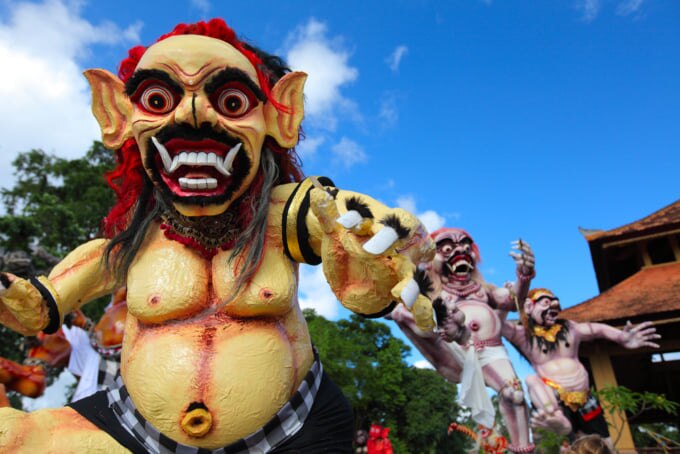 Photo by Dudarev Mikhail/shutterstock.com
It's a giant puppet festival celebrated in Jakarta. The puppets have a scary appearance and parade through villages. It's a kind of giant doll made from light material. The locals believe that by doing a procession with this giant statue, all vices would wash away from human life. Presently machines are using to handle these massive creatures. The Ogoh-Ogoh festival procession carried out prior to Nyepi Day, which is known as the Silent Day. Nyepi Day or 'Day of the silence' of Bali is a new year welcome celebration. The locals believe that if they made some mistakes in the previous year, they should not repeat them this year. The festival celebrated in every year in March and April.
Name:Ogoh-Ogoh -The Balinese Giant puppet
Address:Ultra Beach, Bali, Indonesia
7. Ragunan Zoo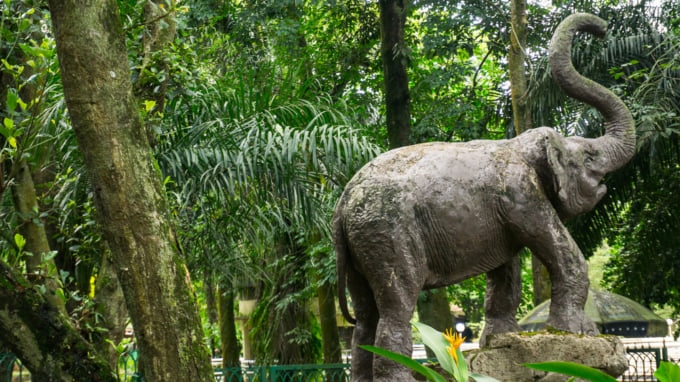 The zoo is sprawled over the 140-hectare zoo and located in Pasar Minguu on the southern side of Jakarta. The total animal specimen present here is 3,122, which include some endangered species. It is more than 150 years old and one of the oldest of its kind. It was established in 1864 by the Dutch East India flora. It exhibits various types of birds, mammals, and reptiles. Some animals of attraction are – hippopotamus, white tigers, wild buffalo, Sambar deer, and Javan wild ox. The zoo was previously at Cikini and moved to present location in 1964 with excellent connectivity.
Name:Ragunan Zoo
Address:JI, Harsano no 1, Ragunan, Ps.Minguu, Kota Jakarta Seletan, Daerah Khusus, Ibukota Jakarta, Indonesia
Related Site:https://ragunanzoo.jakarta.go.id/
8. Jakarta Kota railway station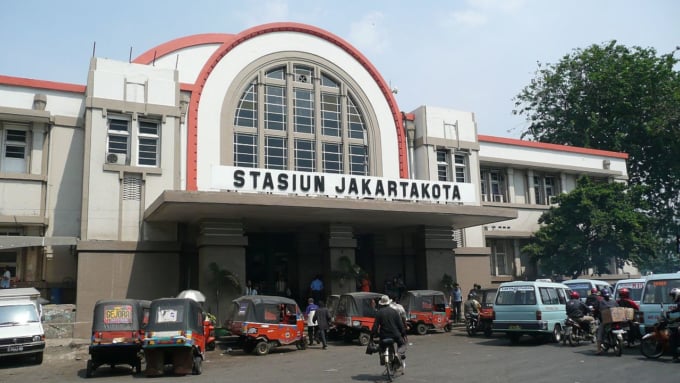 Photo by commons.wikimedia.org
Jakarta Kota railway station was known as Batavia Zuid till the beginning of the 20th century. It serves as the central station thereby connecting Gambhir station, Jatinegara station, PasarSenen station as well as Java Island. The station is the lifeline of Jakarta and primary point to commute between cities. If you are planning a visit to Jakarta, then you have to visit this station as it will connect you to the other stations. The design was done by a Dutch architect Frans Johan Louwrens Ghijsels, using a combination of local and European Art Deco style. The station floor characterizes rough textures ceramic brown and whole building covered with greenish yellow plaster gives a majestic appeal.
Name:Jakarta Kota railway station
Address:Jakan Lada, Pinangsia Tamansari, Kota Jakarta Barat, 11110, Indonesia
9. Jakarta's Catholic Cathedral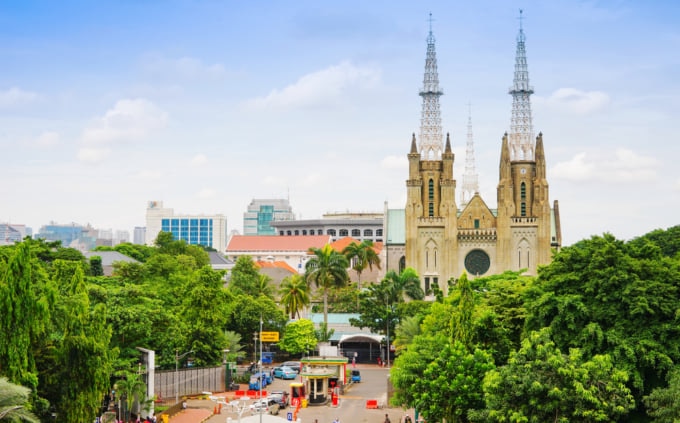 Photo by MOROZ NATALIYA/shutterstock.com
The Roman Catholic Cathedral is a neo-gothic style monument located on the northern edge of Lapangan Banteng, the Banteng Square, built during the Dutch colonial period. The present structure was a reconstruction of the old cathedral built in 1829, which was collapsed in 1890. The new church built in 1901 over the ruins. The cathedral is dedicated to Virgin Mary and bears the official name, Gereja Santa Maria Pelindung Diangkat Ke Surga, which means the 'Church of Our Lady of Assumption. The Cathedral designed to look like a cross from the entrance. Even though the church seems built in neo-gothic style, it has used thick read adobe and used plaster to cover, and given patterns look like natural stone construction. It has three altars, on the left side is the Altar of Saint Mary, on the right is Saint Joseph and the central altar, the most celestial one. The magnificent central altar, gold cross, and tabernacle are made in the Netherlands in the 19th century and installed here in 1956. It is one of the foremost tourist destinations in Jakarta.
Name:Jakarta's Catholic Cathedral
Address:JI, Suryo No. 62, RT1/ RW 4, Rw, Bar, Kby, Baru, Kota Jakarta selatan, Daerah Khusus Ibukota Jakarta 12180, Indonesia
Related Site:http://www.katedraljakarta.or.id/
10. The National Museum of Indonesia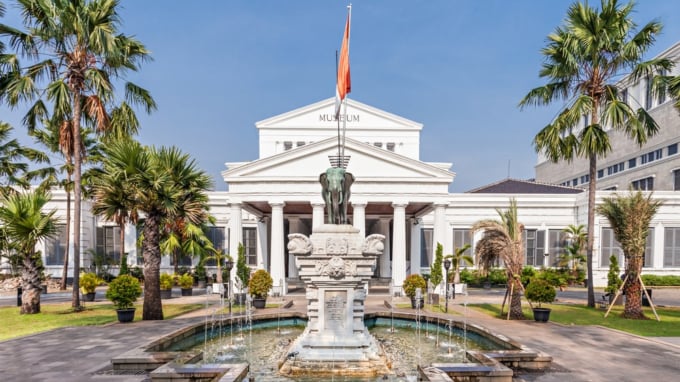 Photo by saiko3p/shutterstock.com
Located in Jalan Medan Merdeka Barat, precisely on the Central Jakarta, on the west side of Merdeka Square, the National Museum of Indonesia is a treasure of archeological and historical artifacts. The museum has an extensive collection of historically significant materials depicting almost everything dated back to two hundred years. On the forecourt of the museum welcomes you the colossal bronze elephant statue dating back to 1871, gifted by Siamese King Chulalongkorn, which is also a reason for calling the museum as, "Museum Gajah (elephant)." The museum has a lot of collections reflecting Hindu-Buddha stone engraved statues, mainly God and Goddess of Hindu deities and Shi Buddha, the founder of Buddhism. The museum was an initiative of Duch scholars, started in 1778, under Royal Batavian Society of Arts and Sciences. Its initial aim was to collect and preserve ancient scripts and literature and gradually turned in to gathering archeological remnants. Tourist with interest in history and human civilization has a lot more to see in this museum, and the admission is against entrance fee, for adult $ 0.37 and children $ 0.15. Monday is a holiday for the Museum.
Name:The National Museum of Indonesia
Address:Jl. Medan Merdeka Barat No.12, Central Jakarta, Jakarta, Indonesia.
Related Site:http://www.museumnasional.or.id/
◎ Closing
Indonesia is a land of varied culture. Here, you can see the influence of Hindu mythology, Buddhism, and Chinese culture. Plan your time efficiently and make sure that you visit all the top attractions. Ask your guide to drop you at significant places, enjoy photo session and also the local food. If you are an ardent admirer of culture then never miss the traditional doll march and take part in their New Year celebration. Starting from Mederka square and ending in the Ogoh-Ogoh festival, try to attend and enjoy every moment. Indonesia is a country where you can enjoy activities of your interest. You will see a miniature Asia; make sure you enjoy to your heart's content and cherish these moments for years to come.