Tashkent:City with the Perfect Blend of Architecture
Tashkent is the city full of history and is the capital of Uzbekistan. The population of the city is somewhere around 3.0 million people and therefore is known to be the largest city in the central Asia region. In this large city there are several relics of Muslim history. The historical architecture with development and modern buildings give this city a very unique blend of culture that makes this city beautiful and sets it apart from many other cities in the world. The foundations of the city were already set in 3rd to 5th BC. Since there many invaders and natural calamities have damaged it several times but it is still full of historic monuments and amazing spots.
[x] close
Tashkent:City with the Perfect Blend of Architecture:table of contents
1. Chorsu Bazaar
Photo by Milosz Maslanka/shutterstock.com
Chorsu Bazaar is a place you should go first if you are in Central Asia for the very first time in your life. This is because this amazing bazaar is the most important market place of the central Asia as it gives you the very accurate experience of what it is like trade on the historical Silk Road. The market was originated centuries ago and then the soviets solidified its place in the region and gave it a building with a blue dome. The place is always buzzing with locals so anybody trying to know more about the culture and trends in Tashkent should definitely visit this place. The place is brimming with all kinds of fruits and meats. You can find all sorts of things ranging from food, handicraft, garments etc etc. Anything your heart desires you can find at this place. Kurut, a local snack made out of dried cheese balls is a highly recommended thing to be bought in the bazaar. They are sold all around the city but Chorus bazaar has a hundred types of kurut.
Name:Chorsu Bazaar
Address:Beruni Ave, Tashkent, Uzbekistan

2. Hotel Uzbekistan
Photo by Milosz Maslanka/shutterstock.com
The early soviet buildings in the city are just so beautiful and Hotel Uzbekistan is one of them. Their massive and majestic concrete structures are simply glorious. Hotel Uzbekistan is very old structure and has an old fashioned yet magnificent look.

Name:Hotel Uzbekistan
Address: 45 Mirzamakhmud Musakhanov Street, Tashkent, Uzbekistan
Related Site:http://www.hoteluzbekistan.uz/en
3. Tashkent Metro
Photo by commons.wikimedia.org
Tashkent was hit by a horrific earthquake in 1966 which destroyed a major portion of the city. The old part of the city was specifically more damaged than they modern one. Since then people have worked hard to restore it to its original glory and for that they hired architects and planners from all over the Soviet Union to fix the city. This resulted in a city that has the classic soviet model. These architects built wide roads, majestic buildings and a good number of parks. They also made Tashkent metro. It was considered to be the most ambitious plans of that time. It replicates the metro system what was already working in Moscow and Saint Petersburg. To add a little more splendor to it they wanted to make it a great masterpiece of art. The whole network is built deep into the ground and is immensely gorgeous. The stations are adorned with pretty mosaics and regal candelabras. You can spend hours in there going up and down and admiring the beauty of the place.
Name:Tashkent Metro
Address:Little Ring Rd, Tashkent 100097, Uzbekistan
Related SIte:http://mapa-metro.com/en/uzbekistan/tashkent/tashkent-metro-map.htm
4. Various Statues
Photo by V. Smirnov/shutterstock.com
The city of Tashkent is filled with various statues each representing a specific history event or part city's history. They are all made by various famous artists. Some of them are hilarious to look at while other stand there is all their glory taking your breath away.
Name:Statue of Amir Taimur
Address:45 Mirzamakhmud Musakhanov Street, Tashkent, Uzbekistan
5. Central Asian Plov Center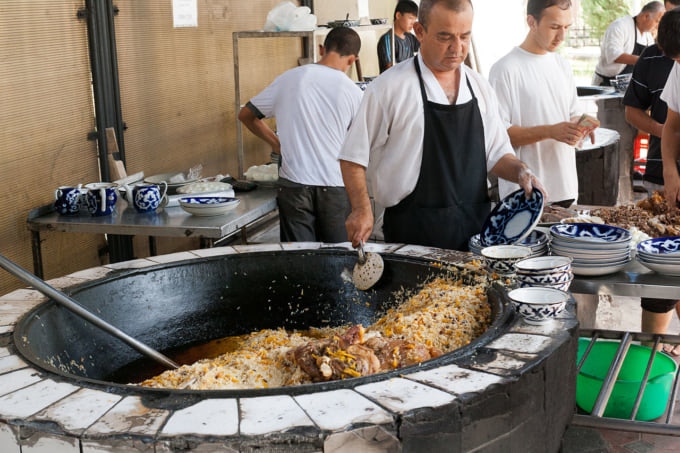 Photo by commons.wikimedia.org
Plov is a famous Asian dish in central Asia. It is basically different kinds of meats, rasins and carrots all cooked in lamb fat. Of all places in Central Asia, Tashkent is the city which makes and consumes the most Plov. This is a delicacy that is eaten every day. Tashkent is famous for being the place that makes the best Plov in the central Asia. It is cooked in massive portions set to feed hundreds of people
Name:Central Asian Plov Center
Address:1 Guards Colonel Khodjaev Street, Tashkent, Uzbekistan
6. Tashkent TV tower
Photo by Paul_Globetrotter/shutterstock.com
After a delicious meal at the Plove Center the next best thing to do would be to Tashkent Tower. Just walk for five minutes and you will find yourself standing in front of a 375 meters high TV tower. Tashkent TV Tower is famous for being the tallest building in the Central Asia. You can go as high as 96 meter to the observation deck. You can see the entire Tashkent Skyline from there.
Name:Tashkent TV tower
Address:109, Amir Temur Str., Tashkent, Uzbekistan
Related Site:http://tv-tower.uz/
7. Hazrat Imam Complex
There are several Islamic monuments scattered through the city and Hazrat Imam Complex is one of them. With its turquoise domes and a grandiose mosque Hazrat Imam Complex certainly is the best of them all. This is the main attraction in Tashkent for many Muslim tourists and also for those who appreciate some great architectural work. The complex also has the Muyi Mubarak Library which houses the oldest Quran scriptures.

Name:Hazrat Imam Complex
Address:Zarkaynar Street, Tashkent, Uzbekistan
8. Kulkedash Madrassa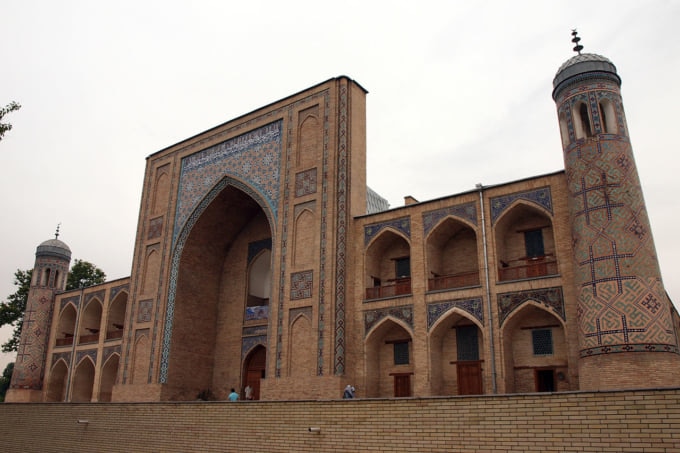 Photo by commons.wikimedia.org
Kulkdash Madrassa is another tourist attraction because it is a very old school which was first established in the 16th Centurary. It was then changed to a fortress where people gathered for public executions. This is important because it is the most historic buildings in town. It was badly damaged by the 1966 earthquake but then it was later reconstructed very masterfully in the 20th century. The school building has a stunning courtyard full of colors. You can just sit there for hours and hours and enjoy the peace and tranquility around you.
Name:Kulkedash Madrassa
Address:Beruni Avenue Relief Road, Tashkent, Uzbekistan
9. Amir Timur Museum
Amir Timur Museum houses all the important monuments representing the cultural and political history of the city. It was built in 1996 and is a dedication the Mongol warlord named Amir Timur. The museum has a blue cupola which is very similar to the one Gur-i-Amir musaleum in Samarkand. The museum has medieval era inspired architecture with a very modern touch.
Name:Amir Timur Museum
Address:Temirlane, Tashkent, Uzbekistan
10. Lal bahadur Shastari monument
Lal Babadur Shastri was the second prime minister of India. After a ceasefire of second Indo Pak war in 1965 Pakistani President Muhammad Aybu Khan and the Indian Prime Minister Laal Bahadur Shastari came to Tashkent for peace talk and signed an agreement. Next day the Indian Prime Minister died as a result of cardiac arrest and thus the monument was built and the street was named after him

Name:Lal bahadur Shastari monument
Address: Lal Bahadur Shastri Monument, Shastri St, Tashkent, Uzbekistan
◎ Closing
Tashkent has a series of hotels and motels for you to stay in. You can stay in Backpacker hostels and arrange for you the letter of invitation that you might need to get an Uzbek visa. If you are not a backpacker or a student on budget then you can always opt for Budget Hotel which are great. For a small amount of additional price you can have your own room and better facilities. If you want something fancier you can always go for the mid-range or the top end hotels. The transportation is not so expensive in the city. You can choose Metro, or Taxi or the Marshrutka to commute around the city.