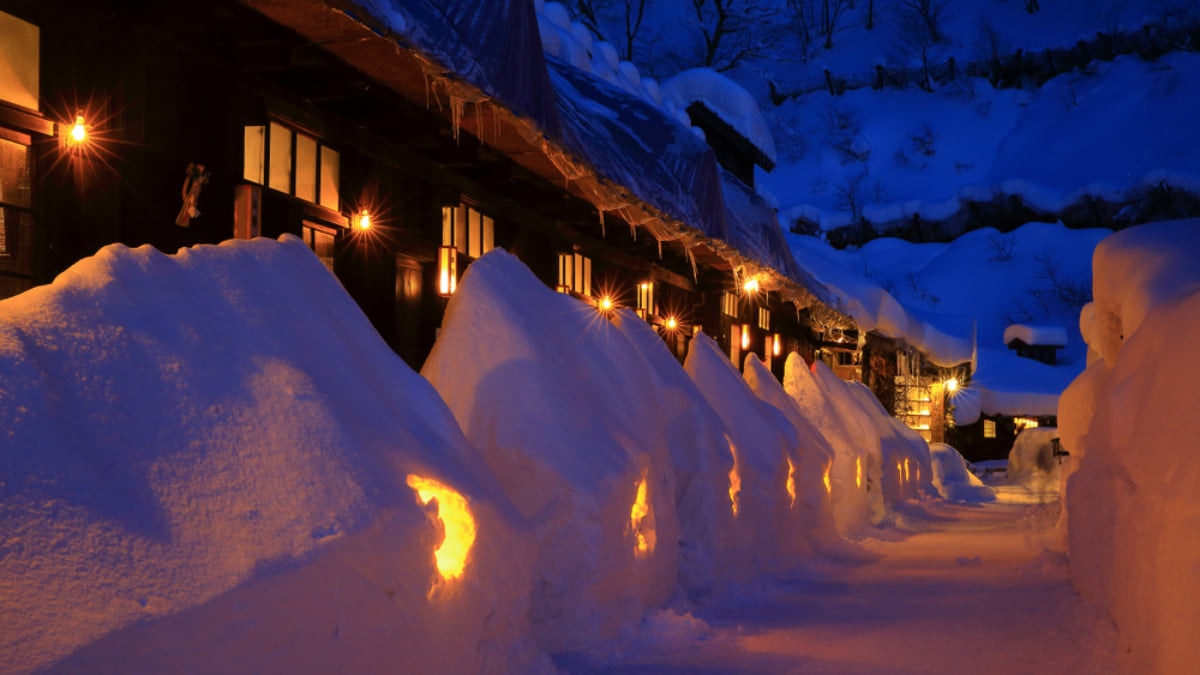 Photo by yspbqh14/Shutterstock
Nyuto Onsen, a Secluded Hot Spring Town in the Mountains of North Japan
With underrated tourism or undertourism becoming all the rage, popular destinations like Japan are becoming harder and harder to find spots that aren't descended on by flocks of tourists each season.

Nestled in the mountains of Towada Hachimantai National Park in eastern Akita Prefecture, Nyuto Onsen is one of the best places to take a break from jostling shoulder to shoulder for a photo.

The scenery is incredible, with a distinctly different atmosphere in every season. However it's during winter, when the hot springs are surrounded by a thick blanket of powdery white snow when Nyuto becomes really magical.
table of contents
[x] close
Nyuto Onsen, a Secluded Hot Spring Town in the Mountains of North Japan
How to Get There?
Despite its secluded location in the midst of the mountains in Akita, it's fairly straightforward to get there thanks to the town's recent popularity. The easiest way to get there is to take a bullet train to Tazawako Station, about three and a half hours from Tokyo and two hours from Sendai. From there you can take the bus heading to Nyuto Onsen which will take you straight to the hot spring town in just under an hour, stopping at various hotels along the way.
About the Hot Springs
Each of Japan's hot spring usually offer unique properties in the waters found there. Nyuto Onsen is known for its milky waters with a whole range of healing properties. There are a total of seven ryokan (traditional Japanese inns) that make up Nyuto Onsen, most of them within walking distance of each other. The most famous, Tsurunoyu is a little further out, most people take a shuttle bus there.

For those who are a little apprehensive about bathing naked with strangers, the milky waters help to conceal things a little better than most places and allow apprehensive bathers to relax. Nyuto Onsen is never really crowded and if you're visiting outside of the peak season, you can often be bathing alone.
What Else You Can Do in the Area
Apart from the soaking in the hot springs, taking forest walks and hiking around the hot spring town, there are a number of places perfect for visiting in the nearby area around Nyuto Onsen. Connected by bus links and high-speed trains, most of the popular spots are easy to get around.
Lake Tazawa
Photo by jirasaki/Shutterstock
The deepest lake in Japan, Lake Tazawa is one of Akita's most renowned destinations, for the beautiful scenery that surrounds the lake. Traveling to Nyuto Onsen means you'll pass by the lake, so adding it onto your itinerary is simple and won't take up much time. If you have a little longer to spare, you can take boat trips around the lake or rent a bike and cycle around.
Kakunodate
Photo by yspbqh14/Shutterstock
Kakunodate has an incredible history as one of Japan's famous 'Samurai towns', and its samurai residences are some of the best preserved in Japan. For those with a JR Pass, the samurai district is a short walk from Kakunodate Station on the shinkansen line, making it a no brainer if you're in Tohoku with some time to spare. Despite its easy-to-reach location, Kakunodate isn't really that known amongst foreign tourists and is rarely ever crowded.
Dakigaeri Valley
Photo by yspbqh14/Shutterstock
If even exploring the mountains around Nyuto Onsen and the beautiful scenery of Lake Tazawa just isn't quite enough, a short bus ride from Kakunodate will take you to Dakigaeri Valley. With its beautiful river scenery and dramatic gorges, the valley is a must-see for nature lovers.
Conclusion
While there are hundreds of hot springs towns to relax in all over Japan, Nyuto Onsen is often ranked as one of the most beautiful. Each ryokan here comes highly recommended, all of them offering impeccable service, delicious set dinners and beautiful rooms. If you're looking for one of the best places to enjoy an 'onsen experience' while in Japan, Nyuto is an easy choice.