Sydney : Here's What You Have to See When Visiting the Emerald City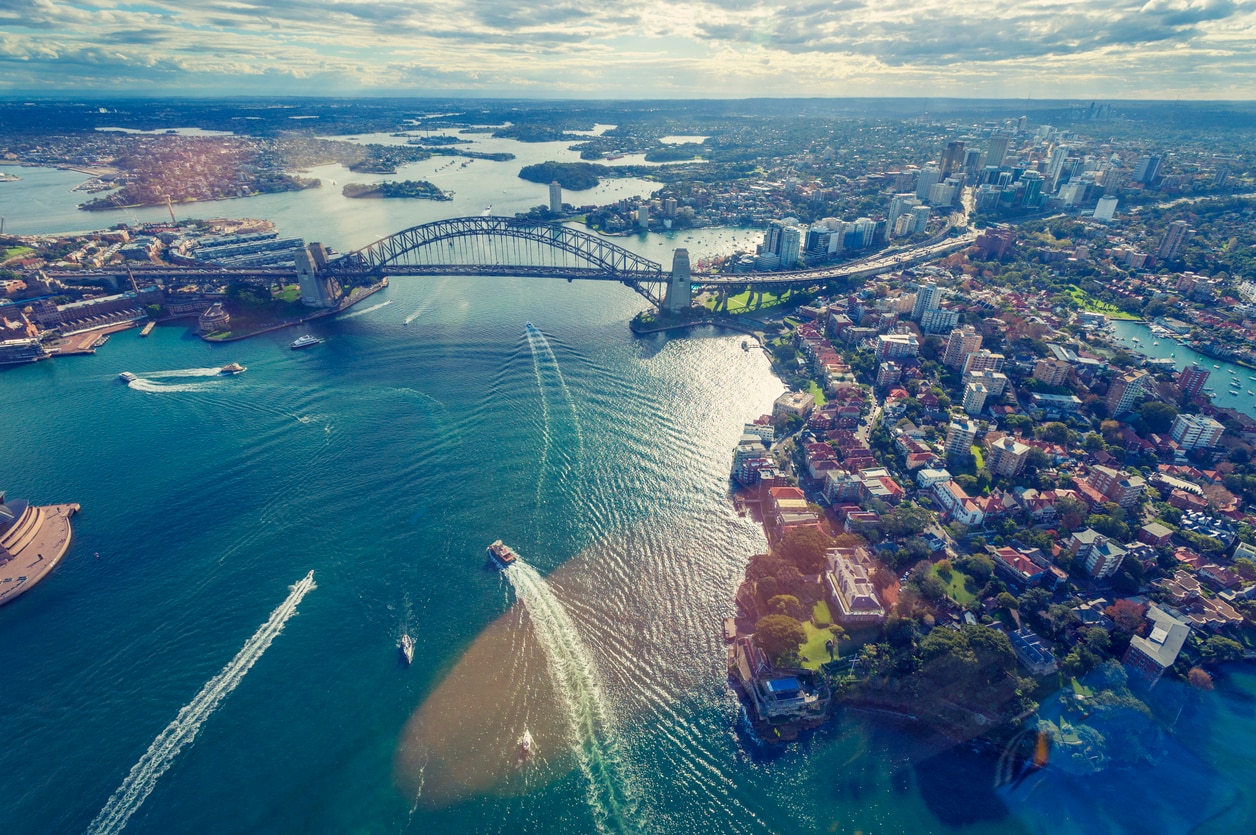 Nicknamed the Harbor City, Sydney is full of world-class restaurants, picturesque landmarks and endowed with a myriad of pristine golden beaches. The city offers a huge variety of entertainment, shopping and cultural activities perfect for all ages, with family or riding solo.
[x] close
Sydney : Here's What You Have to See When Visiting the Emerald City:table of contents
1. Sydney Harbour Bridge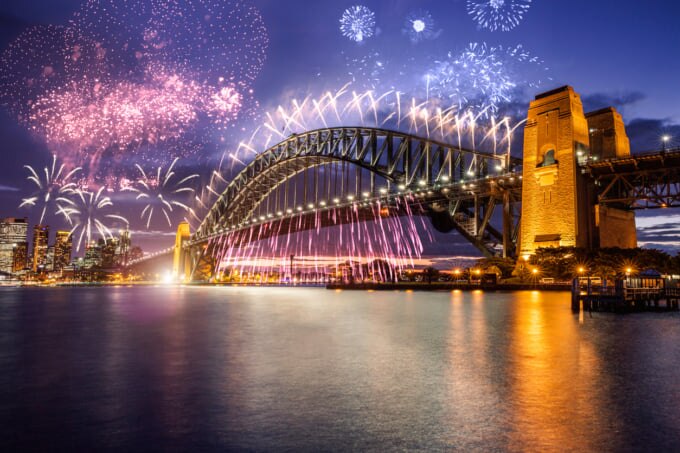 One of the most prominent landmarks in Sydney and an unmissable destination for visits to the city, the Sydney Harbour Bridge is a steel through arch bridge stretching across the Sydney Harbor. Due to its picturesque view, the bridge - together with the harbor and the nearby Sydney Opera House - has become an iconic image of Sydney and the whole of Australia. Its arch-based design has led locals to nickname it "The Coat-hanger."


Name:Sydney Harbour Bridge
Address:Sydney, New South Wales 2060, AU
Related Site:http://www.sydneyharbourbridge.info/
2. Bondi to Coogee walk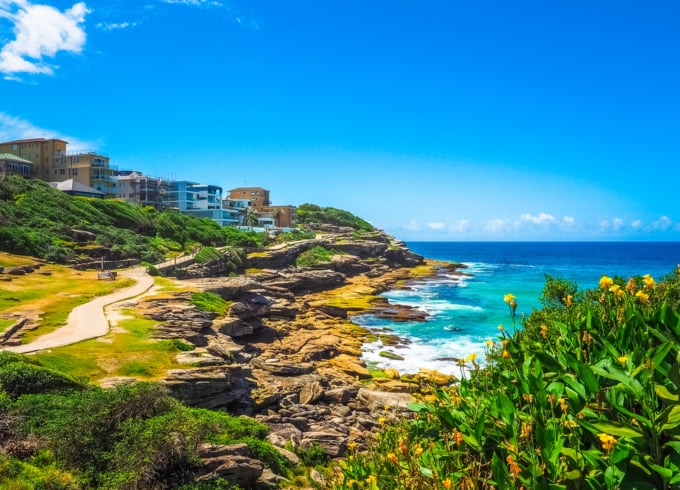 Photo by Yunsun_Kim/shutterstock.com
One of the best places to take in the stunning scenery on the coast of Sydney, the Bondi to Coogee walk is an oceanfront path stretching for six kilometers. Along the walk you'll find breathtaking views across cliffs, beaches, parks and bays of the local area. This picturesque strip of coastline offers a perfect day trip as you wander along the coast stopping at beaches and parks to relax on the way. You'll also find restaurants and cafes to stop for a break if needed. Although there as some steep paths, the walk is relatively easy and can be done by all ages, some stairs along the way may be a little hinder-some for those with prams however.
Name:Bondi to Coogee walk
Address:Arden Street, Coogee Beach, Sydney, New South Wales, AU
Related Site:http://www.bonditocoogeewalk.com/
3. Coogee Beach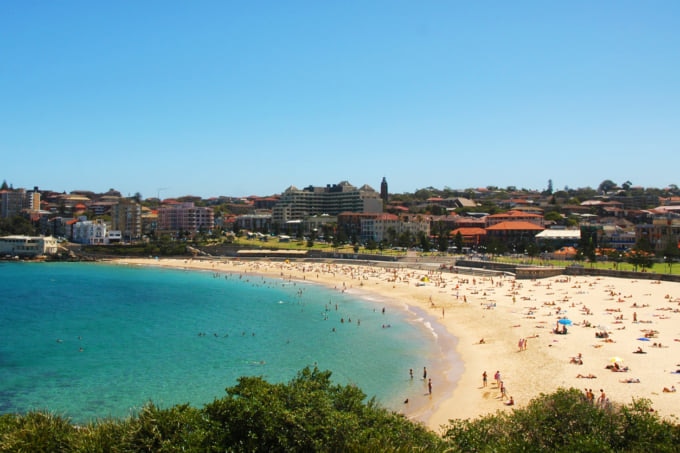 No visit to Sydney is complete without checking out some of the beaches around the city and Coogee Beach is a perfect way to start. Spend an afternoon relaxing on the pristine white beach or splash around in the clear blue waters like the locals do to unwind from the fast-pace city life. The promenade next the beach has a number of historic buildings and parks that are perfect to spend some time walking around.
Name:Coogee Beach
Address:111-131R Beach St, Coogee NSW 2034, AU
Related Site:http://www.randwick.nsw.gov.au/facilities-and-recreation/beaches-and-coast/beaches/coogee-beach
4. Sydney Opera House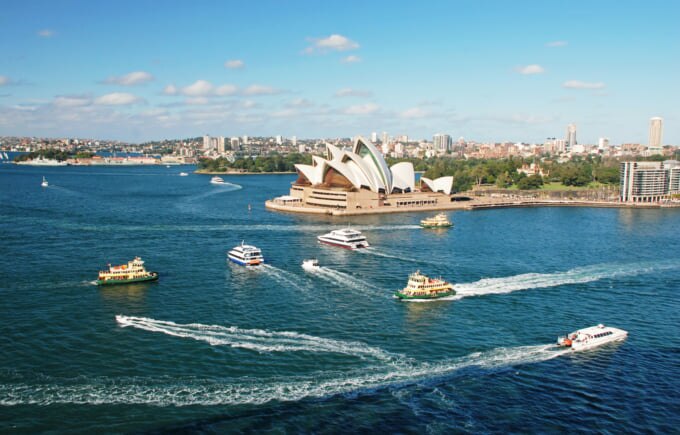 As one of the most iconic buildings in Sydney and famous around the world, the Sydney Opera House should not be missed on a visit to the city. This multi-venue performing arts building hosts over 1,500 performances every year. Designed by architect Jørn Utzon, the Sydney Opera House formally opened on October 20, 1973 and was recognized as a UNESCO World Heritage Site in 2007.
Name:Sydney Opera House
Address:Bennelong Point, Sydney, New South Wales 2000, AU
Related Site:https://www.sydneyoperahouse.com/
5. Sydney Ferries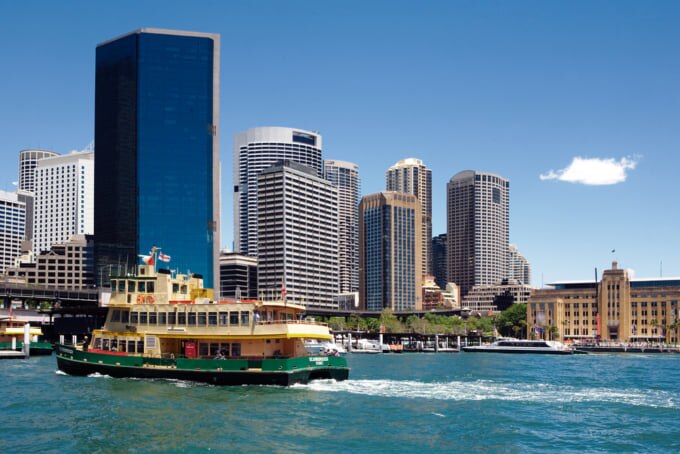 Photo by Francesca Pianzola/shutterstock.com
Apart from enjoying the coastal scenery from walking on some of the seafront paths around the city, taking a ferry is another great way to see the surrounding views around Sydney with many different routes around the Sydney area. It's cheap and gives you a whole new perspective of the city while viewing it from the sea. When visiting the "Harbor City" traveling around by boat is an unmissable experience. Along with the public boat system you can also hire private boats to take you to your preferred destination.
Name:Sydney Ferries
Address:Circular Quay Railway Station, Alfred St, Sydney NSW 2000, AU
Related Site:http://www.beyondthewharf.com.au/
6. The Royal Botanical Garden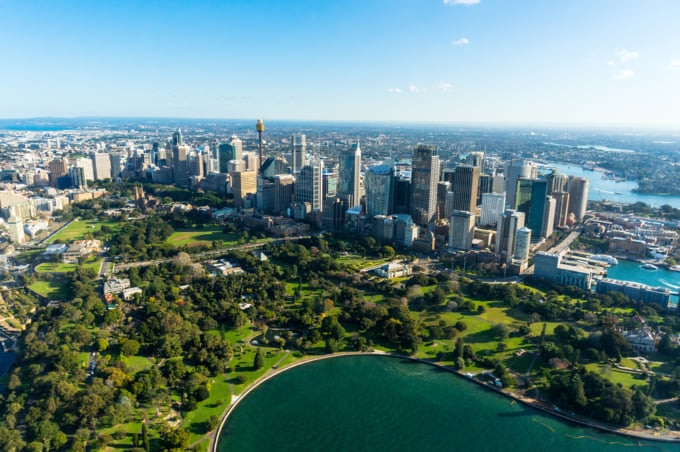 Photo by Olga Kashubin/shutterstock.com
Relaxing in Sydney isn't just limited to beaches, The Royal Botanical Garden is a vast open green oasis right in the center of the city. Access is free and from the edge of the garden you'll get stunning views across the basin and towards the opera house.
Name:The Royal Botanical Garden
Address:Mrs Macquaries Road, Sydney, New South Wales 2000 AU
Related Site:https://www.rbgsyd.nsw.gov.au/
7. Darling Harbour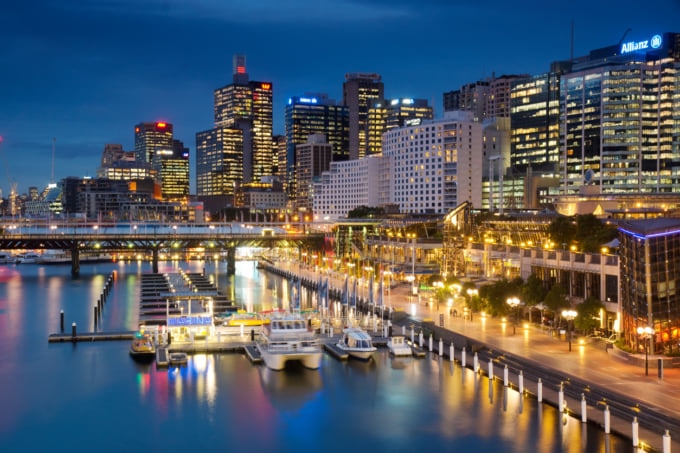 Originally called the Long Cove, the Darling Harbour is situated on the western outskirts of the Sydney Central Business District. The area has various famous places such as Tumbalong Park, Chinese Garden of Friendship, Sydney Wildlife World and the Harbourside Shopping Center. You can see picturesque views of Sydney from here which often looks best when illuminated at night.
Name:Darling Harbour
Address:Sydney, New South Wales 2000 AU
Related Site:http://darlingharbour.com/
8. The Rocks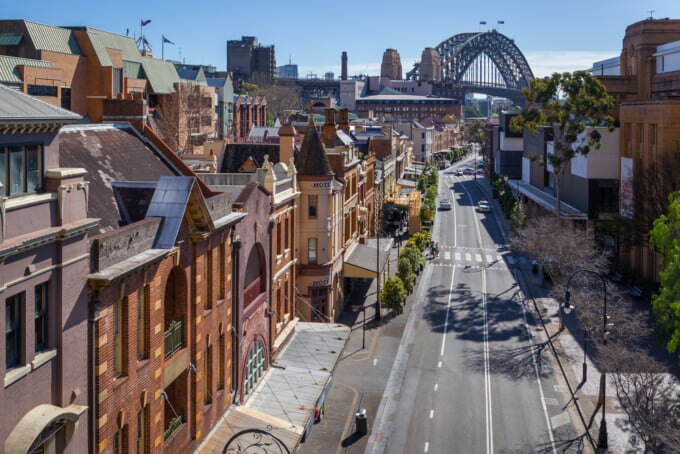 Photo by Maurizio De Mattei/shutterstock.com
The Rocks is one of the oldest neighborhoods of Sydney, established shortly after the first European settlers arrived in Australia. For this reason there are a number of heritage-listed sites and a museum explaining the history of the area. Nowadays however most people flock to this popular downtown zone for its artisan markets, pubs and regular events held there.
Name:The Rocks
Address:Sydney, New South Wales 2000, AU
Related Site:http://www.therocks.com/whats-on/
9. Manly Beach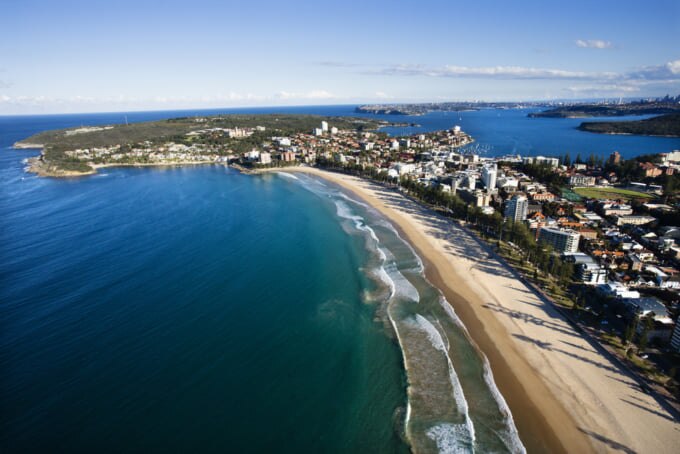 Photo by iofoto/shutterstock.com
Often the preferred beach spot for the locals of Sydney, Manly Beach with its golden sands and crystal-clear waters. Traveling to the beach takes about 30-minutes by ferry, which is highly recommended as you'll pass by famous places such as the opera house and have views all around the bay as you make your way there. The beach is also a popular surf spot due to the frequent swells and great wave conditions.
Name:Manly Beach
Address:N Steyne, Manly NSW 2095, AU
Related Site:https://www.northernbeaches.nsw.gov.au/things-to-do/beaches
10. Queen Victoria Building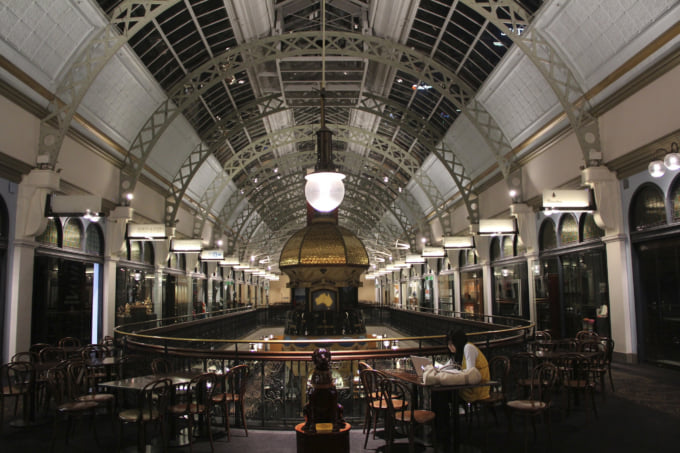 This picturesque building is located in Sydney's business district, characterized by its distinct Romanesque revival style architecture with domes and pillars. The Queen Victoria Building underwent various different uses through the 19th and 20th century, later being refurbished and redesigned as a shopping district. Even for those who recoil at the idea of an afternoon of shopping, the decor and interior design is well worth taking a walk around to see.
Name:Queen Victoria Building
Address:455 George Street, Sydney, New South Wales 2000 AU
Related Site:https://www.qvb.com.au/
◎Closing
Just a few of the endless list of things to do in Australia's largest city, Sydney offers a perfect mix of relaxation and lively activities. Travel down under to this tourist hot-spot to see what all the fuss is about.