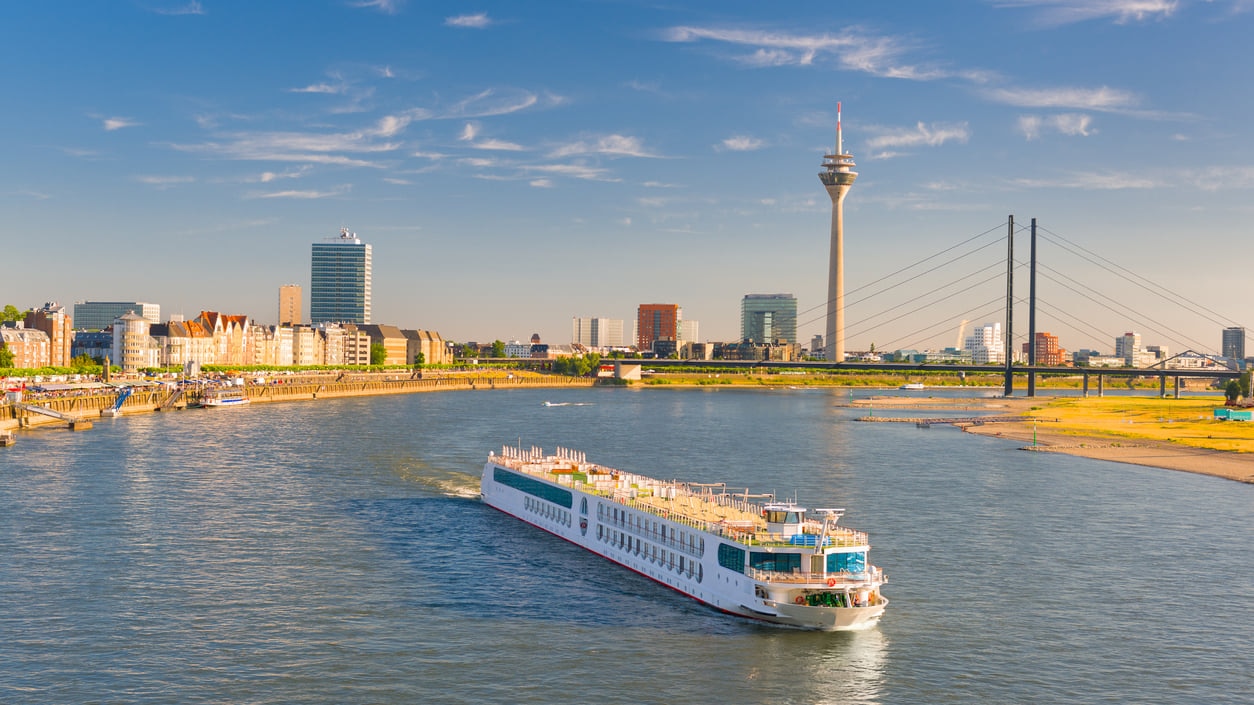 9 Things to Do in Dusseldorf
As the seventh most populous city in Germany, Dusseldorf is full of exciting things to do, heightened by the friendly, welcoming locals. The city is renowned in particular for its vibrant fashion scene and trade fairs. Here are some of the places you need to check out if you're planning to take a trip here.
table of contents
[x] close
1. Rheinufer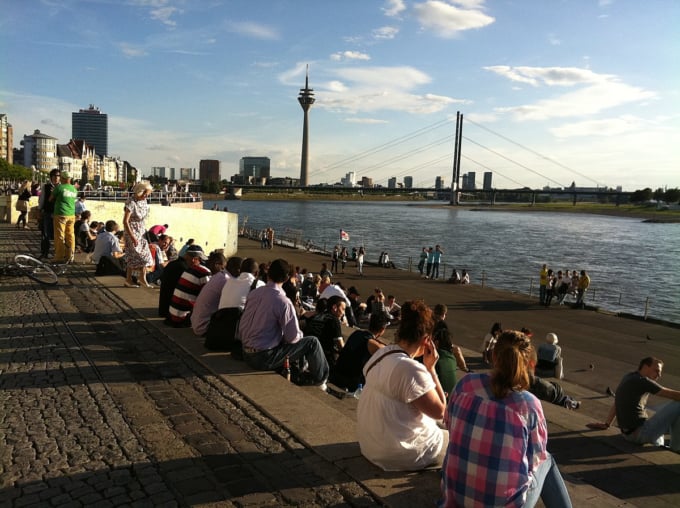 The Rheinufer is the perfect spot to head to and absorb the atmosphere and feel of the city. Particularly beautiful at night when the city's lights are all lit up, it makes for a stunning place to take a stroll along the river and spend a moment to relax. Along the promenade you'll find a number of popular restaurants offering diners a meal with a view. If the weather is good, consider taking a boat down the river, one of the best ways to get a unique view of Dusseldorf.
Name : Rheinufer
Address : Dusseldorf, North Rhine-Westphalia, Germany
Related Site : https://www.rheinlust.de/veranstaltungen-2/fischmarkt/
2. Classic Remise Dusseldorf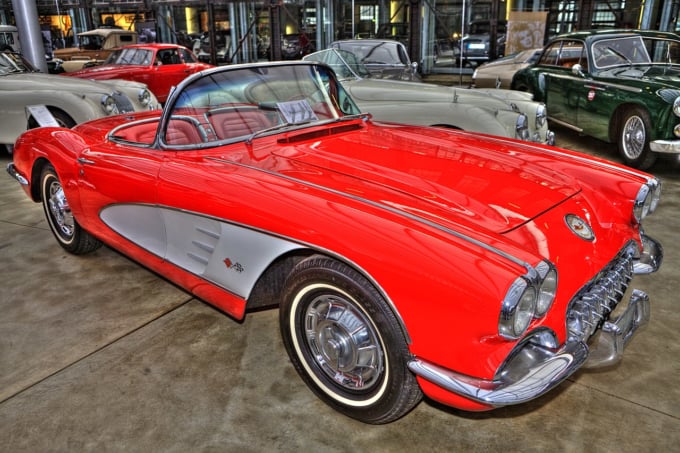 Photo by commons.wikimedia.org
A fascinating display of old cars and locomotives, set up in an old train roundhouse, Classic Remis is the spot to go in Dusseldorf for any automobile lovers. Here you'll find a number of exotic cars such as classic models from Jaguar, Maserati, BMW, Mercedes-Benz, Bentley, Porsche and Rolls Royce. It takes about thirty minutes for a quick tour through the museum and those with an interest in purchasing one of the classic cars can even take it for a spin. Grab yourself something to remember the trip by from the souvenir shops and workshops and later enjoy a meal at the adjacent cafe-restaurant.
Name : Classic Remise Dusseldorf
Address : Harffstr. 110 a, 40591 Dusseldorf, North Rhine-Westphalia, Germany
Related Site : http://www.remise.de/
3. Kirche St Andreas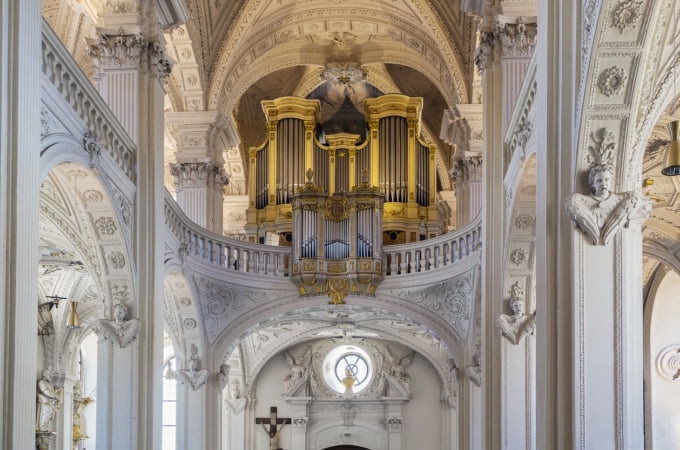 The Church of St Andreas is situated in the center Dusseldorf and is among one of the most beautiful Baroque churches found in the Rhineland, built in 17th century for the Jesuit monastery. The beautiful interior of the church and its unique yellow-type brickwork make it notable from quite a distance. Make sure to check out the detailed craftsmanship and the white porcelain-esque architecture.
Name : Kirche St Andreas
Address : Andreasstr. 27, 40213 Dusseldorf, North Rhine-Westphalia, Germany
Related Site : http://www.dominikaner-duesseldorf.de/home/
4. Radschlägerbrunnen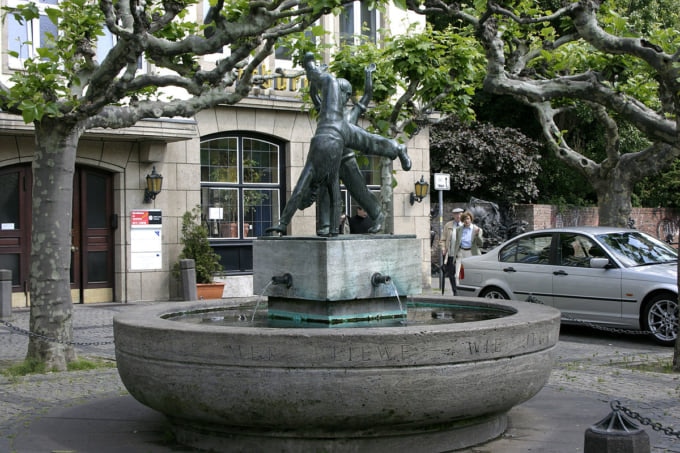 Radschlag Brunnen square is a beautiful old fountain, located at the city center in Burgplatz. The superb fountain is strategically positioned in front of the great tavern, close to the Rhine. Its outstandingly beautiful architecture attracts people from all walks of life allowing for universal interaction. The artistic design of two children at play doing cartwheels adorns the top of the fountain.
Name : Radschlägerbrunnen
Address : Burgplatz, 40213 Dusseldorf, North Rhine-Westphalia, Germany
Related Site : http://www.duesseldorf-tourismus.de/
5. Alt St. Martin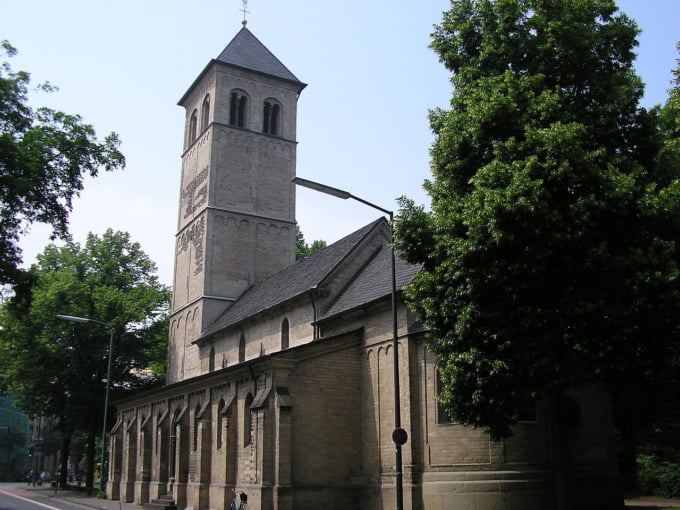 Photo by commons.wikimedia.org
Alt St. Martin is to the oldest church in the city. It is also the oldest preserved building of the state capital. This ancient church served as a parish church in the early 13th century but after the war, it remained dormant. Today, it has been restored to honor the Catholic community. Visitors often marvel at the beautiful Romanesque architecture that makes it stand out from other ancient churches within the city. Everyone is welcome to visit the church at no cost, you don't need to attend a service to enter.
Name : Alt St. Martin
Address : Martin-/Ecke Bachstrasse | Düsseldorf-Bilk, 40223 Dusseldorf, North Rhine-Westphalia, Germany
6. Standehaus Park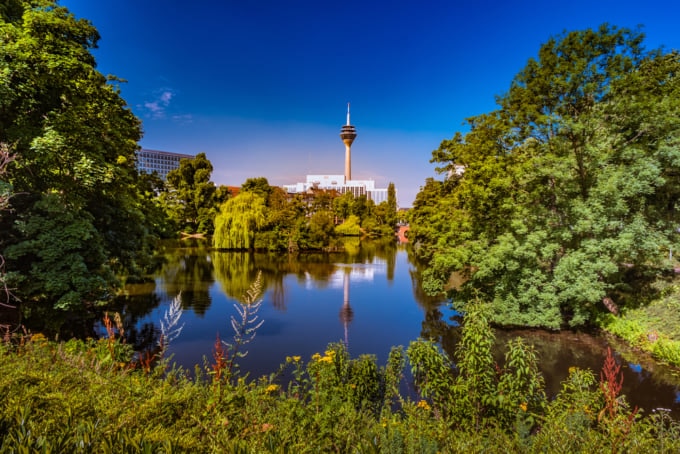 Photo by Romas_Photo/shutterstock.com
Standehaus Park is a lovely tranquil park, located next to the Kunstsammlung building. Consistent with the Imperial Pond and Swan mirrors, a small bridge and a playground, this beautiful site is a perfect escape from the vibrant city, to enjoy a more natural environment. Many enjoy the lake area with a number of well taken care of ducks and the cool atmosphere, making it a nice spot to relax. The park is a perfect destination for family outings and picnics. When visiting Standehaus Park, be sure to carry a camera for the chance to take some beautiful photos.
Name : Standehaus Park
Address : Ständehausstraße 1, 40217 Düsseldorf, Germany
Related Site : http://www.duesseldorf-tourismus.de/sehenswuerdigkeiten/parks/staendehauspark
7. Carlsplatz Market
Carlsplatz located in the heart of Dusseldorf is a unique market set up with a nice combination of stalls. The remarkably lively, calm and neat sightseeing site houses numerous food spots that offer exquisite delicacies at reasonable prices not forgetting the maze of flower, grocery and bakery shops within its vicinity. The architectural setup of the place is great as rain and snow are no impediment since the area is well roofed. When visiting the Carlsplatz market, aim to go at around 11 AM so as to enjoy lunch at one of the several great places such as the restaurants that serve a variety of authentic German cold cuts and sausages.
Name:Carlsplatz Market
Adress:Carlspl. 1, 40213 Düsseldorf, Germany
Related Site : https://www.carlsplatz-markt.de/
8. Hetjens Museum (Deutsches Keramikmuseum)
Hetjens Museum is a major historic site that displays history dated as far back as the past 8000 years situated in Dusseldorf. The size of the exhibition area is about 91500 square feet with great unique ceramics from all over the world. The Museum is open to all and is free entry for everyone.

The picturesque scenery here is filled with a variety of outstanding ceramics and antiques displayed neatly in three levels. Hetjens Museum is an old-fashioned museum filled with fascinating history.
Name : Hetjens Museum (Deutsches Keramikmuseum)
Address : Schulstrasse 4, 40213 Dusseldorf, North Rhine-Westphalia, Germany
Related Site : https://www.duesseldorf.de/hetjens
9. Rhine Tower (Rheinturm)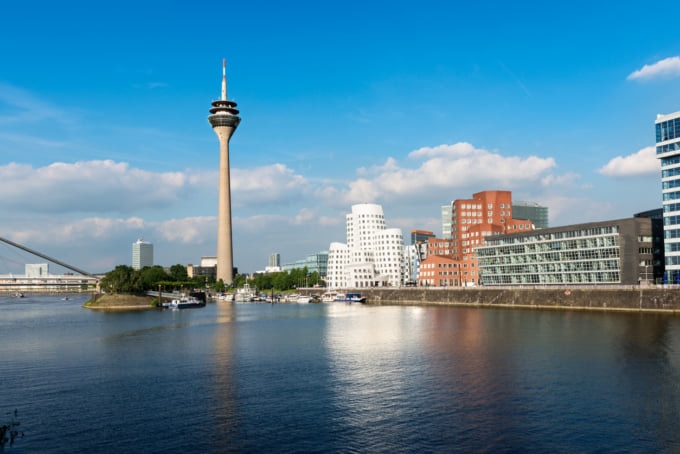 The Rhine Tower towers over the city of Dusseldorf and the adjacent River Rhine. The tower which is 168-meters high offers some of the city's best photo opportunities. Though it can be a little pricey the place is normally busy as it offers some of the best views in the city. For the best experience, it is advised to visit the tower at night enjoying some sweet coffee in the cafeteria area. The Rhine Tower is a wonderful destination for chilled nights out with friends and family enjoying the beautiful scenery.
Name : Hour Segway Tour in Düsseldorf
Address: Stromstraße 20, 40221 Düsseldorf, Germany
Related Site : http://www.guennewig.de/drheintu/homepage.php
Conclusion
Dusseldorf is a small city that has the welcoming feel of a home. Filled with numerous sightseeing destinations and welcoming locals. When planning a trip be sure to highlight Dusseldorf on the top of the list. People from all walks of life come to enjoy what this beautiful City has to offer.