Noumea : The Main Island in Grande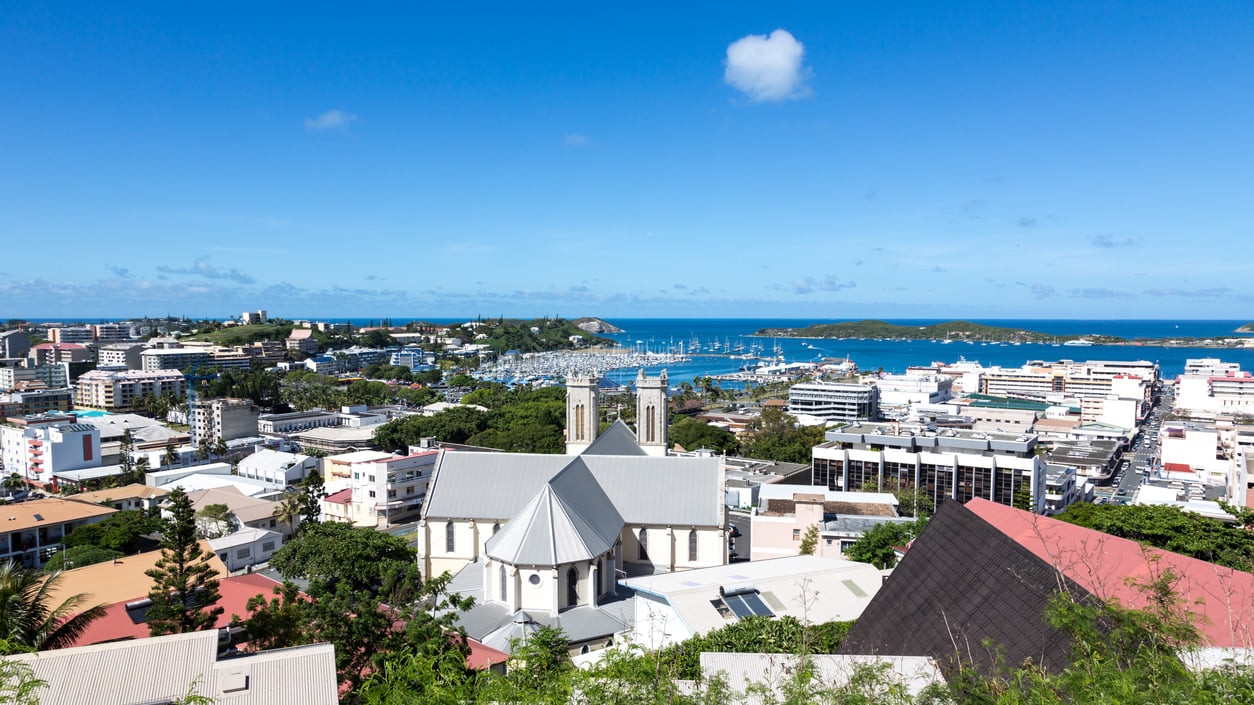 Noumea is New Caledonia's capital and largest city. It lies on a peninsula in the main island of Grande Terre, a protected deep-water harbor that is New Caledonia's main port. The city served as the headquarters for United States Military in the South Pacific during World War II. The office was later adopted as a base for a regional commission known as the Pacific Community Secretariat. It maintains a unique mix of the Melanesian and French cultures and has beautiful beaches and colonial mansions. Besides, it's natural it has attractive cultural offerings for visitors which include but not limited to the following;
[x] close
Noumea : The Main Island in Grande:table of contents
1. Amédée lighthouse (Phare)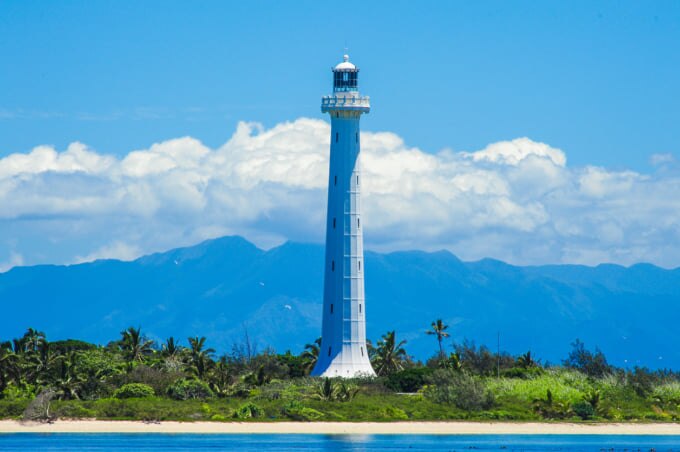 This is a lighthouse whose construction was ordered by Paris in 1861 following the many shipwrecks of boats entering the lagoon. A french engineer by the name Mr. Rigolet started to work on the outstanding monument in the year 1862. It was assembled outside his workshop on Eiffel Tower Paris and shipped to New Caledonia. Local Workers and military personnel erected it on the Amedee Island ten months after intensely working on it as it had been shipped in pieces. It was lit on November 15th, 1865, Empress Eugenie's Saints day who was the wife of Napoleon III. Its light shows the entry passage of Boulari, one of the three natural passages through the coral reef surrounding New Caledonia. An iron staircase of 247 steps leads to the top of the lighthouse which is 56m high, offering magnificent panoramic views of the city. It is among the tallest lighthouses in the world and a popular tourist attraction.
Name:Amédée lighthouse (Phare)
Address:grand récif Aboré, New Caledonia
Related Site:http://amedeeisland.com/amedee-lighthouse/
2. Jean-Marie Tjibaou Cultural Centre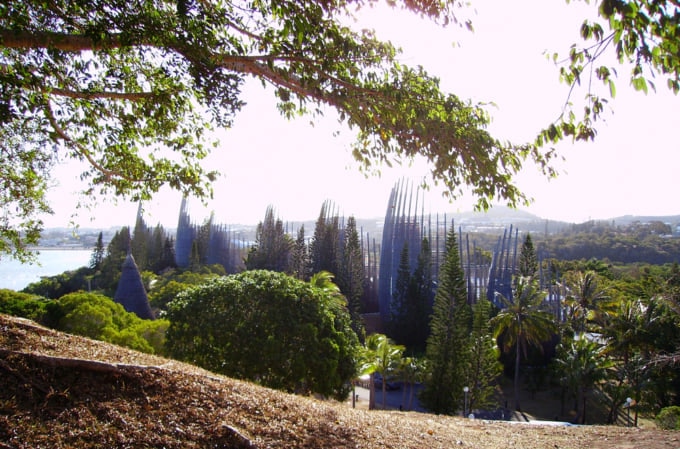 Photo by Camille V/shutterstock.com
The cultural center celebrates the Kanak culture, indigenous to the people of New Caledonia. Renzo Piano, an Italian architect, designed the center by blending modern international architecture with building traditions of the Kanak people. It opened its doors in June 1998 in honor of Jean-Marie Tjibaou who was the leader of the independence movement. Before his 1989 assassination, he had a vision of establishing a cultural center to showcase and celebrate the artistic and linguistic heritage of the Kanak people.
Name:Jean-Marie Tjibaou Cultural Centre
Address:Noumea, New Caledonia
Related Site:http://www.adck.nc/
3. Zoo Forestier Michel Corbasson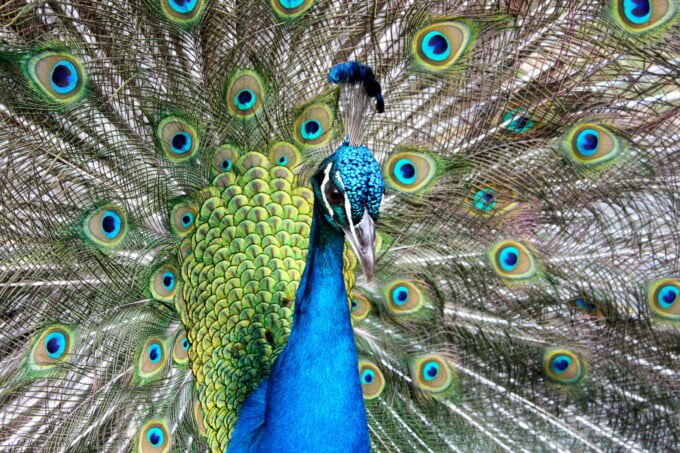 A 34-hectare park with a botanical garden & a zoo. The well-maintained park offers a pleasant adventure to discover flora and fauna of New Caledonia for everyone as it is ideal for adults as well as children of all ages. As you take family walks, you'll have some lovely views over the island to beyond the sea and sight local birds such as the kago, emus, primates, e.g. monkeys, reptiles, and small animals around the zoo. It's simply a breath of fresh air in the city.
Name:Zoo Forestier Michel Corbasson
Address:Rue Teyssandier de Laubarède, Nouméa, New Caledonia
4. Aquarium des Lagons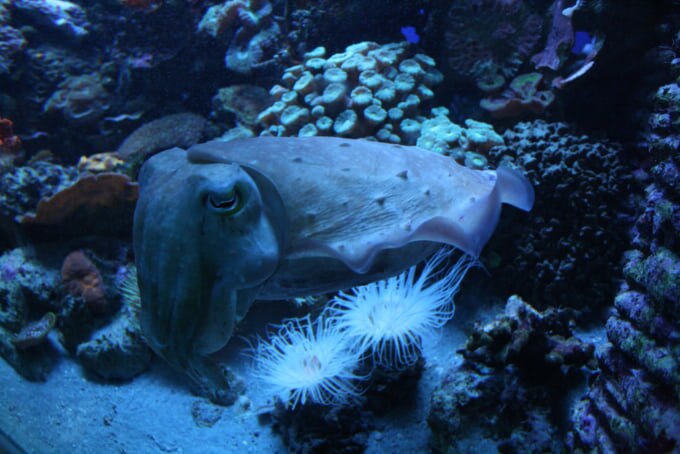 Founded in 1956 by Rene' Catala, a biologist, and his wife, the aquarium of lagoons is a public joint venture between the governments of Southern Province, New Caledonia and the City f Nouméa. It is located between the Baie des Citrons and Anse Vata and was reopened on 31st August, 2007 as a result of the old aquarium, being too old to renovate or be extended. It has natural light and draws seawater from the Bay of Lemons. Since its inception, it displays a wealth of live specimens in specific vertebrates in a setting that is mirrored to as much as their natural habitat. It features an outdoor turtle pond, live nautili and various types of tropical fish. Once you are through with your visit/ guided tour, enjoy epic documentaries at the movie theater present at the aquarium premises. As the projection screen is being rolled up, a spectacular view of the main tank can be viewed. You'll also get a chance to test your understanding of the marine ecosystem by engaging in interactive quizzes. Available here are the Conference room and the Auditorium which can are hired for private functions such as special occasions, lectures, seminars, etc.
Name:Aquarium des Lagons
Address:61 Promenade Roger Laroque, Nouméa, New Caledonia
Related Site:http://www.aquarium.nc/en/
5. Nouméa Cathedral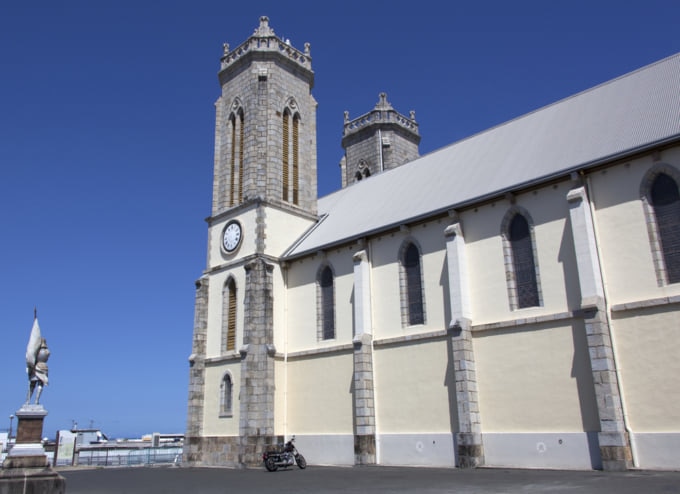 This Roman Catholic Church is the seat of the Nouméa Archdiocese since 1966. The cathedral, dedicated to Saint Joseph, the husband of Mary the Virgin was built between 1887 and 1897. The 56m long building has a Latin cross ground plan and was classified as a historical monument on August 20th, 1992. Visitors get to enjoy walks in its serene, sacred and solemn atmosphere as they see the statue of Joan of Arc that sits outside the church.
Name:Nouméa Cathedral
Address:3 Rue Frederick Surleau, Noumea, New Caledonia
Related Site:http://diocese.ddec.nc/paroisses/cathedrale.htm
6. Musée de Nouvelle-Calédonie
The Museum of New Caledonia was created in 1971 and is devoted to the archeological and ethnological aspects of the Kanak people and works from other communities and societies of the Pacific Islands. It showcases items such as funerary masks, totems, sculptures from eons ago, pottery products, coins, spears, how canoes were produced, ornaments, and jewels.
Name:Musée de Nouvelle-Calédonie
Address:43 Avenue du Maréchal Foch, Nouméa, New Caledonia
Related SIte:http://www.museenouvellecaledonie.nc/
7. Coconut Palm Square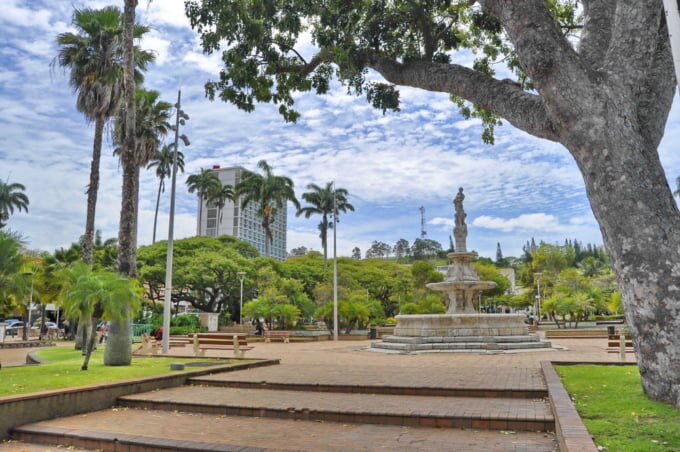 Photo by Nenad Basic/shutterstock.com
A green and shaded city park measuring 100m by 400m right in the heart of the city. Surrounded by beautiful hops, it offers wide walking paths and a central pavilion where a multitude of events such as book signings, concerts, children entertainment events and many more are hosted. Within the square are three monuments, the bandstand, the Celestial fountain and the statue of Jean Baptiste Olry, all symbolic of people, events, and items important to Kanak people.
Name:Coconut Palm Square
Address:Noumea, New Caledonia
8. Fontaine Céleste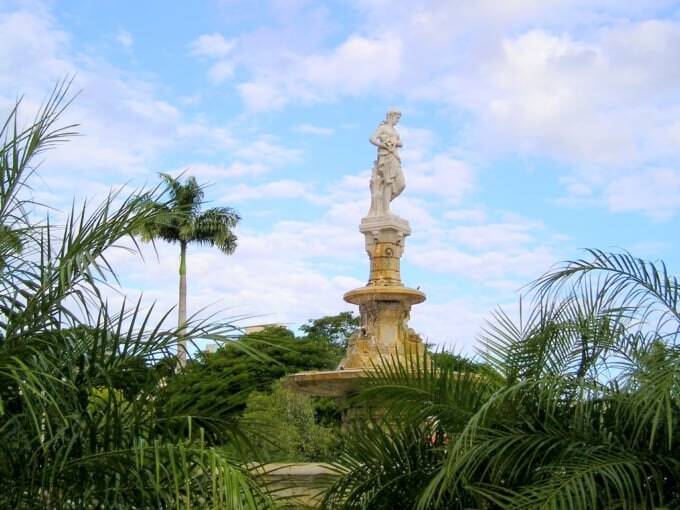 The Celestial fountain, right in the center of the coconut palm square, was inaugurated in 1894 and added as a historical monument on August 13th, 1992. It came into being following a proposal by a professional sculptor M. Mahoux t the city Council of Nouméa offering his talents for the construction of a fountain within the city. The project was voted in by the house, and he commenced the works. It did not work from the year 1994 due to old age but has since been refurbished through new waterproofing, strengthening of the statues sealing, closure of cavities and fractures, joint resumption and renovation of the hydraulic and lighting systems, The fountain is the zero mileage point from where all kilometers in New Caledonia start and a beauty to behold.
Name:Fontaine Céleste
Address:Ctre, Nouméa, New Caledonia
9. Canons du Ouen Toro
Quen Toro is a relatively small hill about 128 m above sea level from where you can enjoy views of the islands close to Nouméa, the mountains, coasts, the lagoon and coral reefs. At the top, two Australian canons used dating back to the World War II sit at the top. Several trails pass through a nature trek classified as a botanical reserve due to its numerous species that lead atop the hill where you can climb without much difficulty. The park spreads to over 50 ha offering a fantastic excursion. It's a must go to site in Nouméa.
Name:Canons du Ouen Toro
Address:Noumea, New Caledonia
10. Anse vata beach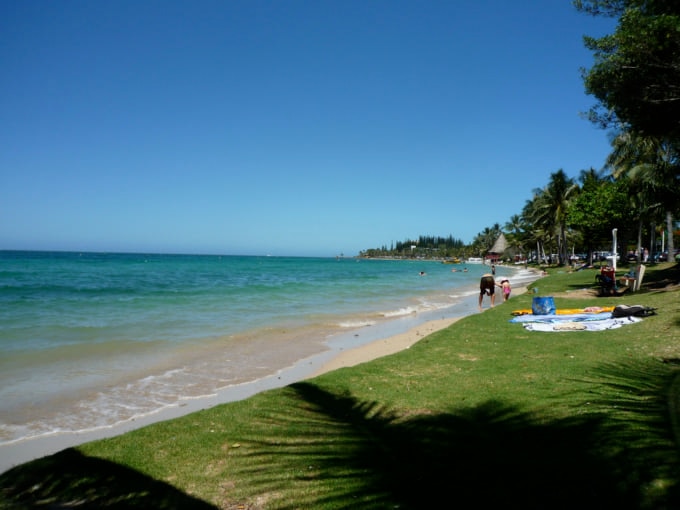 Being the city's largest beach, it is commonly used for board sports, the headquarters for windsurfers, and the course for Régate des Touques, a traditional race for homemade float vessels. It has lots of trees that offer shade and grass stretching to the sand perfect for a relaxed holiday or picnic with friends and family. A pleasant place to learn wind surfing, take walks or get a quick dip into the calm, clear warm water.
Name:Anse vata beach
Address:Nouméa, 98800, Nouvelle-Caledonia
◎ Closing
Nouméa is a dynamic cosmopolitan urban center with several bays that extend along the city and provide magnificent beaches and views. Its azure waters offer a variety of experiences with exciting activities to indulge in such as surfing, snorkeling, swimming, golf and table tennis. It is a city with an unmatched wealth of culture not forgetting to mention pleasure as it has a vibrant nightlife.