Iran:The Journey to Feel the History
Iran
Jun 26, 2018
555 views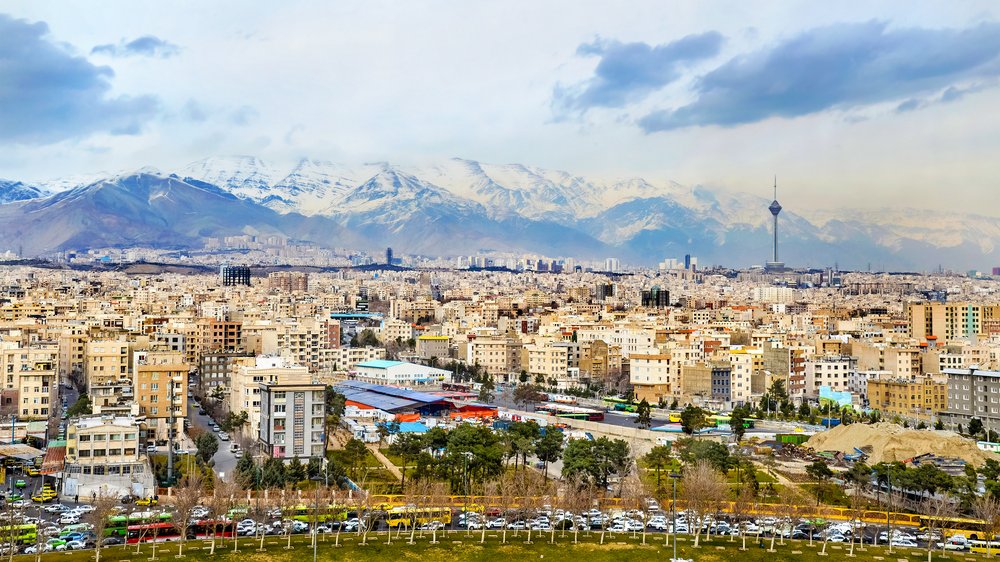 Photo by Leonid Andronov/shutterstock.com
[x] close
Iran:The Journey to Feel the History:table of contents
Iran is a big Islamic country in the Middle East, neighboring Turkey, Iraq, Pakistan and Afghanistan. Iran is famous for its Persian cuisine, friendly people and impressive architecture. Iran has a lot of beautiful places and unforgettable experiences to offer to a keen sightseeing tourist. In this article we will recommend Iran's top sightseeing destinations.
1. Persepolis (Fars Province)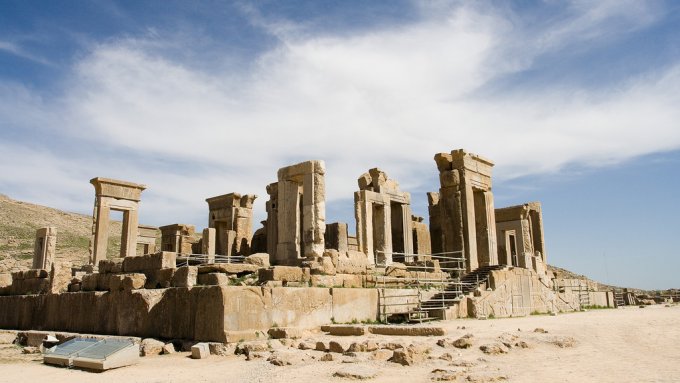 Photo by Ivar Husevåg Døskeland
Persepolis is an interesting archaeological site in South-Western Iran. Although Persepolis is now in ruins, it was once a spectacular marble capital of the historic Achaemenid Empire. Persepolis dates to 5th century BC. Persepolis was once full of palaces, temples and other ceremonial buildings. Persepolis is suggested as a sightseeing destination for its archaeological uniqueness and the high-quality of the remains of its monumental buildings. Persepolis has been inscribed on the UNESCO World Heritage list since 1979. Iranian government heavily invests in conservation and protection of this world-famous sightseeing destination.
Name: Persepolis
Address:Persepolis World Heritage Site, Marvdasht, Fars, Iran
Related Site:http://parse-pasargad.ir/en/sites/persepolis
2. Naqshe Jahan Square (Isfahan Province)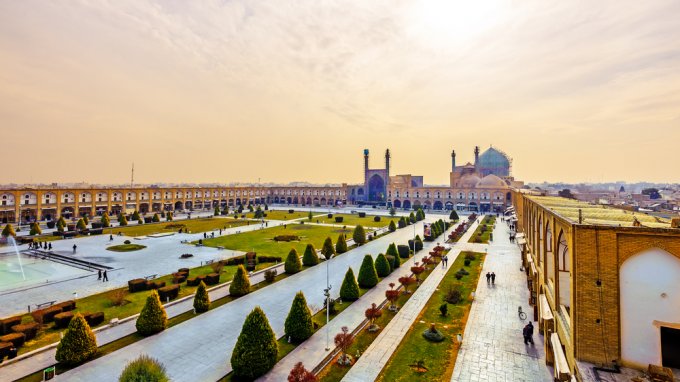 Photo by Richard Yoshida/shutterstock.com
Naqshe Jahan Square is a large, historic square in the middle of the city of Isfahan in central Iran, well-worth sightseeing. Naqshe Jahan Square is a UNESCO World Heritage site and it is surrendered by splendid buildings, including the Shah Mosque, the Ali Qapu Palace and the Lotfollah Mosque. Each of those buildings is worth a visit when sightseeing the Naqshe Jahan Square. The Square dates to 1598. It features on Iran's 20,000 rials banknote. Naqshe Jahan Square is full of plants and offers sightseers a lush, green space among Iran's more usual dry landscape. There is also a big fountain with cascading jets of water in the center of Naqshe Jahan Square. Those sightseeing Naqshe Jahan Square can also enjoy a busy Imperial Bazaar on the Square's periphery.
Name:Naqshe Jahan Square
Address:Isfahan, Isfahan Province, Iran
3. Isfahan Music Museum (Isfahan Province)
Isfahan Music Museum is worth a visit on a sightseeing trip to Iran. The Isfahan Music Museum houses an extensive collection of over 300 traditional Persian musical instruments. A personal guide takes tourists around the museums telling them about the interesting origins of the different Iranian instruments. The tours are available in English. The exhibitions are divided into geographical regions from which the instruments came. The Museum organizes musical concerts for its sightseeing visitors at the end of their visit. After the concert the sightseers can play the instruments. The museum also has a small café offering aromatic coffee for those who need a small rest between sightseeing the wonderful sites of Iran.
Name:Isfahan Music Museum
Address:No74, Mehrdad Street, Tohid Street, Mehrdad Street, 8173886161, Isfahan, Isfahan Province, Iran
Related Site:http://www.isfahanmusicmuseum.com/
4. Sheikh Lotfollah Mosque (Isfahan Province)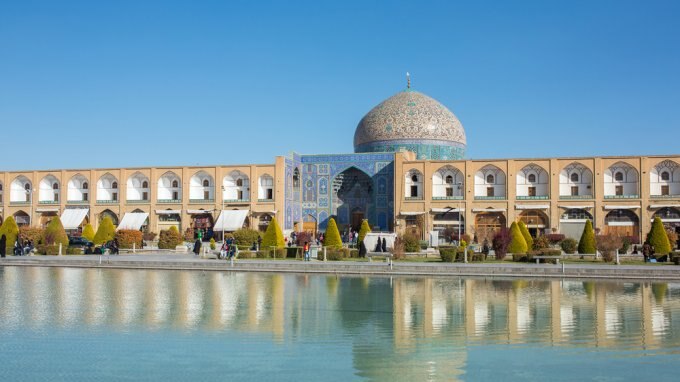 Photo by Alexander Mazurkevich/shutterstock.com
Sheikh Lotfollah Mosque is a historic mosque, dating back to the 17th Century, located in Esfahan, one of Iran's oldest cities some 400 kilometers from Tehran. A sightseeing visit is recommended to this mosque for its unique and incredibly elaborate interior design. The interiors of the Mosque are dominated with thousands of ornamental geometric and floral blue tiles. Many people who sightsee the Mosque find its detailed mosaics hypnotizing. Through the ages the mosque was used for many functions, including a as public bath, a royal mint and for royal ceremonies. When preparing to sightsee the Mosque, please ensure you are dressed conservatively.
Name:Sheikh Lotfollah Mosque
Address:Naqshe Jahan Square, Isfahan, Isfahan Province, Iran
5. The National Jewellery Treasury (Tehran Province)
No visit to Iran is complete without sightseeing at the National Jewellery Treasury, home to Iran's Crown Jewels. There are jewels here from all over the world. The highlight of your trip will probably be the 200-year old peacock throne, with its hundreds of gems. Additionally you will learn a lot about the history of Iran through the jewels from different times. The National Jewellery Treasury is only open between Saturday and Tuesday with hours of 2pm to 4.30pm so you should plan your sightseeing carefully if you want to visit.
Name:The National Jewellery Treasury
Address:Central Bank of I.R. Iran, Ferdowsi Avenue, Tehran, Iran
Related Site:http://www.cbi.ir/page/1475.aspx
6. Khajou Bridge (Isfahan Province)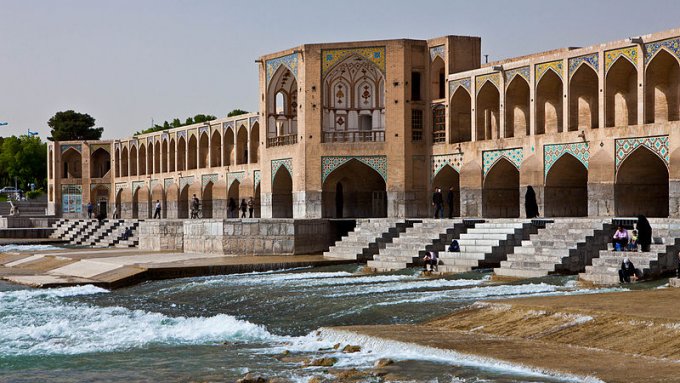 Photo by commons.wikimedia.org
This is said to be the finest bridge in the province of Isfahan, Iran. It was built in the 17th Century, and stands upon the foundations of an older bridge. It is therefore one of the oldest bridges in Iran. Shah Abbas, a former ruler of Iran, built this magnificent bridge, which has attracted sightseers since it was completed in 1650. It has an impressive length of 105 meters, and is supported by 23 stone arches. It is recommended to sightsee Khajou bridge during the day, but also at night when it is illuminated beautifully.

Name:Khajou Bridge
Address:Isfahan, Isfahan Province, Iran
7. Shah Mosque (Isfahan Province)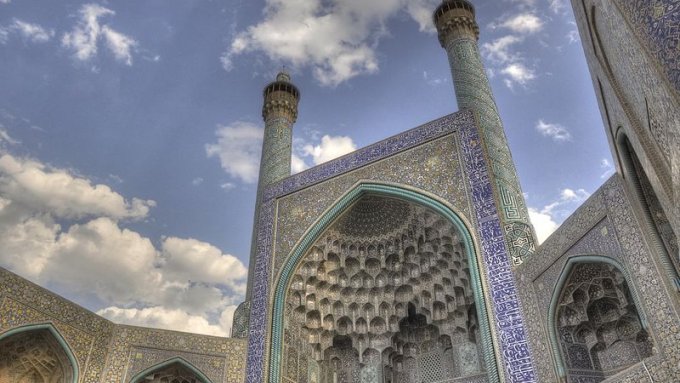 Photo by commons.wikimedia.org
The Shah Mosque is one of the top sightseeing attractions of Isfahan in Iran. It is famous for its beautiful blue mosaic dome, which is one of the finest in Iran, and possibly the world. Despite being over 400 years old, the mosque is in perfect condition. The entrance portal to the mosque is also incredibly stunning and worth a photograph. Since this mosque is still used as a place of worship, remember to dress respectfully when sightseeing and be aware that the mosque is not open on Friday mornings. The price for entrance may be more expensive if you are not from Iran.
Name:Shah Mosque
Address:Naqsh-e Jahan (Imam) Square, Isfahan, Isfahan Province, Iran
8. Golestan Palace (Tehran Province)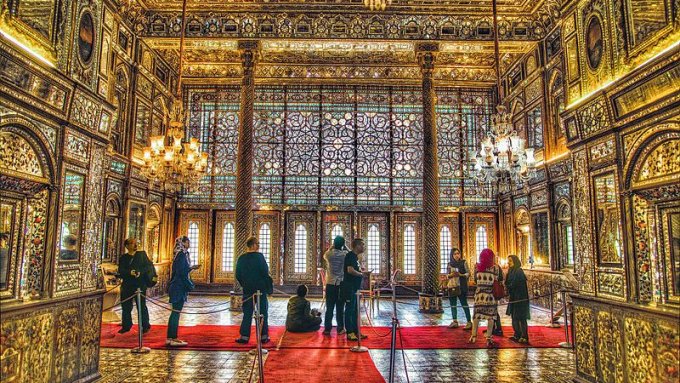 Nasser al-Din Shah created this "palace of flowers" in Iran in the 19th Century after being impressed by European palaces. Now it is a top sightseeing destination of Iran due to its beautiful tiling and gardens. The gardens are also home to many wonderful buildings, including the Mirror Hall, which was used to house the famous Peacock Throne before it was moved to the National Jewellery Treasury. Another building contains the Iranian Painting Gallery which houses fascinating pictures of life in 19th Century Iran. There are nine separate tickets for the different sections of the palace, so choose which you want to sightsee carefully.
Name:Golestan Palace
Address:Ark Square, Panzdah-e-Khordad St, District 12, Tehran, Tehran Province, Iran
Related Site:http://golestanpalace.ir/
9. Towers of Silence (Yazd Province)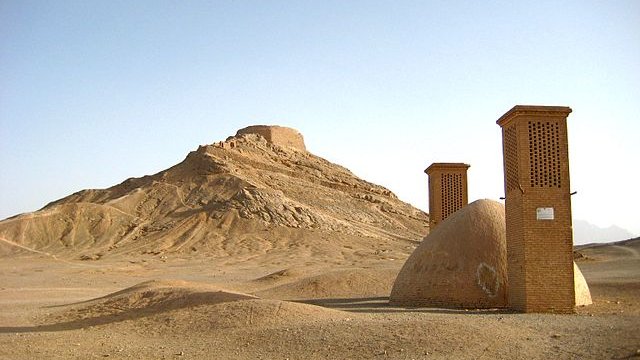 Photo by commons.wikimedia.org
For followers of Iran's Zoroastrian religion, Towers of Silence, or Dakhmas, were very important places. They are where the bodies of the dead were taken and left to be purified by the elements. Although there are Towers of Silence across the world, the most famous are in Iran, just outside of the city of Yazd. Today you can sightsee the towers without worrying as dead bodies are no longer placed here. The towers have not been used for purifying dead bodies for 40 years as the 3000-year-old practice has now been made illegal in Iran. Now these flat-topped towers make a different and intriguing sightseeing stop which you will remember as a highlight of your trip to Iran.


Name:Towers of Silence
Address:Yazd, Yazd Province, Iran
10. Siosepol Bridge (Isfahan Province)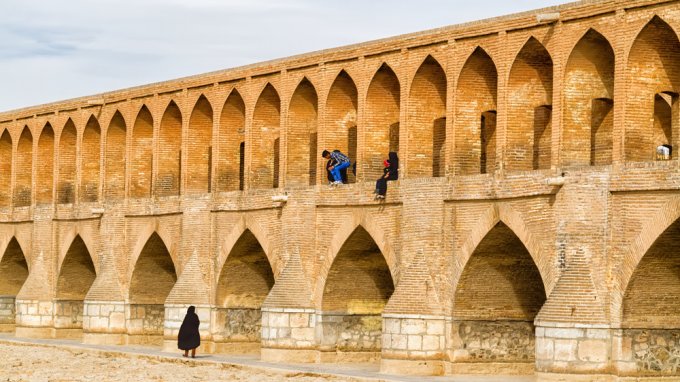 Photo by Milosz Maslanka/shutterstock.com
This is another of the fantastic arched bridges in Isfahan, Iran. Although it is not as beautiful as the Khajou bridge, it is older as it was built in 1602 and longer as it is made up of 33 arches. Therefore, it is recommended to sightsee both bridges if you visit Isfahan when you are sightseeing in Iran. The Siosepol bridge can be visited any time of day and night and in any season, although it is most impressive when the river is high. During Iran's hot summer months, the river dries up, so for the best view plan your visit to Iran outside of these months.
Name:Siosepol Bridge
Address:Enghelab Square Chahar Bagh e Abbasi Street, Isfahan, Isfahan Province, Iran
◎ Closing
As you can see, Iran is home to lots of stunning architecture, amazing museums and fascinating archaeological sites which make it a great sightseeing destination. If you sightsee in Iran, you will also be welcomed by the famous, friendly Iranian hospitality and be able to experience the fantastic culture of this beautiful country.