Photo by Leonid Andronov/shutterstock.com
Tehran:The Capital City of Iran that Has Wonderful Tourist Attractions~
Tehran, the capital city of Iran, is one of the most beautiful cities in Iran which attracts tourists to visit when they visit Iran. Tehran is also the biggest city in Iran, and it is the cultural, economic and political center of Iran. Its major language is Persian because most of its citizens speak Persian as a native language. It represents the center of producing the heavy products in Iran such as electronic industries and chemicals. Its cultural part is that it has many famous places that attract the eyes of their visitors. The dominant religion in Tehran is Shea Islam. It considered the highly populated city in Iran.
table of contents
[x] close
Tehran:The Capital City of Iran that Has Wonderful Tourist Attractions~
1. Azadi Tower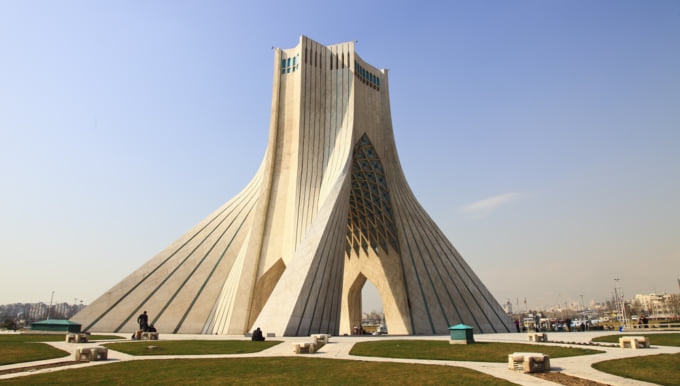 Photo by rickyd/shutterstock.com
The Azadi Tower, One of best tourist attractions in Tehran, built in 1971, and located in Teheran's Azadi square in a space of 50000 m. The word Azadi means freedom in Persian. The height of the Azadi Tower is 50 meter high, totally built of white marble. This attractive tower represents the city of Tehran. When you visit Tehran, the first place that attracts your eyes is the Azadi tower because it located at the entrance of Tehran. The Azadi Tower consists of the underground gallery, Quran Museum, a cinema, and the viewing platform.
Name:Azadi Tower
Address:Azadi Sq, Tehran, Iran
Related Site:http://www.azadi-tower.com
2. Iran National Museum
Iran National Museum, located in Tehran, is one of Tehran tourist attractions. The National Museum's construction completed in 1928 by French architect André Godard. This museum is a combination of two complexes: the museum of ancient Iran and the museum of the Islamic era. The Iran National Museum contains many Iranian antiquities such as textiles, metal objects, and some of rare coins and books.
Name:Iran National Museum
Address:30 Si Tir St, Tehran, Iran
Related Site:http://www.nationalmuseum.ichto.ir
3. Golestan Palace
One of the oldest Tehran tourist attraction that built in the Qajar era which became the home of the government of Qajar Family, representing the Qajar and Persian architecture. Its architecture consists of 17 structures that include halls, museums, and palaces which used for celebrations, meetings, and coronations at the age of Qajar. If you got a chance to visit this Palace you will be very lucky to see its attractive halls and museums such as Talar-e Salam, Talar-e Ayene, Shams Ol Emare, Emarat-e Badgir, the Marble Throne and other attractive places.
Name:Golestan Palace
Address:Tehran Province, Tehran, District 12, Fifth Khordad Avenue, Arg Sqr، Panzdah-e-Khordad Street, Iran
Related Site:http://golestanpalace.ir/
4. Tehran Grand Bazaar
The Tehran Grand Bazaar is one of the historical places in Tehran, built many decades ago. This Grand Bazaar is an important place of commerce for Iranians since it has important goods that people need as carpets, precious metals, spices, etc., which represent the Tehran's civilization. This Grand Bazaar has also other places that attract tourists such as mosques, banks, and guesthouses. The most notable place you will see is Imam Khomeini Mosque which represents the Islamic culture and architecture in Iran.
Name:Tehran Grand Bazaar
Address:main entrance Panzdah-e Khordad Ave, Tehran, Iran
5. Saad Abad Complex
Photo by commons.wikimedia.org
The Saad Abad complex, located in Shemiran, Tehran, is one of the complexes that built in the monarchs of Qajar and Pahlavi. If you decide to have a trip to Saad Abad complex, you have the chance to visit its attractive places such as the Green Palace that built at the end of Qajar monarch, and the White Palace that built in the 1930s. You will also see other wonderful places in Saad Abad Complex as the Museum Of Fine Arts and the Military Museums that used by royal customs and military paraphernalia.
Name:Saad Abad Complex
Address:Taheri St, Tehran, Iran
Related Site:http://www.sadmu.ir
6. Carpet Museum of Iran
The Carpet Museum of Iran is one of Tehran tourist attraction that located in Tehran beside Laleh Park. The Carpet Museum founded at the age of Queen Farah Diba in 1976 In order to revive the carpet weaving in Iran. Therefore, this museum is the place for all Persian carpets that made in Iran. In addition to the carpets, this museum contains about 7000 books. Thus, you will have a chance to see the Persian Carpet culture if you are one of Tehran tourists.
Name: The Carpet Museum
Address:cnr Dr Fatemi & North Kargar Aves, Tehran, Iran
Related Site:http://carpetmuseum.ir/
7. Niavaran Complex
The Niavaran Complex is a historical place located in Shemiran, Tehran in 9000 square meters area. Its monuments and buildings date back to the Qajar and Pahlavi monarchs. The Shah Mohammad Reza Pahlavi settled with his family in Niavaran Complex during his royal rule. Nowadays, this Complex consists of five museums such as Niavaran Palace Museum and Ahmad Shahi Pavilion, Sahebgharanieh Palace, and the Automobile Museum. The Complex also includes some historical and natural attractions such as Jahan Nama Gallery, the Blue Hall, Imperial Library Museum, and Niavaran Garden.
Name:Niavaran Complex
Address:Niyavaran Ave, Tehran, Iran
Related Site:http://www.niavaranmu.ir
8. Laleh Park of Tehran (Park-e Laleh)
Photo by Artography/shutterstock.com
The Laleh Park, one of Tehran tourist attractions, which has kept well and wonderful green spaces. This park located in the central Tehran, and it is one of the biggest parks in Tehran. On your way to the Carpet Museum, you will have a chance to see the Laleh Park. The Laleh park has become a famous place for young and families to have a nice and fresh day.
Name:Imam Mosque of Iran
Address:Tehran Province, Tehran, District 6, Keshavarz Blvd, Iran
Rekated Site:http://parks.tehran.ir
9. Treasury of National Jewels
The Treasury of National Jewels, called also as The National Jewels Museum, is one of the Tehran tourist attractions that contains the largest collection of jewelry around the world. The National Jewels Museum opens its door to visitors from 14.00 to 17.00 daily except Thursday and Friday. Its guide's booklets available in different languages: Persian, English, French, Russian, German, Japanese, and Arabic. This Museum gives its visitors the chance to see the most precious and wonderful jewels around the world.
Name:National Jewels Museum
Address:Tehran Province, Tehran, Javadiyeh, 213 Avenue Central Bank of، Ferdowsi, Iran
10. Milad Tower (Borj- El Milad)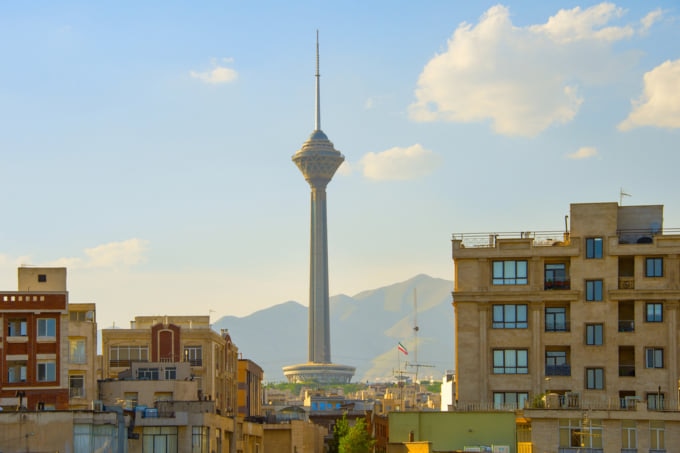 Photo by joyfull/shutterstock.com
The Milad Tower is one of the attractive sights in Tehran and known as Tehran Tower. The Milad Tower took 11 years to open its doors to visitors because its construction began in 1997 and ended in 2008. This tower considered the tallest tower in Tehran, which equals 435 meter high. The Tower octagonal base represents the architecture of Iranian and gives the chance for tourists to recognize the Iranian culture.
Name:Milad Tower
Address:South Sheikh Fadlallah exit, Tehran, Iran
Related Site:http://www.tehranmiladtower.ir
◎ Closing
If you decide to have a trip and relax in a wonderful and attractive place, you should have to visit Tehran. Tehran, a capital city of Iran, has attractive sightseeing places such as Azadi Tower, the National Museum, Tehran Tower, the Grand Bazaar, the Jewels Museum, Golestan Palace, Niavaran Complex, Imam Mosque, the Carpet Museum, and Saad Abad Complex. Thus, you have to decide upon your next trip to see those wonderful attractions.