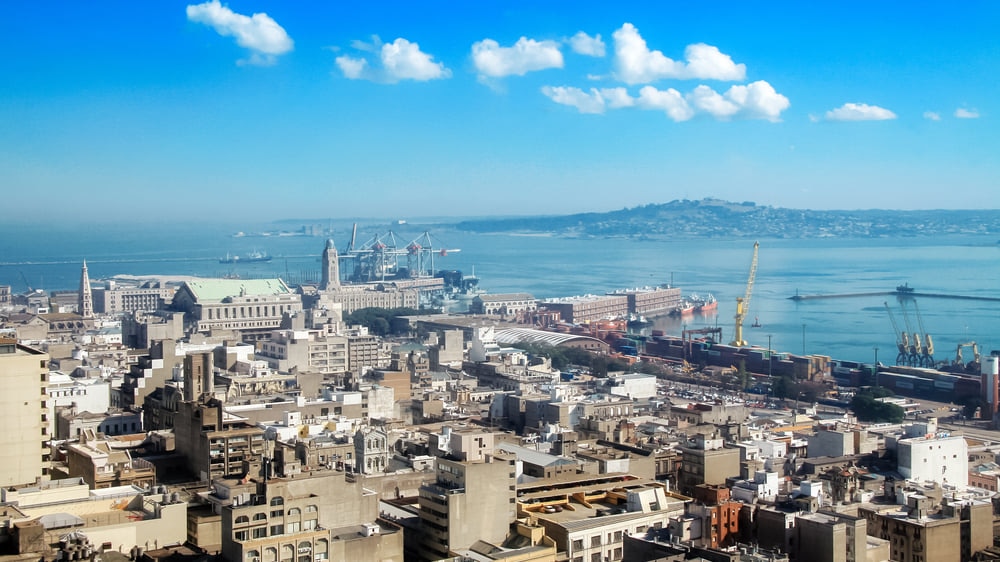 Uruguay:A Hidden Gem in South America with Spellbinding Sunsets and Beaches
table of contents
[x] close
Uruguay:A Hidden Gem in South America with Spellbinding Sunsets and Beaches
Uruguay has been existing within the shadows of Brazil and Argentina which are the more popular neighbors. It has only been hitting headlines recently as one of the best travel destinations. The country is culturally endowed, full of beautiful nature spots and well equipped with travel destinations, everything you need in a holiday.


1. Colonia del Sacramento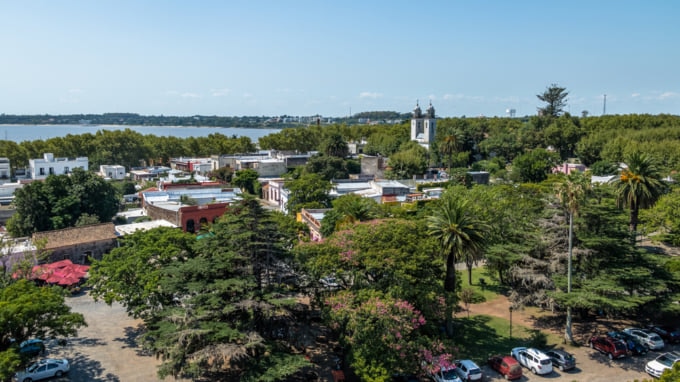 Photo by Diego Grand/shutterstock
Colonia del Sacramento is quite the picturesque town crowned a UNESCO World Heritage site in Uruguay. It is located on the east bank of Rio de la Plata. The streets are narrow and have existed from way back during the town's colonial era. There is a peninsula that leads to the river. The town is endowed by a set of pretty sycamores and the river's front side is listed as the most beautiful sunset viewing sites in Uruguay. During summer which is the best time of the year to visit this great sightseeing site, many visitors travel to Uruguay.

Name : Colonia del Sacramento
Address:Colonia del Sacramento,Uruguay
Related Site:www.coloniadosacramento.com
2. Plaza Indipendencia (Montevideo)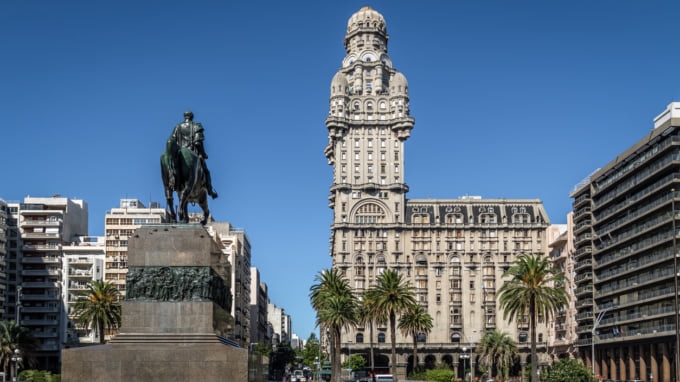 The Plaza Independencia is one of the best sightseeing places in Uruguay. It was made in the year 1837 by an Italian designer called Carlo Zucchi who lived in Uruguay at the moment. The plaza housed the government house for over a hundred years within the 19th and 20th century. The plaza also has a mausoleum where the general Jose Gervasio Artigas was laid to rest. At this sightseeing place in Uruguay, you will learn a great deal of history and take a private tour to enrich your knowledge about Uruguay.

Name:Plaza Independencia
Address:Montevideo, Uruguay

3. El estadio centenario (Montevideo)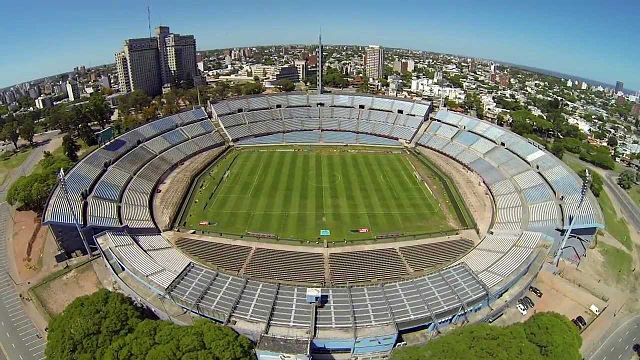 Photo by commons.wikimedia.org
Estadio Centenario is the greatest stadium within the Parque Batlle region in Montevideo in Uruguay. It is one of the best sightseeing venues in Uruguay. Estadio Centenario displays exquisite architecture and design in its structure. FIFA labeled this stadium as one of the most classic stadiums in the world and in 1983 it was declared as a historical monument. The Uruguay team in the past have left a great record of winning football matches when they play at home. The best time to visit this sightseeing region would be when there are matches so as to experience the stadium in all its glory.

Name:El estadio centenario
Address:Montevideo, Uruguay

4. Puerto de Punta del Este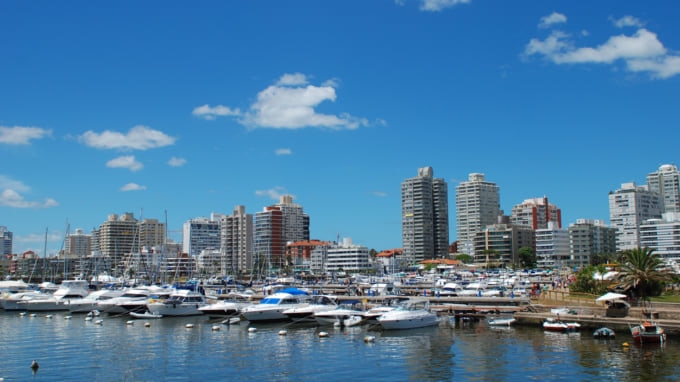 They say you have not visited Uruguay if you have not been to the Punta del Este. It is a sightseeing place in Uruguay located at the sea coast. The view from this sightseeing site is simply breathtaking, graced with the best ocean views, sea lions and some of the world's most beautiful yachts. The best time of the day to go to this sightseeing place is during sunsets in the evening when the sky is painted pink, blue, orange and yellow, making it simply breathtaking. At this sightseeing, sites be sure to get fresh fish at the restaurants nearby.

Name:Punta del Este
Address:SouthEast Uruguay
Related Site:http://www.puntadeleste.com
5. Termas del Dayman (Salto)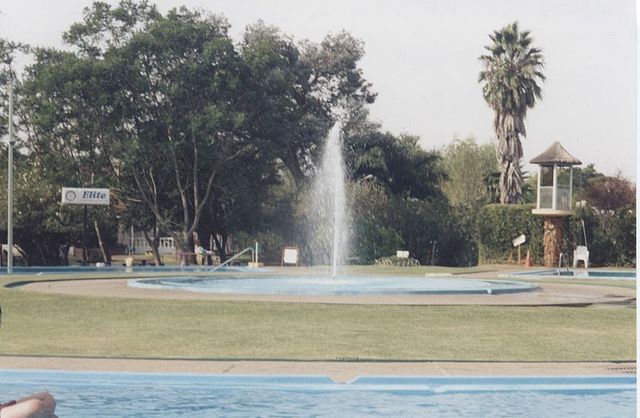 Photo by commons.wikimedia.org
Termas del Dayman when translated means Hot springs of Dayman. These hot springs are a popular sightseeing place for tourists in Uruguay. It is controlled by the municipal government and they have managed to keep this sightseeing place in great condition for tourists visiting across the world. This natural phenomenon is worth the visit when going to Uruguay. One should visit this sightseeing area to make the most of their trip and experience the healing magical waters in Uruguay. The best time of the year to visit this sightseeing place in Uruguay is during the months of June to August.
Name:Termas del Dayman
Address:Ruta 3, Km. 487, Salto 50000, Uruguay
Related Site:https://www.termasdayman.com/
6. Los Dedos Playa Brava (Punta del Este)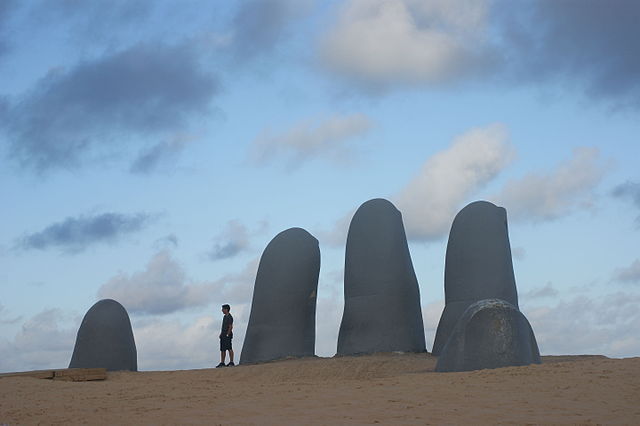 Photo by commons.wikimedia.org
Los Dedos Playa Brava also known as La Mano is a hand sculpture which depicts five human fingers. It was a sculpture done by an artist Mario Irarrazabal from Chile. This sightseeing place has become a landmark symbol in Uruguay. It was completed in 1982 and ever since many tourists visit this sightseeing place to take pictures and make memories. The hand sculpture which is the most iconic sightseeing place in Uruguay is located right a Brava beach. The beach in Uruguay is clean and definitely worth the visit. Plan your trip to this sightseeing place within the months of Summer to enjoy great weather.

Name:Los Dedos Playa Brava
Address:Rambla General Jose Artigas, Punta del Este 20100, Uruguay
7. Iglesia de las Carmelitas (Prado)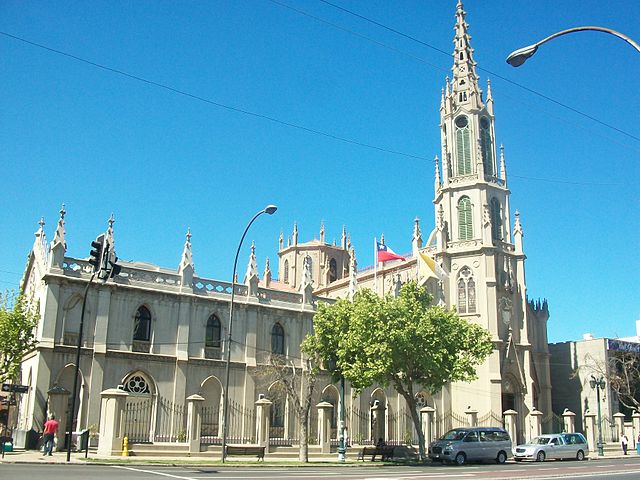 Photo by commons.wikimedia.org
This sightseeing venue is known as the Church of the Carmelites in English.The church is located in Barrio Prado within a very nice neighbourhood. The church has exquisite architecture with an exemplary gothic finish. The church was built in 1929 by architects A.Isola and G.Armas. The church is however not always open, it only opens up during ceremonies or mass service. The best day to see the interiors of this sightseeing venue in Uruguay is on a Sunday from 1100hrs.
Name:Iglesia de las Carmelitas
Address:Prado, Uruguay

8. Cerro San Antonio (Piriapolis)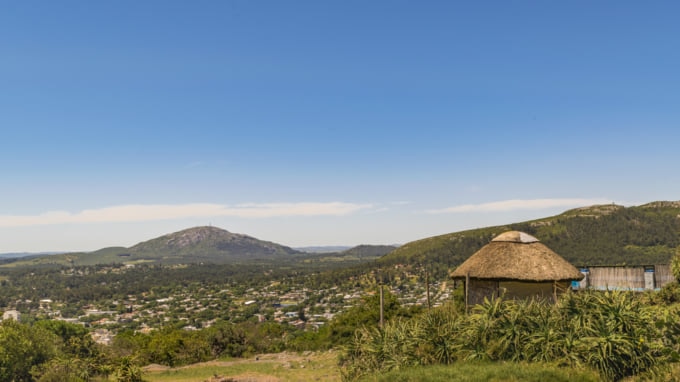 Photo by DFLC Prints/shutterstock
Cerro San Antonio is one of the great sightseeing places you can't miss out on while in Uruguay. From this point a traveler will be able to have the most magnificent view of the whole beach and Perryopolis. The top of this sightseeing hill can be accessed on foot or with a cable car available at the base. Carry a light sweater or scarf as it might get really windy at the top. Ensure you have the right shoes if you decide to foot to the top. This sightseeing place is definitely the place to be if you want to see parts of Uruguay in its full glamour.


Name : Cerro San Antonio
Address:Cima Cerro San Antonio, Piriapolis 20200, Uruguay

9. Artigas Mausoleum (Montevideo)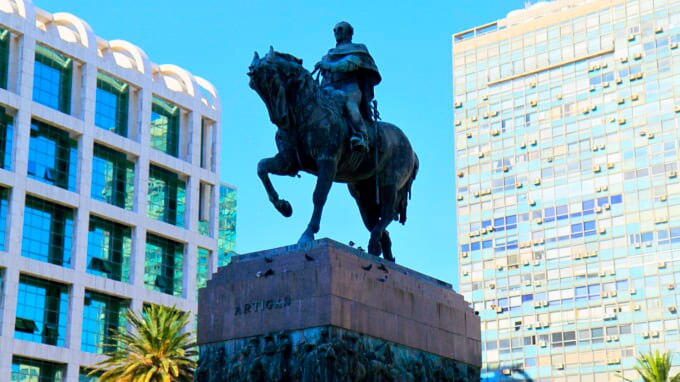 The Artigas Mausoleum is located at the Independence Plaza in Uruguay. This sightseeing place is a monument that celebrates the life of General Joel Artigas. He is remembered as the founding father of Uruguay nation. He is the man who fought for independence in Uruguay. The remains of this Uruguayan hero are in a traditional guard called "Blandegues de Artigas." and is guarded by guards. This sightseeing place was established in 1977. Take a trip to this sightseeing place in Uruguay to understand and appreciate the history of Uruguay. Any time of the year is good to visit this sightseeing place.

Name:Artigas Mausoleum
Address:Montevideo, Uruguay

10. Fortaleza Santa Teresa (Rocha)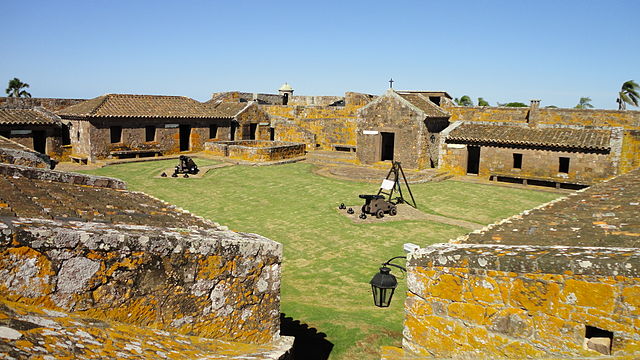 Photo by commons.wikimedia.org
Fortaleza de Santa Teresa is a military sightseeing center in Uruguay. This sightseeing venue is located 30 kilometers south of Chuy. This sightseeing place was an abandoned attempt by the Portuguese who had tried to build a fort in Maldonado. This fort had been erected in the year 1762. Take a trip to this sightseeing place to view the ruins left that consisted of a lodging area, a cemetery and uniquely architecture walls. You as a traveler will learn quite a lot about Uruguay from this sightseeing place that is well packed with ancient and historical aspects.
Name:Fortaleza de Santa Teresa
Address:Rocha, Uruguay

◎ Closing
Uruguay is one travel destination that is getting popular among travelers today. The country is packed with great sightseeing places that will definitely make your vacation worth it. Make sure you visit all these sightseeing places during your stay in Uruguay. The people in the country are friendly and welcoming to travelers. Travelers report great experiences in Uruguay.