Gambia:A List of Some of the Greatest and Most Fascinating Sightseeing Destinations in Gambia that will interest you~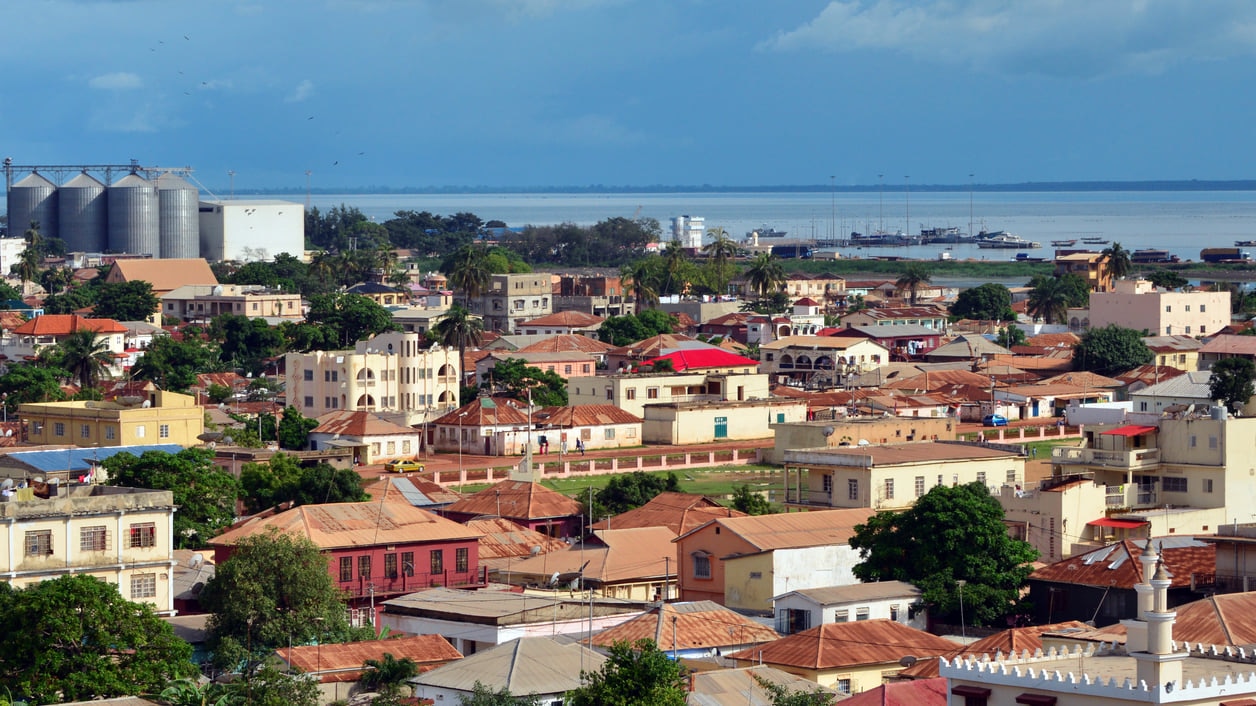 [x] close
Gambia:A List of Some of the Greatest and Most Fascinating Sightseeing Destinations in Gambia that will interest you~:table of contents
Gambia is the smallest country of mainland Africa and has a variety of tourist destinations that are worth sightseeing. Gambia offers a wide variety of tourist excursions and attractions ranging from land-based tours and river trips. In Gambia, tourists will also find nature reserves, charming fishing villages, and also some historic slave trade stations worth a sightseeing tour.
1. Katchikally Crocodile Pool (Bakau)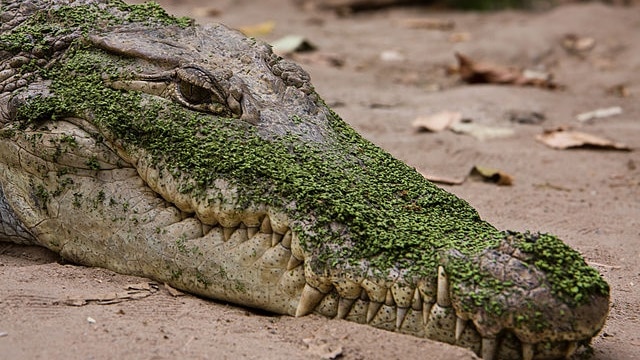 Photo by commons.wikimedia.org
The Katchikally Crocodile Pool is a sacred pool in Gambia's tourist town of Bakau, which has become a major sightseeing attraction for foreign visitors to this west African country. Despite having crocodiles on the extreme end, the local people in Gambia pay reverence to the pool for its healing powers and also as a place where people come to pray for blessings. Other than being a sightseeing destination, the pool is also a popular pilgrimage site for barren women wishing to conceive. They come from far and wide to douse themselves in the pool's curative water. Organize a sightseeing tour of this pool and witness this African magical pool.
Name:Kachikally crocodile pool
Address:Bakau Newtown, Gambia
Related Site:http://www.accessgambia.com/information/bakau-kachikally.html
2. Bijilo Forest Park (Serekunda)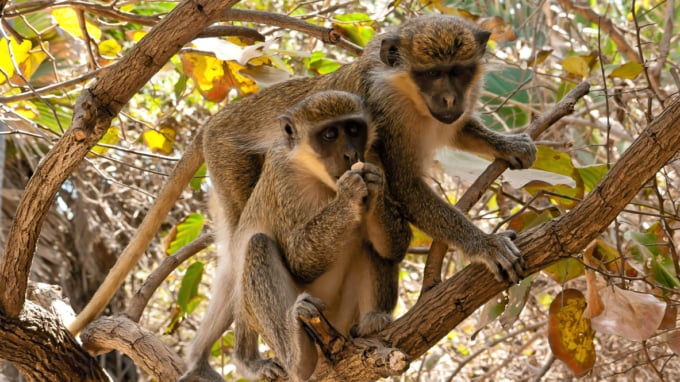 Bijilo forest park is another top sightseeing destination in Gambia. The park is a great place to visit along with your children to see "wild" monkeys, birds and other wildlife. During your sightseeing trip, don't forget to take some nuts with you, as you can get up close and personal with the monkeys to feed them. During a sightseeing trip in the Bijilo forest park one will also have a chance to see some red monkeys too. The Gambia Bijilo forest park is also a paradise for birdwatchers as there are so many types of birds there as you will notice.
Name:Bijilo Forest Park
Address:Serekunda, Gambia
Related Site:http://www.accessgambia.com/information/bijilo.html
3. Makasutu Culture Forest (Serekunda)
The Gambia, Makasutu Culture Forest is a sightseeing destination found in a stunning location in Serekunda, Gambia. The forest has palm groves, wetlands, mangroves and savannah plains, which have plenty of animals including baboons, monitor lizards and hundreds of bird species. Get away from the hustle and bustle of normal life and make a sightseeing trip to the Makasutu Culture Forest for some peaceful time and tranquility. There are also some local guides who will explain everything about all the trees, plants and the surrounding areas of the park. During your next visit to Gambia schedule a sightseeing tour to this forest.
Name:Makasutu Culture Forest
Address:Serekunda, Gambia.
Related Site:http://www.adventuregambia.com/Makasutu.html
4. River Gambia National Park (Banjul)
The River Gambia National park is a famous sightseeing location both for locals and sightseeing tourists in Gambia. The park is a refuge for the extinction-threatened hippopotamus in the Gambia. There is also a Chimpanzee Rehabilitation Project which provides those who are fortunate enough and on a sightseeing trip there, to book a couple of nights at its camp on the mainland. There are also more than a dozen species of lovely birds in this exceptionally beautiful area. During your sightseeing visit to the River Gambia National park, you will see crocodiles hidden on riverbanks, hippos, green monkeys and red colobus monkeys.
Name:River Gambia National park
Address:Banjul, Gambia.
Related Site:http://www.thegambiawildlife.com/protected-areas/river-gambia-national-parks/index.html
5. Fort James Island ( Juffureh)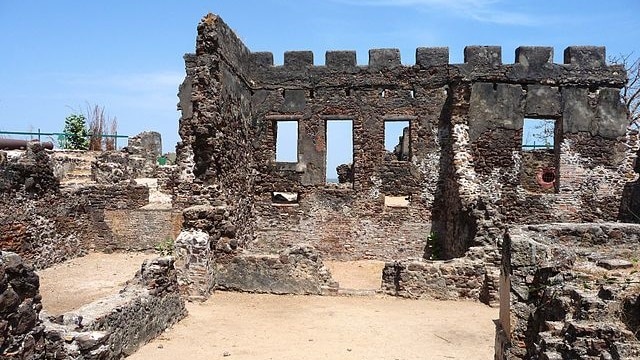 Photo by commons.wikimedia.org
Fort James Island is another great place in Gambia for which you can arrange a sightseeing trip. It is located in the Gambia River and offers a glimpse of the past history of Gambia. You will be interested by some of the legendary stories and also get a chance to visit the museum which has awful slave manacles, weapons, and photos covering the history of Gambia. The museum is fascinating with its exquisite display of events that took place in Gambia years back. It is said that all slaves from Gambia were brought to this island before being sold and shipped to other parts of the world. During your next visit to Gambia schedule a sightseeing trip to this island.
Name:Fort James Island
Address:James Island, Juffureh, Gambia
Related Site:htpp://www.accessgambia.com/information/fort-james-island.html
6. Abuko Nature Reserve (Abuko)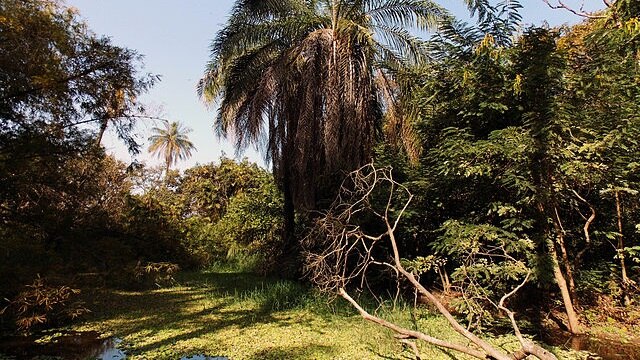 Photo by commons.wikimedia.org
Abuko Nature Reserve is one of rare African wildlife reserves that have amazing diversity of when it comes to vegetation and animals. For bird lovers, the reserve is one of the region's best bird watching and sightseeing location with more than 200 bird species being recorded. The reserve is also a famous sightseeing destination in Gambia because of its Nile crocodiles and other creatures such as pythons, puff adders, green mambas, spitting cobras and the forest cobras. Abuko is probably also the only place in Gambia where you can observe green and violet turacos, white-spotted flufftails, ahanta francolins and western bluebills.
Name:Abuko Nature Reserve
Address:Abuko, Gambia
7. Roman Catholic Cathedral (Banjul)
The Roman Catholic Cathedral is a modest building in Gambia that you can visit on your sightseeing trip in the country. The monumental cathedral has seen better days and apart from hosting church services, many other social events take place there that locals and visitors alike take part in. The cathedral is one of the oldest stone churches in Gambia and neighbors the famous Albert market, which sightseeing tourists can also visit. The church is a great tourist destination in the country both for prayer and as part of a sightseeing tour in Gambia. During your next visit to Gambia schedule a sightseeing visit to the Roman Cathedral and have a chance to learn more about the church.
Name:The Roman Catholic Cathedral
Address:West. Davidson Carrol Street, Banjul, Gambia.
8. Kotu Beach (Kotu)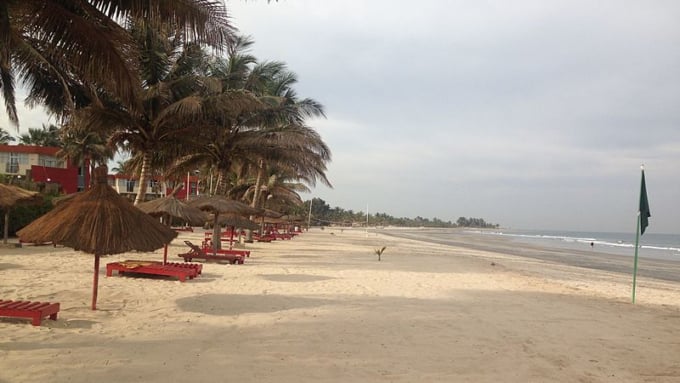 Photo by commons.wikimedia.org
Kotu Beach is one of the very best holiday sightseeing destinations in Gambia. Kotu beach is located on the Atlantic coast of Gambia and has great beaches, bars, markets and some of the most modern and luxurious hotels you'll find anywhere in this part of the world. The beach is a popular tourist sightseeing resort and village with many amenities ideal for sightseeing tourists. It is also a great place for those wishing to explore the area's diving opportunities. During your next visit to Gambia make sure you make a sightseeing trip to Kotu a beach.
Name:Kotu Beach
Address:Kotu, Gambia
9. Albert Market (Banjul)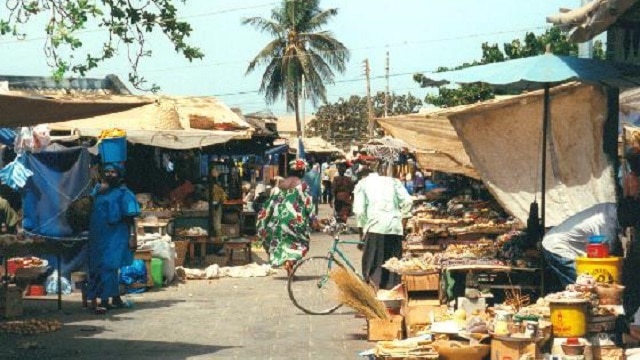 Photo by commons.wikimedia.org
Albert Market in Banjul, Gambia is worth a sightseeing visit when you are in Gambia. It is the capital's main urban market and serves as a great source of fresh produce and fish, fabrics, carved wooden masks, and even livestock. When you come on a sightseeing walk in the market, you'll experience firsthand, the way of life of the people of Gambia. You can basically buy anything in this market, which is mainly crowded, noisy and busy, with cramped aisles which look like a maze. However, the market will be most likely the most interesting and vibrant part of your sightseeing trip in Gambia, as you will even interact with friendly locals.
Name:Albert Market
Address:Liberation Avenue, Banjul, Gambia.
Related Site:http://www.accessgambia.com/information/albert-market.html
10. The National Museum of Gambia (Banjul)
The National Museum of Gambia is another great sightseeing destination in Gambia and features displays of historical and cultural artifacts such as musical paraphernalia, agricultural equipment and other ethnic-related items. There's also an interesting archaeological section inside the museum that features evidences of ancient human habitation in Gambia. There is also a history floor with photographs that display how Gambia has transformed from its past to the present. The national museum records all aspects of life in Gambia with recordings detailing how people lived even over a thousand years ago. During sightseeing tour at the museum, you will also learn a lot about the modern day Gambia.
Name:The National Museum of Gambia
Address:Independence Drive, Banjul, Gambia.
Related Site:http://www.accessgambia.com/information/ncac.html
◎ Closing
Gambia is a country with great beautiful tourist destinations where visitors go for exploring and sightseeing purposes. These sightseeing destinations include the Kachikally crocodile pool, Kotu beach, Albert market, the national museum as well as the Abuko nature reserve. Schedule a sightseeing tour of this great African country and visit many interesting destinations during your tour.