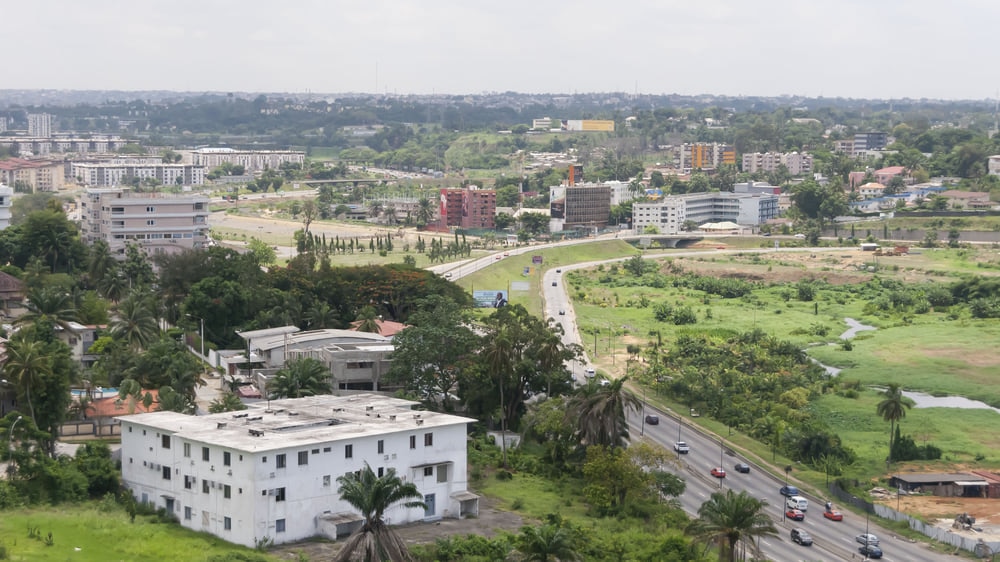 Photo by Roman Yanushevsky/shutterstock
Côte d'Ivoire:West Africa's Tropical Heaven
table of contents
[x] close
Côte d'Ivoire:West Africa's Tropical Heaven
Cote d'Ivoire also known as Ivory coast is a tropical country situated on the western side of Africa. Its capital city is Abidjan which is a famous tourist spot in Cote d'Ivoire.Cote d'Ivoire offers beautiful sightseeing spots including its sandy beaches and boasts some lush palm-tree forests. Over the years, Côte d'Ivoire has been able to modernize its lifestyle without losing its identity.
1. Basilica of Our Lady of Peace (Yamoussoukro)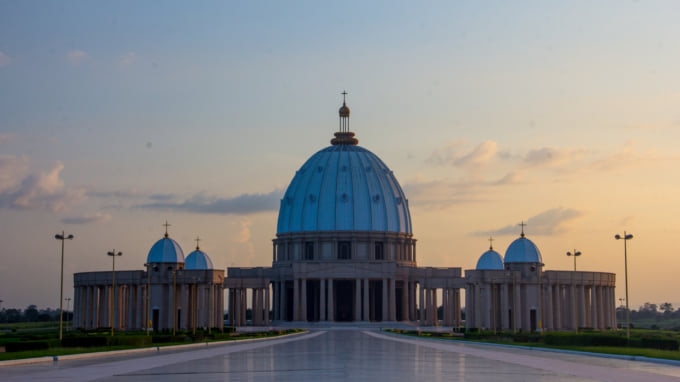 The Basilica of Our Lady of Peace is a mega architectural and engineering marvel completely in the middle of nowhere in Côte d'Ivoire. The Basilica is the main attraction in Yamoussoukro. It boasts as the largest church in the world in terms of height and size with a seating arrangement of up to 7000 people. Another interesting fact is that it took only three years for completion of the site.

Sightseeing at The Basilica of Our Lady of Peace is not expensive. Tourists pay 2000 XOF per person and an extra 500 for a permit to take photos. However, you can save the 500 as it is not very necessary, one can take great snaps once you get upstairs. If you would like to get more information on the world's largest church, a tour guide is recommended.
Name:Basilica of Our Lady of Peace(Yamoussoukro)
Address: Rue de St.France, Yamoussoukr, Côte d'Ivoire
2. St. Paul's Cathedral (Abidjan)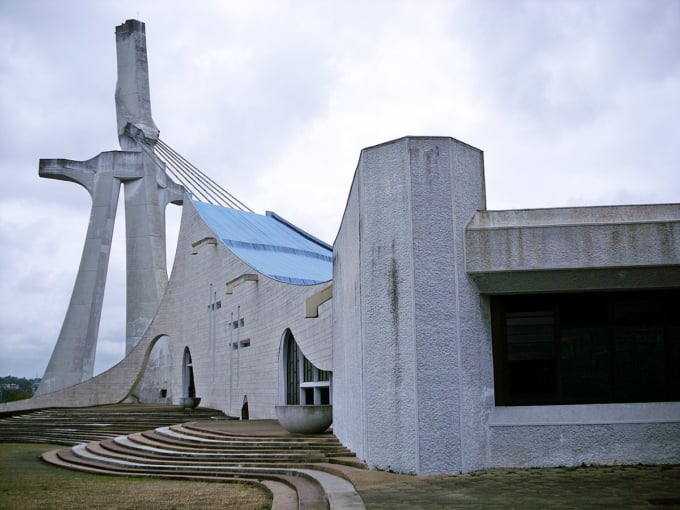 The St. Paul's Cathedral is a modern and gorgeous place of worship located in the heart of Cote d'Ivoire, Abidjan. It has some unique interiors that are worth sightseeing. Its beautiful stained glass depicting the African savannah and elephants make it very unique. Its outside has some well-maintained gardens and some statues which can be good if you wish to take some photos.

A visit to St. Paul's Cathedral is best around 5 pm which is considered to be the 'golden time' where you get to enjoy the sunset views. If you would like to attend an English church service, an 11 am mass is available in English on Sundays.
Name:St. Paul's Cathedral
Address: Blvd. Angoulvant, Abidjan, Cote d'Ivoire
Related Site:https://www.cathedralsaintpaul.org/
3. Jardin botanique de Bingerville (Abidjan)
This is a fenced botanical garden located in Bingerville, Côte d'Ivoire. Here you get to listen to the bird choirs and relax your mind and if looking for deep exploration, you are able to see a large variety of trees and flowers.

The area is ideal for individual or group gatherings. The locals like to tour the place by car, however, you can hike or bike just for leisure.There is a serviced area ideal for picnics. It has tables and chairs but you can bring your own.

Weather can be uncomfortable as it gets really hot during the day. An umbrella would be nice to carry for shade. There is also a bar where one can purchase cold drinks to cool off.Entrance to the garden is minimal, about 200 CFA per person or 500 CFA per car.

If you are looking for an escape from the hustle and bustle of busy Abidjan, The Jardin Botanique de Bingerville is the ideal sightseeing place to have a peaceful break.
Name:Jardin botanique de Bingerville
Address:Abidjan, Cote d'Ivoire
Related Site:http://www.cotedivoiretourisme.ci/index.php/ecotourisme/610-jardin-botanique-de-bingerville
4. Dipi Crocodile Farm (Assinie)
Although The Dipi Crocodile Farm was mainly created for crocodiles, this great animal farm hosts more beautiful animals such as monkeys, ostriches, and turtles. Some free animals include snakes and hyenas.A guide is available to tour you around the farm to make the visit more welcoming.

Visitors are able to feed and play with the monkeys as kids get the chance to ride on the large turtles. The place is very prone to red fire ants. Closed shoes and covered clothing are suitable when planning your visit.
Name:Dipi Crocodile Farm(Assinie)
Address:Assinie Mafia Route, Assinie, Cote d'Ivoire
5. Musee National des Costumes (Grand Bassam)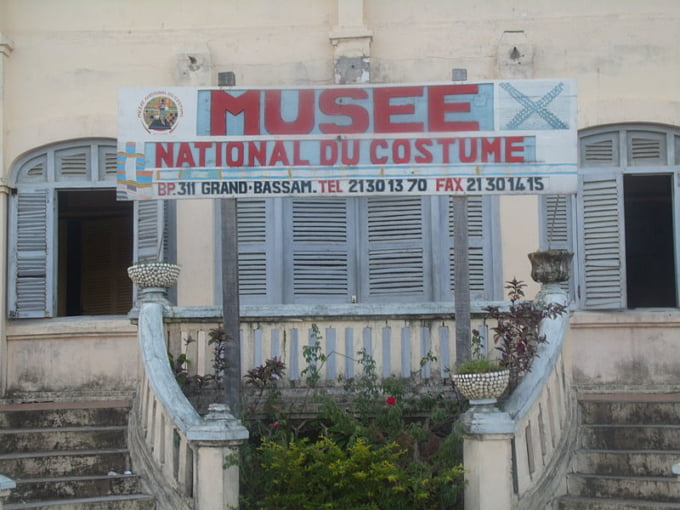 Photo by commons.wikimedia.org
The Musee National des Costumes does not only focus on the costumes of Côte d'Ivoire.It depicts the country's history and social anthropology. The building is well renovated with the Manager's old bathroom, fittings all left intact.Costumes in the museum are about 15 to 20 pieces representing the tribes and roles of important people within the Côte d'Ivoire heritage. Within the museum, one is able to spot some carvings, models, and instruments.

The outside is also not to be overlooked, there are about 10 wall painted murals of tribal masks found by the peace sculpture. There are also stalls selling handicrafts that are beautiful souvenirs.

The guides available are knowledgeable and passionate about the sight. A tour would take about one to two hours.
Name:Musee National des Costumes
Address:Boulevard Treich-Laplene, Grand Bassam, Cote d'Ivoire
Related Site:http://www.museeducostume.ci/
6. Banco National Park (Abidjan)
The Banco National Park is a vast piece of tropical rainforest situated close to Abidjan.The jungle can be compared to a green lush oasis of canopy trees.The park is accessible both on foot and car, however, most prefer a car with the company of an escort which will cost you an extra 10,000 cfa.There is an arboretum situated at the end where one is able to enjoy lunch and relax after the long walk.The walk can take up to 3 hours if you choose to go round a larger portion of the park.


Entrance to the park is slightly higher at 7,000 Cfa per person for foreigners but it goes towards a good cause. A comfortable pair of pants and shoes should be considered as the area is prone to red ants and other bugs.The area is really sandy so a pair of socks should be considered too.
Name:Banco National Park
Address:Abidjan, Cote d'Ivoire
Related Site:http://www.oipr.ci/
7. Grande Mosquée du Plateau (Abidjan)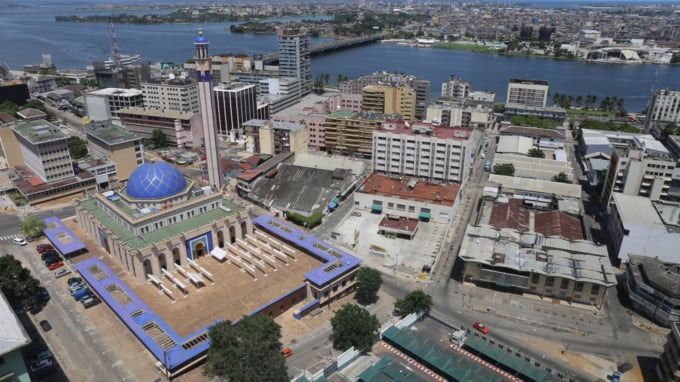 Photo by BOULENGER Xavier/shutterstock
This Unique blue-tiled mosque that sits on 7,500 m².is located in the Plateau district of Abidjan.It stands as a marvelous sightseeing monument as it is different from your traditional mosque.

The Grande Mosquée du Plateau also houses the Presidential Palace and the City Hall. From its name 'Grande' the mosque, its plaza can accommodate 3500 seats and a prayer room holding 3,000 seats. It also goes up to 4 levels housing shops, a library and 20 offices. It also has a special area designated to accommodate the Imam.

Within the premises is also a mortuary room, a mezzanine for women and an amphitheater. If you wish to visit for a sermon, the Imam offers a Friday sermon in Arabic, French, English, and Malinké.
Name:Grande Mosquée du Plateau
Address:Avenue Crosson Duplessis, Abidjan, Côte d'Ivoire
Related Site:http://www.mosqsalamplateau.net/
8. Les Cascades de Man (Man)
These are natural waterfalls found in man, Cote d'Ivoire. The place does not offer much sightseeing activities but you can go swim in the small pool in front of the waterfall to cool off.It may be crowded with locals due to the hot weather and people opt to swim. Entrance to the Les Cascades de Man is just 200 CFA per person.

Name:Les Cascades de Man
Address:Man, Cote d'Ivoire
9. Musée des Civilisations de Côte d'Ivoire (Abidjan)
Museum of Civilizations of the Ivory Coast holds some 'knowledge of the history Ivory Coast. It holds the true memory of the traditions and cultures of the Ivory Coast as it contains works of art like masks, traditional costumes, and traditional musical instruments.If you would like to get some brief history on Cote d'Ivoire you can also go through the art exhibition during the museum visit.
Name:Musée des Civilisations de Côte d'Ivoire
Address:32 Boulevard Carde, Abidjan, Côte d'Ivoire
10. Grande Mosquee (Yamoussoukro)
Located in the heart of the odd city Yamoussoukro, The Grande Mosquee is a beautifully designed place of worship. It also serves as one of the famous sightseeing landmarks in Yamoussoukro. It is located close to the Basilica making it a hard place to miss.

Name:Grande Mosquee(Yamoussoukro)
Address: Yamoussoukro, Côte d'Ivoire
◎ Closing
Cote d'Ivoire is a beautiful country to visit especially its capital Abidjan.Its beautiful beaches surrounded by lagoons and filled with beautiful shells is not all Cote d'Ivoire offers. Your trip to Cote d'Ivoire will also give you a chance to sample its unique foods and taste its amazing culture with the people of Ivory coast who embrace their African heritage.